The 7 Best Bike Accessories for Commuting Reviewed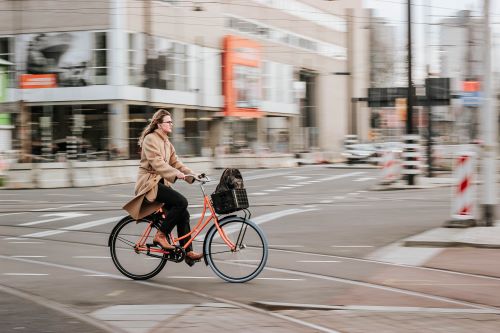 Commuting to work is easier with the right accessories, and we found the best options on the market. The world of biking accessories has dramatically improved over the last couple of decades, making biking a practically effortless way to get to work and home, and you can be a part of this trend.
From backpacks to bike locks, we found the seven best options to give you the perfect bike commute, no matter the weather. Biking doesn't have to be difficult as long as you have the right tools. Take a look at the best options to make commuting easier and stay on after for a buying guide ready to help you make the best decisions for you.
Best Bike Accessories for Commuting
LUMOS Kickstart Smart Helmet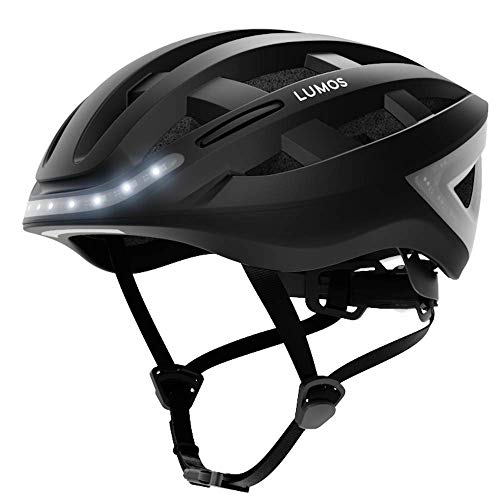 Every biker needs a helmet for head protection. With the LUMOS Kickstart Smart Helmet, you get a high tech helmet ready to make you visible and protect your noggin. The kickstart helmet fills a need, and it's a seriously bright idea. Although the price is a little on the high side, it's an award-winning product customers love.
Bike home in the dark with over 500 lumens of output of light. Not only does it help increase your sight but helps others to see you too without reflective tape that requires light to work. It's a proactive way to keep yourself safe and avoid a crash while biking. Moreover, the helmet is waterproof too.
The truly impressive feature of this helmet is it allows you to signal your turns. Both sides of the helmet light up arrows to show your turn intentions for added safety. It even has a very visible brake light too! Riders also get 360 degrees of visibility, so everyone near you can take you into account.
Last of all, the helmet is internationally certified for crash tests. It's built to last and keep you safe. Get airflow, too, with 22 vents to prevent sweat. Simply download the app to track the settings and light up your ride. Pair with other smart accessories to make it even easier to use. Kickstart is the future of biking.
Osprey Radial Bike Commuter Backpack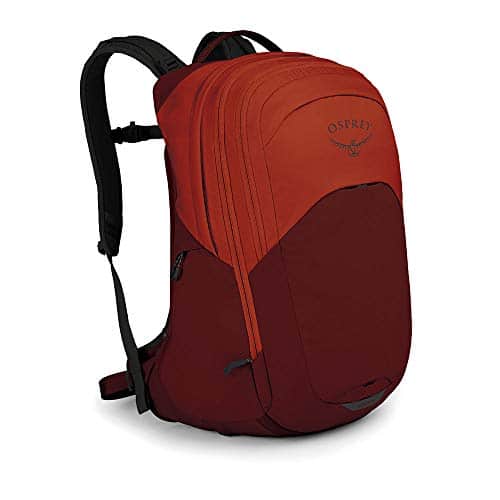 A backpack is essential for bikers, and thankfully Osprey made the Radial Bike Commuter Backpack ready to make commuting better. While the backpack is a pricy option, it comes with every feature you didn't even know you need. It's also a sturdy backpack ready to last for years, so you don't need to find a new backpack every year.
The only mild issue with this backpack is it only comes in and burnt red or black color. We would love to see some sleek modern grays and dark blues. Otherwise, the backpack works perfectly for commuters to get to and from work with all of the essentials easy to reach comfortably. It even comes with a place to attach your helmet!
Next, the pack includes a built-in rain cover, compartment for dirty clothes or shoes, blinker light attachment, reflective prints, and zipper pulls. More importantly, the pack includes a kickstand so it can stay upright while you pull items out. It even comes with airspeed suspension for ventilation to keep you and electronics cool.
Get all the pockets you need to separate your items and get to work. Once there, everything you need is just a zipper away. Furthermore, as the backpack is made of sturdy nylon, it's lightweight at just over three pounds. Finally, the backpack is large at 20.49 x 13.79 x 11.82, with padding and tons of pockets in all the right places.
Kryptonite New York LS Heavy Duty Bike Lock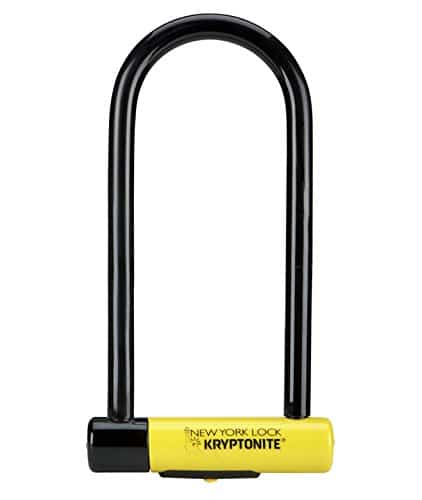 The final accessory you need for your commute is a bike lock. With the Kryptonite New York LS Heavy Duty Bike Lock, you know your bike will still be where you left it when it's time to cycle home. Yes, the price is high, but worth it because commuter bikes aren't cheap and need protection.
In a perfect world, you would not need a 16mm hardened max performance steel shackle, but this isn't a perfect world, and you need to protect your investment. What's great about this lock is it's resistant to hand tools, bolt cutters, and leverage attacks too. The simple U-shaped design measures 4 inches by 10.25 inches.
Also, you get three stainless steel keys with an LED replaceable key fob to make sure you don't lose the key. It comes with anti-theft protection and keys safe too. Register your key online and get new keys easily in case you lose the included keys. Get the first two keys free anywhere in the world.
Lastly, the lock is heavy at just under five pounds. The bright yellow color makes it easy to find and unlock. Find out why this lock has a security rating of 9 out of 10 and keep your bike protected with high-security disc-style cylinders, all with a protective vinyl coating. It's the lock to contend with and comes with a lifetime warranty.
PRO BIKE TOOL 17 in 1 Bike Multitool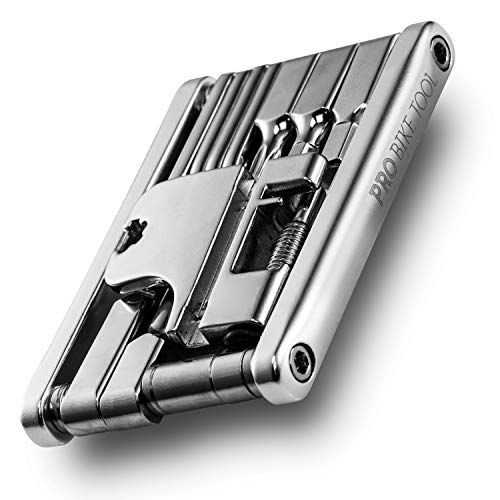 Let's face it, sometimes bikes need repair, and often the need arises on your commute. Keep the PRO BIKE TOOL 17 in 1 Bike Multitool in your backpack for quick repair of minor problems. It's a great option to stick in the stocking for the commuter in your life too.
The multi-purpose tool is small enough to fit in the palm of your hand, meaning it won't take up a lot of space in your backpack. It's lightweight too at just 3.9 ounces and ready to fit in your cargo pocket even. Despite the lightweight, it's full metal and reliable.
With seventeen functions, you get multiple Allen/hex keys, a star hex tool, two screwdrivers, spoke gauges, a chain tool, and a bottle opener. All of these tools are exactly what you need as they are made by a biker for bikers. The company makes an entire line of products ready to keep you on the road.
Lastly, the little tool comes in its own little open-top case. The case prevents the tools from damaging the other items in your back by folding out. It's everything you need at your fingertips to prevent a minor issue from making you late for work.
Adventure Medical Kits Ultralight Watertight .5 Medical First Aid Kit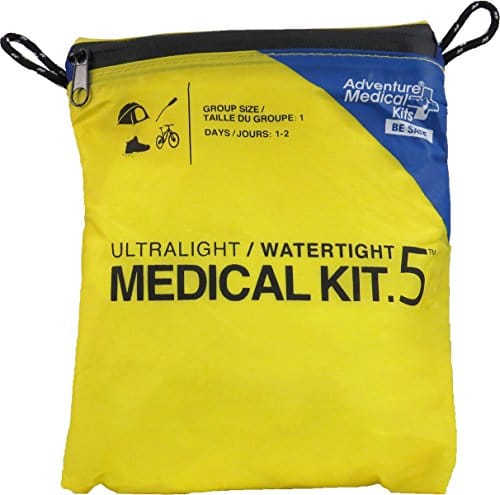 Accidents happen on bikes, whether from taking a corner to sharp or some obstacle in the way. No matter the reason, you need the Adventure Medical Kits Ultralight Watertight .5 Medical First Aid Kit in your backpack for your commute. The kit can prevent arriving to work covered in blood or bumps and bruises. Not to mention a first aid kit and prevent infection too, along with excessive blood loss.
The Adventure Medical Kit brand goes out of their way to make first aid kits geared toward individual activities. With this option, you get a lightweight kit at the right size for biking to keep you safe and protected. Moreover, it comes in a watertight bag, so none of the safety products get damaged.
Furthermore, the bright yellow color makes it easy to find the bag in your backpack. At just 5.5 x 11 x 1 inch, it won't take up much space either. Inside, you get items you need like bandages, wipes, bug relief, moleskins, safety pins, splinter removers, OTC medicines, and more.
Manage your injuries on the go to prevent issues and feel safer. No one wants to stop their commute to run into a drug store to get bandaids. Also, it has clips on both sides so you can attach the bags on the side of your backpack. Pick from a variety of kits if you would rather smaller or larger options.
Lurowo Bike Computer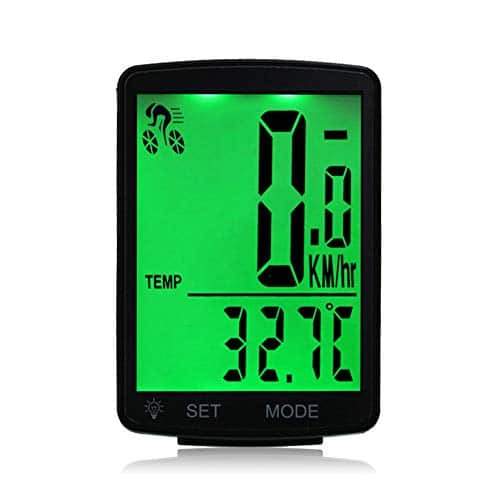 Part of commuting is getting to work on time, and the Lurowo Bike Computer gives you the details you need to make your commute time efficiently. You can pick between three backlights, including blue, green, or white, to get the visibility you prefer. Also, the screen is large and no-nonsense, so you get what you need without other stats overpowering the screen.
What does the mini-computer show you? It shows total mileage, single mileage, maximum speed, and temperature. Moreover, you can also display a stopwatch, calories, fat consumption, estimated arrival time, cycle display, and the time. No more looking at your watch and taking your hands off the handles to get the information you need.
Next, the mini computer is both wireless and waterproof, making it durable and ready to work no matter the weather. More importantly, the computer doesn't have any lag to record without delay. All with a large screen and backlighting you can see in the dark. Use for any type of bike to including your electric bikes or commuter bike.
The extremely affordable item includes a one year warranty and fantastic customer service. With just two buttons, it's easy to use and functions perfectly to keep your hands on the bars. Lastly, you decide where it goes to give you the best view without getting in your way.
Bar Mitts Cold Weather Bike Neoprene Handlebar Mittens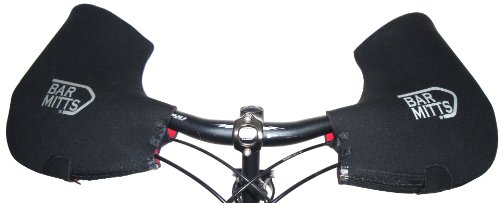 People who want to make commuting possible in the winter need the Bar Mitts Cold Weather Bike Neoprene Handlebar Mittens. No longer will your hands turn into frozen statues while biking with these mitts that fit right over the handlebars. Slide your hands in with or without some slim gloves to keep your steering on track.
Installation of the mitts is a fast and easy process. However, the real reason to grab these is because of the waterproof neoprene fabric with a fleece lining. Come rain, snow, sleet, and other harsh weather, you can ride comfortably. Although some people are very allergic to neoprene and you need to test before using these mitts as neoprene allergies can cause swelling, skin eruptions, and itchy skin, although this is rare.
At 5.5mm thick with nylon lamination both inside and out, you can get the ultimate comfort. Removing the mitts is an easy process, too, and they do not lookout for a place in a sleek black design. Also, you still have access to everything you need just from the comfort of warmth.
Pick from three sizes, including small/medium, large, or extra-large, to work for any hands. The price is a little high, but what a unique and valuable product! Finally, you can pick from three styles to work with any bike, including no bar end openings, single left side opening, or two openings for a custom fit.
Buying Guide for Bike Accessories for Commuting
For the purpose of this list, we focused on safety and comfort features to make bike commuting easier. Of course, bikers can find an endless supply of accessories. Take a few factors into consideration before you decide which accessories you need the most.
Focus
Before you go nuts buying every accessory available, remember, you have to carry those accessories on you or on the bike. Too many items can bog down your commute and make it a terrible accessory – not to mention, you still need to carry the items you need for work too! Instead, focus on what's needed and forget the items that weigh you down.
Focus on three things when it comes to biking gear – comfort, safety, and storage. If the items do not improve the safety, comfort, or create usable storage, drop them off your list. When you go trekking or touring, pack differently but for a way to and from work – stay minimal.
Function
We talked about what functions you need for your commute – comfort, safety, and storage. Before buying even a single accessory, figure out the details. Write down what needs to go in your bag for work. Figure out the weather you will have to cope with on your commute. From there, you can figure out what items you absolutely need to take for biking to work.
The length of your commute may make a big difference. If you are biking only one or two miles each way, you probably don't need as many accessories as you would for a ten-mile commute. Also, the shorter the ride, the more you can comfortably carry while longer rides need more but less weight dragging you down. Finally, consider that the lighter the weight you need, the less chance of extra work to carry, which can lead to sweating and discomfort.
Budget
Biking is great for the environment and for your health, and it should be healthy for your budget too. In the beginning, you will need to invest in a few items for sure to function well, but you don't need to invest in every top quality item you see. Figure out your budget before buying to avoid making biking a hobby instead of a form of transportation.
Questions About Bike Accessories for Commuting
Can I use these accessories for trekking too?
Absolutely! While the accessories on this list a geared toward commuting, they can absolutely function for your other biking trips as well. However, with trekking, you will need a change in clothing and not clothing that allows you to walk into the office. Instead, you are going to want dedicated biking clothing designed for the task.
What should I pack in my backpack for my commute?
What you pack depends entirely on your job. For the most part, you will need to pack your wallet, keys, phone, water bottle, a change of clothes and shoes, your computer, and a binder or portfolio or e-tablet. Always check a commuter bag to ensure it has room for everything you need.
For a detailed list of what to bring and how to pack for a bike ride, watch this video:
Will the items on this list work for an electric bike too?
Yes, any of these items will work on an electric bike. However, you may not need the bike computer on an electric bike as they usually come with their own computer. While not on this list, you can purchase lights for your bike, and this is a built-in feature on an electric bike too. You may need a different set of tools for an electric bike than you would for a mechanical bike too. The bike mitts may not work with an electric bike, and you may need to do some measuring for this item.
Conclusion
Every item on this list is a necessity for a biker. However, if you can only pick one item, we highly recommend you pick the LUMOS Kickstart Smart Helmet as it's a set of lights and protection for your head as well. Not only is this a safety feature, but it also functions as turn signals too, which helps you communicate with others on the road.
Definitely consider adding each of these items to your list for future functionality, but if your budget is tight, definitely invest in your safety first. You may be able to control your speed and bike, but you cannot control others on the road making this high-tech helmet the best possible accessory available for commuting to work. It's also a great option for any of your biking needs as well and a fantastic investment.