Top Wet And Dry Bicycle Chain Lubes Reviewed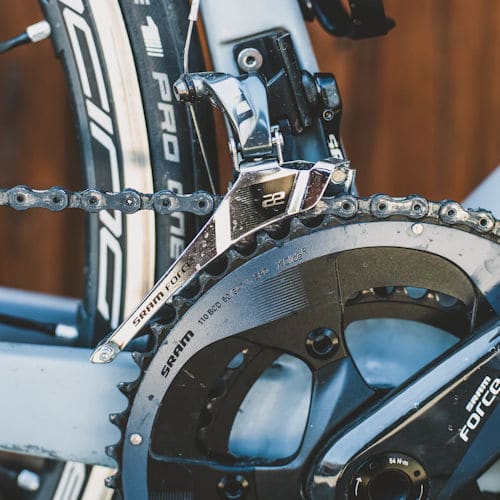 Like any machine, bikes require maintenance to work at their peak performance.
Making sure that every part of your bike is clean and well cared for can not only help keep your bike working better for longer, it can also ensure that you perform at your best without the technical issues that can throw you off when biking.
The bike chain is what allows your bike to move by transferring energy from the action of pedaling, and moving that energy to the wheels. Depending on the gear size, this allows you to control how much energy is needed to move the back wheel.
However, if your bike chain and drive train are not properly lubricated, this process can become frustrating, or even damaging to the system. That's why its important to invest in good bike chain lubricants.
Before we list our top choices, we'll give a quick rundown on the types of bike chain lube and what they're best for. But for those of you in a hurry, here are the top lubes in our roundup:
When to Use Dry Lube
Don't be surprised when you first use dry lube and it comes out as a semi-liquid, waxy substance. Dry lube is named as such because it dries on your bike chain, protecting the surface from grime and dirt while you bike.
However, dry lube is not meant for more precarious weather conditions, and has a shorter use life than wet lube or ceramic lube. Regardless, it's always a good idea to have a container of this around for sunny biking days, just be prepared to add a secondary coat in short order.
When to Use Wet Lube
Wet lube, like the name would suggest, is a liquid and stays a liquid on your bike chain. This lubricant is water resistant, making it ideal for all kinds of weather, and helps prevent rust from accumulating on your chain and in your drive train. It also helps prevent corrosion from road salts, which helps increase the life of not only your bike chain, but also any other metallic areas that make up your drive train.
Unlike dry lube, where regular application can help prevent dirt, wet lube tends to cause grime to stick to your chain, and requires you to degrease your bike in order to prevent damage to the chain over time. However, if you're looking to bike in almost any weather condition, wet lube is a must have for the longevity of your chain.
When to Use Ceramic Lube
This bike chain lube is worth the investment. Sitting in the middle ground between wet and dry lube, ceramic lube doesn't require you to reapply as often as others due to its chemical makeup. As a bonus, they are water repellent and won't get worn down as often.
Why You Should Invest in Bike Chain Lube
A well-functioning bike chain is not only crucial to ensuring you have a smooth ride, it also increases the lifespan of your bike and your drive train. It can be expensive and complicate to replace the chain on your bike, meaning keeping your original chain in tip-top shape is extra important. While bike chain lube can be applied with only a rag, it is important to make sure to clean your bike chain routinely to prevent buildup that can damage your drive chain. Make sure to read the instructions on your bike chain lube of choice to figure out what works best for each formula. When in doubt, dirt and grime should be removed before applying lubricant.
Best Bike Chain Lube
Given the info above, there are a lot of factors to consider when choosing bicycle chain lubricant. But after combing through the various products available, these are our picks for the best bike chain lube:
Tri-Flow TF0021060 Superior Lubricant
With Tri-Flow TF0021060 Superior Lubricant, the results are in the title. This lube is easy to use, long-lasting, and easy to clean up. Unlike many other wet lubes, this bike chain lubricant doesn't require excessive reapplication, and doesn't gum up like other options. Less is more when working with Tri-Flow, meaning you'll get more use out of a single bottle. While there is the downside that comes with all wet lubes where the product does tend to attract dirt and grime, the easy clean up and lack of tackiness makes up for the occasional chain wipe down.
As one reviewer noted, "Anyone who works on bicycles should have a bottle of this stuff handy. It's a high-quality machine oil, which is reason enough." Not only that, but the included clear application nozzle allows you to target inside of your drive chain, and to reach areas within your bike chain itself that may be harder to keep lubricated. On top of this, Tri-Flow TF0021060 Superior Lubricant is made to withstand extreme temperatures due to its high-quality ingredients and petroleum base, meaning it is ideal for almost any weather conditions, including extreme humidity. All-in-all, no matter the type of bike you have, you won't be disappointed with the superior performance from the Tri-Flow TF0021060 Superior Lubricant.
Finish Line DRY Teflon Bicycle Chain Lube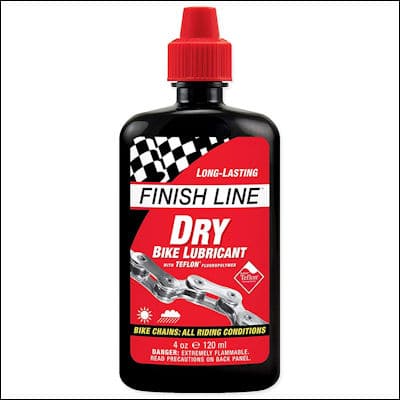 Like the same wet lube from this company, the Finish Line DRY Teflon Bicycle Chain Lube comes in sizes ranging from the on-the-go 2 oz. bottle option to 1-gallon jug for professional use. While some customers do note that the aerosol container does last a shorter amount of time than the other options, the quick application and quick dry process is hard to beat. Perfect for biking long distances in dry, dusty climates, this lubricant is lauded for drying quickly and avoiding buildup. While it is necessary to clean your bike chain and drivetrain when first using this product, future applications are as easy as applying and riding.
With the inclusion of Teflon fluoropolymer in the makeup of this lubricant, not only does it last longer than many other dry lubes, it penetrates deeper into the nooks and corners of your bike chain and drive train, making it ideals for fully sealing the mechanism against dirt and grime. Finish Line DRY Teflon Bicycle Chain Lube is specially rated for off road biking in dry conditions, and is ideal for use on mountain bikes and other heavy-duty bicycles. The only customer issue with this product is that the nozzles are on the delicate side, meaning they are prone to clogging and can be damaged easily.
In the words of one reviewer, the best qualities about this dry lube is the "long reapplication intervals (typically several hundred miles), won't attract and hold dust and grit, won't wash off in the occasional creek crossing, good protection against rust, and most of all excellent lubricity that extends chain life for several thousand miles of hard riding."
Squirt Long Lasting Dry Lube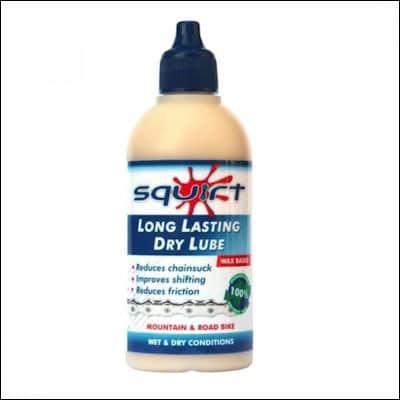 Anyone who finds themselves biking in sandy, warm climates should invest in a bottle of Squirt Long Lasting Dry Lube. Not only does each application last over 200 miles in dry weather, it is easy to apply, which is one of the highest commendations a dry lube can receive.
While a few reviews noted that it works best to let the lube dry over a couple days for more intense use, one Las Vegas resident noted, "After 300 miles of riding in this sand infested streets…my chain and cassette are extremely clean!"
Much like most dry lubes, Squirt Long Lasting Dry Lube does require reapplication after exposure to water, so it is best suited for those who bike exclusively in dry conditions. On top of that, it is best to allow the product to dry fully to avoid dirt and grime buildup on the road.
But for anyone who finds themselves in need of a good, all-around dry lube for their bike chain, Squirt Long Lasting Dry Lube holds its own against the competitors, and helps keep your bike riding smooth, no matter how dusty things get along the way.
Finish Line Wet Bicycle Chain Lube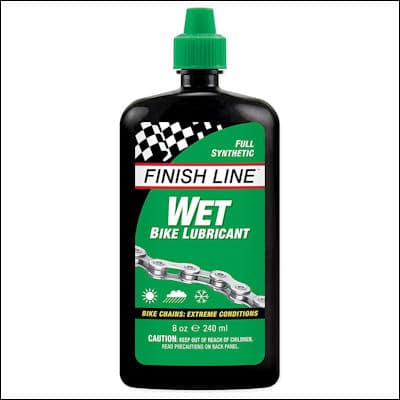 Not only is this a great option for anyone looking for a low-odor, long-lasting wet lube, it also comes in a multitude of sizes, ranging from a 2 oz. drip bottle to an 8 oz. aerosol spray and a 1-gallon jug, making it perfect for home use as well as use at bike shops and other professional locations.
This lubricant is perfect for wet and dry weather and can last up to two weeks on average without needing a new application. However, if you use your bike daily you should check on the buildup to ensure that a new coat isn't needed sooner.
This is a great across the board wet lube for all bikers, from casual cruisers to intense cyclists. As one reviewer noted, "On average I will ride between 150 and 200 miles a week, much of it in foul weather. The 32 oz. bottle should last me, I estimate, about 2 years." However, some reviewers did note that the dispensing mechanism on the bottle had some issues after repeated use and could become dislodged or broken if dropped.
Regardless of the slightly finicky cap, this is a great wet lube for anyone who finds themselves in less than stellar weather, and who is looking to keep their bike in top condition without feeling the need to reapply lube every time they bike.
Looking to bike in extreme weather conditions? One Chicago customer said they used Finish Line Wet Bicycle Chain Lube, "in the winter months where the streets are either white from snow, or from the metal destroying "salt" the city uses. I have yet to find a spec of rust on my chain." If you're looking to bike rain or shine, this is the lube for you.
Motul 103244 M/C Care Road Chain Lube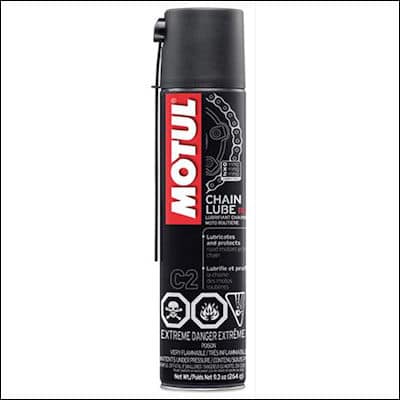 Looking for a good, multi-weather bike chain lube? The Motul 103244 M/C Care Road Chain Lube might be just up your alley. This product comes with an easy-to-use applicator that makes targeting inside the drivechain of your bike that much easier.
This particular lube is made to dry tacky, to make it more like to stick to your chain while going at high speeds. Some reviewers note that this means they end up cleaning the rims of their bikes more often, as the lube does tend to fling off when biking over rough surfaces, like mountain biking. However, with overwhelming positive reviews, this is a great option for someone looking for a good mid-use bike chain lube that can stand some wear-and-tear.
As multiple reviewers pointed out, the tackiness of this lube does not increase the amount of dirt and grime that clings to the chain, making it a good middle option for those looking to avoid the cleanup needed for wet lube. It is also worth noting that this lubricant can be used on motorcycle chains as well, meaning it is made to stand up to large amounts of strain and movement over a short period of time.
With a 99% positive review rate from customers, you won't be disappointed when you try out the Motul 103244 M/C Care Road Chain Lube. In the words of one of the many satisfied customers, "Works great, stays on well, does not make the bike too dirty, and lubes the chain very well."
How To Lubricate Your Bike Chain
If you are new to cycling and have never lubricated your chain, here is a good YouTube video that walks you through the process:

In Conclusion
When it comes down to it, making sure you invest in the right bike lube for your needs is crucial to maintaining your bike. Make sure to do your research and follow the instructions on the container to help you get the most out of any product. Remember, you will only get out of your bike the work you put into it, so making sure you take care of your bike can help extend its longevity and increase your overall enjoyment of your next cycling trip.
Related Articles