The 7 Best Bike Tool Kits Reviewed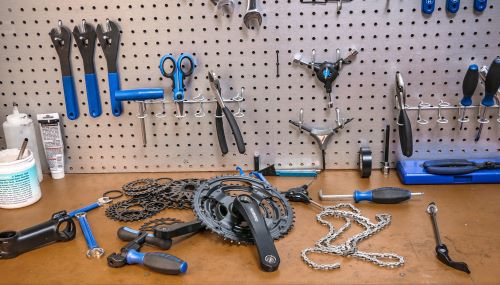 Bikes are excellent devices capable of taking you anywhere until they break down. When that happens, you need the right tools for the job. Even if your bike does not breakdown, it will still need maintenance over the years. Furthermore, you may want to upgrade different components of your bike. While you may have a garage full of tools, do you have bike-specific tools?
First, you may want to get a bike repair stand to put your bike on while you work on it. Second, you will want a set of Allen wrenches, a chain brush, a tube patch kit, floor pump, and more. Get ready to fix your own derailleurs with the right tool kit ready to make your biking experience better. We found the seven best options to get you started on your repairs. Take a look.
Best Bike Tool Kits
1. Bikehand Bike Bicycle Repair Tool Kit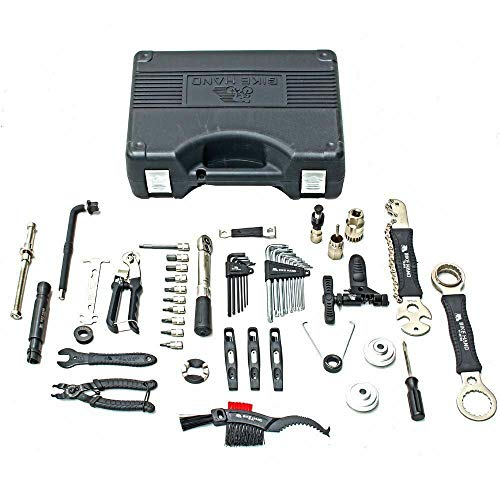 For those who are serious about bike repair, check out the Bikehand Bike Bicycle Repair Tool Kit with Torque Wrench. The set comes in a hard case ready for easy storage and simple organization. While the price runs high, you get a lot for your money as it offers 23 tools made of high-quality material. Moreover, it's designed to work Shimano parts, which make up a large portion of bike parts.
The tool list includes a chainring nut wrench, chain scrubber, master link tool, cable cutter, tire lever set, spoke wrenches, chain hook, pedal wrench, hex key wrench with a square adaptor, chain wear indicator, freewheel turner, and bottom bracket wrench. It also includes a dust cap wrench, freewheel remover, cartridge B.B. tool, chain rivet extractor, screwdriver, and toque wrench set. You also get press-fit B.B. installation and removal tools too.
Each tool has its own space inside the tool case if you like to keep things organized. Although, it's a tight fit to get everything back incorrectly. All the parts are made of tough heat-treated steel. As this is an advanced kit, it's best for people who are serious about bike repair and plan to spend a significant amount of time fixing bikes. Beginners may want to start with a smaller kit unless they need a specific tool not available with smaller kits.
2. 23 Piece Bike Tool Kit by Cyclists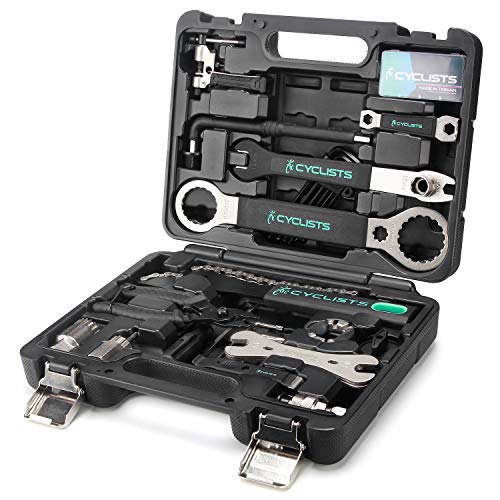 Save some significant money with the 23 Piece Bike Tool Kit by Cyclists. You still get 23 tools and a case too, but for less than half the price without sacrificing quality. Even better, the company guarantees their product with a full money-back offer for the first year. Another great feature is each tool includes the aqua cyclist label making it easy to spot a bike tool that mixed in with other tools so you can properly put it away.
Inside the kit, you will find a chain rivet extractor, chainring nut wrench, crank puller, freewheel turner and lockring wrench, bottom bracket wrench, pedal wrench, hex key wrench, and set. You also get 2-in-1 master link chain pliers, tire lever, torque wrench, hub spanner, spoke wrench, crank cap wrench, lockring removal tool, cartridge B.B. tool, and a tire patch kit.
For those who are ready to experiment with bike repairs, this kit will more than get you started. Because of the hardshell case, it's perfect for taking on the road if you plan on biking long distances. You might not want to take it on the bike with you, though, as it's heavy and bulky, though! Do note this set does not come with a freewheel tool.
3. Bikehand 37pcs Bike Bicycle Repair Tool Kit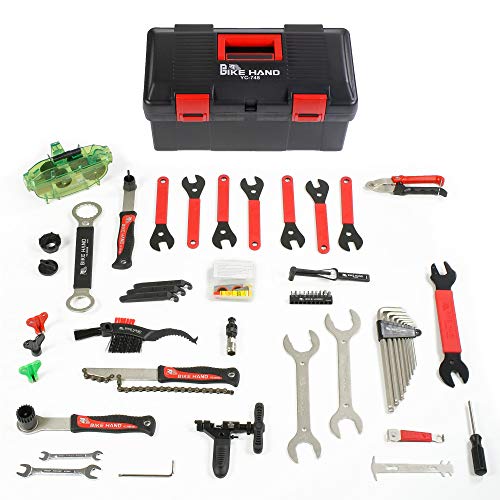 BikeHand makes our list again because of their high-quality products and a wide variety of options. With the BIKEHAND Quality Bike Bicycle Repair Maintenance Tool Set Kit, you get a pricy set ready to work. While the price is high, the set includes a handy set of tools ready to increase your ability to repair bikes. Also, the case offers one open space for those who do not want to try and fit every tool back into a designated spot.
The set comes with a long list of tools, including a torque wrench, hex wrench set, freehub lockring tool, bottom brackets, crank arm dust cap tool, chain checker, crank puller, crank wrench, sockets, and open wrenches. Moreover, the set includes chainring nut wrench, screw-type chain tool, patch kit, pedal wrench, cone wrench set, headset wrench, screwdrivers, tire levers, and a variety of other wrenches perfect for bike repairs.
Basically, the kit offers a wide range of standard bike tools. If you are a mechanic level and want a set of tools ready to keep up, this is the set for you. Moreover, the set includes parts perfect for Shimano parts. All the tools fit in easy-to-access trays in the portable case set. All this and the set even comes with a 2-year warranty guaranteeing your purchase. Beginners may want to start with a smaller, more affordable set, but pros will find this set extremely useful.
4. Lumintrail 38 Piece Bike Tool Kit<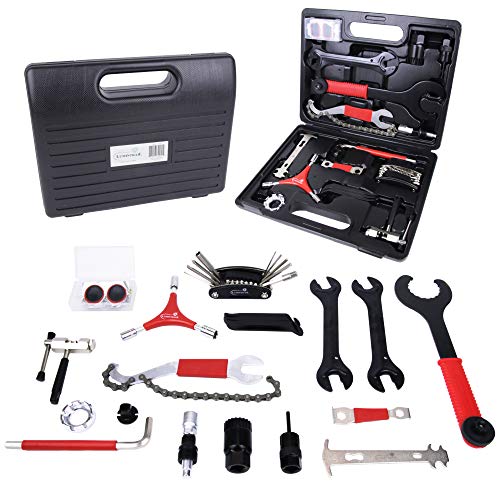 Get a larger kit of tools for a low price with the Lumintrail 38 Piece Bike Tool Kit Bicycle Repair Tool Box. Not only will this set save you some money, but it also provides a larger range of tools. That's right, this kit includes 38 pieces, all in a hard case ready for easy access and storage. It's a versatile kit ready to help entry-level bike enthusiasts keep their own maintenance and repairs.
One thing we love about this set is it comes with a portable 14-in-1 multi-tool with hex keys, screwdrivers, and seven bits too. The other 38 pieces include a forged "O" spoke adjuster, tire lever set, hex key wrench, square adapters, two hub cone spanners, and a chain rivet extractor. This last piece is for Shimano parts or HG/UG type chain links. Furthermore, the set includes a cotter-less arm fixing bolt, bottom bracket wrench, wrench chain whip, cassette removal with pin, bottom bracket tool, chain wear indicator, and a chainring nut wrench.
That's a whole lot of tools ready to make fixing your bike a breeze. You will also love how easy it is to put the tools back in the right spot of the case. The tools are made with premium carbon steel and plastic, which is one of the reasons why the price is lower. Before you buy a professional case for the big bucks, start out small and find out exactly what tools you need to make your next purchase a better fit for your needs.
5. Kitbest Bike Repair Tool Kit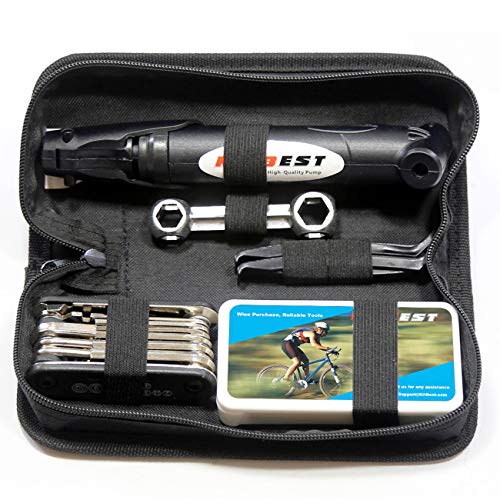 Bikers on the go may want a small travel repair kit ready to fix quick problems. Use the Kitbest Bike Repair Tool Kit as it comes in a tiny zipper pouch and is ready to get you back on the road. Not only is this set portable but useful too with a variety of tools jam-packed with the ability to repair almost any bike. If you run into a flat tire, punctured tire, or a loose part, you can fix it quickly so long as you have this pouch in your backpack.
What's inside this handy little pouch? First, you will find a mini bike pump that fits Presta and Schrader valves. Second, the kit includes a multi-tool ready to work with most parts of the bike as it has 16 different functions. It serves as a hex wrench, hex key wrench, solid wrench, socket extension rod, screwdriver, spoke wrench, and a cross screwdriver. Third, the set includes an all-iron bone wrench for a little extra muscle.
Not only do you get tools, but some tire levers, glueless patches, and a metal tire rasp. A bike tube repair patch tool kit is inside, too, with a complete basic road bike tool for mechanics. The emergency kit can repair your bike no matter how harsh the environment. What you will really love about the kit is it comes with a five-year warranty and fantastic customer service if you should ever encounter a problem. All this in a tiny package that measures 8.4 x 2.4 x 3.5 inches.
6. Odoland Bike Repair Tool Kit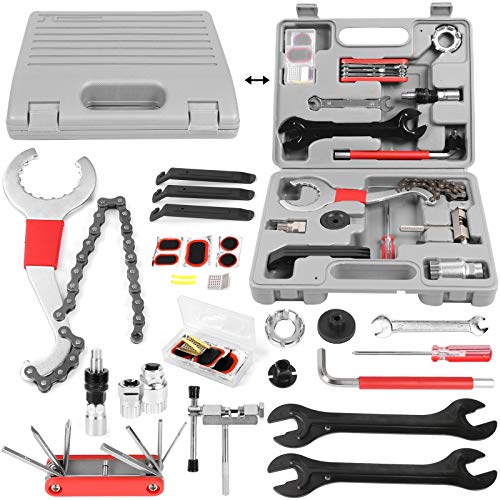 Save money and space with the Odoland Bike Repair Tool Kit. The kit comes in gray with spaces for each of the 26 tools included mapped out inside. Beginners to the trade will find everything they need to tune-up or repair a bike quickly and effectively. Furthermore, it is easy to use and comes with all the essentials. You may even find you can use the tools in this kit for other hobbies as well!
Store the kit easily in your garage or shed as it's small and compact. Despite the compact size, it still holds a large number of tools. The kit contains a freewheel and B.B. cup wrench, cartridge B.B. tool, hub cone spanner, forged "O" spoke adjuster, cotterless crank tool, and freewheel remover. Moreover, the set includes an 8mm L handle plus square nut, tire lever, 7-in-1 folding tool, chain rivet extractor, screwdriver, cold patch repair kit, open wrench, and a cotterless crank remover.
While the kit is smaller than our top three choices, it still has all the essentials except for a torque wrench. The multi-purpose kit also works for household repairs, electric bikes, and so much more if you are looking for an all-in-one kit, but it does cater first and foremost to bikes. Do note the kit is in metrics as some bikes are in imperial. Keep in mind the value price signifies, as do customer reviews, that this set is a beginner set meant to get you started and is not a great option for professionals.
7. Bicycle Repair Bag & Bicycle Tire Pump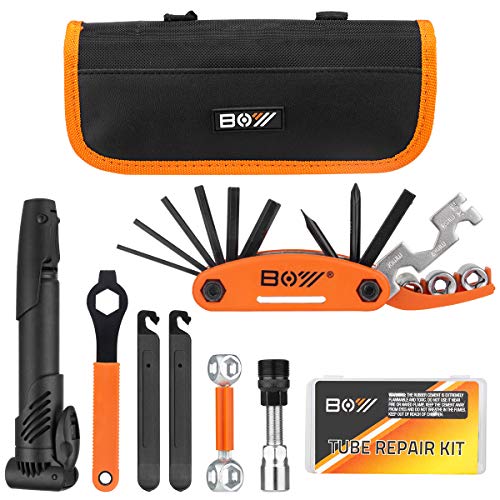 Cyclers who want a bike set they can take camping, on the trails, or just out onto the open road should consider the Bicycle Repair Bag & Bicycle Tire Pump by XCH Robots. The set is perfect for travel with a few essentials you need in case of a flat or a problem while out biking. While it's not a full tool kit ready to repair big problems, it's perfect in case of an emergency, so you do not get stranded far away from civilization.
The affordable kit includes several useful tools inside a small pouch that zips closed. Each kit provides a 16-in-1 tool, wrench, thread crank, glueless patches, tire lever, Allen wrench, and a mini bike pump. With exactly what you need, you save space and weight for your bike rides while staying connected to the tools you need when you need them. The whole set comes with orange accents making them very easy to find too.
With the multi-functional tool, you get Allen wrenches, screwdrivers, a socket wrench, and solid wrench and spoke keys. The best feature, though, is you can attach the tool kit directly to the frame of your bike if you choose although, the case is not waterproof. While you can use this product for a lot of bike repairs, it's by no means a professional tool kit. However, it will keep you safe in a pinch so you can bike home to your professional tool kit.
Buying Guide for Bike Tool Kits
Before you pick a tool kit, you need to determine your needs. No two bikers are alike, and each needs a product tailored to their needs. Find out what key features you should consider before choosing a tool kit.
Type of Kit
Bike tool kits do not come in one size but in a wide variety of sizes. From a small portable emergency kit to an extra-large professional kit, you have a lot of choices! However, the average biker rarely needs a professional kit. Unless you are a professional biker with multiple bicycles that you use daily or weekly, you probably only need an entry-level kit. Professionals who bike more or fix bikes for a living need to spend the big bucks to get a full kit.
Routine Maintenance Tools
If you are looking for a kit for routine bike care, consider finding a kit with the following pieces: an Allen wrench set, open-ended wrenches, tire levers, tube patch kit, and a chain brush. A few other tools will help too that you won't find in the standard kit, including spare tubes, a floor pump, clean rags, and chain lube, and cleaner. Do not forget that routine maintenance often includes cleaning your bike and your tools too.
Tools Helpful for Repair
Almost all bike repairs will need the following tools, Allen wrenches and keys, cassette lockring remover and crescent wrench, torque wrench, chain tool, screwdrivers, needle-nose pliers, and pedal wrench. Most of the kits above offer all of these tools and many more with a variety ready to work for specific bike parts. Figure out what bike repairs you plan to focus on and choose a kit with tools tailored to that aspect or a kit ready to work for the majority of repairs.
Check out this video for 10 bike repair tools that every cyclist should have:
Questions About Bike Tool Kits
Can I use tools I already have in my garage?
You can use anything you like to fix your bike, but the right tool for the right job makes life so much easier. While you may be able to force a tool to work for the wrong job, you may end up damaging your bike and making more work for yourself. You may be able to save some money by buying individual tools instead of a kit.
Should I get a full repair kit and an emergency kit?
Owning both a larger repair kit and a personal repair kit will definitely help you out. The two types of tool kits serve different purposes. An emergency kit goes where you go to fix problems on the road as they arise. Meanwhile, a full repair kit serves the purpose of routine maintenance and more extensive repairs. If nothing else, get a multi-tool you can take with you or leave in your garage and the parts you need to fix a tire.
How can I keep my tool kit in good condition?
You should wash the tools if they get any form of oil or liquid on them to prevent them from rusting. Also, put them back in their case to avoid problems with the tools.
Final Thoughts About Bike Tool Kits
Fix any problem you might encounter with your bike with the Bikehand Bike Bicycle Repair Tool Kit with Torque Wrench. The set includes 23 different tools, all in one case for easy access. Save your bike and repair it yourself with the right tools for the job made with high-quality.