The 5 Best Commuter Bike Lights Reviewed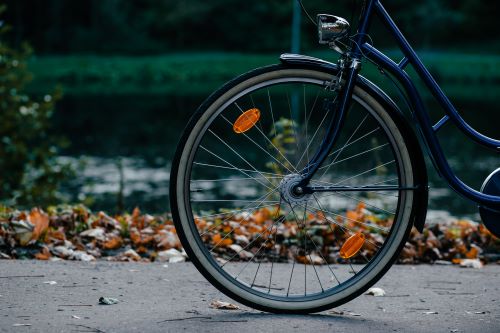 Getting a commuter bike light is not a decision to rush over. It is an investment that will hopefully last you a long time. After all, you will be using this bike light to ride into the city at night so you can get to and from work. Or maybe you are an independent contractor and you use your bike for work. Either way, you want to make sure the bike light you are getting is not only of quality but that it also fits your needs. Taking the time to do research on the best bikes lights in the market will pay off in the long run.
Keep in mind that there are a few things to look for when you are trying to purchase a commuter bike light. You do not want to go in blindly. It is good to know about how far or close you are planning to travel on your bike. You should also consider the type of terrain you will mostly be riding on. Will it be dirt roads or paved streets? You should also keep in mind your comfort level. You may have to give up some speed capabilities for comfort. Another factor to keep in mind is the gears. Will you be travelling up a lot of hills that require a bike with multiple gears? Lastly, you need to consider if you want to install a front rack or a rear rack that way you can hold pannier bags. All of these factors are something to keep in mind.
Bike lights are an important added feature on your bike because it encourages safe riding. You have to be able to see when you are trekking the city hills at night. It is also important that others see you. If not, this could be very dangerous. You could get hit by a car or fall off the trail you set to ride on. Having a light mounted to your bike is a good idea no matter if you are a beginner bike rider or if you are an intermediate bike-rider with a long list of experience. If you are looking for the best commuter bike lights, you have come to the right place. We compiled our top five bike lights that are sure to suit your needs and light up your trek.
Best Commuter Bike Lights
1. Garmin Varia UT 800
This is by far top-tier quality. This light is considered a smart light, using speed as a way to give off automated light. When you pair this light with a Garmin Edge bike, the light automatically changes to the perfect light conditions and speed that help extend its battery. You can also pair this light with the Edge computers. It is able to automatically turn on or off as well as control its brightness. As long as you program it to an Edge computer, you will be good to go for this feature. The light comes with five settings which include high, medium, low, day flash and night flash.
You can also get the light in two different versions which include the urban or trail. Truth be told, both lights are the same. The only difference is what comes packaged in each box. The Varia is great for both snow and rain, so you do not have to worry about not being able to see if you decide to ride in those weather conditions. You also do not have to worry about your light getting damaged because of the inclement weather.
2. NiteRider Lumina 900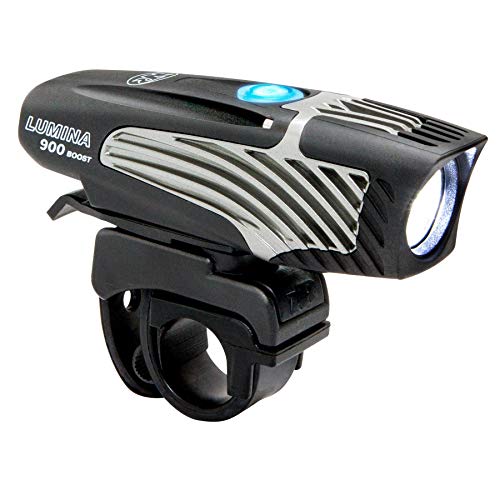 If you are looking for something that will be very lightweight and durable, this is the bike light for you. The best thing about this light is that although it is very lightweight, it does not feel cheap or flimsy. You don't have to worry about it breaking on you as it is made with aluminium and fiberglass. It is weather-resistant, able to withstand snow, rain and extremely cold temperatures. You can easily charge this light as long as you have a USB port. It can charge in under four hours. For an even faster charge, you can hook it up to a power source more powerful. It has to be at least 500 milliamps or more.
The NiteRider is very easy to mount. It comes equipped with a rubber strap mechanism, which is responsible for its easy mounting. The Lumina is so easy to use, you can even mount this in the dark with minimal to no other light source. You can even mount this if your fingers are hard to maneuver because of the inclement weather. Keep in mind that this type of bike light is sold only as a bar-mounted light. You can also mount this to your helmet, but you have to purchase that helmet mount separately. It provides enough light, but you may need another source of light depending on what you are doing and the kind of bike ride you are going on. This light comes at a great price point, making it suitable for any budget. This light is sure to catch your eye and anything that comes in your bike path.
3. BrightRoad 800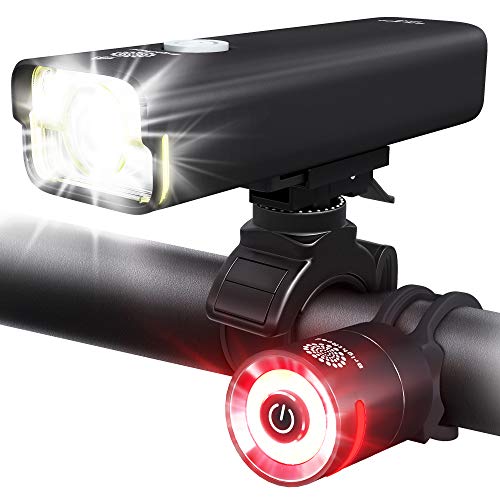 The BrightRoad 800 is a great light especially if you will be traveling on city streets. This light is uber bright, making it the perfect light for when you want to be noticed. These lights are waterproof, making them perfect for most kinds of inclement weather. It also comes in five safety modes which include high, medium, low, strobe and flashing. You can easily switch between those two modes to find the right kind of light for your ride. You will not be missed overlooked if you mount this light on the handlebars of your bike or onto your helmet.
On those nights that you have at least some light, it is recommended that you go with the medium light setting. If you are not in dire need of light, you can go for the low setting. That will last you as long as 18 hours straight of use. The flashlight is great when you need to let people know that you are barreling down the road. It can also be used in case of emergencies. This also has a USB port, making it very simple to charge from anywhere as long as you have USB ports. The best part about this light is that you do not need any tools to install this. It is very simple to mount.
4. Wastou Bike Light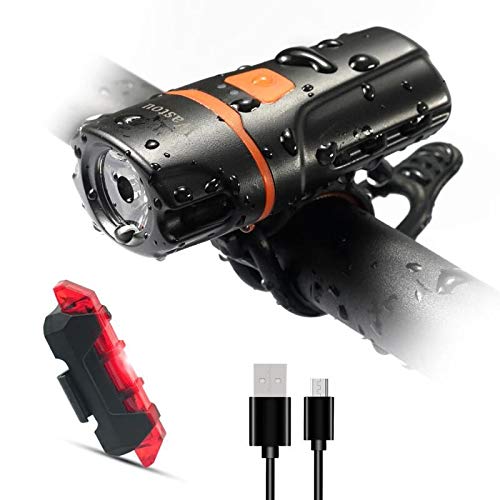 This light is probably one of the most versatile bike lights. You can put this onto any bike as long as the handlebars have a diameter of 17 and 44 millimetres. Not only does this light function on your bike, but you can also take it off your bike and put it on your person for running, walking, hiking, backpacking and any other nighttime activity you may find yourself getting into.
It is made out of aluminium. It is water-resistant. This is a really high-quality light for a reasonable price. You do not have to worry about it giving out on you in bad weather as it is able to sustain itself. The automatic sensor control on the bike is what makes the Wastour bike light stand out from its competition. This light is so bright, it can light up an area up to 300 feet in front of you. Talk about powerful! The Watsou bike light is an awesome buy because it provides you comfort and safety while you are taking a leisure bike ride at night or if you are speeding into the office in the early morning.
5. VastFire Bike Light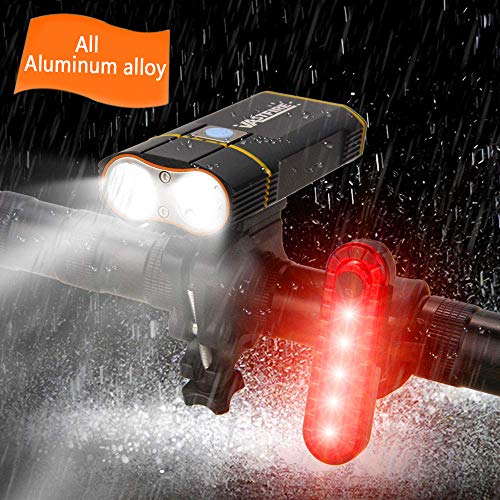 Last, but certainly not least, these lights are perfect for night riding. Some say they are the best on the market, but we will leave that up to you. With the ability to produce 1200 lumens, you will be able to see up to 200 yards ahead of you. This is a powerful, quality light at a budget-friendly price point. Another thing that adds to its lighting up power is its aluminium alloy and acrylic lens. The VastFire bike light is a front bike light. It comes with five different light modes. Just like the other lights in this list, you can also recharge this light as it comes with rechargeable lithium batteries. You can go at least two to three hours on full brightness without having to charge. If you find yourself traveling through heavy rain or fog, these lights will be able to withstand it all. Their water-resistant IPX-6 construction allows them to be that durable.
It is very easy to mount and unmount unless, of course, you have very large handlebars. In that case, it may take some finesse to get it off. When you are traveling on bumpy terrain, you can expect your headlight to shake a bit. This light is heavy duty, so you do not have to worry about accidentally damaging. The VastFire bike light is just what you need on your daily routines.
Commuter Bike Light Buyer's Guide
For more information on what to look for in a bike light, watch this video:
Related Articles