The 5 Best Commuter Bike Pedals Reviewed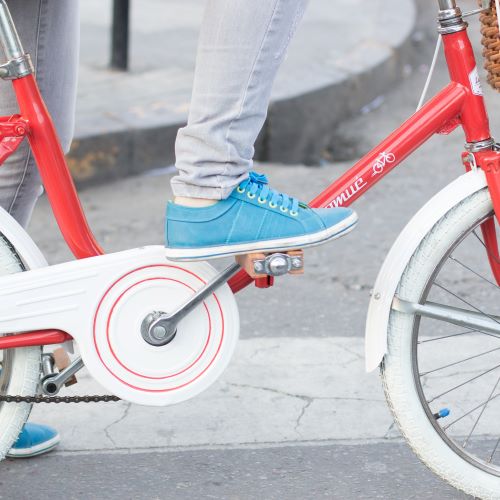 With more people wanting to avoid public transport due to the ongoing COVID-19 pandemic, commuting to work by bike has never been more appealing. If you have found yourself in this position and have opted to cycle to work rather than drive or take the bus or train, you might be looking for ways to improve your commuter bike. One thing that many people often overlook is the importance of pedals.
If you want to ensure your journey to work is comfortable and as easy as possible, then you need to get yourself some of the best commuter bike pedals. Before we dive into which ones are the best pedals available, you need to know that there are two main types of pedals; the platform (sometimes called flat pedal) and clipless. You will often find platform pedals on most commuter bikes. They are great for beginners as you simply place your foot on the pedal and ride. Clipless pedals are a bit more complicated and are better for the more experienced rider. You will need special shoes if you opt for clipless pedals.
There are a few things you must consider before purchasing new pedals. What pedals are best for your commute will depend on the type of bike you are riding, the footwear you wear when cycling, and how long your commute is. A few other things to consider is your fitness levels, the weather conditions you are likely to be cycling in, and your riding skill.
If you are unsure of which commuter bike pedals you should invest in, we're going to take a look at five of the best pedals for your bike.
Best Commuter Bike Pedals
1. Crankbrothers Doubleshot Hybrid Bike Pedal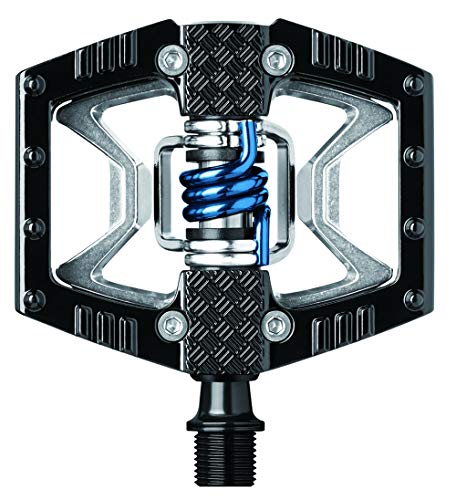 These hybrid pedals from Crankbrothers are ideal if you are looking for a commuter bike pedal that can provide the best of both worlds of riding flat or clipped in. They are designed so that you can use them either with your regular shoes or cleats that clip into the pedals, without causing discomfort as there is no pedal cage pushing into the sole of your shoe. This means that you can set off on your commute without worrying about wearing special footwear. The platform provides great traction due to the diamond plate pads.
If you have got a folding bike you will want to keep weight to a minimum and these pedals are thin and relatively light which makes them ideal. You can clip into the Doubleshot with ease and it also releases your foot efficiently. The platform is pretty big making it easy for your foot to find the pedal. If you are cycling in muddy conditions the pedal also offers phenomenal performance, this is down to the Crankbrothers renowned egg beater design that means you don't get a build-up of mud on your pedals.
2. MKS FD-7 Folding Pedals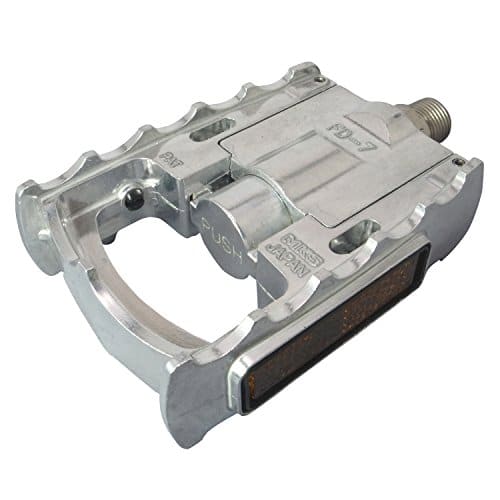 With the cost of innercity property getting higher, people are becoming more and more conscious of space and how to utilize it. One way of managing space is to have a lightweight folding bike. These are ideal if your commute involves getting on a train at some point. If this is the case, you should also look into adding some folding pedals. These pedals are strong and durable and offer a very good grip, so you don't need to worry about your feet slipping off in trying conditions. The MKS FD-7 Folding pedals also offer a lot of support and comfort even if you have softer soles on your shoes. An additional bonus is they also have built-in reflectors for added safety.
The push button to fold the pedals up is secured on the inside of the structure, so you do not need to worry about them folding up accidentally. This button, however, is easy to access when they are not in use. A simple push of it and you fold the footplates up vertically which will take up less room whilst storing them. It also makes it easier to transport the bike in the back of a car.
3. Crankbrothers Stamp Flat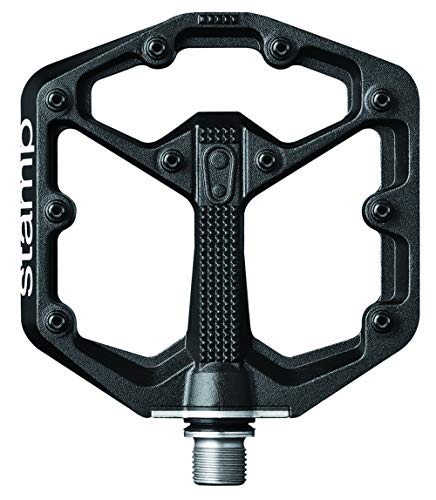 The Crankbrothers Stamp Flat comes with a five-year warranty which shows the level of faith they have in this pedal. It comes in a range of colors allowing you to pick pedals that look good with your bike The pedal itself is light, durable, and reliable. It's available in different sizes and has a wide, thin surface with 10 adjustable pins on each side to allow you to set it to your own comfort and ensure your foot has a grip at all times. This customizable grip means that you can change the pedals dependent on the weather so wherever your commute is, you can be sure that your feet will stay gripped to the pedals.
These pedals are also suitable for other forms of cycling, so if you spend your weekend mountain biking you can rest assured that you will have a product that is suitable for both. The Crankbrothers Stamp Flat has an axle that was specifically designed for this pedal. It is easy to dismount and clean, so if it gets muddy, you can easily take it apart for cleaning. This also means that you don't need to worry about losing any grip should the pedal be covered in mud.
4. GPMTER Bike Pedals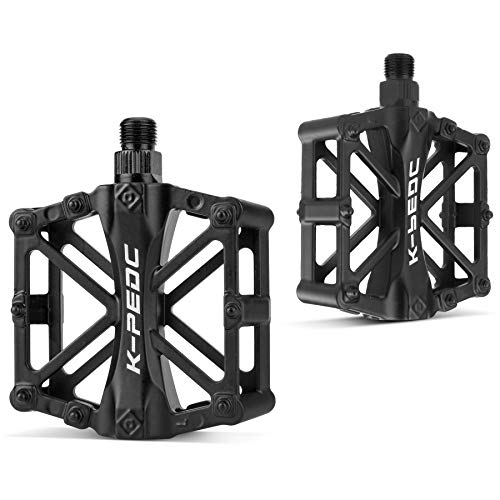 If you are not the most experienced cyclist and are looking for a more affordable pedal the GPMTER pedal is a very good option for you. These pedals offer all the benefits of pedals that are often 2 to 3 times more expensive. They have a large plate that provides good levels of grip. The grip is further improved by the anti-skid nails that are built in. This eliminates the problem of your feet slipping off whilst on a ride. This can be a particular problem in wet conditions, with these pedals it is one less thing to worry about.
These pedals are easy to fit, so as soon as they arrive, you can fit them to your bike and start using them straight away and you know that you will be getting a good value for money product. Despite the low cost of the pedals, they are still sturdy and offer good levels of durability without being too heavy, so they are also suitable for a folding bike as they won't be adding too much weight.
5. BV Bike Pedal Set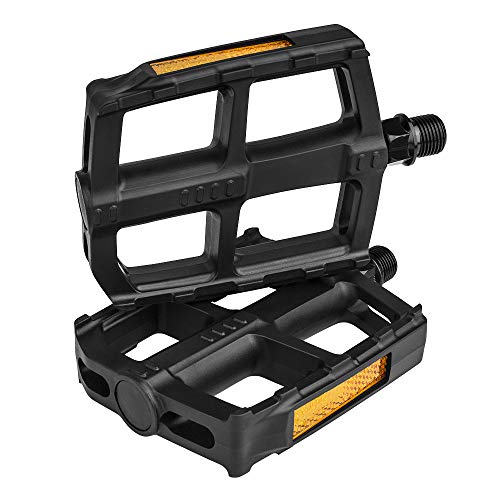 One of the main features of the BV Bike pedal is the anti-skid nodes and ball bearing system. This feature enhances safety, preventing your foot from slipping and causing an injury. When pedaling, the high ball bearing system feels sturdier and helps give you a smoother ride. The pedals are relatively easy to install and for the price of them, they are robust and long-lasting. If you are commuting early in the morning or late at night and it's dark out, the BV Bike pedals have reflectors on both sides to help increase visibility.
The pedal is made from a single piece of rigid resin meaning that there is only one part so there is less to go wrong. The axle of the pedal is made from an extremely strong boron steel alloy giving the pedal a long life. This is a relatively simple pedal so if you are a novice when it comes to cycling this is a good pedal to use. There are no complex features, so you can just fit it to your bike and start riding.
How to change commuter bike pedals
After you purchase your new bike pedals, you will need to know how to install them. Watch this video for detailed instructions on how to replace bike pedals:
Conclusion
All five of these commuter bike pedals that we have discussed in this post have benefits that will suit riders of different experience levels. Whether you are looking for something dependable and long-lasting like the Crankbrothers Stamp Flat or something that can provide a decent grip like the anti-skid feature on the GPMTER Bike Pedal, it's worth upgrading your pedal on your commuter bike to ensure you have a smoother and more comfortable journey to work.
It's also sensible to think about what other activities that you will be using your bike for. If in your spare time you are using it a lot, you will want a pedal that can stand up to the other activities, so it's beneficial to get a more versatile set. If you are just using your bike for commuting to and from work, you should be looking at one of the more basic designs that are available.
If you are new to cycling and still getting to grips with what pedal may be better suited to you, we recommend sticking with a platform pedal until you have a bit more cycling experience behind you and when you feel more confident you can switch to a clipless pedal. The last thing you want is to start using a clipless pedal when you are not ready, as the idea is to make your commute as comfortable for you as possible.
Before buying your new upgraded pedal, remember to consider things like how long you will be commuting for, the type of weather you will be riding in, and your chosen footwear. Hopefully, you will be able to find a pedal that suits your requirements.
Related Articles