(Last Updated On: August 9, 2022)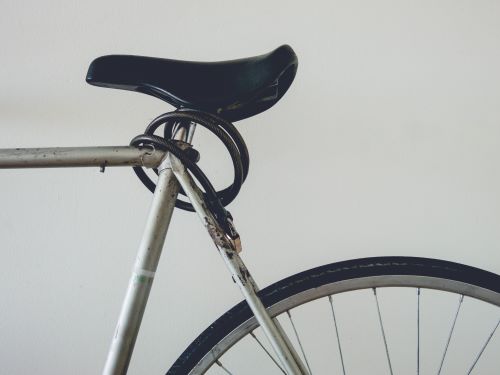 For any bicycle rider, saddle comfort is essential to enjoying your riding experience. So, when it comes to making your commuting as comfortable as possible, having the right seat can make a world of difference. That is especially true when you are used to commuting for longer distances.
A good commuter bike should be wide enough to offer support for your whole body and yet narrow enough to allow you to move freely. Your saddle is easily the most personal part of your life. Selecting the best option may boil down to personal preference, as what may feel comfortable to someone might be quite uncomfortable for you.
There are so many options to choose from based on the material, padding, curve, weight, length, size, and shape. All these can make your first choice a bit more complicated.
So, in this article, we will take a look at the best commuter bike saddles available.
Our Favorite Commuter Bike Saddles
1. Giddy Up! Bike Seat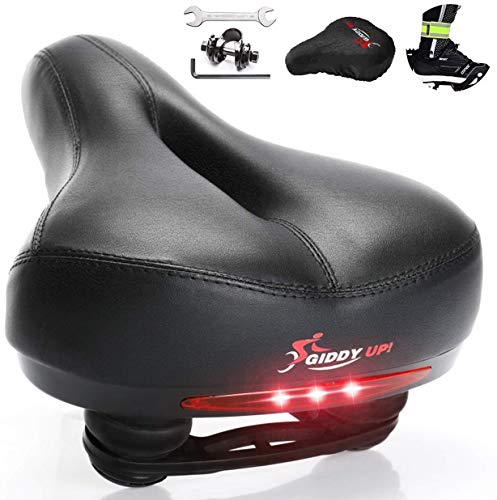 This comfy seat from Giddy Up provides a moderate seat width, mid-thickness padding, and a center slit to form an excellent seat for almost any rider that purchases one. The seat comes cushioned with a memory foam, which provides a lot of the same benefits that gel padding offers. This foam provides all the conforms to your sit bones, only it lasts longer than gel padding.
A set of suspension coils are used to mount the seat instead of connecting it directly onto the rails. This helps to reduce the vibration effect transferred to the body whenever you ride over obstacles, bumps, and potholes. The suspension also reduces or eliminates the amount of energy that a rider will otherwise transfer into the pedals; this makes the seat a much better choice for comfortable rides, as compared with rather aggressive workouts and commutes.
Another significant advantage of the Giddy Up! Bike Seat is the fact that the seat features LED lights that have been integrated into the rear end of the seat. This adds to the biker's overall bike lighting to make the rider visible to other cyclists or drivers behind them, especially during times of low visibility. This feature is ideal when it comes to the on-road safety of the rider.
2. YLG Oversized Comfort Bike Seat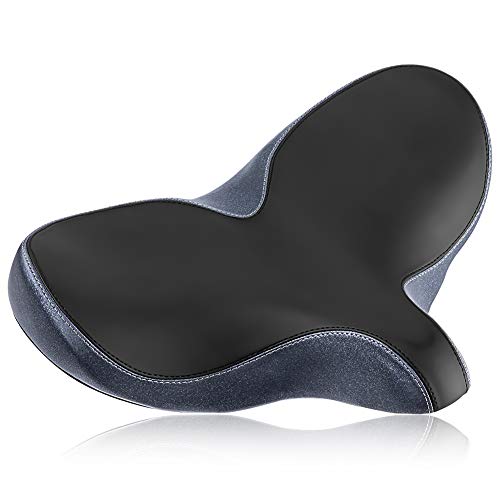 Up next, we have YLG Oversized Comfort Bike Seat. This comfort bike seat comes with a little oversized design, intended to hold the rider and provide enough comfort for aggressive workouts and even short commutes. The comfort replacement bike saddle also features an extra layer of memory foam for added comfort, similar to our first entry. The difference here is that this bike seat offers a wider surface area.
The seat comes padded with premium quality, high-density, high-elasticity memory foam with a soft gel formula and a shake-proof feature. This reduces the amount of vibration the rider's body might experience when riding over bumps, dips, or other kinds of obstacles. The seat's surface is made with high-quality PVC leather, which is not only waterproof but also non-slip and resistant to scratches, tears, and wears.
YLG Oversized Comfort Bike Seat also comes in an ergonomic design to provide an extra touch of comfort. The seat has an extra-arc wide design that fits perfectly to almost any hip size without compromising the movement of the legs. The design also increases the force area and provides support as well as riding comfort.
You will find dual spring rubber ball suspension underneath the seat, which offers a more stable and robust shock-absorbing effect. That provides better protection for the rider and eliminates any form of noise between the spring. Another major advantage that this seat offers is the fact that the design makes it an ideal fit for almost any bike model, as it comes with an adapter to fit different bikes. Installing it is also comparatively easy, and each pack comes with extra installation tools and an instruction manual.
For extra safety, the seat features a reflective back to make the rider visible to drivers and other riders behind them during more poor visibility conditions.
3. Wittkop Bike Seat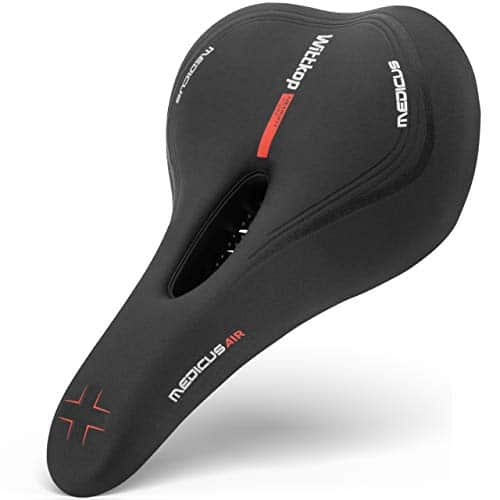 Our next bike seat is the Wittkop Bike Seat. Just like the first two products we have already reviewed, this bike seat is also made of very high-quality material. It features a particular foam layer, which enables the saddle to cling on to the body of the rider. It also enables the body to nestle comfortably on the seat due to decompression- making it an ideal choice for both regular bicycles as well as e-bikes.
The Wittkop Bike Seat also comes with an innovative 5-zone concept, as this unisex bike seat comes partitioned into five separately conceptualized zones. That provides the seat's ergonomic design, which offers better support for the rider's body and replaces the pain of long-distance riding with a comfortable and enjoyable one.
The design also provides an enhanced system of airflow through the bike's internal braces, making it an ideal fit for trekking bikes, which guarantees innovative air ventilation. So, long-distance riders no longer have to worry about sweat building up between their sitting areas, especially when going for very aggressive rides.
The seats are also fully waterproof due to additional welding. Each seat also measures 6.7 inches, perfectly optimized to hold the rider's body and support the back during long-distance rides. One downside that this replacement bike seat has compared with the ones already reviewed is that it does not come with a reflective strip. That means that it offers a little less safety during times of low visibility.
4. BLUEWIND Bike Seat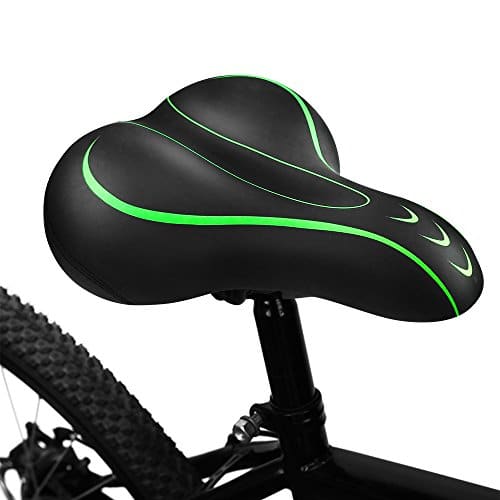 BLUEWIND Green Wide Mountain Bike Seat is next on our list. It is designed to feature a super comfortable memory foam with high density. It also features a durable, waterproof leather material, which comes with an installed dual shock-absorbing ball. This feature replaces most of the old-style seats, which usually come with hard and uncomfortable seats.
The design makes this replacement bike suitable for both men and women, as well as ideal for long-distance, aggressive adventures, and short commutes.
Supporting this wide-design mountain bike seat is ergonomic design. Despite its wide appearance, the BLUEWIND Bike Seat's front portion has been designed to be smooth and about half an inch narrower than most 'normal' bicycle seats. This means that the seat will not bend, scratch, or rub on the rider's thighs. Moreover, the seat also features a horn-like shape or design, which will prevent the rider from sliding down or forward when riding.
There is also an excellent concave shape down the middle section of the seat, which ensures that the butts receive enough airflow to prevent sweat build-up.
Beyond the ergonomic design, BLUEWIND Bike Seats also pays attention to its flexibility and elasticity. Its extra shockproof and noiseless feature is due to an anti-vibration rubber ball installed to ensure that the seat is flexible and offers outstanding endurance. It also means that the rider can handle dips, ramps, and other road obstacles without worrying about the vibration effect on the body.
The seat is also effortless to install, as it comes with two mounting tools. There is also a reflective strip on different sides of the seat for added visibility and safety at night. Furthermore, you can adjust the seat's angle and height without needing any special tools. Plus, this replacement seat is ideal for kinds of bikes – from electric bikes to cruiser, road, and exercise bikes.
5. SGODDE Comfortable Bike Seat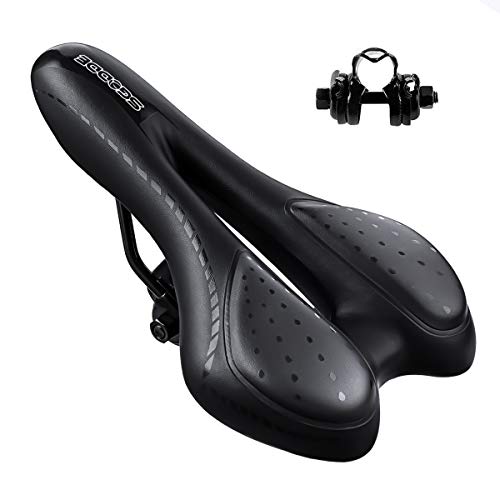 Our last but not least entry is the SGODDE Comfortable Bike Seat. Just like all the other entries already reviewed on this list, this replacement bike comes in an ergonomic design, which will ensure that you have a comfortable and healthy long-distance riding experience.
The bike seat front comes in a narrow design that allows the rider's thighs to move freely without rubbing against each other or the seat. The hollow and breathable design also comes with a dual rubber spring ball suspension perfectly located under the bicycle seat. This feature offers better protection, a stable riding experience, a strong shock absorption effect, and a comfortable riding experience.
Still looking at comfort, the bike seat material comes with artificial fatty gel, as compared to the standard plastic polymer that most other bike seats use. The use of synthetic greasy gel also helps the rider feel more comfortable, reducing about 40% of the pressure towards the prostate area. That means it is ideal for both men and women.
SGODDE Comfortable Bike Seat also offers better protection with its shock absorber and reflective strip features. It comes with double stainless-steel rails located under the bike saddle as well. These rails serve as a highly resistant shell, which offers a strong shock absorption effect and better protection. The reflective stripe feature also reflects surrounding lights, especially at night, to provide better visibility for the night rider.
Installing this bike seat is very easy, with an upgraded design that is a comfortable fit for almost any kind of bike. It's easy saddle replacement feature also makes it useful for stationary bikes, electric bikes, mountain bikes, etc.
No products found.
How To Choose The Right Bike Saddle
While the saddles above are great options for around the town and shorter bike commutes, they may not be the best for long rides. Depending on what type of riding and commuting you do, you may need something different. For a great tutorial on how to choose the best bike saddle for you, watch this video: