The 5 Best Commuter Bikes Under $200 Reviewed
There are many ways for you to get to work or to the train station, but most of them will see you stuck in traffic for countless hours. The rise of commuter bikes isn't that surprising. When you think about how many people need to commute each morning and that the traffic can be longer than it needs to be.
One of the best things is that you can pick up commuter bikes for under $200. They range in features, but there is no doubt a perfect commute bike for you. In order to find the best commuter bike for under $200, there are a few things that you need to keep in mind.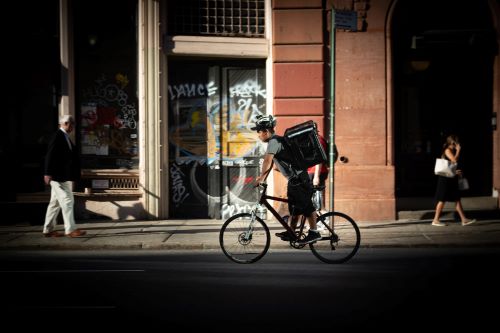 Think about what needs you to have a commuter. How long is your commute? Do you need to get from door to door or travel partway on a bus or the train? Are you surrounded by a lot of hills or gravel pathing? All of these things will have an impact on the bike design that you should choose.
Buying any bike isn't a small decision; hopefully, that bike will take you to numerous places and will be comfortable to ride. Here are some of the things that you will need to take into consideration:
Gearing:- If there are any hills, you will need to consider your gear needs to make that easier. Or would you prefer the ease of a single-speed bike?

Comfort:- Some bikes aren't comfortable to sit on, but the trade for a cheaper bike is buying padded cycling shorts. Decide how much you value the comfort of a good seat.

Terrain:- Are you riding on specially designed bike paths, or will you be riding on gravel, road, and other bumpier terrain? You will need to consider the tires that you choose.

Weight:- For many of the city bikes, you need to consider their weight and your own weight. Some bikes will only allow for up to a certain weight of the rider. Other commuter bikes are much heavier than others.
Best Commuter Bikes Under $200
1. Hiland Road City Bike 700C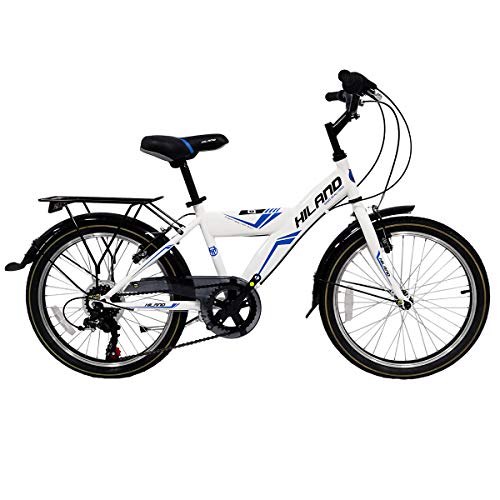 The Hiland Road City Bike 700c is a neat bike. Hiland are already known for making high-quality bikes, and this adds to their incredible range. The Hiland Road City Bike 700c is rust-free, allowing you to ride in the rain, lock it up, and not worry about it. This city bike for under $200 comes in two colors, red or black.
It has a super light frame too, which means it is ideal for traveling to work with speed.
As an extra cool feature, it has an A050 thumb shifter so that you can change gears quickly and effortlessly. Coming with a 21 gear system, the Hiland Road City Bike 700c is excellent for novices and experienced riders.
When traveling at speed or just looking for comfort, the aluminum rims are sturdy and strong, giving you an extra smooth journey. Something that might put some commuters off is that the Hiland Road City Bike 700c comes with a weight limit of 275lbs.
When you order the Hiland Road City Bike 700c, it comes almost fully assembled, so it's quick to put together and ready when you are.
All in all, the Hiland Road City Bike 700c is a lot of bike for your buck.
2. Huffy Hardtail Mountain Bike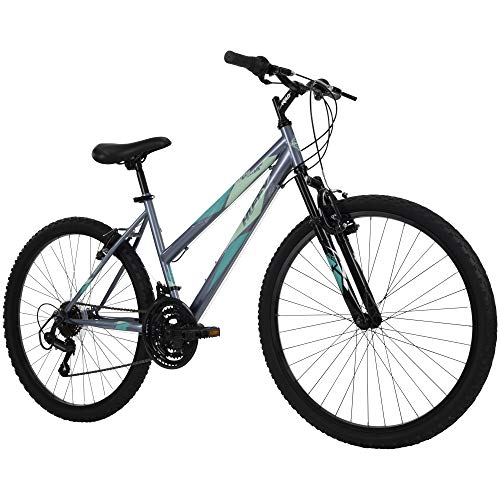 The Huffy Hardtail Mountain Bike might not have been your first choice when it comes to city bikes, but it's a great option. It is a very sturdy bike and has a strong ally frame. The 3-piece Kolo steel crank means it is an incredibly smooth ride – but can take you from gravel to road to mud and hills with ease.
The tires not only look large, but they are robust too and grips the ground really well, which gives most riders a lot of confidence.
The Huffy Hardtail Mountain Bike is a smooth ride and changes gears effortlessly.
The bike comes in matte black with a hardtail flame; it's easy to look at the bike and feel like it was money well spent.
It is worth noting, though, that the bike has been reported to be heavy, and for people who aren't used to a city bike ride, it might be worth opting for a lighter bike instead.
3. TANGNADE Travel Bike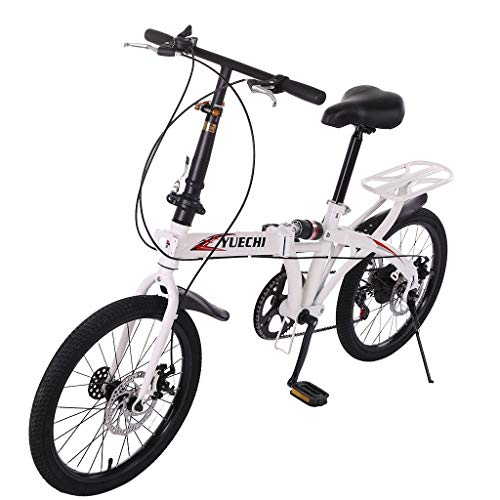 The TANGNADE is a brilliant folding mountain bike. It is perfect for people who need to take their bike on a bus or train and then cycle some more when they get to the other side.
It is ultra-compact and lightweight with an aluminum alloy frame. It folds down to a very manageable H-24 and W-13, with a weight of just 38lbs. The maximum weight that the bike can carry is 220lbs, which means this bike won't work for everyone.
The saddle is comfortable, and considering how easily the bike folds down, this can be surprising.
The TANGNADE Travel Bike comes with well-sized sturdy wheels that are 21 inches, and they have a high-quality suspension. Absorbing plenty of on the road shock and allowing the rider a smooth and enjoyable ride.
One of the best things about the bike is it is very easy to adjust in size and can work for teens and adults. The seat and the handlebars can be moved into position and give a comfortable ride.
This bike is well suited to those who don't have outdoor storage space or need to fit a bike in a smaller space like the trunk of a car or on the train with them.
4. Roadmaster Granite Peak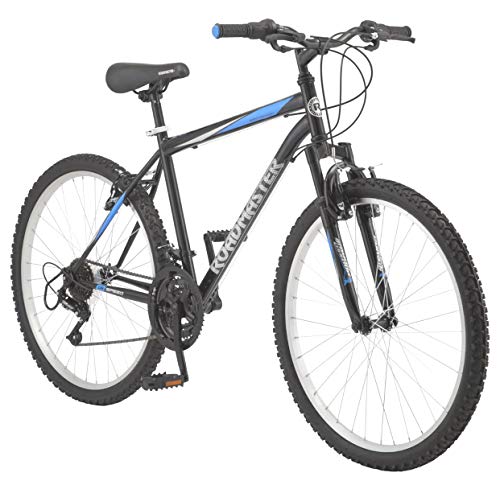 This is one of the sleekest looking commuter bikes under $200. The 18-speed gear system means that the bike can be used for more than just city travel. It is simple enough for those who are just starting their bike riding journey or those that have been riding for some time. It is an ideal all-round bike – perfect for riding to work, or for weekend cycling through the countryside.
This means that the Roadmaster Granite Peak bike is built with utility in mind. The frame is sturdy and made to last.
The braking system is quick and clean, making the Roadmaster Granite Peak ideal for those times when an emergy stop is required. Indeed, while commuting through a city, the braking system is a bonus.
The front fork suspicion has a travel of 80mm, which is maximum shock absorption, perfect for those bumpy city roads or the local woodlands. The wheels are a solid 26", giving the rider a considerable level of control over the bike. The Roadmaster Granite Peak has been designed with wet roads, rocky terrain, and cities in mind.
The frame and the handlebars are both made with durable steel, and the design and craft are of high-quality.
Unlike some of the other models, the Roadmaster Granite Peak can hold up to 300lbs, which is great for those who need a little more support.
The Roadmaster Granite Peak comes in many different color options, from a sleek black and a rich charcoal gray.
5. Hiland City Commuter Bike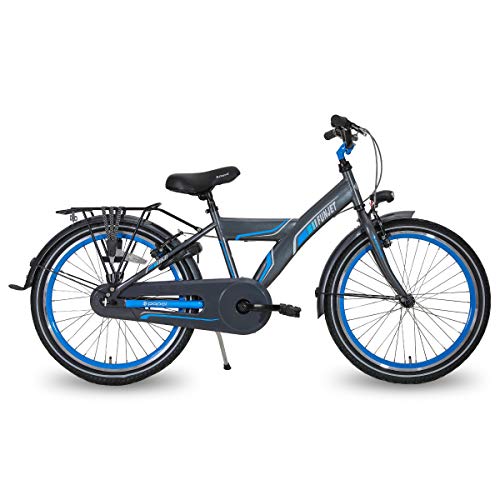 The Hiland City Commuter Bike is one of the most pleasing on the list to look at. And Hiland is so sure of this model the steel frame is backed by a lifetime warranty. It comes with a few things that are unexpected for the price too.
The Hiland City Commuter Bike comes with a high-quality rear rack and a lock too. Not only that but both the front and rear wheels come with fenders too.
The Hiland City Commuter Bike comes almost assembles, so there is very little that you have to do before heading out on your first bike ride.
It comes in a range of colors, making it stand out from many of the other city bikes on the market. The lights make it safe to use in the winter without having to fit anything extra (button battery).
A sturdy city bike that looks relaxed and cruises with no problems. The Hiland City Commuter Bike will need to be put together, but there is an easy to follow instruction video that you can find to help.
Tips for bike commuting to work
Regardless of the bike you get, here are some great pieces of advice for anyone that commutes to work by bike:
Conclusion
The best commuter bikes under $200 come in a wide range of styles and with varying features too. Most bike commuters will do much of their riding on the pavement unless they live somewhere that has specialized bike paths. One of the key factors that have to be taking into consideration is the terrain that you will be riding on.
This will impact the suspension and the size of tires that you should opt for. The most common wheel size you will see on a commuter bike is the 700c; these are great for almost everyone.
You should also take into consideration your own height. This will make the distance between the seat and the handlebars and essential measurement. Urban bikes are designed to be lightweight, easy to handle, and perfect for getting from home to work in the easiest possible way and avoiding all of that commuter traffic.
Related Articles