The 7 Best Commuter Bikes for Beginners Reviewed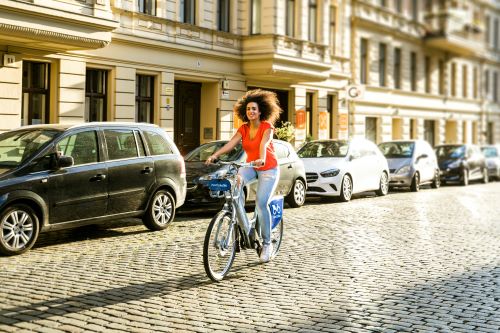 Biking to work is the new in and for good reason too. Newer bikes come in a variety of styles to help people bike to work and not just for exercise. From bikes built for comfort to bikes built for speed or rough terrain, you can find a new bike ready to make commuting a new way of life.
Take a look at the seven best options to get you into a commuter bike. We even found an affordable electric bike to see if commuting with a little more power is a better option for you. After, check out the buying guide and get answers to your questions too. Start shopping!
Best Commuter Bikes for Beginners
1. Schwinn Discover Hybrid Bike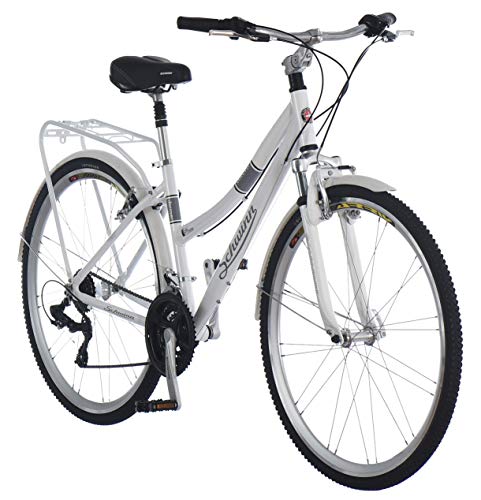 Schwinn is a well-known bike brand because they make quality bikes with many different functions. With the Schwinn Discover Hybrid Bike for Men and Women, you get a mid-range price and tons of comfort. Pick from two color options of black or white and two sizes to fit your height. Although the real reason to pick this bike is the classic style, the fenders, and the built-in rack.
An aluminum frame makes this a sturdy option, as does the suspension fork ready to absorb shock from potholes and other variances in the road. Whether commuting or out for a leisurely drive, the Discover bike can handle anything you need. Enjoy a comfortable upright sitting position with flat handlebars perfect for beginner commuters.
Furthermore, the bike provides 21 speeds to get you up or down any hill or terrain. A Shimano TX-31 rear derailleur allows for easy gear change too. Add in the Schwinn alloy crank, Promax alloy linear-pull brakes, fenders, and adjustable steam, for all the functions you need in a commuter bike.
Finally, the bike uses aluminum for lightweight construction, ready to make commuting an experience instead of a hassle. With built-in storage, it's definitely a hybrid bike ready to commute along with the thick 700C tires. It's a fantastic beginner bike for both men and women so they can reduce environmental waste and improve both their health and reduce traffic in their life.
2. Loft 7i Step-Over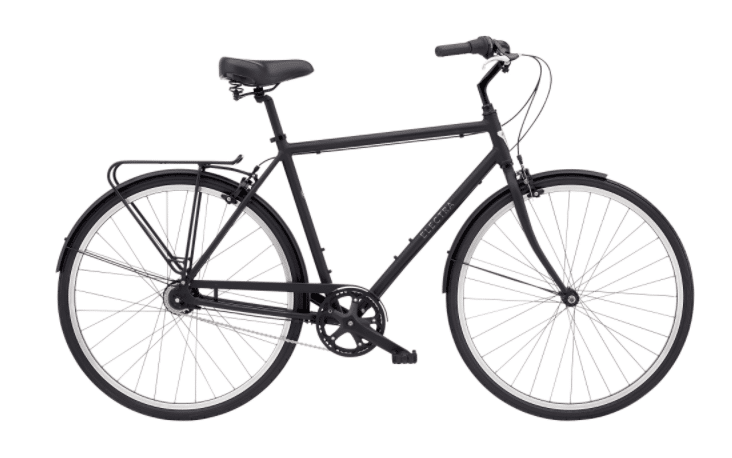 If you want a retro-style bike focused on comfort, then you need the Loft 7i Step-Over by Trek. What makes this bike special is the classic design and the rack for easy commuting. The classic black color and streamline frame offer elegance and ease. Taking care of this bicycle will be a breeze.
Next, the bike comes with a few key features include a shock-absorbing comfort seat, a foot-forward upright riding position, and it's customizable. Add in a lightweight design for an easy entry into commuting by bike. Moreover, it even comes with flat foot technology with two patents for improved comfort and control when riding upright. The technology allows for a relaxed seated position and proper leg extension so you can arrive to work in good condition without leg or back pain.
An internal gear system protects the gears to keep bad weather from rusting the parts and costing more maintenance. More gear ratios offer more options too. Riding is easier when the gears work for you instead of forcing you into an uncomfortable position to gain leverage.
While the bike only offers seven speeds, the parts are high quality and make commuting easy instead of a chore. The bike includes standard 700c wheels and all Shimano parts and detail everywhere. If you have the money to spend, this bike will give you everything you need, including thick tires ready to take on the road and get you to and from work and home with ease.
3. Vilano R2 Commuter Aluminum Road Bike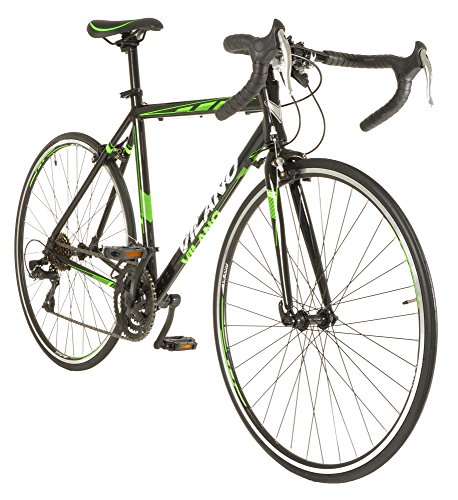 You will find two Vilano bikes on this list, but our favorite is the Vilano R2 Commuter Aluminum Road Bike because it's built for speed. Not all beginner commuters are ready for a little extra speed, but many need it because of a longer drive or personal preferences. The main difference between this bike and the others is it comes with drop handlebars perfect for gaining momentum with more comfort.
The first thing you will notice about the R2 is it's very affordable. Second, you will notice this entry-level bike comes in vibrant greens and blacks, making it visible but not too overly noticeable in a sea of bikes. However, the seat on the bike isn't the most comfortable but works best with the drop-bar handles, although you can change it out for a more comfortable option whenever you are ready.
Next, the bike is more of a road bike, meaning it's not built for comfort like a commuter bike but for speed on smoother terrains. If you have to go off track to get to work, pick a hybrid bike instead for the wider tires. Also, to save money and weight, the bike doesn't include fenders. It does, however, come with 21 speeds and all Shimano parts. Add in the aluminum frame for a lightweight bike easy to transport.
Novice commuters will love the easy assembly, access to brakes, and smooth derailleur system. The 700c double-walled tires and alloy caliper brakes make stopping simple. Safety is a priority with this brand, and you can rest assured you will make it to work in one piece. Some assembly is required, though, for shipping purposes.
Novice cyclers can enjoy the easy installation, too, with just a little effort to get on the road. Furthermore, the bike offers 21 speeds to give more options. Both the front and the back derailleur are Shimano, with the latter a Shimano Tourney. It also includes Shimano shifters.
4. Schwinn GTX Comfort Adult Hybrid Bike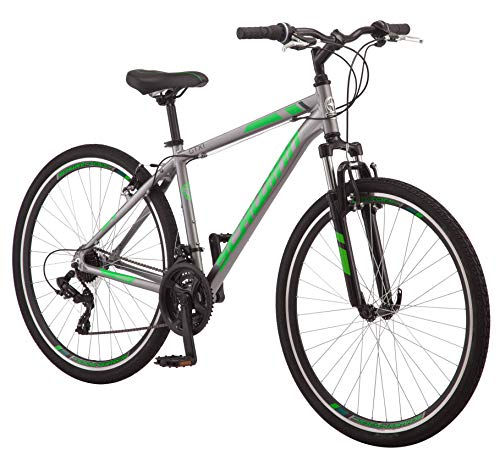 Schwinn makes another hybrid bike worth mentioning – the GTX 2 Comfort Adult Hybrid Bike offers comfort and ease. It offers the speed of a road bike, the comfort of a cruiser bike, and the versatility of a mountain bike all rolled into one. Combined, all of these features make for an excellent commuter bike ready to help beginners navigate any terrain with comfort and finesse.
The bike comes in a variety of frame sizes (in inches, not centimeters), including 16 inches up to 18 inches to match your height. Also, the bike comes in a variety of color options, all are beautiful, with sleek black for aesthetics. As a matter of fact, this bike is so popular it's often out of stock, which is the only reason it's lower on our list. It doesn't come with a bike rack or fenders either, which would make it more functional.
Next, the GTX 2 comes with everything you need in a commuter bike, including 21-speed shifters with rear derailleurs for precise gear shifts. It also includes an alloy v-brake for easy stops, double-wall rims for durability, and multi-use tires. Whether you need to bike on mostly roads or a little off the grid, this bike can do exactly what you need with ease.
As a Schwinn, your purchase comes with a lifetime warranty guaranteeing your purchase. Assembling the bike is an easy process, too, although you can pay a professional to assemble the bike for you. It's a fabulous bike ready to take you from a beginner rider to an advanced rider and to work too with less effort on your part. Now, if only it had a few accessories, it would be near perfect.
5. Hiland 700c Road Bike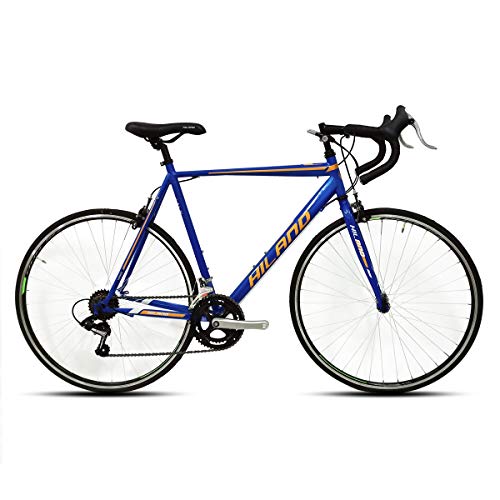 The Hiland Road Hybrid Bike gives you a versatile bike ready to take you on your daily commute with some speed. A midrange entry-level price allows it to be an affordable introduction for beginners. As a road bike first, it's ready to ride on smoother surfaces, and with the drop, bar handles it's ready to get you to work in a hurry.
With an aluminum frame that's both stable and durable, it's ready to work for years, offering both stability and value. Choose from three heights and four color options, too, for a custom fit. Moreover, at just under 27 pounds, moving the bike around when not on the seat is a breeze too. As it includes 24 speeds, you can go as fast as you are comfortable and work up more momentum without spending more on a speed bike.
The stylish bike supplies you with 180 mm front and 160 mm rear radius mechanical disc brakes for a safe drive and for precision. Furthermore, the bike includes high-quality Shimano components to allow for easier driving up hills. Thumb grip switches make shifting gears a breeze. You also get 700C tires for reliability. Even better, it's 85 percent assembled, so you can focus on outfitting the bike with accessories than hours spent tuning your bike.
The Hiland road biked does come with a few minor issues, such as not including a kickstand. Also, assembling the pedals can be a bit of a chore, and if not done correctly, can cause injury. Inspect the bike when it arrives as a few customers complained that it arrived bent. Find out why drop-bar handles provide the ergonomics you need to get the speed you crave and get to work on time.
6. Nakto ebike with Removable Lithium Battery BRIGHT GG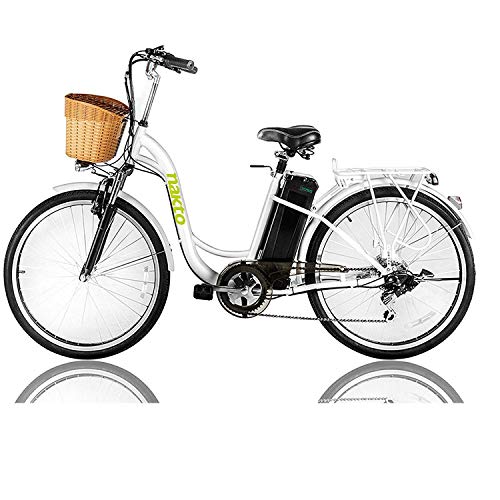 For your first commuter bike, consider an electric bike ready to get you to work without sweating. The Nakto ebike with Removable Lithium Battery by Bright GG offers a beautiful retro-style ready to receive tons of compliments from everyone. It provides tons of features like a storage rack, basket, and an out of the way motor. Also, it offers a traditional crossbar for more movement.
The bike comes in neutral black or white and an insanely comfortable seat ready to support extra weight. It comes with a strong carbon steel frame, and the fork is also made with the same material. Next, the Nakto comes with a brake and gearshift system with both front and rear brakes and a Shimano six-speed shifting system for optimal speed.
For the specifics about the electric aspect, the 250 W rear hub brushless motor has a detachable 36 V 10 AH lithium-ion battery to help the bike reach speeds of up to 25 to 35 miles per hour. It even includes bright headlights for safe night driving. However, because of the electric design, you may want to get the bike professionally assembled.
Choose from three modes of operation, including electric mode, pedal-assist, or pedal mode if you wanna ride the bike without any power but your feet. Keep track of the stats on the built-in computer too! While the bike is amazing, electric bikes are pricier than traditional bikes, but this one is very affordable and will give you the opportunity to decide if an electric bike is right for your commute.
7. Vilano Step-Through City Bike
Save some money with the Vilano Step-Through City Bike. Not only does it look beautiful in a retro-style sure to impress, but it comes with a lightweight frame and everything you need to decide if commuting is right for you. However, the gorgeous bike does not include a lot of speeds, and the seven speeds aren't great if you live in rougher or hilly terrain. For those with a relatively flat ride can definitely benefit from this bike and enjoy the statement style.
The speedy bike gives newbie commuters 700c wheels and thick tires for comfortable handling. A steel frame offers sturdiness, and it has mounts for a water bottle. An easy step-thru frame makes getting on and off the bike simple. Also, the flat handlebars provide comfort and easy gripping with the shifters and brakes in easy access.
However, this bike doesn't include a lot of options as it only comes in one size of 50 cm size best for shorter individuals. Moreover, the bike only comes in a deep blue but does feature leatherette trim on the handles and seat. Next, the bike provides platform pedals and a locking kickstand. You will have some assembly, although it is a simple process and won't take up much of your time.
Beginning commuters can use this bike for errands, work, or leisure and find out what they want in a bike without breaking the bank. It does not offer fenders or a rear storage rack, but for the money you are saving, these are easy additions. The only real problem is the bike weighs 32 pounds, which is quite heavy because of the steel. It does support up to 250 pounds, though, making it a great option for most riders.
Buying Guide for Commuter Bikes for Beginners
Take a look at some key factors before deciding which bike will work best for your needs.
Commute Conditions
Before you can decide what type of bike you need, figure out your commute. Sure, you drive there every day, but biking would be a completely different experience! You need to know if you will be on paved roads, riding on dirt, dealing with uncomfortable weather, and where you will park. Do a quick walk through your commuting path to better plan out the needs you will have on a bike, considering the distance and where you will park your bike too.
Bike Style
Commuter bikes come in three main styles. First, a classic commuter bike is designed for storage and comfort. A road bike offers more speed and may even have drop handlebars for more momentum. Finally, a hybrid bike mixes between the two and offers both comfort and the ability to handle uneven terrain.
Comfort
Depending on how much distance you need to cover, comfort can be an extremely important factor. Not only do you want to enjoy the bike ride but also arrive to work not covered in sweat or with wrinkled clothing. Determine how long your ride is before looking for accessories to help you get to work without appearing like you just finished a marathon.
Questions About Commuter Bikes for Beginners
What key features should I look for in a beginner commuter bike?
First, don't spend too much because your first bike might not end up meeting your needs. You will need to commute several times before determining what specifications suit your style. Second, look for a comfortable position, proper fit, and stability.
Are E-bikes a better option?
E-bikes can definitely be a better option as they can do most of the work for you and keep you from getting sweaty. However, the cost is higher, consider your budget before picking an e-bike.
Should I pick a bike with wider tires?
Bikes with wider tires are definitely easier to ride, but you should pick tires based on the road you are driving on. Road bikes offer thinner tires that grip to smooth surfaces easier, while hybrids offer a little more thickness for comfort and slight off-roading.
Are there any basic skills I need to learn before I start riding?
While you will most likely be fine commuting as long as you know how to ride a bike, there are a few basic skills that will be helpful on your daily ride. Watch this great video to learn a few basic bicycling skills:
Conclusion
New commuters not sure of what bike will work best for them should consider the Schwinn Discover Hybrid Bike. It's prepped to handle multiple terrains with ease and even comes with comfort built-in and storage too. Commuting can save you time, money, dealing with traffic, and even help the environment, so pick your bike now and be apart of this new wave of bikers.