The 5 Best Commuter Bikes for Women Reviewed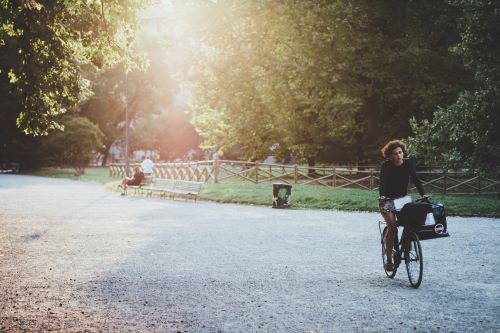 Using a bike to commute to and from work, or wherever you need to go, is a great idea for several reasons. You save so much money by not having to worry yourself with the common expenses that stem from using a car on a daily basis, things like car insurance and gas prices. A commuter bike is also a great way to sneak in some necessary exercise and cardio. At the same time, you are providing yourself with a way of transportation to get wherever you need to go. You will also be reducing your carbon footprint by not contributing to the greenhouse gases that coat our green earth.
Commuter bikes are gaining popularity all over the world for those reasons and many more. The great thing about commuter bikes is that there are different kinds that can suit your needs and lifestyle. Knowing roughly how long your commute is will help you better determine the type of bike to use. Short bike commutes are about 10 miles or less on a daily basis whereas long bike commutes are about 10 miles or more on a daily basis. You should also consider the type of material you want your bike to be made out of. Looking for something sturdy? Consider getting a commuter bike with a steel frame. Looking for something lightweight, maybe a bike with an aluminium frame is better. Here are some of the best commuter bikes for women.
Best Commuter Bikes for Women
1. Sixthreezero EVRYjourney Steel Women's Hybrid Bike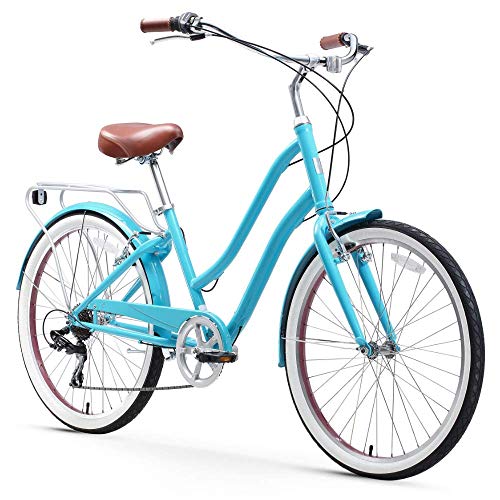 The Sixthreezero EVRYjourney Steel Women's Hybrid Bike is a great option if you are someone who is looking for a hybrid between a classic cruiser and a modern commuter bike. Its saddle proves to be very comfortable as it features dual springs. The two springs absorb all the bumps and bruises on the road. Its stock seat is also very comfortable, though if you are planning on making long commutes on this bike, it is recommended that you swap out the stock seat for a gel seat cover instead.
It has rear and front fenders, so it is super great to ride in the rain. If you want to attach a basket you most certainly can as there is a rack in the back made just for that. You do not have to worry about carrying around a heavy hybrid because this bike is decked out in aluminum making it very lightweight. The only drawback from this commuter bike is that is is not the best option if you are looking for off-roading, so stick to the streets with this one.
There are not many sizes of this bike as it comes as a one-size-fits all. No matter if you are five feet to six feet tall, this bike can still work for your body type. This can be a drawback if you are a really tall person, in which case you may require a bike that is customed to you.
Putting this bike together will only take you about half an hour, so it is very simple to assemble. The instructions come step-by-step. They are very easy to follow. You will be able to get on your bike and ride in no time.
2. Schwinn Discover Hybrid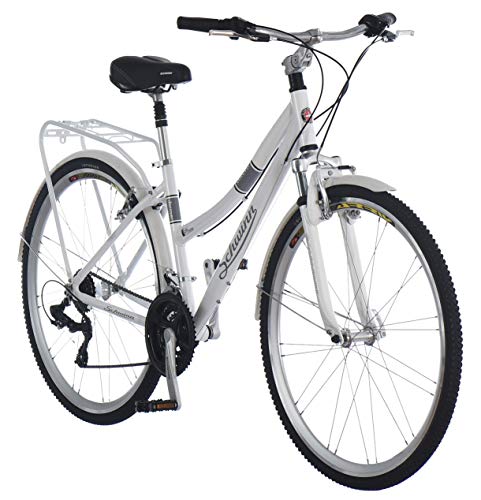 This is another hybrid we highly recommend, especially if you are someone who is looking for reliable transportation into the city on a daily basis, if you like to ride on weekend short trips and if you ride rough trails as well as semi-sport mountains. Their are many great things that make this bike one of our top picks. For one, its frame is made of Urban Riding which gives it its sturdy structure. You can also carry any kind of luggage you have in the rear. This bike is really safe too as it has both a Shimano TX-31 gear shift and a ProMax Linear pull brake. You will be riding pretty comfortable when you take the Schwinn Disover Hybrid for a spin. Its handle bars and seat cushion offer maximum comfort no matter how long you are riding. This is a quality hybrid bike, offering 21 speeds for whatever mood you are in. You will be looking stylish riding this bike no matter what the outfit.
3. Schwinn GTX 2.0
The Schwinn GTX 2.0 is great for an amazing on- and off-road ride. It features an aluminum dual sports frame, making it super versatile to ride at any time of the day. You can literally ride this anywhere. Its front and back disc brake system will ensure that you will be able to safely stop no matter what comes in your path. You are in charge of this bike when you ride it thanks to its easy and fast alloy crank. Shifting gears comes as naturally as you riding it. The Schwinn GTX 2.0 is simple to assemble, provide you with durable tires capable of handling most terrains and the price point give you the biggest bang for your buck. The main drawback with this hybrid bike is that if you are over six feet, you may want to consider a different model as this one may be too small.
Overall, this is a great pick. This gives you the specs you are looking for when searching for the perfect commuter bike along without having to give up the thrill of the ride itself. It is super safe, so if you are thinking about taking it for a spin in any urban or city-like area with a lot of traffic, this is the perfect commuter bike for you.
4. Giordano Aversa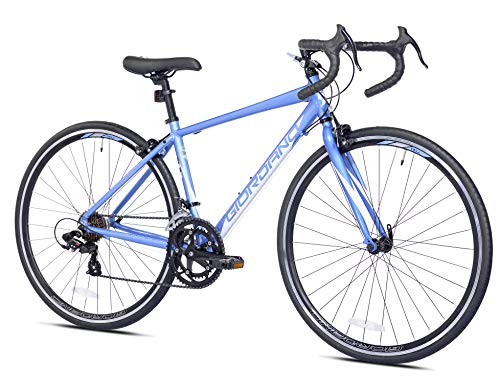 If you are a first time bike rider, or you are not that experienced with riding bikes, this is the bike for you. There is a reason this is one of the leading bike brands. You get high quality at reasonable prices. This is also an aluminum-frame bike, so it is very easy to manuever and very light weight. It rides very comfortably as well thanks to the 14-speed Shimano drivetrain. Switching gears is a breeze. When you find yourself having to manuever the city streets, dodging people and cars alike, this brake system makes this bike really safe for rides like that as it has an alloy dual pivot brake system. This is the best bike for those bike riders who are entry-level to intermediate. It also comes in two sizes including a small frame and a medium frame.
Keep in mind that this bike does need to be assembled, but it is pretty easy to do. Another few drawbacks to this bike is that it has limited gearing and its brakes may not be preferred against someone who would ike disc brakes. If you are just getting the hang of bike-riding, this is definitely the bike for you.
5. Roadmaster Granite Peak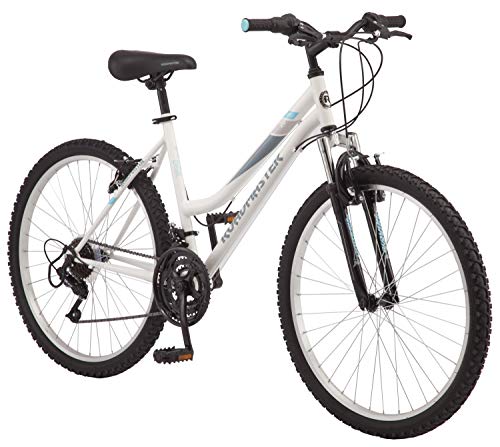 Purchasing a bike is a pretty important investment. You want to make sure that it is of quality, and the Roadmaster Granite Peak is definitely of quality. The frame of this bike is made of steel with the rider in mind. Because of the geometry of the frame, you will coast down the urban streets or off-road terrain with ease. It compliments your natural human form. You also do not have to worry about riding across any uneven paths as the suspension fork makes for a smooth ride. This bike is easy to control.
Switch gears with easily and quickly with its SRAM drive twist shifters. You will be able to cruise down a steep hill and change through its 18 gears without having to put in as much effort. Consider this bike very safe as well while you are traveling through that steep hill. Its linear pull brake system allows you to stop no matter how fast you are going.
When putting this bike together, its assembly manual is very easy to follow. This can be very hard to come by. All of this comes at an amazing and affordable price point, no matter what your budget is. This bike is sturdy, able to withstand whatever is thrown its way. You will always be in control when you take this bike for a ride into town or at the boardwalk.
A few drawbacks for this bike are minimal, but they are something to think about. It is often said that the seats are uncomfortable for some. Luckily, the seat is an easy thing you can change. Another con about this precious bike is that the gears can sometimes work too slow. Last, but not least, some of the bike does not come already assembled. There may be some extra steps you have to take before your bike is ride-ready. The great thing about this is that the really complicated parts that are very complex to put together already come assembled.
If you are a beginner mountain-biker who also wants to be able to take this bike out into the city streets, this is the bike for you. It comes at an amazing price point while not having to compromise on its quality.
The difference between commuter bikes for women and commuter bikes for men
While the differences between the men's and women's commuter bikes are subtle, they are different. To learn more about the differences between them, watch this video:
Related Articles