The Top 5 Cruiser Bikes Reviewed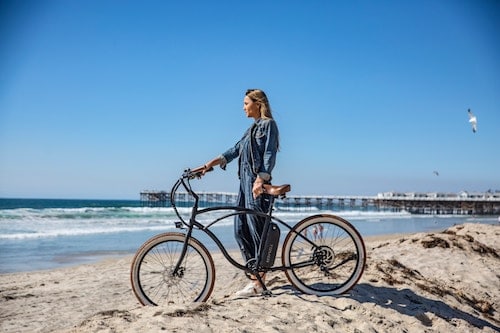 We know that not every cyclist is looking for a ton of bells and whistles on their bicycle, and this is just one of the reasons we suggest investing in a cruiser. Furthermore, cruiser bicycles tend to rank higher in comfort and style. These are just a couple of reasons we decided to take the time to review the best available today. Below are 5 of the best options for those of you that like the leisure of cycling but don't plan on climbing any mountains.
So, whether you are looking to enjoy a roll on the beach or a ride around the park trails, these highly-rated men and women's cruisers are made to get you going with all of the above. Each one is designed to satisfy your need for two wheels. They are enjoyable, sturdy, come in great classic designs, and some are even designed ergonomically, working well with those who may suffer from injuries that would normally prevent them from being able to enjoy riding a bicycle.
Check out what we came up with based on our hours of research. We also went over a ton of reviews from consumers like yourself. We are fairly confident that if you're looking for a fun ride for the sand or pavement that one of our 5 best cruisers will fit the bill.
Best Cruiser Bikes
1. Sixthreezero EVRYjourney Women's Step-Through Hybrid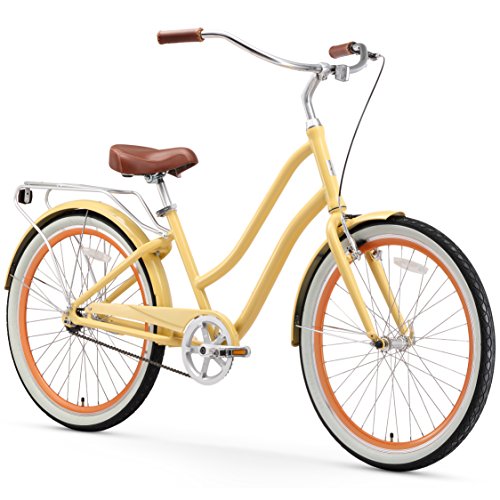 Offering single-speed, 3-speed, 7-speed, and even 21-speed designs, Sixthreezero EVRYjourney has an option to fit almost any road terrain. Consumers seem to agree that this is a sleek design, and it has proven to be extremely easy to assemble. These two reasons are also proving it a favorite among various levels of bicycling enthusiasts. "Everything was actually already on the bike, and I just needed to loosen, attach things, and then retighten," one consumer said while claiming it took less than an hour to assemble.
EVRYjourney Women's hybrid alloy cruiser bicycle is fitted with plump 26-inch, semi-slick wheels, and an easy step-through design that works well for riders that prefer or need that lower profile when mounting and dismounting the bike. The foot-forward pedal system and the synthetic leather seat positioning are great for the security of having flat feet when coming to a complete stop for all sizes of riders. Furthermore, no matter which gear level you chose to roll with, you get a cruiser bike that manages you through urban and natural settings.
When comparing cost, it will depend on what speed level you decide fits your needs. However, every penny spent is an investment in satisfying the fun you are obviously looking for, making Sixthreezero women's cruiser bikes a great value any way you look at it. The high-quality value is a feature many consumers commented on most, all of them stating how beautiful and well made the bike is.
No products found.
2. Firmstrong Urban Lady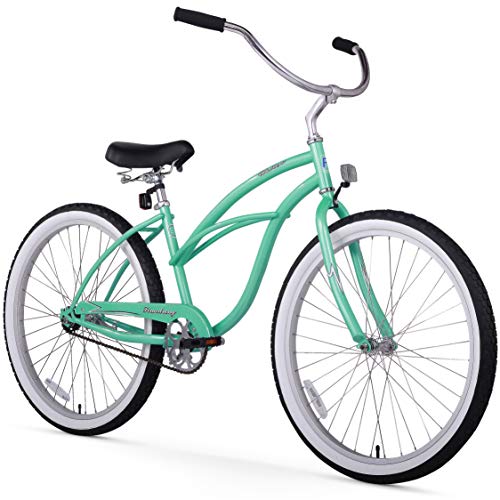 Firmstrong Urban Lady is proof that simplicity reigns supreme in cruiser bicycle design. Moreover, Consumers are raving about the comfort of the handlebar to seat design. Some even stated it is "perfect" for those that suffer from "neck and shoulder problems, and it is quite easy to mount and dismount."
It's single-speed design rolls solid with 24-inch aluminum wheels and a 13.5-inch steel frame. You won't be stressed with cables either when you wrap your hands around the cushy foam hand grips. This Urban Lady also comes in 13 colors to satisfy any style profile.
Adding to the comfort, their double spring double cushioned saddle greets your toosh softly when floating over those bumpy spots, making this a great choice if you decide to take it off the pavement. You will also ride easy and stop securely with their rear coaster breaks, which grab fast. Furthermore, for those that aren't too savvy with putting things together, consumers say not to fret that it comes mostly assembled, and it doesn't require a degree in engineering to get it on the road.
This bike is a steal when comparing prices. You get a sturdy engineered cruiser with a classic sleek design that you can count on. It works for those that would normally suffer from odd handlebar/seat ratio while offering a smooth ride without all the extras hanging off. One happy customer stated, "The adjustable handlebars are great and have made riding so much more comfortable than my small bike, where I had to lean too far forward because I couldn't adjust the handlebars."
No products found.
3. Sixthreezero EVRYjourney Men's Step-Through Hybrid Alloy Beach Cruiser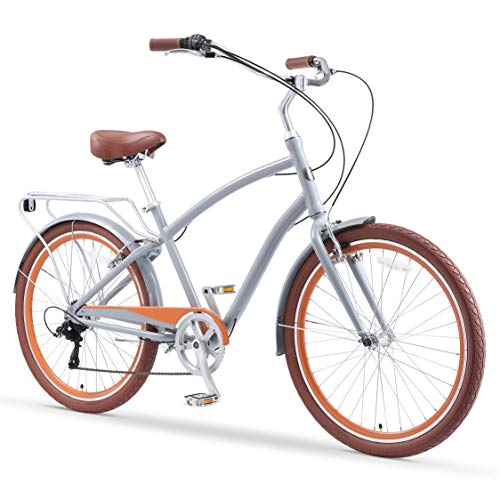 Sixthrezero is proving to be the brand to look at when buying women and men's cruisers and we couldn't ignore what riders were saying for both designs. You get comfort and stability with a ton of options to customize your style.
The leather seats are synthetic, and consumers are agreeing that the simplicity of assembly makes them even more desirable. They are also saying this one cruises lighter than expected, making for a smoother ride feel in natural or urban settings. Furthermore, although you cant step-through it doesn't make it harder to mount and dismount.
Similar to the women's model, you get the 2-inch semi-slick tires and aluminum frame. The 7-speed design gives you a Shimano derailleur with rear and front hand brakes. Both these features alone allow for a more versatile platform, allowing you to go longer distances with ease, on or off-road. One buyer stated, "Shimano components at this price-point are nicer than non-Shimano parts."
Don't forget, you are also getting the coveted Sixthreezero forward pedal design, which gives a more secure stopping form, allowing riders of all sizes to get a stable flat-footed stopping stance while improving riding posture. Moreover, that aluminum frame we mentioned makes it easier to maneuver when compared to other steel frame brands, which tend to be bulky and drag on hilly terrain. We can all agree aluminum is lighter, and it gives the EVRYjpurny men's cruiser bikes a floaty yet solid feel when pedaling down the road.
Another great addition to these cruiser bikes is the style of rack and basket swaps that allow you to customize your ride. You also get to enjoy matching fenders, keeping you free of mud-butt in style. You get a lot of bike for your buck with this cruiser as it is the most economical on the list.
No products found.
4. Schwinn Mikko Women's Cruiser Bike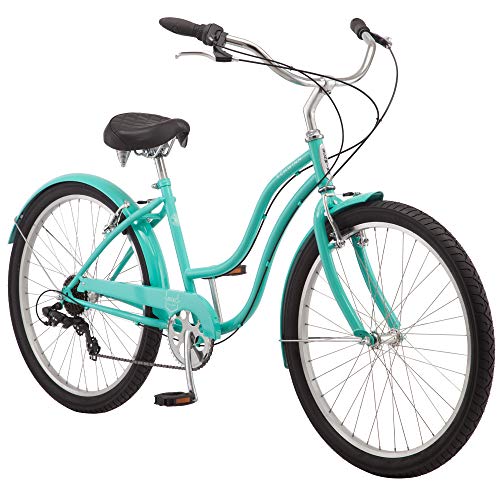 If you know what a bicycle is then you more than likely know the Schwinn name. They have been designing affordable, well-made cruiser bicycles for well over 100 years, and it is no surprise they would be in a top 5. Experience makes the grade here, and they know what people like. One consumer shared their gratitude stating, "Look to Schwinn to build a great bike. Sturdy construction, attention to design and safety."
Schwinn made the Mikko Women's cruiser bike for leisure and style. They took all the good stuff Swinn is known for and tossed it into the Mikko Women's cruiser. It has an internal drivetrain as well, which makes the up-keep exceptionally easy. As we mentioned, cruisers are simple, and one consumer backs that up by saying, "Amazingly comfortable and wide seat with no unnecessary bells and whistles makes this a dream to ride!"
When you look at the Schwinn Mikko, you think vintage, with full front and rear fenders protecting against backsplash from those white wall 26-inch wheels. The rear brake is a coaster design and has intuitive stopping power for added security, just pedal backward, and you will stop. However, be aware it will wear the tires down if you hit the brake too hard too often.
All these awesome features are tucked beautifully under the extra cushy padded springer seat and smart design handlebars, which assist you in keeping an upright position for stability and comfort. This is also great for those that suffer from back pain from hunching or reaching. Furthermore, both are adjustable, making the bike more customizable to fit your riding form and size.
Riders that invested in this model were surprised at how easy the Mikko was to assemble as well. They also claim the higher speed versions are a great option for beginners due to its easy twist shifter located on the grip, no fidgeting around with gears.
This women's cruiser bike is a bit heavier thanks to its 17-inch steel frame; however, it wasn't made to race it was made to cruise. Schwinn does make up for some of that weight by setting the wheels on extra sturdy 26-inch aluminum rims. One customer commented, "It is a true beach cruiser, and is best ridden on relatively flat terrain. I highly recommend it."
Schwinn Mikko Adult Beach Cruiser Bike, Featuring 17-Inch/Medium Steel Step-Over Frames, 7-Speed Drivetrains, Teal
Featuring a wide, dual-spring padded cruiser seat and classic cruiser handlebars, this bike provides an upright and comfortable riding position
Ideal for riders between – 5' 4" to 6' 2" tall | Wheel size – 26" x 2.1" | Frame size – 17" | Pedals – ½
With a 7-speed drivetrain, this cruiser is ready for light hills on your ride | Twist shifters make for quick and easy gear changes
Intuitive rear coaster brake (pedal backwards to stop) provides simple stopping power, while the included retro fenders keep you clean and dry
The durable steel cruiser frame and fork make for a smooth ride while the 26-inch x 2.1-inch wide tires provide added stability | The Schwinn Huron comes ready to be assembled
5. Firmstrong Bruiser Man Seven Speed Beach Cruiser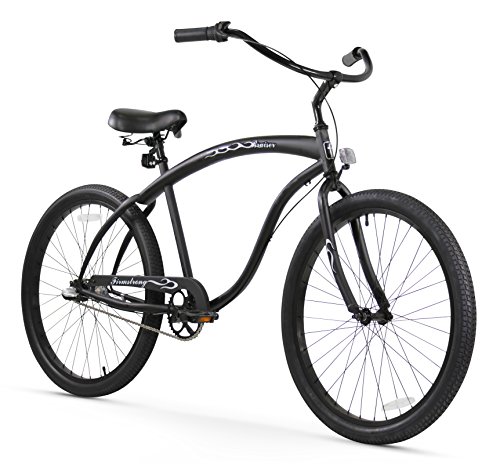 Firmstrong is another cruiser company to seriously look at, especially for those bigger boned riders. You will quickly realize why it also holds two spots on our top 5. The Bruiser Man 7-speed is simple and classic, and consumers are saying it is perfect for larger riders. It is loaded out with features for big boys, to include a larger cushioned saddle. One consumer shared, "I'm 6′ 1″ 230 lbs, and this bike could easily carry more weight."
The Bruiser Man Beach Cruiser has an extended frame. Extended frames offer better extension and distance from the handlebars to the rider. You also get front and rear hand breaks with the 7-speed. both of these features give you more control and versatility. Most people who ordered didn't have any issues assembling either, getting it road-ready in less than an hour.
Once you are on the road, you will be nice and cushy with the double coil spring oversized seat we mentioned. All of these features added to the large balloon tires truly make the Bruiser Man a great option for most terrain."I live in the country and ride up a few mid-size hills no problem," said one happy rider.
Firmstrong prides itself on balancing quality and simplicity in an affordable package and the Bruiser Man is living up to this from what consumers are saying. It is well worth the value, and you can customize your rim colors, which definitely pop against the matte black frame. "The green rims really stand out against the matte black finish," one happy customer raved. "I completed the bike with a rear rack and basket and matte black fenders, and I get so many compliments on the bike."
No products found.
What Makes A Bike A Beach Cruiser?
There are a few distinguishing features that almost all beach cruisers have. This video talks about what sets apart beach cruisers from other bicycles:
Related Articles