Top Cycling Arm Warmers Reviewed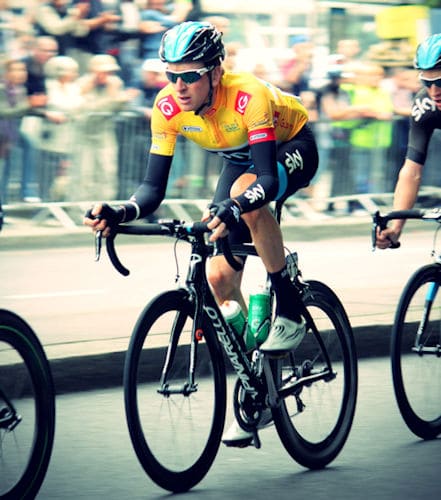 When picking out gear for your next ride, investing in a set (or two) of cycling arm sleeves can help make sure things go smoothly.
While, at first glance, cycling arm sleeves may look like an extended set of wrist bands combined with opera gloves, their functionality exceeds their somewhat interesting design. Cycling arm sleeves not only help keep you warm while biking in less than ideal weather conditions, they can also help keep your skin drier longer thanks to moisture-wicking fabric that is made to dry quickly and repel water.
Not only are cycling arm sleeves perfect for prolonging your outdoor training sessions during the colder months of the year, they can also help prevent discomfort when biking during the dog days of summer, as they can help cool your arms and prevent unwanted exposure to UV rays. But what are cycling sleeves, and what should you look for when picking out the best pair?
Best Cycling Arm Warmers
It seems new manufacturers are coming out with their own variation of cycling sleeves almost daily. To help you sift through all the choices, we looked at the ones on the market, and came up with these picks for the best cyclist sleeves:
1. Tough Outdoors UV Protection Cooling Arm Sleeves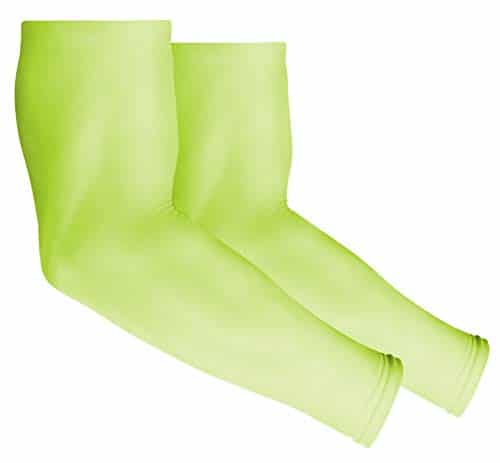 With over 1,000 5-star reviews, the Tough Outdoors UV Protection Cooling Arm Sleeves are tough to beat when it comes to the best cycling arm sleeves.
Not only do these sleeves sport a seamless, logo-free design, they are marketed to help protect tattoos and sensitive skin from UV exposure, making them perfect for cyclists who find themselves slathering on more sunscreen than bike lube when getting ready to hit the road.
They are made to keep your arms cooler no matter the weather conditions and are made of a lightweight material that protects against sun exposure without weighing you down. With nine different colors to choose from, these are a great investment for coordinating team or uniform colors, and, of course, personal style preference.
Their wrist-ending design allows them to cover the full arm without interfering with your hands, and their silicone-free stay-put design keeps them from biting into your arms while you're cycling. As one reviewer noted, "I am amazed at how well they worked. I am hot natured and was concerned they would be too warm, but they had the opposite effect—my arm felt cooler as soon as I put on the sleeve…they are super thin and super stretchy."
If you're looking to stay cool no matter how intense the workout, the Tough Outdoors UV Protection Cooling Arm Sleeves are the perfect choice for you.
2. Aegend UV Protection Cooling Arm Sleeves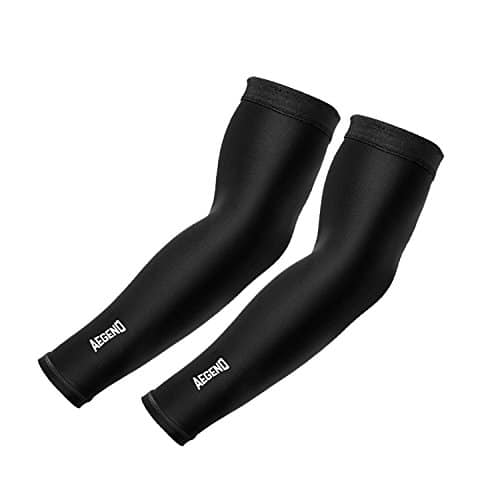 Focused on cooling the arm and providing comfort while still protecting from the sun's UV rays, these sleeves are design with the customer in mind.
Not only are they made to be worn regularly and hold up to extended wear-and-tear, their construction focuses on providing a comfortable experience for the user, without endangering the structural support of the sleeves. With an external seam to prevent chafing, and an extremely soft fabric made to wick away moisture while still keeping the arms cool and protected, these cycling sleeves are a worthwhile purchase for anyone who finds themselves biking in the sun for extended periods of time.
As one reviewer notes, "I have worn them on cloudy, humid days, 97-degree days in the Nevada desert, and hot, humid days of the Midwest. [They] definitely keep the sun blocked, and IMHO, keep my arms feeling cooler than just bare skin." Reviewers also noted that the one-size-fits-all tagline was largely accurate, as they had just enough stretch to accommodate most arm sizes without cutting of blood flow or causing discomfort.
Not only can these sleeves provide you with protection from the sun, they also work to defend against abrasions, making them ideal for mountain biking or avoiding the occasional scrape while riding. They offer both silicone band non-slip options and a silicone dot stay-put design that ensures your cyclist sleeves don't roll up or fall down while you are riding, no matter how intense your workout.
For anyone who finds themselves biking in a hot, humid, or sunny environment, the Aegend UV Protection Cooling Arm Sleeves are a must-have item.
3. HOPESHINE Arm Cooling Sleeves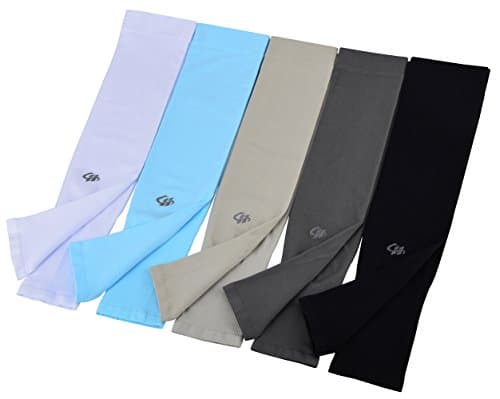 If you are looking for a set of cyclist sleeves that will help protect your arms from sunburn and the harmful effects of UV rays, HOPESHINE Arm Cooling Sleeves are a worthwhile purchase. These sleeves are made to withstand exposure to direct sunlight for long periods of time. As one reviewer noted, "I recently played golf on a very sunny day and realized that I forgot to use sunscreen on my hand and the small exposed part of my wrist…I discovered that these sleeves offer splendid UV protection and are more than capable of keeping my skin and tattoos protected."
These also offer moisture-wicking technology to help keep you cooler longer, and are incredibly stretchy, making them perfect for most body types and arm sizes. While the manufacturer recommends that these cycling sleeves be hand washed to make sure they last longer, the effort is well worth it, as they offer superior UV protection compared to many other cyclist sleeves on the market.
They are also completely seamless, and do not have uncomfortable bands at the top and bottom, as the weave of the material causes them to cling to your arm without additional effort. They also do not extend past the wrist, making them perfect for anyone who wears cycling gloves or is looking to invest in a set of cycling sleeves that do not impede their hands.
4. Achiou Arm Sun Sleeves UV Protection Cooling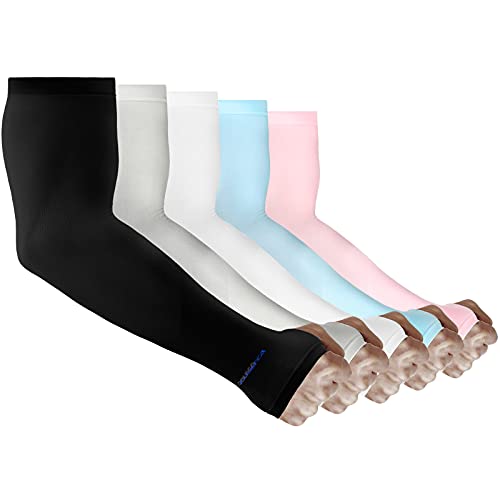 If you're looking for cyclist sleeves that can switch from keeping you warm to cooling you down, look no further than the Achiou Arm Sun Sleeves.
The extra-long design complete with thumb hole helps protect more of your arm, and makes them perfect for long rides or wearing around the house.
Reviewers raved about the weight of the sleeves, with one noting, "These keep my arms warm but not hot. Love the extra stitching at the thumb hole. They're thicker than pantyhose but thinner than cotton."
Each pack comes with five different colors, ranging from white and black to cream, light pink, and light blue. They boast UV protection, while still remaining comfortably cool in even hot weather. The added layer can not only help cool you when working out, it can also act as an additional barrier in cooler weather, making them perfect for year-round use. Not only are Aichou Arm Sun Sleeves extremely stretch resistant while remaining flexible, they are machine washable and can be dried like normal laundry, making them a hassle-free addition to any cycling gear.
Some reviewers have complained about the thumb hole stretching out after multiple uses, but the additional seam along the inside of the hole does provide some protection to wear and tear, helping keep these sleeves in top condition for longer. They also noted that the sleeves tend to run small, so it's best to invest in a slightly larger size as they are known to retain their shape.
If you are looking for a wide range of cycling sleeves that will work for hot days and cooler weather, these are a great investment.
5. SHINYMOD UV Protection Cooling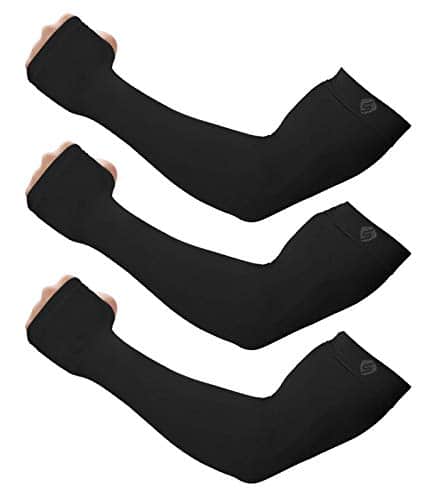 Made with a protofilament containing polyamide and spandex, these cycling sleeves are perfect for wicking away moisture and keeping your arms cooler during hot weather and intense cycling sessions.
With a wide variety of colors and sizes to choose from, these unisex sleeves are a great investment for anyone looking for a lightweight but effective way of keeping themselves safe from the sun. These cyclist sleeves do not have a silicone band at the top, which can contribute to irritation after long cycles of wear, but instead have a ribbed top like you would find on gym socks to help grip your arm without causing discomfort.
They are also incredibly stretchy, making them ideal for use no matter if you've just started your workout routine or have lost or gained arm mass. As one reviewer noted, "I like that there is NOT a sticky rubbery band at the top, it stays in place with a ribbed stitch cuff just like socks have. I only wish the cuff was longer so it wouldn't roll down so easily." Other reviewers noted that they were pleased these sleeves did not stretch out after use, and could stand up to multiple hours of use without wearing down or sliding down. These are a great option for anyone looking to stay cool without adding extra bulk to their workout gear.
As an added bonus, these cycling sleeves come with moisture wicking technology to help bring sweat away from your body, making it so you can continue to work out longer without overheating. As a bonus, they feature roll down sleeve options that cover the palms of your hands while keeping your thumb and fingers free. This makes them ideal for biking long periods without irritating your hands, or as extra protection when wearing cycling gloves.
What are Cycling Sleeves?
Cycling sleeves are long tubes of fabric meant to go from your wrist to your bicep. They provide a variety of benefits to cyclists of all skill levels, including insulation and solar protection. Cycling sleeves can be made of a wide range of materials, from Lycra and Roubaix (a type of Lycra with fleece on the back to provide warmth) to other fabrics like knitted wool and polyester. The bonus aspect of knitted constructions is that they are often seamless, which can help prevent chafing after long use.
Cycling sleeves are usually held up with silicone grips that either keep the warmers gripped onto your skin or your shirt for extra security while riding, or with knitted ribbing that holds the sleeve in place without adding extra pressure to your arms and wrists.
Cycling Sleeves for Warmth
Cycling sleeves can not only add extra layers to your cycling gear to help trap in the heat during colder rides, they can also be taken off if the weather changes during the day, or you find yourself overheating. Knit cycling sleeves can be doubled up with other sleeves, or worn over a long sleeve shirt, if necessary.
Unlike larger pieces of clothing, cycling sleeves are designed to be less bulky than some other insulating options, and are easy to add or remove as needed depending on the weather. Keep in mind that you'll want to invest in water-resistant cycling sleeves if you are in an area with a lot of rain or humidity, as nothing is more frustrating than damp gear.
Blocking UV Rays
While it's always a good idea to wear sunscreen whenever you are out biking for any length of time, cycling sleeves can help minimize the amount of UV rays your arms are exposed to while biking, especially on days when the sun makes a surprise appearance or you forget to apply sunscreen. Pay attention to the manufacturer's notes about your cycling sleeves, as a good pair of UV-protecting cycling sleeves are well worth the investment.
What to Keep in Mind When Shopping for Cycling Sleeves
The first thing you want to pay attention to is the style of cyclist sleeves you are looking to invest in. Once you've decided the style and use of your cyclist sleeves, the next thing to make sure is that you pick the correct size for you. While a cyclist sleeve should go from your wrist to your bicep, or may have hand sections complete with thumb holes, it is always best to check the manufacturer's measurements to ensure you choose the correct size.
Making Your Own Cycling Sleeves
While all of the quality cycling arm sleeves in our roundup are affordable, for those on an extremely tight budget it is possible to make your own. Here is a good YouTube video showing how:

Related Articles