The 7 Best Drop Bar Bikes for Commuting Reviewed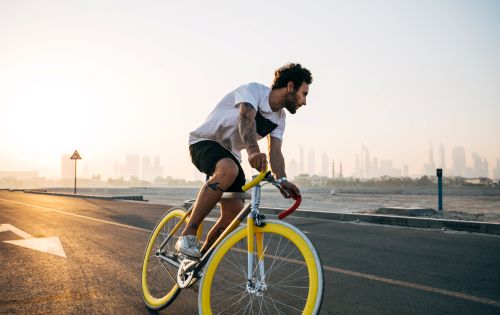 If you want to bike to work but want more options for your hand position, then you need a drop-bar bike. Not only do you get more positions for your hand's but also an aerodynamic advantage to help you climb hills. Moreover, drop bars help you to fit in more narrow spaces in traffic.
Cover more ground with ease and style with the best bikes for commuting. Not all of the bikes say commuter because road bikes are another option for different styles of terrain you may encounter while biking to work. However, you do need a little more time to adjust to drop handles as it keeps the brakes a little out of comforts reach.
Take a look at the seven best drop bar bikes for commuters, and then stay on after to read about the different aspects of commuter bikes. You can get a faster, easier ride with the right bike. It's time to upgrade your game with handles ready to work for your needs.
Best Drop Bar Bikes for Commuting
1. Tommaso Forcella Endurance Aluminum Road Bike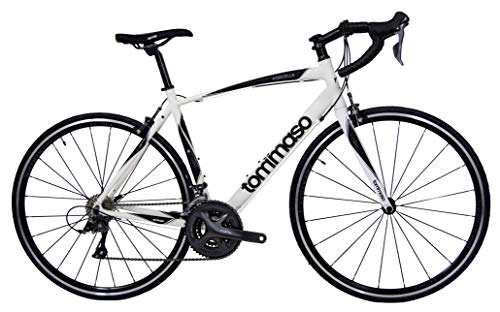 While the price of the Tommaso Forcella Endurance Aluminum Road Bike runs high, it offers the best you can buy when it comes to a bike ready to get you to and from work. The bike comes with all the best parts so you can do what you need without worry. Moreover, the brand doesn't cut corners because they want to give you the best product possible.
Get both comfort and low weight with the Forcella as it weighs just 22.7 pounds, which is just astounding even for an aluminum frame. First, though, pick from two colors, including matte white and matte black. Choose a size too from small, medium, large, and extra-large give you more options than any other bike available.
Next, the bike is both durable and reliable with a carbon fork to reduce vibration and save on weight. It also comes with all Shimano parts for superior quality. Get precision shifting, speed, and so much more. Whether you need to navigate flats, hills, or other terrains, you can just go without the worries. It comes with the small details, too, like pre-drilling to add a storage frame later.
Finally, the bike works perfectly for both beginners and any other level of biker. The only catch is the bike requires professional assembly, which does add to the already significant price. As a matter of fact, the warranty isn't valid until the bike is assembled by a professional. It's worth it, though, as this bike offers everything you need, including drop handles for precision driving.
2. Vilano R2 Commuter Aluminum Road Bike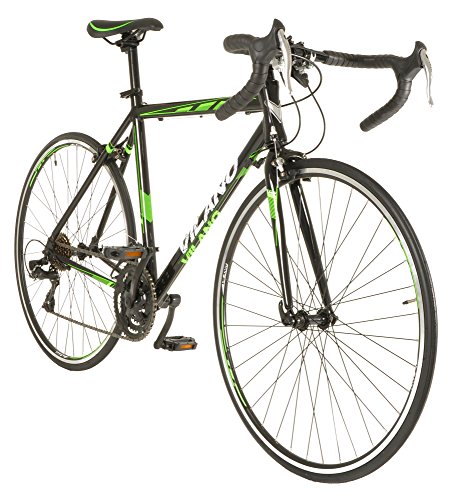 The Vilano R2 Commuter Aluminum Road Bike offers a great price and a ton of features perfect for new commuters. As an entry-level bike, it comes with the basics but done right. Moreover, the R2 offers a lightweight 6061 aluminum frame and 21 speeds. While you don't get any add-ons, this allows you to customize the bike and maintain the low weight.
Furthermore, the Vilano R2 comes in two sizes, including small and large, with not in-between option. While this will work for most people, it won't work for everyone. You only get the one color option, but it's very visible in black with highlights in lime green. Next, it includes innovative shifting perfect for an introduction to biking. Moreover, the brakes are the best in their class, and you can enjoy a total of 21 speeds to get the momentum you want.
The R2 provides Shimano front and rear derailleurs, alloy caliper brakes, 700C double-walled alloy wheelset, and quick-release skewer. However, a little assembly is necessary as it's only partially assembled and will need some tools to get the job done. Of course, the bike includes drop handles with tons of gripping material for comfort, and the brakes are easy to access as well.
A few customers had trouble with the tires, and a few were frustrated about the lack of a kickstand. For most high-end bikes, a kickstand is an additional accessory so you can get the one you want. With this price, though, you would expect a kickstand as a beginner bike. However, as a road bike, it can hand a little extra terrain making your commute more comfortable.
3. Giordano Aversa Aluminum Road Bike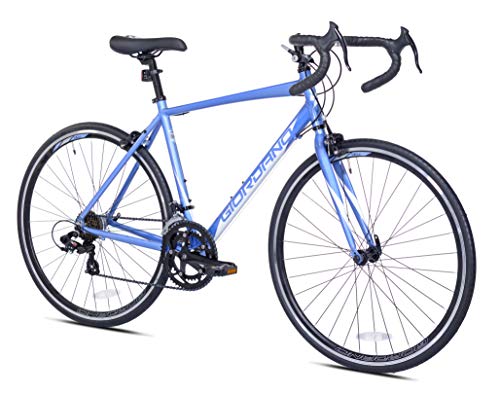 Women need to take a look at the Giordano Aversa Aluminum Road Bike. As with most road bikes, it's bare-bones without the accessories and comfort you would find on a dedicated commuter bike but provides all the same function. With speed in mind, this bike will take you to work and home with ease.
The bike offers a 6061 aluminum frame with a high tensile steel fork. However, the Aversa only offers 14 speeds instead of 21 speeds. While this saves on cost, it does give you fewer options if you deal with a lot of hills on the way to work. Although it does come equipped with a Shimano drivetrain, improving the quality.
Furthermore, the Aversa comes in two sizes, including small for riders from 4 foot 10 inches to 5 foot 3 inches and medium for riders 5 foot 3 inches to 5 foot 7 inches. Enjoy comfort grip on the drop bar handles with easy access to the brakes. Add in 700c 25mm tires and alloy dual-pivot brakes for exceptional performance.
As the bike is a road bike, it does not include a mount or water bottle holder. These are additions you can easily incorporate into the bike later. The Aversa does require assembly, but it's a simple process, or you can take it to a bike shop for professional assembly. Lastly, the bike does not include a kickstand, but with the low price, that's an affordable addition.
4. Trinx TEMPO1.0 700C Road Bike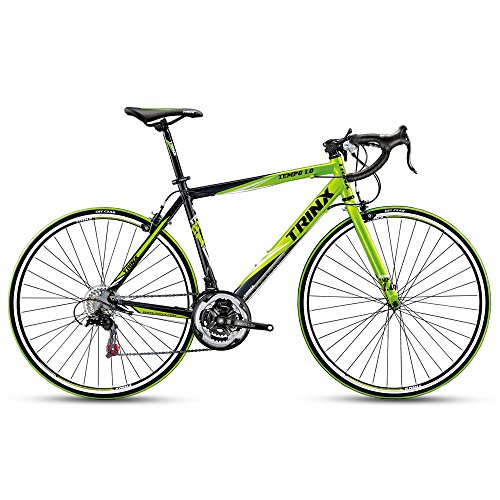 Choose the Trinx TEMPO1.0 700C Road Bike if you like color and want a bike built for speed. Also, pick this option for the fantastic price, two color options, and all the features you need. With two sizes, you can choose a custom height with slightly higher options than other bikes making this a great option for taller riders. The Tempo is a lightweight option perfect for cruising around for exercise or for commuting.
Next, the bike offers smooth shifting gears using Shimano SL-A050 levers and STI shifters. The bike also includes CST Czar 55mm tires that will last for a long time and work well on streets. An upright seat allows for an upright and aerodynamic riding position thanks to cross top and drop-bar handles. Everything detail leads to speed and performance for a fast track to work.
Furthermore, the Trinx bike offers a lightweight alloy frame and easy assembly. It also uses a steel fork to reduce shocks and absorb road vibration. The tires are double-wall alloy rims that are both strong and light but ready to support weight. At just 25 pounds, the bike is very light and easy to move around when not on the seat.
Choose this Italian bike for high quality and performance. It's a perfect entry-level bike but doesn't come with additions, which is typical for a road bike. You may need to upgrade the tires as the included ones tend to go flat for a few customers. As always, the bike requires some assembly for shipping purposes.
5. Goplus Road Bike Commuter Bike Shimano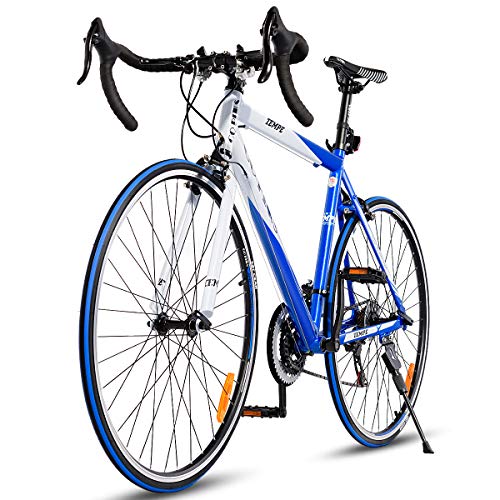 The Goplus Road Bike Commuter Bike is a road bike ready to act as a commuter bike. It's not as lightweight as other options, though, at 32-pounds. Keep in mind, this bike is not designed for any off-roading at all, even riding on a little bit of a dirt path to get on the road may be difficult with these tires, but it does provide speed on the road, which is what most commuters need.
Unless your path to work requires uneven terrain, the Goplus is ready to get you there on time. It's built strong and durable with an aluminum alloy frame. Also, this option includes standard 700C wheels ready to get you from point A to point B with ease. Add in alloy levers, steel handles, alloy pedals, Shimano TZ31 front derailleur, and a Shimano TZ50 rear derailleur for a bike ready to provide high-quality performance.
The best feature of this bike is it can support an astounding weight capacity of 440 pounds, making it perfect for heavier riders. The whole bike is adjustable, too, as you can adjust the saddle and assemble it to your specifications. It even comes apart for easier storage. Moreover, it comes with a variable speed to maximize the daily ride and enjoy better speeds.
Last of all, the bike includes a kickstand for easy standing. Add to the simple assembly and three color options, and you are good to go. However, you only get one size option – medium, which works for average height individuals but not for shorter or taller people. Also, the bike seat is not comfortable, and with the higher price, the bike should come with a decent seat. We suggest upgrading the seat to a memory foam option for a more comfortable commute.
6. Hiland 700c Road Bike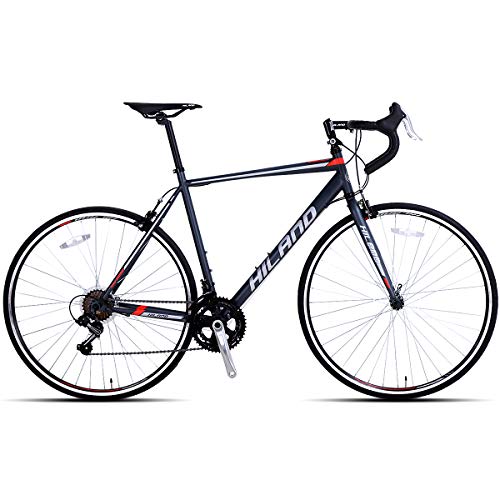 The Hiland 700c Road Bike provides a great option for commuting without harming your wallet. However, the bike only offers 14 speeds instead of 21, which is the standard for road bikes. As a road bike, it can travel on roads with high speeds and quality performance but does not come with any of the amenities you might want in a commute. Finding a commuter bike with drop bars is a rare find indeed.
To start, choose from three colors, including black, dark gray, or silver, all of which will blend into the front of your office to avoid standing out. Next, pick your size from 50, 54, or 58 centimeters height frames for short to tall individuals. All this, and you get drop handles for two places for your hands. Pick between speed or comfort, depending on whether your surface is flat or hilly.
If you are looking for a steel frame instead of the new standard aluminum, then this is the bike for you. Despite the steel, it's still a lightweight option at just under 27 pounds, making it the perfect option for people wanting the sturdiness of steel without the added weight. Also, the bike comes 85 percent assembled so it can fit in the box for shipping.
Finally, the bike includes the coveted drop bars you need for speed. Add in aluminum rims, Shimano thumb shifters, and 700c wheels. The bike also allows for up to 275 pounds. However, it doesn't include any extras like a bike rack or mount as it's designed for speed. The low price allows you to get the speed you need, and later you can upgrade with the accessories of your choice.
7. Outroad Road Bike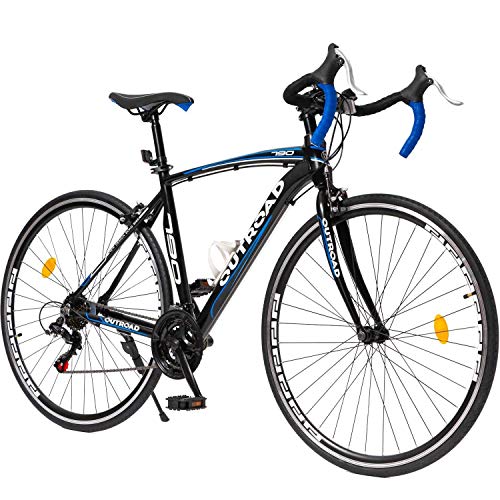 The sleek Outroad Road Bike works perfectly as a commuter bike thanks to the quality parts and penchant for speed. Even better, it's an affordable option but a smart one too, with tons of attention to detail. Keep in mind, though, that like most road bikes, it doesn't provide helpful commuting accessories like a rack or fenders. However, the unique tires cut out resistance making higher speeds possible.
With this option, you can choose between four different color choices, all with black accents. The Outroad bike does not come with size options but does work for riders between 5 foot 3 inches up to 6 feet tall and supports a weight of 330 pounds, making it a great option for heavier individuals. It includes a choice of 14 or 21 speeds as well, and the latter is by far the better choice for more options, especially on hills.
Next, the bike includes quality 700c tires and exceptional brakes. Moreover, the bike assembles easily, and the company provides all of the tools you need for both building and maintaining the bike. Although, at some point, you may want to upgrade your commuting accessories to a one in all tool to save space. The company also makes safety a priority with reduced resistant and anti-slip wear-resistant tires.
Getting to work doesn't have to be a chore with a bike built for safety and speed. With this option, novice riders can find exactly what they need to get to work and find out what they want for future purchases. The only problem is the bike is heavy at over forty pounds, which many people don't want to deal with when it comes to storage.
Buying Guide for Drop Bar Bikes for Commuters
Before you decide which bike to buy, take a look at the key aspects of drop-bar handles for commuters.
Benefits of Drop Bar Handles
Drop bar handles provide quite a few benefits. First, they offer an aerodynamic advantage by increasing speed and energy use. Second, riders get more options of where to put their hands instead of just one location. Third, the drop bar handles help climb steep hills by shifting body weight. Fourth, drop bar handles take up less space allowing riders to ease into heavy or narrow traffic more easily.
Problems with Drop Bar Handles
Despite all of the advantages, drop bar handles do include a few issues. For one, the parts are more expensive to replace. Also, the brake levers are not as easily accessible as they are on flat bar bikes. Flat bars also allow for more control with easier leverage. Finally, mounting accessories to the handlebars is more difficult with narrower drop handles.
Drop Bar vs. Flat Bar
For a detailed look at the differences between flat bar bikes and drop bar bikes, watch this video:
Questions About Drop Bar Bikes for Commuters
Can I get an electric bike with drop bar handles?
Most electric bikes incorporate flat handlebars for comfort because the electricity already provides the extra speed bikers need. Honestly, there is no need for drop bar handles on an electric bike, which is why finding one isn't possible, and you would have to change out the handle bars if you want drop bars on an e-bike.
Do drop bar handles help fight wind when commuting?
Absolutely! As the drop bar handles are more aerodynamic, they increase speed and change the rider position too. This means your body will catch less wind, and you can drive faster with less effort. If you live in a windy area, definitely consider drop bar handle bikes.
Do I have to get a road bike to get drop bar handles?
Essentially, yes. While the occasional hybrid bike will offer drop bar handles, it's mostly the speed bikes like road bikes with this option. Commuting tends to offer more comfort while road bikes are utilitarian. A few upgrades can easily convert a road bike to a commuter bike.
Conclusion
The Tommaso Forcella Endurance Aluminum Road Bike offers the highest quality bike with drop bar handles for commuters. Most importantly, it offers the most size options for a custom fit and the lightest weight, too, for better speeds and turns. Lastly, with this bike, commuters can navigate more terrains with ease, all for an improved commute.