The Top 7 Gloves for Bike Commuting Reviewed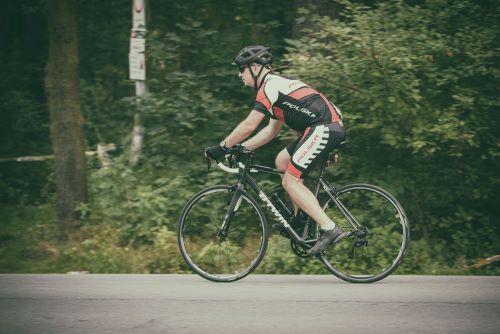 Commuting to work via a bike is all well and good until cold water sets in, and your hands start to freeze. Have no fear, there is a better option, gloves make biking an option year-round along with a jacket and warm pants. The pair of gloves will protect your hands from wind, water, snow, and work once you get off the bike, too, until you get into your office.
Another aspect to consider with gloves is their ability to prevent heat from escaping. You also need a pair that keep your hands from slipping off the handles. Regular gloves don't work on a bike for long distances, nor do they prevent slipping. While your regular gloves may keep your hands warm while walking or driving, you need biking gloves to keep your hands on the handles and commute by bike.
We found the seven best options of gloves for commuting to and from work. Not just men's options but for women too and a few unisex gloves as well to work for anyone in multiple sizes. These gloves are ready to help you transition from biking to work or running errands and keep you warm too. Stay on after for answers to questions and a buying guide to help make the best purchase for your commuting needs.
Best Gloves for Bike Commuting
1. CASTELLI Mens Spettacolo ROS Glove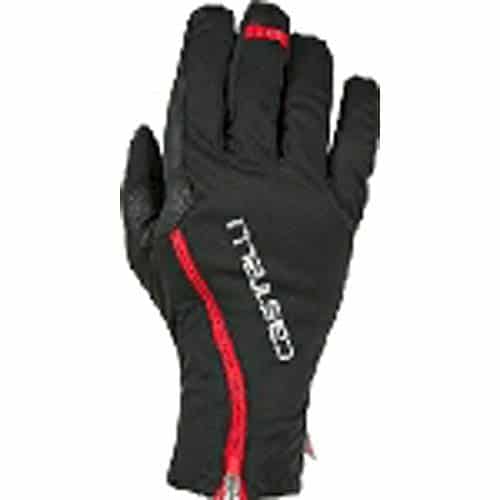 With the CASTELLI Men's Spettacolo ROS Gloves for men work in the rain or shine to keep you dry. These gloves excel in both dry and wet conditions thanks to PrimaLoft Gold insulation. Moreover, they are rated high for their ability to withstand wind and water while insulating too.
While their breathability rating isn't the highest, that simply means the heat will stay inside the glove. Although, you may want to consider a different option for warm weather. Furthermore, the gloves are lightweight with a zipper to help secure a snug fit. Engineered silicone print on the palm of the gloves provides an optimal grip, so your hands stay on the handles.
The water-repellent fabric protects you in wet conditions. Although if you heat up a lot, they will not protect you from sweat, but that's true of any glove. The best part, though, is the gloves aren't bulky, nor are they flashy. Walk into work with these on, and they look like high-end racing gloves, not skiing gloves.
As for sizes, the gloves come in small up to XXL to fit any hand size. The inner liner will cradle your hand in extreme softness. Also, they are easy to take off even if your hands are sweaty. You can also use the built-in inserts on the fingertips to check your phone while on your bike. They are the perfect choice to help you commute year-round.
2. Castelli Womans Perfetto ROS Glove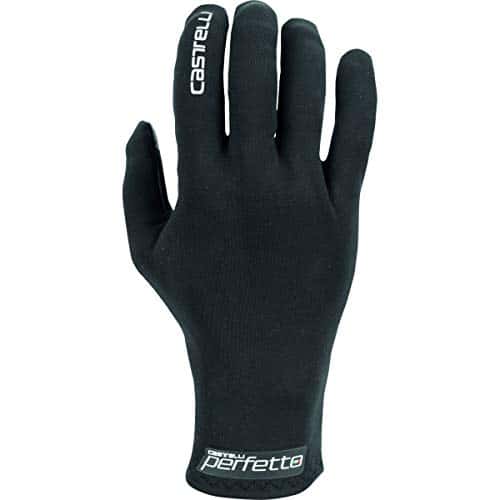 Women can enjoy the Castelli quality, too, with the Woman's Perfetto ROS Gloves. They come in sizes small to XL to fit any hand size and make commuting to work a comfortable breeze. It's fleece-lined for warmth and helps to keep a sleek and thin glove. Wear these gloves on your bike and still enjoy their comfort once off the bike and walking around out in the cold.
The gloves offer high windproof ratings and waterproof protection. Moreover, they are breathable and lightweight with decent insulation ratings. They will take you through any weather. As the gloves are engineered with GORE-TEX Infinium, they are stretchy, warm, and use reduce seams technology for a tight but comfortable fit.
Added grip detail in strategic places on the palm helps to keep you gripping the handles with ease. The gloves also offer reflective details to make you more visible on your bike drive as well. Moreover, a unique dampening system protects your median nerve, too, for ultra comfort.
Neoprene around the wrists allows for easy stretch in and out of the gloves. They are thin enough to let your fingers do what they need to do for a bike ride with comfort. Finally, the simple black color and modern design allow you to use the gloves on or off the bike for low temperatures. You can also use the touchscreen-compatible fingertips to use your phone without removing your gloves and losing your warmth.
3. PEARL IZUMI Men's Launch Gloves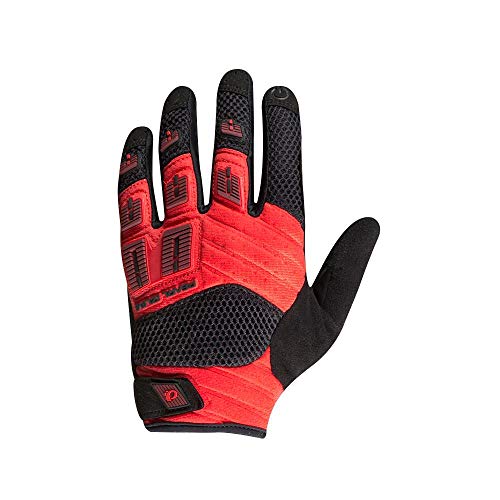 If you want a more biker-like glove, try the PEARL IZUMI Men's Launch Gloves with a midrange price and two color options. The gloves are made of airprene, nylon, polyester, synthetic leather, and elastine. All of these add up to the right material in the right place to keep on your bike comfortable and warm.
Pick from red and black or black gloves in sizes small to XXL. Moreover, they are a form-fit design to reduce bulk for a smoother ride. Conductive synthetic leather on the index finger and thumb means you can still check your phone while wearing gloves to keep heat trapped inside the gloves. The gloves also have silicone screened fingertips for the ultimate grip on the handlebars.
A hook and loop closure makes customize the fit a cinch. Next, unisex sizing means women can wear these gloves too. The gloves act like armor to keep your skin protected from mild weather and waterproof too. While these aren't the warmest for deep winters, they will protect your hands and keep them dry comfortably without bulk, so you can wear them while running errands too.
4. Endura Women's Hummvee Plus Full Finger Cycling Glove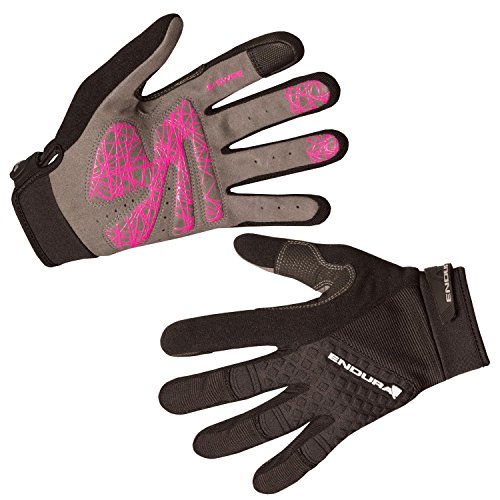 Save some cash with the Endura Women's Hummvee Plus Full Finger Cycling Glove. They offer all the features you want to help you bike and wear while commuting to run errands. The gloves come in pink or purple, both with more black and gray than the ultra-girly colors so you can feel comfortable without a large amount of color. Pick from sizes small to large.
Next, the gloves come with a four-way stretch with breathable mesh making them a great choice for warmer weather. They can still block out the wind and keep your hands protected for fall and spring without overheating you. Mesh web between the fingers provides ventilation too.
Add in some durable synthetic leather on the palm with gel padding so you can ride even longer treks without feeling discomfort. Silicone on the fingers and palm add grip for easier holding on to the handlebars. The wrist uses a hook and loop closure for a great fit, and the gloves fit snuggly to not get in your way as you bike.
5. INBIKE Cycling Gloves for Men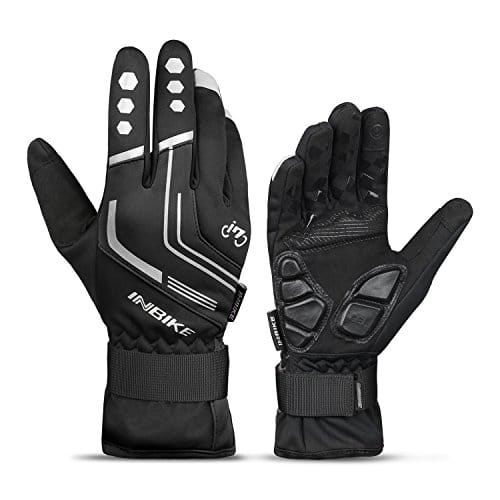 Drive to work in comfort and style with the INBIKE Cycling Gloves for Men. Not only do they come with a small price tag but also a sleek look and thoughtful design. You also get your choice of accent color, including blue, red, fluorescent yellow, and black. Otherwise, the gloves are black with reflective designs to make you visible.
The gloves are made of polyesters and provide both thermal comfort and windproof to keep you warm even in cold weather. A fleece lining also keeps you warm as do the extra-long wrists you can adjust with Velcro straps. The gloves are also snug for a superior fit and to help you grip your handlebars with ease.
Next, gel padding on the gloves helps to absorb shock while providing gripping, while silicon grippers keep you from slipping. You still get touch screen full fingers on the gloves too for easy phone usage even on the go. Lastly, the reflective windproof gloves are ready to keep you warm off your bike too, so you can use them whenever you need even walking into work.
6. OZERO Men's Winter Thermal Gloves
Keep a low profile with the OZERO Men's Winter Thermal Gloves. The gloves slip on easily and keep you warm on cold or windy days. Thanks to windproof polyester, waterproof TPU, and insulated cotton, the gloves will protect whatever weather comes your way so you can continue commuting to work via bike year-round.
What's great about the gloves beside the low price is they include sensitive touchscreen fingertip pads and works with most phones so you can stay connected while commuting. Only the fabric shell is waterproof, but that's enough to protect your hands from freezing wind and cold water. Do not dip your hands in water, though, or use these for playing in the snow.
Otherwise, silica gel particles help to grip your handlebar in strategic locations for optimal use. The elastic cuff offers a snug fit while making it easy to put on or take off. Choose from men's sizes medium to XL and expect a slightly tight fit for better gripping. Last of all, the black and gray color scheme looks professional enough to wear in the office or walking around, and then they can take you on your bike too.
7. Grebarley Cycling Gloves Mountain Bike Gloves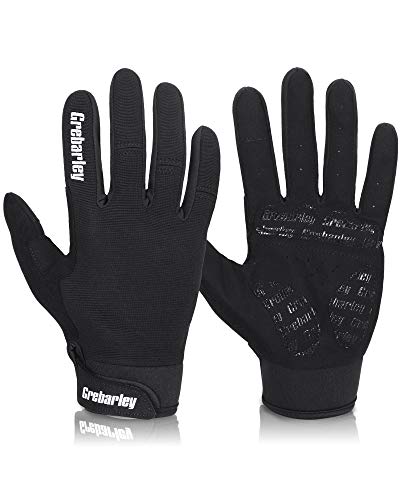 If you like to switch from commuting to mountain biking, try the Grebarley Cycling Gloves Mountain Bike Gloves. They offer full finger support and a snug fit ready to keep you warm year-round. Moreover, they come with tons of features designed to improve your ride no matter where you go or what type of riding you are doing.
First, choose from all black, green, white, and black, or heather gray to suit your style and clothing. At this price, you could afford to buy all three and keep spares! Second, the gloves are made of elasticized material that's soft, breathable, and anti-abrasive. It also keeps the gloves lightweight and flexible. Enjoy adjustable wrists too for added comfort and to keep the heat inside.
Next, the gloves have built-in shock-absorbing gel pads that also help to prevent your hands from slipping off the handlebars. On the back, the gloves provide air venting to reduce sweating and perspiration. The thumb and index finger offer small touchscreen sensitive pads to allow you access to your phone without removing the gloves.
Finally, the gloves come with synthetic leather around the thumb and index finger for added comfort and grip even if you want to hold the handles from this location. If you don't love the gloves, you can return them in the first month for a full return. Pick from sizes small to extra large.
Buying Guide for Gloves for Bike Commuting
Before you make your final glove choice, take a look at some important information to help you make the best decision for your commuting situation.
Material
Biking gloves are made with multiple materials. What you need to look for is material that will protect your hands from wind and rain. Also, look for padding to help with shock absorption, too, as most good gloves have built-in reinforcements in key areas with heavier-duty fabric, such as between the forefinger and the thumb. Look for soft fabric on the inside to keep your hands comfortable and free from chafing.
Gloves should also have extra material for gripping. Whether the material is silicone or gel padding, you need this aspect as most fabrics slip around, and your hands slipping out of place can cause you to lose control of your bike. Do not sacrifice grip for comfort, instead find a pair of glove that offers both. Finally, many gloves offer one or two fingers with special material so you can access your phone with your gloves on.
Comfort & Fit
Cycling gloves should be a bit snug to allow your fingers full movement. Too many layers or thick gloves prevent movement and reduce how well you can maneuver your bike. You need your fingers to shift gears, so make sure to find gloves that provide finger movement and warmth.
Next, take your riding jacket into consideration too. If your sleeves are adjustable and long enough, then you can handle shorter gloves. Otherwise, you may want longer gloves that fit into your sleeves to block out all wind and rain. Look for adjustability on the wrist, too, to keep a snug fit because you don't want the gloves to slip while riding.
Lastly, gloves should breathe a little to help prevent sweat, which can help you to lose maneuverability of the bike. Find gloves that keep you warm and dry inside and outside for optimal comfort.
Style
As you will be commuting to and from work, you probably don't want to wear one pair of gloves while on the bike and then slip into a new pair that is office-ready. Instead, pick a neutral pair of gloves with a modern design ready to work both on the bike and off. Most mountain biking gloves come in bold colors which are easy to see but may not work with your business suit, choose accordingly.
Questions About Gloves for Bike Commuting
How do I wash bike gloves?
Most bike gloves are made with multiple materials, most of which cannot or should not go in the washer or the dryer. For the most part, you will need to hand wash your gloves. Make sure to check the label or packaging for instructions on the gloves you choose.
Do I need biking gloves in warm weather?
Gloves not only help you to stay warm but also help to protect your hands in a fall, provide shock absorption, and provide superior gripping. However, most of this applies more to mountain biking or longer rides. If your commute to work is shorter with few variances in road conditions, then you may not need gloves in warm weather.
However, if you live in a cooler climate or a place with tons of rain, you may want gloves in the summer. Rain may prevent you from riding, but it doesn't have to as the right gear can improve your experience and keep you going despite the rain. Most importantly, wind can cause your hands to freeze on a warm day, and gloves protect you from all the elements, including the wind.
What does a neoprene allergy look like?
Many biking gloves are made of neoprene or similar materials that can cause contact dermatitis. Make sure to look for itchy skin, skin color deformation, skin eruptions, and even swollen hands when wearing these materials for the first time. If you have known rubber issues, then avoid neoprene and similar materials as well.
Should I wear Cycling Gloves?
If you are wondering whether wearing bike gloves is the right choice for you, watching this video may help:
Conclusion
Save your hands from the cold on your commute with the CASTELLI Men's Spettacolo ROS Gloves. Not only are they high quality, but come with a zipper for a snug fit ready to trap in heat and keep you warm year-round. They are perfect for any biking expedition and handsome enough to wear into the office or while out around town without sacrificing comfort or warmth no matter what weather comes your way.
Related Articles