The 5 Best Gravel Bikes for Commuting Reviewed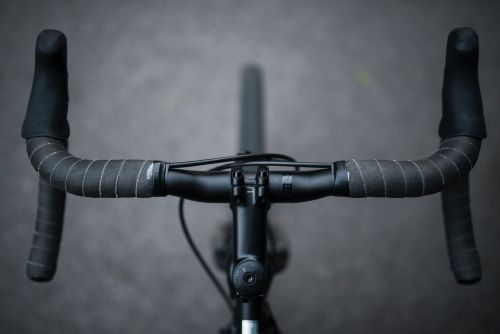 Over the recent years, gravel bikes are growing in popularity, as many bike manufacturing companies begin to add them to their portfolio. Aside from the fact that most of these gravel bikes are very affordable, their versatility also makes them a popular choice for commuting. They can be used on rough terrains as well as for long and hilly rides. Due to their unique features like disc brakes, drop handlebars, and a wide range of gears, gravel bikes come with many benefits for commuting.
Gravel bikes are also built according to a specific geometry, which makes them very comfortable. Their designs mostly come with wide tears, which absorb bumps and are more resistant to pinch flats. Since most gravel bikes also have a more comprehensive gear range compared with 'normal' bikes, it allows them to be versatile enough to negotiate both flat roads and uphills.
In general, any rider can expect to experience compact chainrings to easy climbs and wide treads to negotiate loose surfaces. But so many options available to choose from, finding the best gravel bike for commuting can be quite challenging. So, in this review, we have put together the best options available.
Best Gravel Bikes for Commuting
1. Diamondback Haanjo 2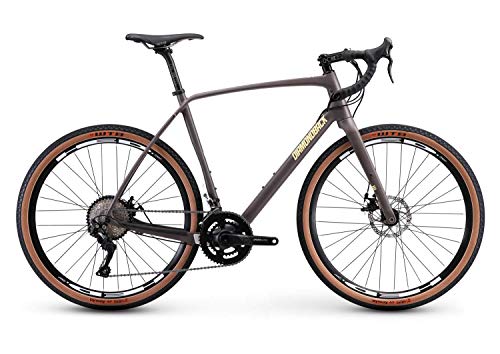 An excellent place to begin is with the Diamondback Haanjo 2, which offers a gravel-ready package. This bicycle measures 56 cm 5' 10 "to 6' 1", with a solid frame made with aluminum alloy material. It features a rigid suspension system with a disc brake style.
Because this gravel bike is made with a 6061-T6 aluminum alloy frame with endurance geometry, it offers a worry-free biking experience with durability and all-day riding comfort. The frame stands on two 700c wheels, which roll very fast. The tires measure about 700 by 38c, making it very easy to smoothen out even those rough riding terrains.
You can also rely on an excellent shifting performance made possible with the Shimano Claris 2×8 speed drivetrain feature. The bike also comes with the reliable Tektro Mira mechanical disc brakes, which offer strength and reliability. The design also comes with a steel fork fender and low-rack mount features, which allows the driver to stay dry and bring the gear closer. If you are a rider looking for a daily utility bike that comes with reliable off-road capabilities, then you can find an ideal partner in the Diamondback Haanjo 2. Its aluminum steel frame is lightweight enough to make the bike very easy to handle. Any beginner rider should be able to tackle city traffic and off-road terrains, and single-track ribbons of dirt with relative ease, thanks to the stable handling feature combined with a very sturdy build. And if appearance is significant to you, then you can satisfy yourself with the bike's matte silver color.
2. Royce Union Mens Gravel Bike
The second entry onto our list is the Royce Union Men's' Gravel Bike. This gravel bike offers everything any bike lover would want in a bike – whether an easy commute in the city or an adventure in a more testing off-road terrain. The construction of this gravel bike features a solid frame that is made of high-quality aluminum material. This frame construction offers the kind of reliability, durability, strength, and sturdiness that every bike lover wants in their gravel bike. The frame measures 21 inches of a rigid hardtail, strong enough to take on any surface terrain, and still lightweight enough to make the bike very easy to handle. And speaking of handling, the bike's handles have been positioned perfectly to ensure that the arms rest steadily and easily for total control. At the same time, the lower body nestles on the seat.
Royce Union Men's' Gravel Bike also has a drivetrain feature, which comes with Shimano 2 x 9 shifter as well as Shimano Sora 9-speed index. These drivetrain features offer an impressive 18 speeds with Neco alloy 3-piece crank and 11×34 cassette. The bike's frame rests on a set of reliable wheels that measure 27.5 inches each. Each WTB nano 700c tires combine perfectly with WTB alloy rims to provide an impressive look and deliver much more than they promise on the ground. Comfort is essential. Therefore, to ensure that the rider feels very comfortable, this gravel bike features a WTB Volt saddle, extremely comfy, especially for those very long rides. The saddle's design also allows the biker to enjoy their ride without worrying about any lower back strain.
This bike also comes with a brake system that is as reliable as every other feature on the bike, thanks to dual Shimano disc brakes. The only minor downside here is that the structure does not come with a kickstand.
3. Giordano Trieste
Moving on, we have the Giordano Trieste gravel bike. If speed is what you are after, you should consider this gravel bike, as it comes with 16 number of speed rates. It features a Chromoly steel frame construction, which ensures that the rider receives all the support and sturdiness needed for a good ride. The frame is not only a solid construction but also lightweight enough to make it very easy to handle – even by a pair of rookie hands. However, the frame is strong or heavy enough to support any weight while providing a steady and sturdy ride. In addition to the steel frame is a steel fork, which adds to the reliability that the bike offers, with Shimano Claris STI Shifters. Although the bike's off-road capabilities cannot be questioned, a rider can use it for a comfortable, smooth commute in the city.
Giordano Trieste gravel bike also features 700c x 30mm Tires; this means that it is specially designed to negotiate any terrain or surface challenge brought to it. It also means that it offers a better balance to the rider – especially a rider without enough riding experience. The tires are held in place by Mechanical Disc Brakes, which feature Cassette, Shimano 8 speed 11-32T. These features offer complete control to the biker and make the gravel bike very easy to handle and control.
When it comes to looks, this bike maintains a solid gray color throughout its frame, with black wheels measuring 29 inches each. The bike's frame size is also small enough to handle almost any body size.
4. Mongoose Elroy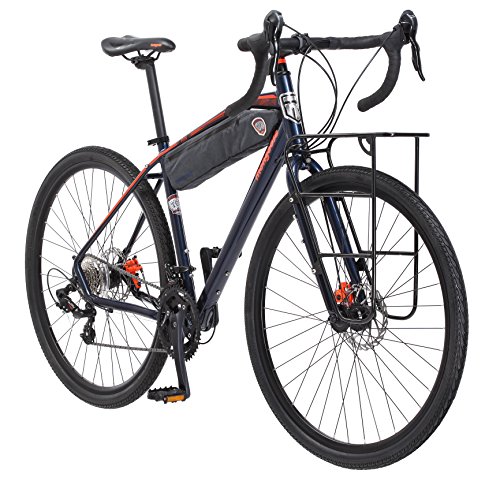 The next entry on our list is the Mongoose Elroy. This versatile adventure touring gravel bike features an adventure bike geometry capable of handling almost anything you throw at it. It comes with a sleek frame and a steel fork to provide the ultimate riding pleasure. It also features a 2 x 7 drivetrain with Shimano Tourney derailleurs, which comes with an integrated micro shift-brake lever combo or shifters. It also comes with a mechanical disc brake that assures the biker of all the smoothness they need in their riding experience.
The Mongoose Elroy gravel bike also comes with an integrated frame bag, which features a stylish and embroidered patch and all the riding room a baker needs for their riding essentials. You can also rely on a broad front rack, which comes with an integrated bottle opener for those special bottoms up moments. The front rack can also carry two panniers, with even more carriage capacity available in a rear rack. There is also an internal cable routing, which leaves more than enough room for three water bottle cage mounts, with two more available on the fork. In other words, this gravel bike is the perfect partner for those long-distance rides that require a lot of hydration.
For looks, this bike appears in a navy blue color, with wheels that measure 29 inches each. Its solid frame is made of high-quality steel material, which promises and delivers all the strength, reliability, balance, and sturdiness any biker needs. With a weight of about 30 pounds, the bike has the right weight to make for a comfortable handling experience and a reliable ride. In addition, there are 14-speed numbers to expect.
5. Hiland Clifford
Let us round up our list with the Hiland Clifford gravel bike. First of all, this bike is available in four different colors: red, black, silver, and grey. You can also select from three different sizes; small, medium, and large.
It features a matte aluminium frame with a mechanical disc brake design, making it easy to accessorize with racks, lights, fenders, a kickstand, and more. That means you can carry along extra bottles of water with you for those very long off-road rides. This bike is also designed to offer the versatility of a hybrid bike combined with road bike speed, meaning you can easily use it for your everyday commute on city streets. It features an advanced gear system SHIMANO 24 that efficiently changes speed in a smooth and stable way.
Both Shimano 12-32T and Kenda 700*40C are high-performance tires with aluminium rims that support the frame and provide a good riding experience. Installing this bike is very easy, as it comes 85% already assembled. Plus, it also comes with pedals and free installation tools included. If you are not convinced yet, the HH Highland Store is offering five years warranty for the frame. The frame weighs approximately 28 pounds, ensuring that it has an ideal weight for easy handling and a stable ride.
Gravel bikes vs. other bikes for commuting
If you are interested in the pros and cons of commuting with a gravel bike, or want to learn more about how different bikes perform for commuting, watch this video:
Related Articles