The 5 Best Gravel Bikes Under $1,000 Reviewed
If you're looking for a high-quality gravel bike that won't break your budget but will help you navigate even the most challenging of terrain, look no further. We've scoured the internet to help bring you some of the best gravel bikes on the market, so you can spend less time searching for the perfect bike and instead hit the trail.
There are a few things to consider when looking for the best gravel bike on the market. First, it's important to know the difference between a gravel bike and some of the other mountain bikes offered by distributors. Gravel bikes have wide tires, lofted frames, and tilted handlebars, to help ease navigation over less-than-steady terrain. Unlike some other mountain bikes, the focus with gravel bikes is on offering you a full range of motion on unsteady surfaces, rather than focusing so much on absorbing shocks and climbing hills. Granted, even with this distinction, a good gravel bike will include some form of shock absorption, and of course, a drive train that can handle rougher trails with ease.
It's important to keep in mind the overall height and adjustability of the gravel bike you have in mind. After all, nothing ruins a great bike like it being too short, too tall, or if it causes you serious back pain to ride. A good gravel bike will be adjustable and will take into consideration factors such as optimal frame size, as well as tire type to help ensure you're getting the best bike possible. Thankfully, we've done the research so you can rest easy knowing you're looking at the best gravel bikes under $1,000 on the market today. We've already taken into consideration things like frame construction, braking options, tire choice, and of course, overall value, to ensure you're choosing from the best bikes out there. Of course, don't just take our word for it: every bike on this list has countless positive customer reviews and experiences backing them up, meaning you can rest assured you're getting a quality product.
So whether you're looking to invest in your first gravel bike, or are looking to add a great bike to your growing collection, these high-quality gravel bikes are sure to be at the top of your list, both for their excellent construction and their incredible value. But without further ado, here are our picks for the best gravel bikes under $1,000 available on the market today.
Best Gravel Bikes Under $1,000
1. Royce Union Men's Gravel Bike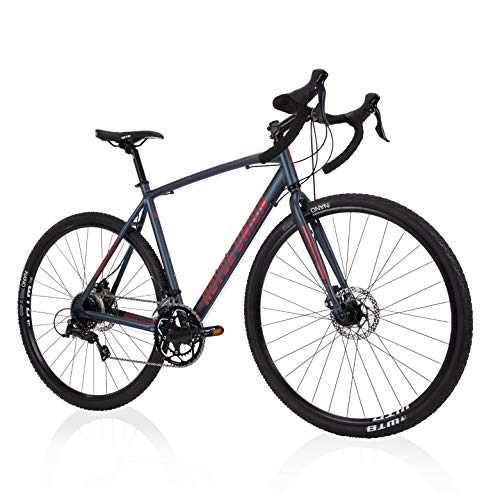 The Royce Union Men's Gravel Bike comes in at top of our list for affordability, overall construction, and performance, not to mention customer reviews. This bike features 700c wheels to offer reliable grip and maneuverability on loose terrain, as well as the patented gravel bike tilted handlebars, allowing you greater control over your bike no matter the terrain. This bike comes in two styles: one with 700c tires and an 18-speed shifter, and one with standard tires and a 16-speed shifter. While both bikes work well for traveling loose terrain and taking on some of the tougher trails out there, it is worth noting the 700c tires offer superior tread, allowing you to avoid unwanted slips and falls. This bike features disc brakes for a reliable braking speed that allows you to take control of your bike no matter how steep your descent, and the comfortable, adjustable seat allows you to ride in style, regardless of the bumps along your path.
On top of incredible tires and comfortable seating, this bike features a lightweight aluminum frame that helps increase your overall maneuverability, while also contributing to the overall durability of the bike itself, ensuring the Royce Union Men's Gravel Bike will last you for years to come. It is worth noting this bike does not have built-in suspension, but several reviewers noted that this was ideal for their personal biking preferences, as they felt it offered them more control over their ride and did not cause much discomfort when using for its intended purpose. Overall, this gravel bike is an incredible value for its price point and is sure to serve you for countless memorable rides.
2. Mongoose Men's Elroy Adventure Bike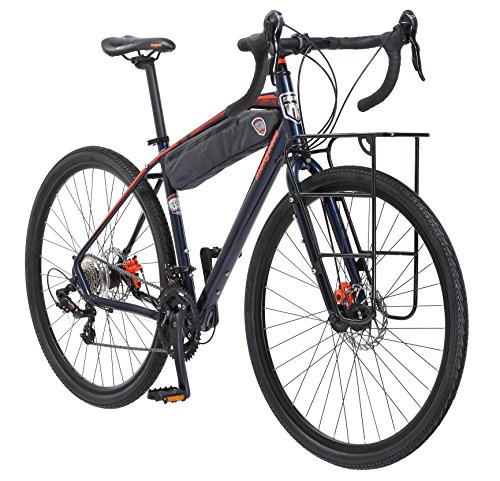 Anyone who's ever gone bike shopping should recognize the Mongoose brand right out of the gate. This bike pulls out all the stops, offering a convenient storage pouch, tilted handlebars, an adjustable seat, and a front rack, to help you keep an eye on your gear as you make your way down the trails. The 2×7 drivetrain with Shimano Tourney derailleurs ensures that you can smoothly shift between gears without losing speed or risking your stability, and the included disc brakes help give you the control you need when facing even the steepest of hills. The 700c tires offer a boost in stability and grip that is hard to pass up, and the overall design of this bike is made with long trail rides in mind. With room for up to 5 water bottles, as well as plenty of storage space and a somewhat lighter frame, this is the bike of choice for anyone looking to take on a longer trail.
As with the first bike on our list, this gravel bike is lacking in suspension, which can help allow you to take control of your turns and adjust to the terrain, without feeling disconnected from your bike. It is worth noting that some customers noted that the seat itself was rather uncomfortable, but most bike seats are made to be worn with padded bike shorts of some kind, and the issue can be solved by simply switching out the seat for a more padded version, should the need arise. It is also worth noting that this bike is built to take on some intense trails, meaning it may weigh a little bit more than your standard aluminum frame bike. Still, if you're looking for an incredible gravel bike that will last you for years to come, you can't go wrong with the Mongoose Men's Elroy Adventure Bike.
3. Domane AL 2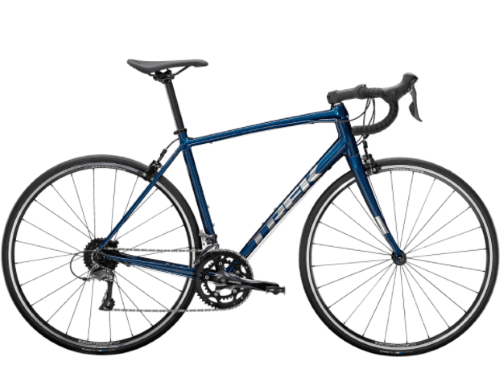 What biking list would be complete without a Trek specialty. While this bike may be commonly marketed as a hybrid or road bike, the classic tilted handlebars and lightweight construction make this an ideal gravel bike for anyone looking to get the most out of their bike. The comfortable handle construction offers you the control you need no matter the terrain, and the lightweight but durable frame features a distinct lack of shocks, allowing you to feel the trail under you.
This bike features a 16-speed shifter and is made to last you for years to come, meaning you won't have to worry about switching out your bike as your mastery of the trails grows. The Domane AL 2 was made with the bike nut in mind, with space for customization and additional features such as a carbon bike fork. This bike marries the practicality of a casual bike with the sleek design of a professional bike, allowing you to take to the trails with confidence, without worrying you're doing your bike a disservice. Overall, this bike is ideal for the person looking to easily switch between terrains, without having to worry too much about purchasing a truly specialized bike. Overall, this bike takes practicality over flashy add-ons, allowing you to trust in the purity and durability of the construction. If you're looking for a great gravel bike, you'll fall head over wheels for the Domane AL 2.
4. Royce Union Men's Gravel Bike with 27.5-inch 700c Wheels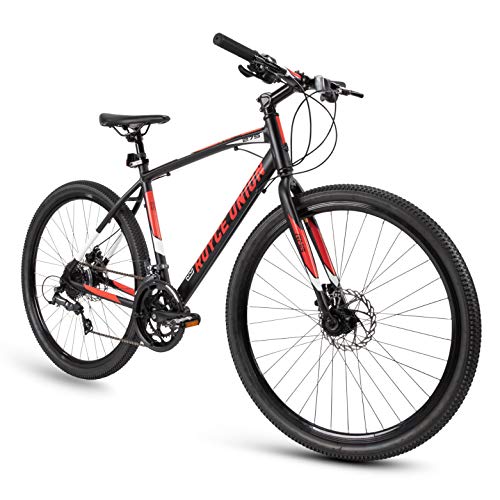 Before you get too concerned, yes, this gravel bike does lack the distinctive curved handles of some of the other bikes on our list. However, it has been included due to its incredible wheel and gear design, while also providing a comfortable option for those unsure about riding a bike with curved handles, or who suffer from back problems. This bike fits more into the description of a hybrid bike and features a hardtail frame design that is lightweight but durable. This is a true no-frills, no-gimmicks bike that is all about practicality. The 16-speed shifter and front disc brake design are made to take on tough terrain and steep descents, without slipping gears or losing speed. The seat design is adjustable and simple, and the overall frame construction focuses more on practicality than it does on being overtly flashy or stylish.
However, don't let the exterior of this bike fool you. For anyone looking to take to the trails without making the full commitment to a specialized bike, this gravel bike is an ideal purchase that's sure to satisfy. The 700c wheels provide ample traction, while the solid construction and lightweight frame provide a biking experience that's sure to please. As to assembling the bike, one reviewer did note that "It was pretty easy to set up out the box and it comes with its own tools but having your own ratchet set will make the building process easier." Overall, the Royce Union Men's Gravel Bike is a great all-around gravel bike that will serve you well without breaking the bank.
5. Schwinn Vantage Men's/Women's Sport Hybrid Bik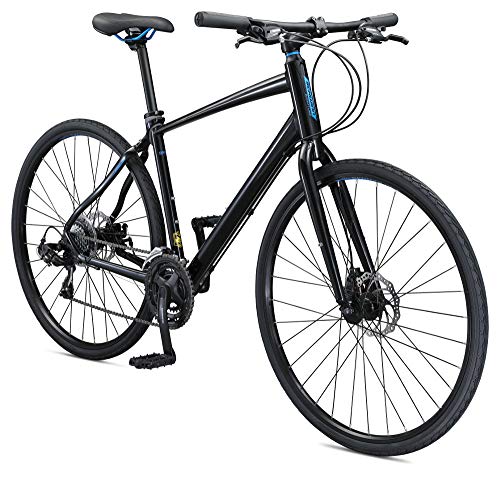 Like the previous entry, this bike, unfortunately, lacks the curved handlebars that usually define a gravel bike. However, much like the previous entry, this bike has a lot to offer once you get past its handlebars. Not only does this bike feature a 21-speed drivetrain, far and above many of the other entries on this list, but it is also truly a multifunctional bike that can make the transition from trail riding to road riding with ease. Thankfully, this bike is built with customization in mind, and both the handlebars and the seat can be easily swapped to fit your comfort and preferred biking style. It is worth noting that the only difference between the "men's" and "women's" bike is the overall height of the bike itself, so keep your own needs in mind when shopping for the right bike for you.
No matter if you're looking to take to the trails for the first time, or are looking for an all-around bike that can transition from your daily commute to a little off-road fun in a snap, the Schwinn Vantage Sport Hybrid Bike is sure to quickly become your go-to gravel bike.
How to choose a gravel bike
There are many things to look for when buying a gravel bike from fit to gearing and tires. Watch this video for a great explanation of how to choose a good gravel bike:
Conclusion
Whether you've never biked off-road before, or are a seasoned trail professional, choosing the right gravel bike can make the difference between a smooth ride and a catastrophe. That's why we've taken the time to choose the best gravel bikes on the market for under $1,000, so you can rest easy knowing you've made a wise investment for your personal biking needs. No matter the biking style, we have plenty of informative articles to help you find the right bike for you.