The Top 7 Hybrid Bikes for Commuting Reviewed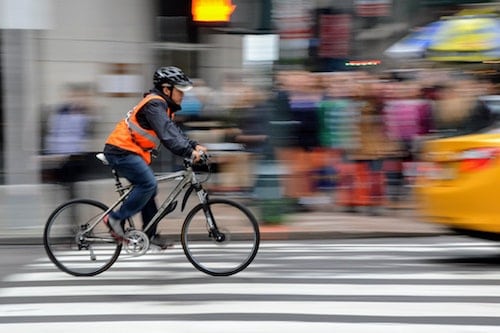 Do you need a bike capable of navigating the city, dirt roads, and more? You need a hybrid bike to make your commute to work easier. Not only are the bikes capable of maneuvering any road but providing the ultimate comfort in the process. Hybrid bike are designed with comfort and ease in mind with a specific set of guidelines for the best biking experience possible for commuters.
We found the seven best hybrid bikes to get you to work every day with features like wider, thinner tires, and flat handlebars to maintain an upright position. Moreover, we found options to fit every budget, including electric hybrids, to help you get to work without working up a sweat and folding bikes to help you store your bike too. Find the right option for you and save the environment in the process.
Best Hybrid Bikes for Commuting
1. Tommaso La Forma Lightweight Aluminum Hybrid Bike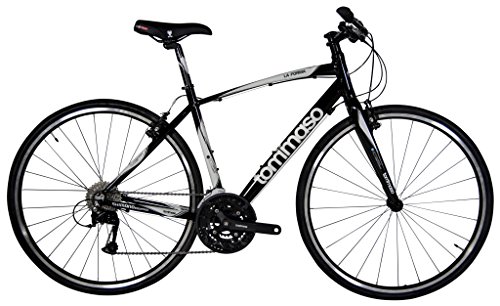 If you are on a budget and still need a bike for your daily commute, use the Tommaso La Forma Lightweight Aluminum Hybrid Bike. Not only will it save you some money, but it will also improve your health and the environment too. It's comfortable, reliable, and fast, although you may want to upgrade the Shimano parts later on, and the chain can occasionally slip, although it's very rare for this to happen.
While our top option above offers ten speeds, this strong contender comes with 27 speeds to allow you to work as much or as little as you want for a comfortable and easy ride. Moreover, it's fast with a lightweight aluminum frame with the best equipment despite the reasonable price. Get a perfect fit frame and a sleek design ready to fit your body and riding needs with a dialed fit frame.
Dampen road vibrations and save some weight with an HCT fork. Throw in some Shimano shifters and drive train for quick, smooth, and reliable gear shifting while also making it easy to figure out what gear you are in. You also get a Kenda K193 (700 x 32c) tired with enough grooves to disperse water so they can work equally on smooth or hard surfaces.
First, though pick your size from an extended list of XXS to XL for everyone from under four feet to over six feet making this the bike of choice for those with height factors. At just 24.25 pounds, it can support up to 280 pounds for the wheels and more on the frame. From the thin tires, carbon fork, and ultra-light frame, it's the perfect way to zip to work no matter the terrain. Lastly, you can customize it to meet your needs with a variety of fenders, racks, water bottles, and more.
2. Goplus 20 inch Folding Bike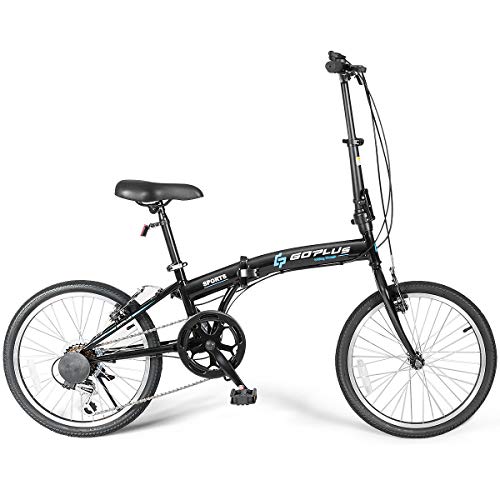 You want to ride to work, but don't have a space to store your bike outside, get the Goplus 20″ Folding Bike because you can fold it up and take it with you. Don't worry about the height as both the seat and the handlebars rise up to meet you. What's even better is the price won't make your wallet cry. It's so affordable you could get another bike too for other driving conditions and keep this as your commuter to and from the office.
Next, you can pick from two crossbar shapes, including a curved or u-shape, to fit your preference. Despite the folding design, the bike still offers seven speeds and an ergonomic anti-slip handle for prolonged riding. All this from a high-strength iron frame with load-bearing capacity. Moreover, the folding process takes just three easy steps.
Non-slip tires provide performance, speed, and longevity along with aluminum alloy rims. With the thickened anti-skid tires, front and rear brakes, and stainless steel seven-speed derailleur, you can ride on the road or off-road. V-style brakes provide efficiency and braking distance. What you will really love is the bike comes 98 percent installed so you can focus on riding instead of assembling.
Last of all, the dimensions when unfolded are 59 x 22.5 x 46 inches and folded it measures 32.5 x 12.5 x 24 inches. The bike can hold 178 pounds as it weighs 32 pounds itself, which is a little on the heavy side. You can adjust the height of the see from 25 to 36 inches and the handle from 40.5 to 46 inches. All this and less work on your part riding off-road and uphill. What more could you ask for in a bike?
3. Allant+ 7S by Trek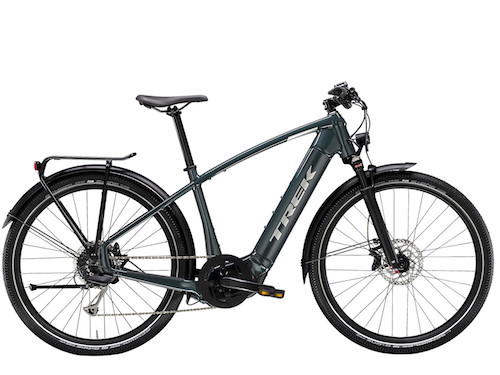 While this bag may appear on the bulky side, the amount of storage provided makes up for its squared design in droves. This backpack is made with water-resistant fabric to help keep your supplies protected from everything from a chance rainstorm to the dirt and grime of the road, and the easy-clean surface makes keeping your gear in tip-top shape easier than ever. The interior pockets are made to fit everything you could ever need at the office, from folded clothing to your lunch or your electronics. This bag comes with comfortable straps, as well as an optional sternum strap to help keep your bag secure on a morning commute. As an added bonus, the shoulder strap comes with a bottle opener for those moments you feel like celebrating after a hard day at work.
This bag features a series of mesh loops on the front and sides, so you can attach anything you desire via carabiner, allowing you to maximize the amount of storage space available on your morning commute. Overall, this is a great backpack for those with a shorter commute or who are looking to carry everything they may need with them. The easiest way to ensure this bag doesn't bog you down on your morning commute is to keep in mind the overall weight of everything you are packing, as there is a slight risk with larger backpacks that you could over encumber yourself. Still, this is a great backpack for anyone looking to invest in a stylish, practical bag that has enough space to carry anything you could ever need with you.
4. Verve+ 3 by Trek
Trek to work with the Verve+ 3 by Trek, a hybrid bike ready to make your commutes easier. What makes this so special is it's an electric bike ready to give you a boost in your daily cruises. A Bosch pedal-assist system offers both power and reliability with user-friendly features.
The bike comes with an Alpha Gold Aluminum frame with a 250-watt Bosch Active Line Plus motor capable of speeds up to 20 miles per hour. It also comes with a Bosch PowerTube 500 Wh battery encased right into the frame along with a Bosch Purion Controller. It also boasts a 9-speed Shimano drive train and hydraulic disc brakes perfect for any weather.
Next, the bike offers wide puncture-resistant tires for smooth stability, ergonomic design including the handles, a kickstand, a rack, and fenders. The back even has lights for easy viewing from cars at night. It climbs up hills with easy so you can get to work without working up a sweat. The bike does weigh a lot at just over 54 pounds and can support a combined weight of 300 pounds.
Finally, a built-in handle makes removing the battery a breeze so you can charge easily. Pick from multiple bike sizes to fit riders size 5'5 feet up to 6'5.6 inches tall. A rack on the back provides storage space for your necessities. Also, it comes with a display for easy access to speed and battery function. You will pay more for an electric bike, but with this newest model, you are guaranteed to get your monies worth from this sleek bike.
5. RadCity Step-Thru 3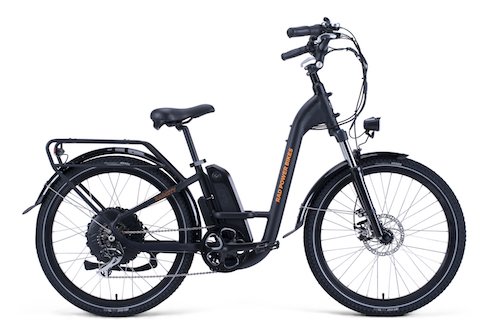 If you want an electric bike on a budget look no further than the RadCity Step-Thru 3 by Rad Power Bikes. One problem with these bikes is they are often on backorder because they are so in demand, which is why they are lower on our list. However, they are the winner for the Best City Electric Bike and Best Affordable Electric Bike for 2020, along with seven other categories as well, so you can see why they are in such high demand.
What makes this bike so special? It comes with a 750 W direct drive hub motor, can go up to 45 miles per charge, includes a 48V 14 AH lithium-ion battery, and can carry 275 pounds. It's an easy access comfort cruiser with mounts for optional wheel locks, and it sports a huge rear rack for storage. Moreover, it's a low-step frame design to keep less space between you and the handlebars with a sleek design.
You also get several other key features such as puncture-resistant tires, 7-seeds, reflective sidewall stripping, an integrated brake light, and twist-grip throttle. A display on the front lets you track your speed and battery life. Unfortunately, the bike only comes in one size, which means taller people may find their legs are too long for the bike. However, the seat does adjust to meet your height needs.
Finally, the battery charges in about 5 to 6 hours and provides all the power you need for riding up hills with a boost. It's a high-quality option ready to provide a great way to commute, do door dash, navigate the city, and just take a for an enjoyable cruise. Also, it comes black or white to suit your color needs.
6. Schwinn Wayfarer Bike Hybrid Retro-Styled Cruiser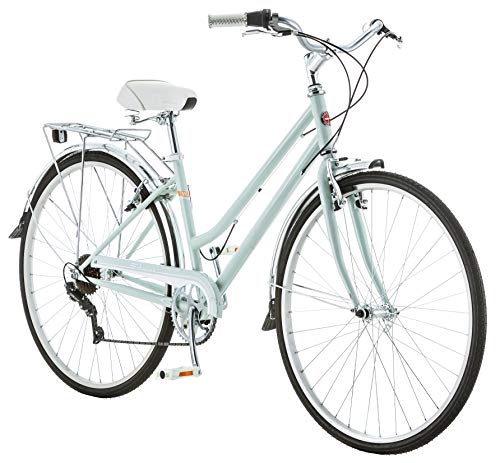 For a cost-efficient option for both men and women, look no further than the Schwinn Wayfarer Bike Mens' and Women's Hybrid Retro-Styled Cruiser. Not only does it come in retro-style ready to improve your aesthetic, but it comes with options too like light mint or blue colors and multiple sizes. It offers a 7-speed system and a classic design ready to make your commuter bike your new favorite accessory.
The bike offers comfort and a smooth ride to help you glide from home to the office and even to lunch. It's even easy to assemble with just an hour or two of work on your part. However, it's best for casual pavement and bike path riding but does come with a Shimano derailleur for smooth gear changes. Brakes on the front and rear make for efficient stopping while swept-back handlebars provide an easy upright ride.
A built-in storage rack on the back means you can take anything you need to work with you, including your briefcase, bag, or lunch. The classic size seat offers comfort and an easy way to ride. It also comes with a lifetime warranty.
However, the bike comes with a few drawbacks, such as only coming in two small sizes to work for adults from 5'4 to 6'2. Adults who are shorter or taller will need to pick from the options above instead. Also, the bike is very heavy at 40 pounds, and customers had other issues with gears slipping and wheels bending. Pick this option if you care more about aesthetics than the ride.
7. Masi Giramando 700C Bike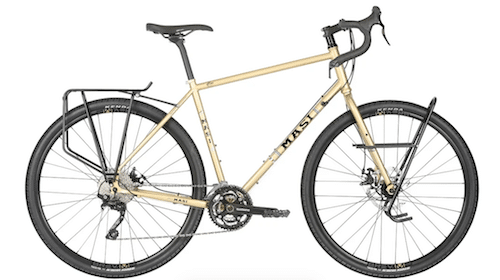 With a mid-range price, the Masi Giramando 700C Bike offers a streamline hybrid bike ready to ease your commute. What you will love about this bike are the three bottle holders to keep you hydrated and the Chromoly frame designed for hours of comfortable riding. It's the perfect bike for any rider as it comes in several frame sizes to cover multiple heights from just over five feet to above six feet.
Next, the bike comes in a gorgeous black and brass finish making it easy to spot when parked among the other bikes in front of your office building. With ten speeds, you can find your comfort spot with micro-shift bar-end shifters. The bike also features front and rear racks to hold more gear. Add in a Shimano Deore drive train, and the bike can perform on or off the road with ease.
Furthermore, stop without issue on dusty or wet roads with TRP mechanical dis brakes. Tubeless-ready rims provide fewer flats, easy traction, and a smooth ride. The tires themselves offer a wide clearance for up to 29 x 2.0-inch tires. Also, the bike can handle riding in rough terrain with a cassette with an 11-36T gear range.
Finally, the modern-day touring bike with geometry lets you ride for hours. Several options allow you to customize the bike to your specific needs to handle long or short treks such as a WTB volt sport saddle and easy-grip handlebars with multiple options. Find all the best bike parts expertly assembled for a truly easy commuter bike.
Buying Guide for Hybrid Commuter Bikes
The two main types of hybrid bikes for commuting are comfort and electric. Which you want depends on your needs and where your life. If you live in an area with a lot of hills, then you may consider an electric option to prevent getting to work soaked in sweat. Folding bikes are another option if you don't want to or cannot leave your bike outside while you work.
If you want a lightweight bike, consider the frame with aluminum and carbon fiber offering the easiest to move options. Both steel and electric bikes weigh more, making them more difficult to maneuver into your parking spot. If you can safely park the bike outside, then you probably don't need to worry as much about the weight.
As for gears, you may need more speed options depending on the complexity of your ride. If you have a generally flat and smooth ride, a seven-speed bike will suffice. Hilly areas or areas with tons of road variation may require more speeds to get you to work without as much effort.
Brakes come in two main choices, including disc and rim brakes, with the disc being the better option for rough terrain and higher speeds. They are also the more expensive option too. Choose rim brakes to save money and for easier rides.
Next, most hybrid bikes are free of suspension to reduce the weight, but some shocks can go a long way in making for a smooth ride. Also, consider the comfort of the handlebars if the bike has a built-in storage rack, and if a bottle holder comes included as accessories can drive up the price and improve the function of your bike.
This video does a great job of explaining what to look for in a hybrid bike:
Conclusion
We love the Masi Giramando 700C Bike because of the reasonable mid-range price, long list of features, and beautiful design. If you need a bike ready to fit your body and get you from home to work easily, look no further than this high-quality bike. No matter your needs or budget, you can find an option to suit your lifestyle so you can get to work with ease.
Related Articles