The 5 Best Hybrid Bikes Under $1,000 Reviewed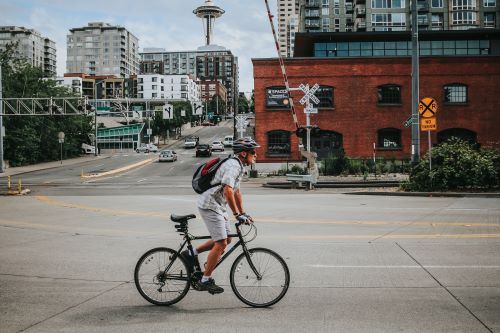 If you're looking for a new hybrid bike, you've come to the right place. Hybrid bikes marry the best parts of a road bike with the durability and grip of a mountain bike, for a bike that will carry you over almost any surface. A great hybrid bike offers comfort and control, while still offering the speed and sleekness you've come to expect from a road bike. While hybrid bikes are one of the more common forms of bikes you can find at almost any department store, there is something to be said for choosing a durable, reliable hybrid bike. Not only is a great hybrid bike sure to take your daily rides to the next level, but a well-engineered hybrid bike will also last you for years to come, making it a more than worthwhile investment. But how can you be sure you are getting the best hybrid bike available on the market, without breaking the bank? Thankfully, there are a few key things to keep in mind that can help keep your costs low but the overall value of your bike high.
The first thing you should consider is the bike's structure. This includes things like the frame make, height, wheel size, and of course, the oval style. A great hybrid bike will be lightweight enough to carry with you, without sacrificing overall durability. After all, nothing puts a damper on a bike ride like trying to drag a 20 lb. bike up a hill, or, conversely, nothing is more disappointing than a bent frame. Most hybrid bikes are engineered with daily use in mind, so in general, you should really only worry about the overall frame weight and height when shopping around. As for frame height, most bikes are made to fit an average range of heights, meaning if you are taller or smaller than the average, you may need to make sure you won't be straining to reach the pedals, or bending in half to try and reach the handlebars.
The next thing to keep in mind is the shifter and braking situation. Thankfully, when shopping for hybrid bikes, you don't have to look too hard into the braking system, as you are unlikely to really need the minuscule difference in brake response time that comes into play for professional mountain bikers. In general, you want to make sure that the bike you're looking at has enough gears to give you plenty of options to work with, without overly complicating things. So long as you are aware of the brake setup before purchasing your bike, you should be good to go. Keep in mind that most hybrid bikes are pull-brake bikes, meaning there is no backpedaling to stop as you would find on a cruiser bike, so if this is your preferred style of breaking you may be in for a surprise.
Now that you have a general idea of what to look for in a hybrid bike, it is time to take a look at the bikes themselves. We've pulled together the best hybrid bikes for under $1,000 from across the internet, so you can spend less time digging through websites and more time trying out your new bike. We take into consideration things like overall construction, value, style, and of course, user reviews, so you can rest easy knowing you're getting all the angles. Without further ado, let's dive into the best hybrid bikes for under $1,000.
Best Hybrid Bikes Under $1,000
1. Tommaso Sorrento Shimano Hybrid Bike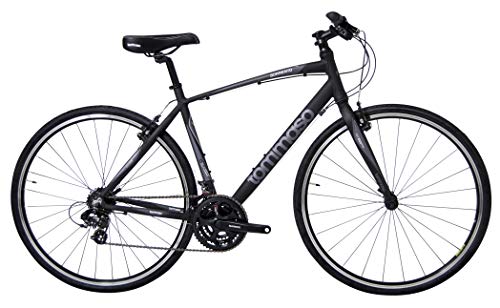 If we gave out awards for style, this bike would be in first place, hands-down. The sleek, matte design of the Tommaso Sorrento Shimano Hybrid Bike looks like it belongs in a road race, while the durable, all-terrain tires give you the freedom to take on even the roughest of biking trails. This bike combines the lightweight design of an aluminum frame with the durability of its steel fork, for a truly hybrid design. The 21-speed precision shifter allows you to switch from flat surfaces to climbing hills in seconds flat, without worrying about dropping gears or chains.
This bike features a flat handlebar design to help offer comfort while riding, no matter how far your ride takes you. While it is advisable to have this bike constructed at a bike shop after purchasing, it's well worth the additional effort, as this bike is sure to last you for years to come. As one enthusiastic customer noted, "This bike simply is the best bike I've ever owned. It's perfect for someone like me, (I'm 31, Male, 5'7"). Lightweight frame, sturdy build, fast, and looks very cool. I love it. 10 STARS." If you're looking for a hybrid bike that's built for speed, style, and comfort, the Tommaso Sorrento Shimano Hybrid Bike is an incredible choice that's sure to quickly become your favorite bike to ride.
2. Roadster v2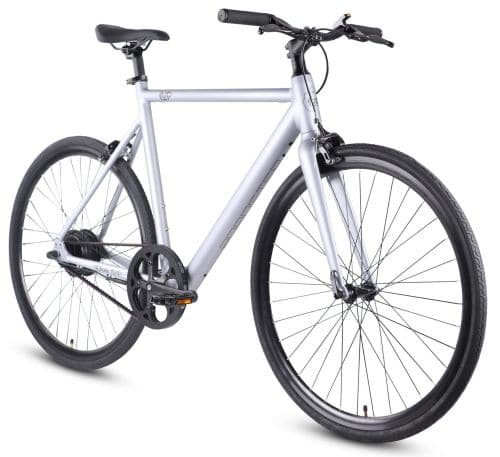 It's hard to believe that a bike this beautiful features pedal assist. The Roadster v2 is a sleek, beautiful hybrid bike that features a completely concealed battery and a nearly silent motor, meaning to the outside observer, you're just that good at biking. This bike is made for those looking to take their hybrid bike to and from the office, or anyone who needs that extra get up and go on particularly steep hills. The smoothed alloy frame offers durability without compromising on overall weight, meaning you get more battery life out of each and every charge. The easy-to-use LCD display allows you to track how far you've gone, and how much charge you have left, so you won't suddenly find yourself without power.
This bike can take you up to 35 miles on a single charge with pedal assist, more than enough for the average commute, and the integrated battery design means you avoid the bulkiness of some of the other electric bikes on the market. One of the perks of a pedal-assist hybrid bike is that the motor is there when you need it, but you don't have to rely on it, meaning you can get in a perfectly good workout before switching to the motor to help you get back home. If you're looking for a fantastic hybrid bike that offers you the convenience of a pedal-assist for a fraction of the price, the Roadster v2 is the bike for you.
3. FX 3 Disc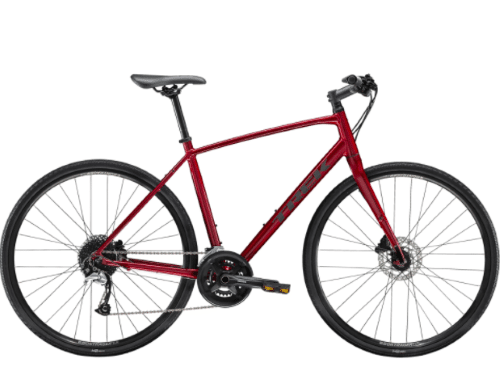 The FX 3 Disc has everything you could ever want from a traditional hybrid bike. The lightweight aluminum frame and carbon fork help keep the overall weight down without compromising on durability, while the disc braking system allows you to stop reliably every time, no matter how wet the roads. This bike features an 18-speed drivetrain, allowing you even more control over your speed without the risk of slipped chains or dropped gears. This bike is built with speed in mind, using a frame that has more in common with road bikes than mountain bikes, while still offering the durability of the carbon fork to help absorb some of the rougher bumps on your morning commute.
The FX 3 Disc doesn't just focus on performance, it also offers comfort, with a handlebar design made to help reduce back pain without compromising your overall control on the road. Overall, this is an incredible bike for anyone looking to spice up their daily commute, or the average biker looking for a great hybrid bike that won't break the bank. After all, Trek bikes are some of the highest quality bikes available on the market today, and it's hard to pass up a bike with this many features. If you're looking for an incredible hybrid bike that offers countless features at an affordable price point, you can't go wrong with the FX 3 Disc.
4. Dual Sport 1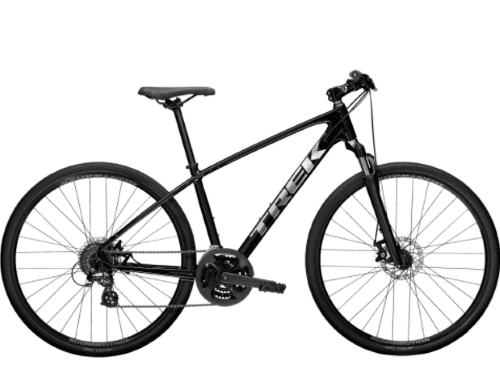 If you're looking for a hybrid bike that can truly take you from pavement to the trails and back again, the Dual Sport 1 is the bike for you. This bike features all-terrain tires made to take the wear and tear of the trail, while still offering you speed and control in the city. The lightweight aluminum frame is made to easily be carried from place to place, without weighing you down, while still providing optimum support. This bike prioritizes customization and adjustability, with a simple but incredibly engineered design made to easily work with added kickstands, racks, or anything else you need to truly optimize your biking experience.
Like all Trek bikes, this bike is a perfect balance between affordable and incredibly designed, allowing you to get one of the best hybrid bikes on the market without worrying about blowing your budget. Overall, this bike is an incredible investment for anyone looking to invest in a hybrid bike that will be able to transition from road to trail without a second's hesitation. If you're looking for a bike that can range the gap between casual biking and an intense workout, while still looking sleek and performing like a dream, the Dual Sport 1 is the hybrid bike for you.
5. Schwinn GTX Comfort Hybrid Bike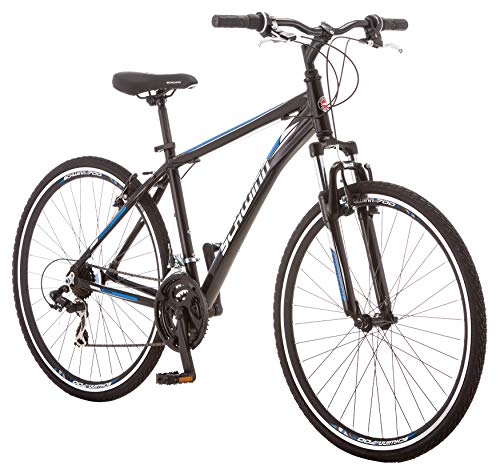 Anyone who has ever gone bike shopping recognizes the name Schwinn, and as far as standardized, reliable bikes go, it's hard to find a better brand. The Schwinn GTX Comfort Hybrid Bike really is the quintessential hybrid bike, with a front shock to help you take on rougher roads, while all-terrain tires allow you to get the control you crave on smoother surfaces. This bike is, at heart, a great beginner bike, with plenty of features from both its mountain and road bike counterparts to make you feel like you're getting your money's worth. The 21-speed shifter allows you to exercise greater control over the road, while the aluminum frame is made to stand up to the wear-and-tear or regular use without weighing you down on hills and inclines.
This bike is a great beginner bike but does lose a few points for a slightly more complicated assembly than your average bike. Still, customers noted that will a little practice, and a dash of patience, this bike came together wonderfully, giving them a bike they couldn't wait to ride. It is worth noting that the size you choose when buying this bike does matter, as one reviewer noted, "For my size the 18inch frame is perfect, if you're under 5'3 it might be a little big for you." However, they went on to say, "So far I've put about 50 miles on it, riding it to and from work which is 8 miles away from my house and takes 30-35 minutes. So far this bike has been great, and makes the daily commute to work a lot more fun." If you're looking for an amazing hybrid bike for under $1,000 that will make your morning commute, daily exercise route, or next trip to the trails a hit, the Schwinn GTX Comfort Hybrid Bike is an incredible choice for you.
Conclusion
No matter what kind of bike you're looking for, we have countless articles full of customer reviews and professional research to help you learn the ins-and-outs of bike shopping. Whether you're looking for the best hybrid bike for $1,000, or are simply looking to learn the difference between a partial suspension and a full-suspension mountain bike, we're here to help you stay in the know, so you can spend less time scratching your head over bike specs and more time taking to the road.