The 5 Best Hybrid Bikes Under $2,000 Reviewed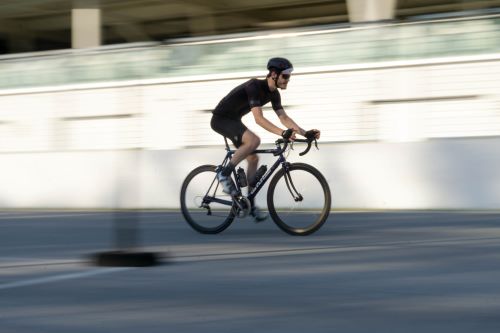 Hybrid bikes take the best parts of a road bike and a mountain bike and combine them into a bike that's made to easily transition from the toughest of trails to the smoothest of roads at a moment's notice. Hybrid bikes are the quintessential all-around bike, with tires made to take on a myriad of surfaces, to shock absorbers made to ensure your ride is smooth no matter what the trail decides to throw at you. But choosing the right hybrid bike can be complicated, especially with this being one of the most popular bikes available on the market today.
The first thing to consider before investing in a hybrid bike is the overall frame construction of the bike itself. Most hybrid bikes feature lightweight frames that are made to stand up to the wear-and-tear of the road. You want to ensure your new hybrid bike isn't too weighty, as you may find yourself struggling to get up hills or transport your bike otherwise. Conversely, you want to ensure you don't skimp on durability, as you want a hybrid bike that will last you for years to come. On top of frame design, you want to consider the braking system on your hybrid bike of choice. Disc brakes are, on average, a great braking system for a hybrid bike, but keep in mind that hydraulic brakes offer faster, more reliable response times, which may be ideal depending on what you intend to use your bike for. Along with braking systems, you want to keep an eye out for the available speeds on your bike of choice. While most bikers can get away with a decent range of gears to help them get up and down hills with ease, if you find yourself taking on a veritable mountain range, you may want to invest in a bike with a wide range of gears to choose from.
Now that you have a basic idea of what to look for in your new hybrid bike, it's time to get to the bikes themselves. We've scoured the internet to find the best of the best when it comes to hybrid bikes, so you can rest easy knowing you're making a worthwhile investment. Not only have we taken into consideration things like design, construction, features, and overall value, we've also consulted countless customer reviews to learn the ins and outs of each bike on our list, so you can shop with confidence. So whether you're looking for a new hybrid bike to help you take to the trails, or are looking to spice up your morning commute, we have plenty of bikes to help you meet your unique biking needs. Without further ado, here are the best hybrid bikes for under $2,000 available on the market today.
Best Hybrid Bikes Under $2,000
1. Tommaso Sorrento Shimano Tourney Hybrid Bike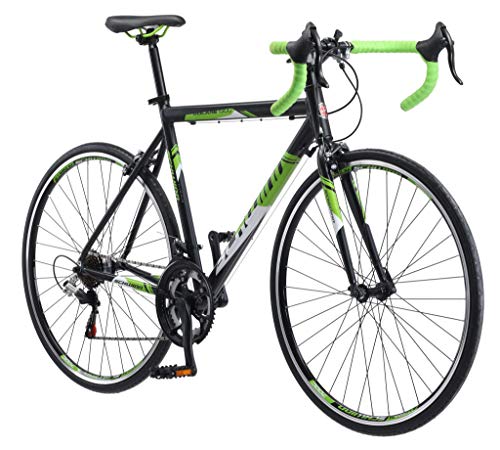 Easily the top hybrid bike on our list, the Tommaso Sorrento Shimano Tourney Hybrid Bike combines the best aspects of a mountain bike with the trim design and lightweight frame of a street bike. Not only is this bike incredible to look at, with a 21-speed shifter, but you can also take on almost any incline with ease, allowing you to take some of the stress out of your morning commute or bike ride. The combination of flat handlebars and compact frame geometry combine for a bike that prioritizes control and comfort above all else, allowing you to truly feel the road under you, without compromising on your overall experience.
It is worth noting that this bike is on the smaller side, making it ideal for those up to 6 feet tall. Past that height and you may find yourself adjusting the seat to the max. It is also recommended that you have this bike professionally assembled, both for ease of use and to maintain the factory warranty. Still, even with these considerations, this is easily the best hybrid bike on our list, and one of the top bikes on the market, with countless satisfied customer reviews. But don't just take our word for it—as one reviewer noted. "I absolutely love my new Tommaso Sorrento bike!! It's very light and rides great. I've added all the other necessities to make my commute to and from work much easier. Well worth the price." If you're looking for a great hybrid bike, the Tommaso Sorrento Shimano Tourney Hybrid Bike is an incredible investment that's sure to last you for years to come.
2. Ride1Up LMT'D
If you're looking for an electric hybrid bike to take your morning commute or daily bike ride to the next level, the LMT'D is the right bike for you. This electric Bike takes power to the new level call with a 100nm geared motor, capable of producing the maximum speed and performance before becoming a motorcycle. Ride1Up Offers you one of the best hybrid bikes available on the market for an incredible price point, giving you the pedal-assist you need without compromising on your ride. This bike features a contained battery system that not only helps preserve the sleek appearance of the bike but make sure that the battery does not weigh down the frame. The lack of bulk shows when you take this bike on the road, with a maximum speed of 20 mph with pedal assist, and a 20 mile per hour throttle, this bike can travel up to 50 miles on a single charge, partially thanks to the lightweight alloy frame.
While you might be tempted to pass up an electric bike for the best hybrid by good market, it's hard to dispute the quality LMT'D hybrid bike. Not only is this bike created to give you more control over the road, as well as the power you need to take on even the toughest of hills or the most uneven surfaces, but the frame geometry is also specially tailored to provide the most comfortable ride possible. The LMT'D hybrid bike is an incredible choice for anyone looking to take their bike game to the next level.
3. FX Sport Carbon 4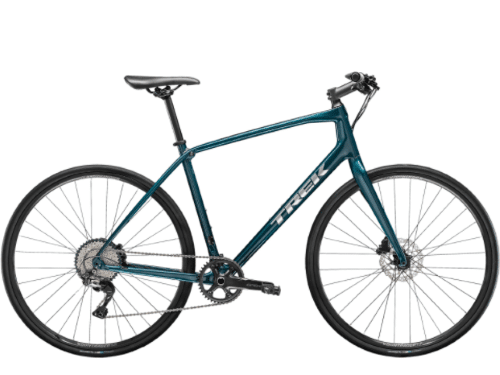 What bike list would be complete without a bike from Trek? This company is known for producing some of the best bikes on the market, and the FX Sport Carbon 4 is no exception. What the name implies, this carbon fiber fitness bike gives you the speed of a road bike with the comfort and control at the flat handlebar, allowing you to feel the road under you as you ride. Not only does this bike sport a durable frame, but the ISOSpeed decoupler also helps keep your ride going smooth on even the roughest of surfaces, and the 1×11 drivetrain gives you the range that you need from a hybrid bike, without over complicating things. The spike is geared towards exercise, with a focus on keeping your ride light and allowing your body to do most of the work. In direct contrast to one of the electric bikes on our list, the FX Sport Carbon 4 moves away from the idea of a commuter bike and focuses more on really taking to the road and exploring.
Of course, don't count out this bike when it comes to your daily commute, as the lightweight frame and sleek design make this bike an eye-catching part of any Monday morning ride. Despite puts many other bikes on the market to shame, with its fully integrated smart phone option that allows you to track your fitness more accurately than any exercise band could. With a shock absorption system made to help you stay at the top of your game longer on rougher roads, and a smooth ride quality, it's hard to turn up this incredible bike. If you're looking for quality, the FX Sport Carbon 4 is the bike for you.
4. RadCity 4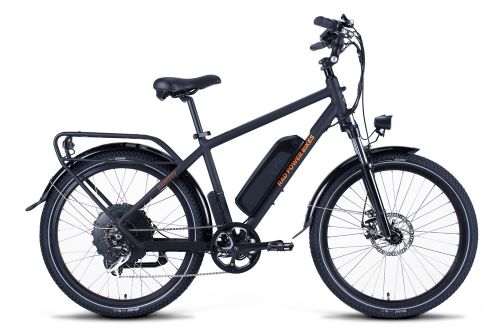 Yes, we did add another electric bike to this list, but it's hard to pass up some of the great hybrid bikes available in the market, especially those from Rad Power Bikes. The RadCity 4 Has all the elements you would expect from a great electric bike, with a few other features thrown in. it's hard to find a bike that has a built-in bike rack these days, but for a commuting option, it's hard to pass up that extra space. Unlike some other electric bikes, the battery pack is removable, allowing you to charge it while you're at work without having to lug your entire bike up to your office. The integrated fenders and break leg system help keep your wheels and you safe while you bike. The pedal-assist motor offers you the power you need to scale even the most daunting of Hills, without fulling taking away your biking experience.
Let's take a moment to discuss the real power behind this electric hybrid bike. The 750W direct drive hub motor Provides over 45 miles per charge, and the 48V, 14 Ah lithium-ion battery provides consistent power on a single charge. If you're looking for an incredible hybrid commuter bike, the RadCity 4 is a great option for you.
5. Schwinn Volare Adult Hybrid Road Bike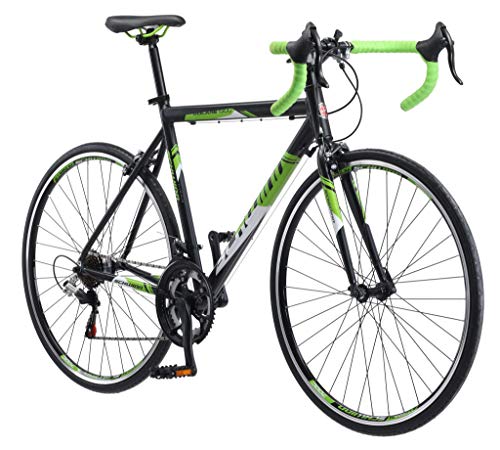 Schwinn has a reputation for building beginner bikes, so it's understandable to be a little confused at this entry. However, the Schwinn Volare Hybrid Road bike is far from a starter kit. This bike features curved handlebars for greater control, as well as a lightweight, sleek frame to help keep your profile low and your overall weight lower. The thin tires lean toward the road bike aesthetic, while the front hardtail design gives you the power and stability behind a trail bike. The 14-speed shifter and the alloy caliper brakes give you total control over your ride, making this a great option for anyone looking to purchase an all-around hybrid bike.
But don't just take our word for it; as one reviewer noted, the Schwinn Volare Adult Hybrid Road Bike, "The style of this bike is consistent with today's hybrid/flat bar bikes in that it looks like a bike you'd pay 5 times more for." If you're looking for one of the best hybrid bikes on the market today, this is the bike for you.
Conclusion
From the best hybrid bikes to discovering what a gravel bike is, we offer informative articles to help you navigate the rough trails of bike shopping, so you can spend less time scouring the internet and more time hitting the road. No matter what kind of bike you're looking for, we have professionally sourced reviews to help you make an informed decision before investing in your new favorite bike.