The Top 10 Mountain Bike Grips Reviewed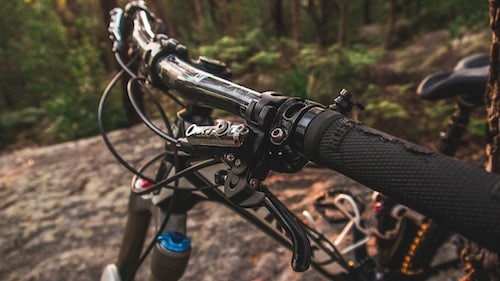 If you are looking for an activity that will get your blood pumping and your heart pounding, then mountain biking is by far one of the best options. When you go mountain biking, you will need to test your skills in navigation, endurance and indeed balance. As well as being exciting, it is important to be aware that mountain biking is also incredibly dangerous.
As such, various pieces of safety equipment are required to avoid disaster and this does include grips. Mountain bike grips are designed to be comfortable with ergonomic benefits while ensuring that you can keep a constant firm hold of the handlebars. The best mountain bike grips will ensure that you are able to maintain your grasp even in difficult weather conditions and tricky terrain. Here are some of the current best options on the market for you to consider.
Best Mountain Bike Grips
1. Ergon GA3 Gravity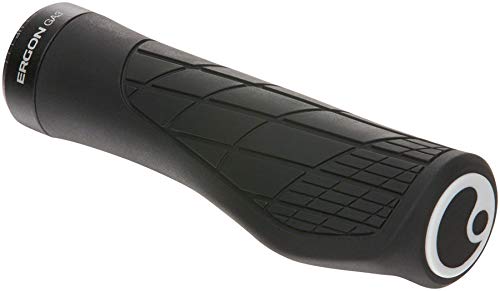 Available in five different colors, with this option, you will be able to select the right style for your mountain bike. The grips are also incredibly soft and this does make them the perfect choice for long-distance riding. As well as this, you do get a high level of leverage which makes them ideal of endurance riding as well. The metal is incredibly soft too so you do need to be careful about the issue of stripping. However, if you take the right steps with the installation then this should not be a problem.
The grips do provide a slim rest profile which ensures that they provide a high level of comfort. This could be ideal if you have had comfort issues in the past when selecting your mountain bike grips. The different color options will also ensure that you are able to select one which hides the dirt well or makes your bike a little brighter in dark environments. As well as providing practical benefits these grips look fantastic. Unlike other options, they won't be an eyesore when used as part of your bike.
Another big benefit of this option is the easy installation. You'll find that you can add these to your bike in only a few minutes and will just require an Allen bolt to tighten them in place. It's worth noting that these are built for high performance and as such will wear out quite quickly however, this is to be expected due to the soft material.
2. Entran Comfort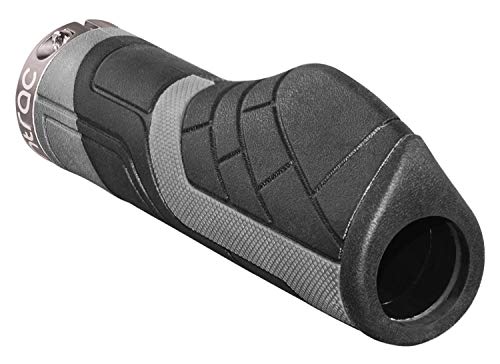 Perhaps one of the first details you will notice about this option is the interesting shape and overall design. Indeed, these mountain bike grips are designed to ensure that they provide the right ergonomic benefits you need while reducing the level of shock or vibrations that you feel when using the bike. You'll be delighted by the benefits this brings and amazed at how comfortable these feel to hold. They have been created with long, endurance rides in mind. As such, you won't have to worry about issues with these failing you on longer journeys.
A key benefit of these is that they are incredibly easy to install thanks to their lock feature. As such, you won't have to spend a long time wrestling them onto your handlebars. They also act as an extension and provide more room for your hands. So, they are perfect if you want a firmer hold when riding your bike. Unlike other options, these are built for durability due to the hard material. As such, you will be able to use these for more than 200 miles without any signs of wear and tear. Do be aware that the hard material may cause issues if you are prone to sweating. However, they will be perfect for those who choose to wear gloves when mountain biking.
The contour design is also ideal for having a firmer hold and providing something for your palm to fit around without causing any discomfort.
3. BONMIXC Bike Grips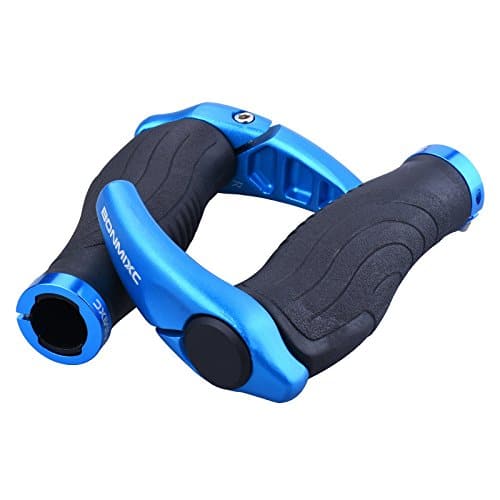 Lock-on bike grips these are designed to provide the ergonomic benefits that you want. A key feature to keep in mind here is that the grips are available in three unique colors. This does again provide the chance to add a little more style to your bike and guarantee that it looks absolutely fantastic.
The first thing you'll notice when using these grips is the easy installation. You might be a little wary upon discovering there are no instructions. However, all you need to do is remove the older grips before slipping these on and then tightening the screw. It's that simple and there are no extra steps required. The horn is separate and you can choose exactly where you want or need it to provide the ideal experience that matches your individual requirements.
You might need to trim the end caps depending on the size of your bike. However, this is made from soft material so it's a simple task and won't cause you too many problems at all. You might have had issues with your wrists or hands in the past. Due to an innovative design, these handlebars are going to be perfect for you. You'll find they effectively take the strain off your wrists and you can avoid the issue with numb hands. Ultimately, these bike grips feel great and you will be able to make sure that you get a comfortable ride when investing in a pair yourself.
4. Ergon GA2 Grips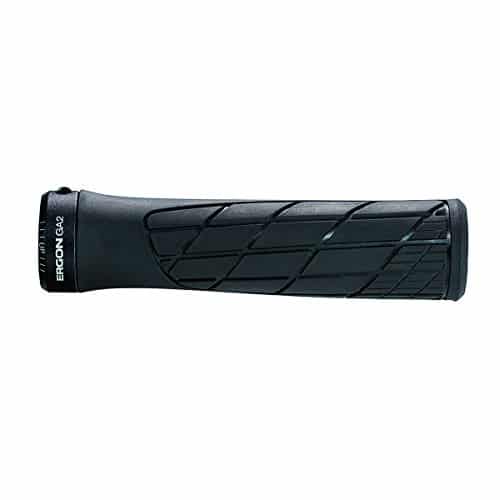 If you're looking for a more basic, tube design that will provide all the benefits you need and could be the right fit for you. With this option, you can make sure that you are able to select the color you want with the full practical benefits. These grips are designed to provide the right level of hold regardless of the track or surface material that you are riding on.
As with the other options thus far on this list, the grips are easy to install and provide a great, comfortable hold. As such, these are going to save you a lot of time and effort. Something else to be aware of is that these grips look great. They are going to fit the style of your bike beautifully. The grips also provide removable end caps. The benefit of this is that it makes the grips more versatile and suitable for a range of different sizes and styles of bikes. However, you do need to be careful that you don't remove the caps on a rougher ride.
That said, the grips, while thin, do provide a high level of durability and shock absorption. You'll be relieved to find that these grips will stop you from feeling every bump and jolt. They may be a little too thick if you wear gloves and are ideally suited for a bare hands option or perhaps non-padded gloves. The grips feel secure and there is no unwelcome pressure on the palms using these.
5. Weans New Generation Bike Handlebar Grip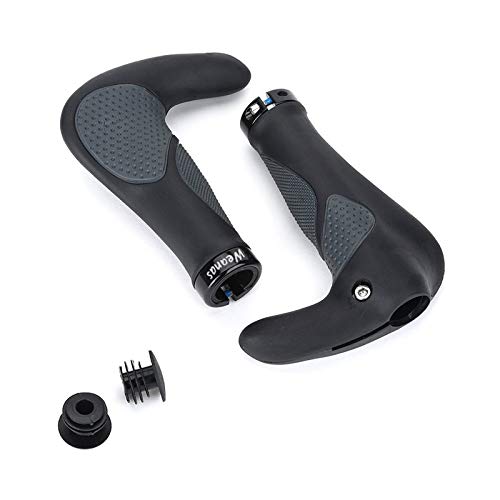 Based on the name alone of these grips, you would expect a modern design and you won't be disappointed. Everything about these mountain bike grips suggests that they have been created for the future.
They have a sleek black and silver design. However, they are also available in a variety of other shades as well. They look incredible and will provide the comfort you need on some of the most difficult mountain terrains. Fully versatile, you will find that they do suit most bikes available on the market and with an ergonomic design offer a high level of comfort as well. You definitely get the feeling that time was taken to ensure that these provide the right feel. The grip is incredible and definitely won't disappoint.
Since they are rubberized, they also provide a firm hold. This means that you won't have to worry about issues with slipping when using these items. Indeed, they feel perfect even in the worst conditions. They will provide a horned style to your bike. You do need to be careful about installing the product as it is possible to screw them on too tightly. This will cause the plastic inside the handlebar to break. Despite this, these grips are designed to last for a long time and will be ideal for endurance riding.
6. RaceFace Half Nelson Locking Grips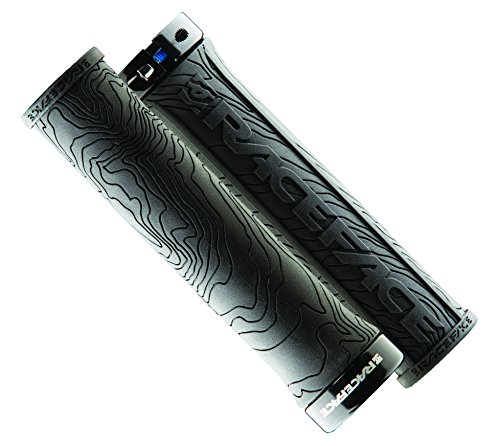 These grips are available in a range of different colors and shades. They have a slim design and lock onto your bike as you would expect. Incredibly soft, these grips do provide the comfortable feel that you need for long rides. They look great too with a minimal design that won't stand out as an extra part of your bike. However, they will still add an extra level of aesthetic appeal. Budget-friendly, these grips are designed to be used without gloves.
The reason for this is that the grips are not particularly thick. While this won't impact the experience that you gain using them on your bike, it does mean that without gloves you might start to feel the force of the track.
You might be shocked to find that these grips only have one bolt to lock them in place. However, the half nelson design ensures that this is all that is required to provide the firm hold that you want.
These are built to a high standard of quality and will not fail you even on difficult terrain. They can also be used for enduro rides and don't need to be broken in. As such, you will be able to use these grips, straight out of the box.
7. Lizard Skins Northshore Lock-On Grip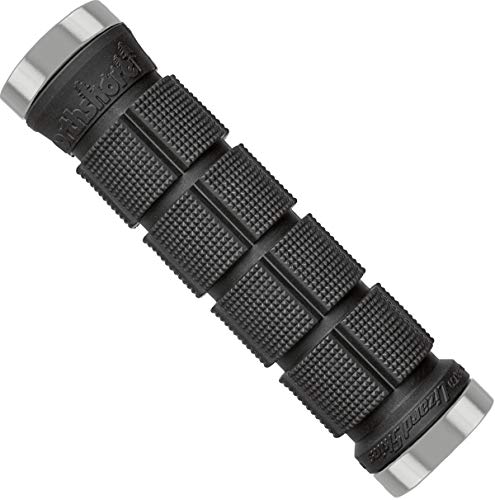 These grips have an incredibly unique design and they could make you think twice about committing to a purchase. However, we're pleased to say that there is no need to worry about this option at all. These grips look fantastic and will provide the hold that you want. They lock on and with a width of 33mm will offer the comfort that you want.
The lizard skins are incredibly tacky and you won't have to worry about losing your hold when you use these out on tracks. They remain tacky when wet and unlike other options are not built with cheap design. This means that you can trust that the grips will withstand the test of time. Something to consider is whether or not the grips are suitable for use with or without gloves.
While it is rare for grips to provide this level of versatility, these grips won't let you down. As such, you can use them however you want, even in wet and rough conditions.
The grips are easy to install. As such, you won't have to worry about problems with accidentally breaking the grips when slipping them on. They are fantastic for people with larger hands due to the extra bulk provided. They will also provide the same level of the stick even after over four years of use!
8. FIFTY-FIFTY Dual Lock-on Bike Grips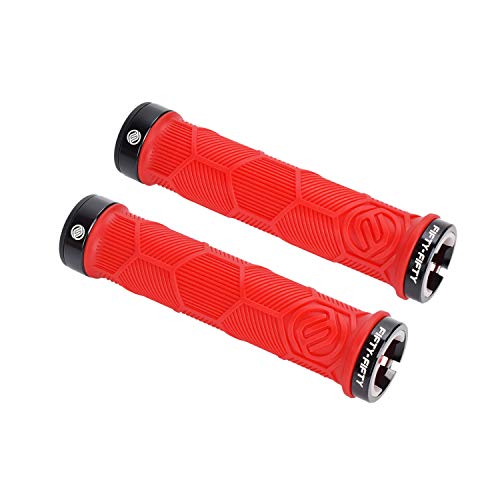 As with other options on this list, these grips do come in a variety of different colors. So, you will be able to choose the perfect style that matches your bike beautifully. These grips are designed to be incredibly sticky and you will feel like your hands are locked onto the bike during a ride. This is going to be of great comfort for some people and the grip also locks on at both ends providing the tight hold that you will definitely want. They are fantastic on technical downs even if you encounter a large number of rock gardens. As such, you won't have to worry about a big bump throwing you off course when you select these for your bike. Instead, they'll continue to provide fantastic hold that you need.
These grips are also incredibly easy to install and the only problem you might have is getting your old grips off. They work great with bare hands too. So, you won't have to worry about constantly needing your gloves. While they won't work well with grip shifters, they will suit a variety of other different designs. If you constantly leave your bike outside, you will also be amazed by how well these grips withstand the elements. They won't fade.
9. Odi Bike Grips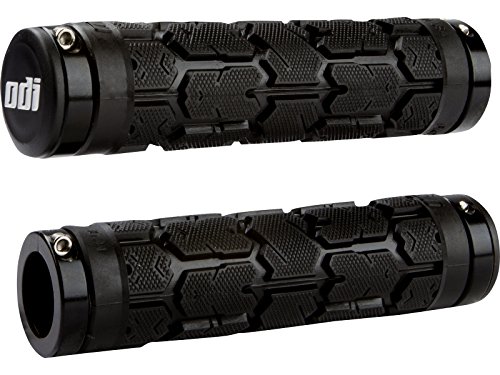 If you're looking for fantastic bike grips that provide a firm, tough hold, then these could be the perfect option for you. Since they are larger than most grips, they are ideally suited for those with bigger hands and will provide a high level of shock absorption that you definitely need.
You will also be delighted to find that there are deep treads in the grips. This means that everything from sweat to dirt will run away as it should. Ultimately, you won't have to worry about not getting the clean, clear ride or coming home with dirty hands. They do feel comfortable and will be ideally suitable for longer rides, offering the right level of the stick that you need. Often, you need to be careful of using grips when they get wet. However, this isn't the case here and they provide the same stick regardless of the weather conditions.
The caps also lock on wth clamps which ensures that you will have no trouble installing these grips the right way. One of the biggest benefits of these grips is that you won't have to worry about your hands feeling numb. Even on longer rides, they'll keep shock levels down.
10. BV Bike Handlebar Grips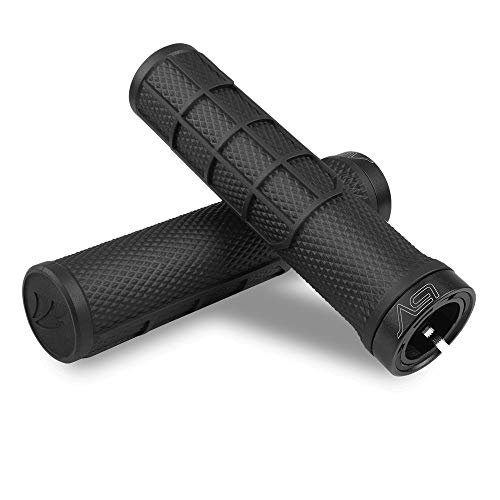 One of the biggest benefits of these grips is that they are suitable for use on any straight handlebar design. As such, you won't have to worry about them not providing the right fit for your bike. The grips are also made of soft material. This means incredibly low levels of shock and vibration. Even on the tougher terrains, you'll find that the grips are comfortable to use and keep you from feeling the pressure on your hands.
There are two zones of the grip. One provides a tacky and stable grip while the other offers a motocross-inspired grip pattern. This is designed to ensure that they are suitable for more aggressive riding styles and can be used on the most difficult tracks imaginable.
With just one clamp design, you also get a style of grip that provides great ergonomic benefits too. As such, they can be suitable for enduro riders. While they are easy to install, they will require an allen key and this is not included. However, once you have this tool you'll find they tighten with no issues at all.
You can put more than a hundred miles on these grips and you'll be amazed to find that they still provide a high level of stick that you want. You also won't notice any signs of wear and tear, even after a long period of use like this. They look great too and are available in a wide range of different colors. As such, you'll be able to select the option that fits your bike and your own personal style choices.
How To Change Mountain Bike Grips
Changing the grips on your MTB is a relatively easy task. However, if you are having trouble this video shows exactly how to do it as well as offers some tips to make it easier:
Related Articles