The Top 5 Mountain Bike Lights Reviewed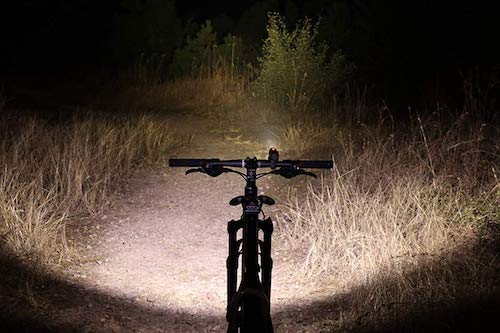 Lights are very important, if not necessary, safety equipment for any cyclist. Don't hop on your bike without at least these two items: a helmet and a light. Feel more comfortable on the road or trail knowing that you'll be more visible from the front and rear because of how bright the lamp of your new bike light is.
Mountain bike lights have so many uses other than just cycling. They can be used for camping, hiking, running, walking your dog, or for any nighttime activities. They also make great emergency flashlights during power outages or while changing a tire on the side of the road.
These affordable, solid bike lights are tiny but mighty, illuminating your path and making you visible to vehicular and pedestrian traffic. Here are our top five recommendations for the best mountain bike lights.
Best Mountain Bike Lights
1. Bright Eyes Helios Mountain Road Bike Headlight & Taillight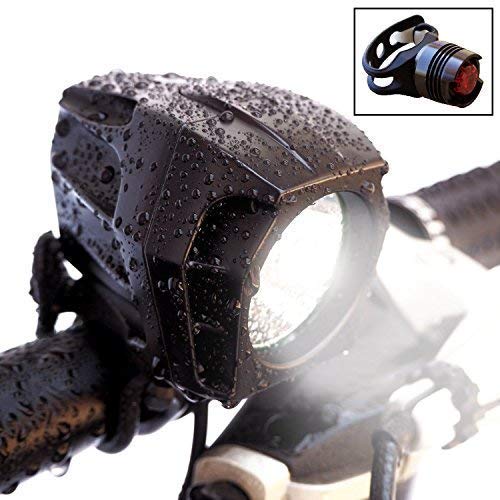 The Bright Eyes Helios has a newly upgraded bike light battery which now lasts over four hours on high, six hours or more on medium, and 16 plus hours on low. The housing and light are fully waterproof with connectors that have a tight and secure fit for rugged dependability for the toughest of trail and weather conditions. The extremely bright and powerful 1600 lumen CREE T6 LED technology is included to shine bright and perfectly use after use.
The beautifully crafted quality aluminum housing holds a light that has various beam modes: high, medium, low, slow strobe, and fast strobe. An indicator light located on the power button informs of battery level. One customer stated they were quite impressed with the brightness and depth of field that is lit by this mountain bike light. The Bright Eyes Helios weighs 1.46 pounds.
This mountain bike light fits all handlebars for great safety and contains more features than any look-alike. You can use the strobe setting for daytime riding, clearing cars from your path. It comes with a diffuser lens and taillight and included in the box are helmet and other accessories, such as Velcro straps, a headlamp harness, and o-rings. The optional head mount and beam diffuser make this mountain bike light able to mount on your helmet for directional beam control and you can widen the beam by replacing the glass lens with the beam diffuser. Be seen from behind as well with the included aluminum taillight with multiple brightness and strobe options.
The Bright Eyes Helios possesses a high-capacity external battery pack that includes a rechargeable waterproof 6400mAh battery with four plus hours life on bright beam, which allows this cycling light to outshine the competition. The included extension cable allows for the battery pack to be mounted anywhere. This mountain bike light will not only help you see far ahead but will make you be seen by others.
Included in the box is an instruction manual, diffuser manual, and Allen key. One cyclist agrees that this mountain bike light was easy to mount and dismount, and the light and battery pack are perfectly sized as not to get in the way. There is a lifetime guarantee on the Bright Eyes Helios bicycle headlight and a 1-year warranty on the battery. The integrated accessories make for easy installation and mounting, and the heavy-duty design makes this light ideal for the trail or the road. A customer reveals the design of this mountain bike light allows for easy adjustment of the light up and down to either throw light further or beam down for oncoming cyclists.
One suggestion an individual had for this mountain bike light was it would be nice if there was an option of a more rubbery material under the light so it can grip the handlebars better and doesn't shift. To offset this issue, one purchaser placed a rubber gasket under the base before attaching it to the bar on his bike with the rubber 0-ring straps and this rectified the problem.
2. NiteRider Lumina 1100 Boost Headlight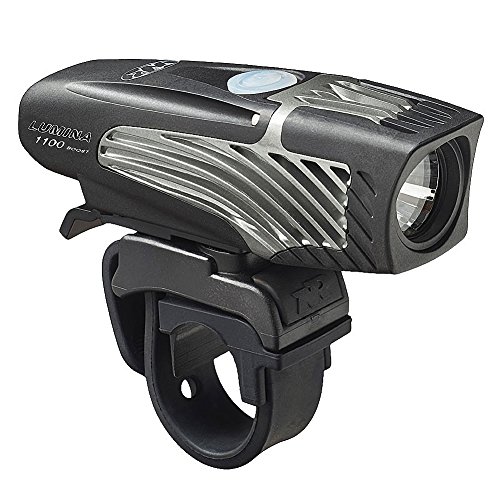 30 years ago, NiteRider released the first high-powered line of self-contained bike lights. With their custom reflectors, optics and circuity, they've dialed-in the perfect combination that will give you added peace of mind to enjoy your ride while out on the roadways.
The NiteRider Lumina 1100 Boost provides enough light that it can be used in just about all riding conditions, whether it be on the road, your favorite mountain biking trail, or hand-held in Walk Mode. The Lock Mode element keeps the Lumina 1100 Boost headlight securely powered off during transport or storage. You can unlock or lock the light by simply holding the power button down for seven seconds. It is set to lock mode at the factory, so be sure to unlock it before use.
This mountain bike light boasts five light levels plus seven daylight flash modes. This mountain bike light features an all new Boost Mode light setting, giving you the option to operate your light at maximum light output. A Daylight Visible Flash is incorporated for increased visibility while out on the road and trail ways. Car and motorcycle manufacturers have incorporated daytime running lights for increased daylight visibility, and with drivers becoming more distracted than ever, cyclists should do the same for their own safety.
The NiteRider Lumina 1100 Boost has a low battery indicator that is cleverly designed into the power button. When it is lit up blue, a good battery level is remaining but when it is lit up red, the battery level is below less than 20% remaining.
Durable and long-lasting with a rugged design and DuPont fiberglass reinforced nylon housing provides cyclists with the most reliable and best performing lights on the market today. Rely only on quality lighting systems. This mountain bike headlight has a custom aluminum heatsink to keep the self-contained lithium-ion battery and other inside circuitry at an optimal operating temperature, while pumping out a generous long-distance spot and wide flood beam pattern of 1100 maximum brilliant lumens. This mountain bike light is IP64 rated for water and dust resistance and also utilizes gasket sealing, so you can rest assured this light is tuned to withstand diverse riding conditions and environments.
This reliable lithium-ion USB rechargeable bike light is easy to charge, eliminating the need to replace batteries on a regular basis. It's so convenient it can be recharged from any powered-up computer, device or AC wall adapter. It can also be quick charged at 1Amp and will last three hours, a normal charge at 500mA will last six hours, and on daylight visible flash boasts a 10-hour run time for all day safety.
With easy on and easy removal via the quick release tab, this mountain bike light allows you to instantly remove the light from the mount, leaving the mount perfectly in place on the handlebars and ready for the next ride. This is perfect for when you have to leave or park your bike or when it's time to recharge. The NiteRider Lumina 1100 Boost fits standard and oversize 35mm handlebars and is also perfect for helmet mounting. A satisfied mountain biker stated the included mount allows you to easily swivel the light which is a plus for this purpose.
The manufacturer offers a limited lifetime warranty that covers any defects in mechanical components, such as housings, covers, mounts and fasteners, even the LEDs.
Optional accessories for the NiteRider Lumina 1100 Boost are sold separately and include a hot shoe mount, tripod/magnet mount, belt clip, photo pack, diffuser, and a GoPro adapter by K-Edge that enables compatibility with K-Edge Go Big / combo mount and other GoPro-style mount connection interfaces.
3. Victagen Ultra Bright LED Rechargeable Bike Light – Headlight & Taillight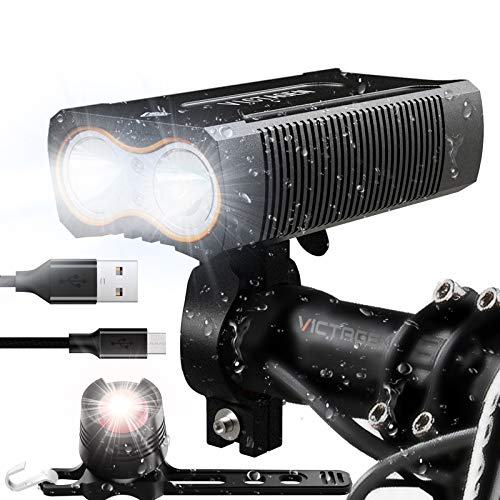 Whether you're a mountain biker who needs to see perfect line or a road bike commuter who just wants to get home safely, this Victagen bike light provides you the visibility you need anywhere, anytime.
The distinct design of this USB rechargeable bicycle light set with 2x headlight powered by built-in powerful 18500 batteries means no wires or external battery accessories are needed. The Victagen Ultra Bright LED Rechargeable Bike Light is portable, powerful and convenient, offering a lifetime of four hours on high brightness working mode. It charges from your computer or any device with a USB port, and only takes two hours to fully charge. It has a run time of four hours or more on the highest setting, only weighs 11.2 ounces, and measures 3.6 x 1.9 x 1.1-inches.
The Victagen Ultra Bright LED Rechargeable bike headlight offers four different lighting modes with a one-touch switch: high, medium, low and strobe. The taillight has three modes: high, fast flash and slow flash, which you can adjust according to your preferences. On high, this mountain bike light brags 2400 lumens for four hours, on medium shines 1200 lumens about eight hours, on low setting lights up 600 lumens for about 16 hours, and strobe mode shines 2400 lumens. A pleased cyclist reviewed that he could see the road potholes and roughness in the lowest setting when this mountain bike light was fully charged.
The super bright front bicycle light uses dual XML-T6 white LEDs with a maximum output of up to 2400 lumens, allowing you to light your way up to 300 yards. Ensure you stay visible on the road and cycle safely with this mountain bike light. It will definitely make you stand out with its unmatched 360-degree visibility, so you and your loved ones are safer in any low light conditions.
Installation of the Victagen Ultra Bright LED Rechargeable Bike Light is so easy that no tools are required. This all-in-one designed bike light can also be used as a standalone flashlight and has a simple dismount for easy charging and protection against theft without removing the entire mounting bracket. The taillights have rubber straps that attach and detach from the bike easily without tools. One purchaser was happy with this light stating the included fasteners securely attached the light to the bar and it does not move even when they hit hard bumps.
The front bike light has a powerfully light body and upgraded unique brackets, and is made of military grade aluminum alloy, making it strong and shock resistant. It includes a reliable and durable bracket which was designed by Victagen. The bike light has a waterproof IP-65 rating, which means this weather-tight design ensures all-condition use.
The manufacturer offers a full 30-day money back guarantee and a 1-year warranty. A buyer recommends that to get the rear light working you'll need to take out one of the batteries (CR2032) that it comes with and remove the plastic (or paper) disk that's between them. Another reviewer was impressed by this mountain bike light when they fell off their bike at 25mph because they didn't clip it in all the way and it still worked, it was scratched a little but still functioning, and further stated the design of the light protected the lenses and buttons very well.
4. Te-Rich 800 Rechargeable Bike Lights – Headlight & Taillight
No matter your use, this ultra-bright bicycle headlight and taillight set is versatile and fits the bill whether you are cycling in well-lit urban areas, road riding, or serious mountain biking. The high-powered custom-engineered CREE LED produces 800 lumens with four unique brightness levels, lighting the way and alerting others of your presence. The Te-Rich 800 also features two amber side lights to increase overall visibility on the road, especially at intersections.
The front light has five settings: High with an output of 800 lumens that lasts approximately 3.5 hours, Medium with an output of 480 lumens which lasts approximately 5 hours, Low with a 160 lumens output for approximately 12 hours lighting time, Moonlight spraying 40 lumens for about 40 hours lifetime, and Strobe. The brightest setting offers the maximum 800 lumens output, illuminating your path up to 600 feet.
The rear light has five settings: High at 100 lumens for 5 hours, Medium outputs 50 lumens for 10 hours, Low with an output of 20 lumens for about 26 hours, Slow Flash that lasts 10 hours, and Rapid Flash which also lasts approximately 10 hours. This wide selection of lighting modes allows you to adjust the light output to your surroundings and manage your power reserves on longer rides.
Both the headlight and taillight are rechargeable, so no more added cost of having to replace batteries. The Te-Rich front bike light comes with a 2000mAh lithium ion internal battery, which can be charged hundreds of times, making it an inexpensive and environmentally sound alternative to disposable batteries. The Te-Rich 800 mountain bike headlight fully charges in four hours through a sealed micro-USB port, and the rear light also has an integrated 680mAh rechargeable battery and a full charge only takes about 1.5 hours. The built-in LED low battery indicator changes to red when the battery needs to be recharged and life reaches about 15%, and the light will automatically turn off when battery life reaches 5%.
The Te-Rich is one of the most reliable bike lights on the market. The metal housing makes the front light IPX4 weatherproof and is rated water resistant, so you can count on the light to shine in any weather. You don't want your bike lights going out in a heavy downpour on a dark night. This Te-Rich set protects against the rain, tire sprays, and allows you to ride confidently though the wettest or harshest of conditions.
These Te-Rich mountain bike lights are extremely easy to mount and remove with an integrated quick release mounting system and included hardware. These components allow you to attach the front and back bike lights to most any bar quickly and easily, you just press and slide the light out without having to remove the whole mounting bracket. You can mount and detach the lights in just seconds without any tools necessary. Thanks to the innovative clip design, these lights are more than bike lights and can even be used as a handheld flashlight.
This manufacturer offers a one-year hassle-free warranty and life-time customer service. Numerous customers were impressed when they did some off roading and aggressive trail riding to test the sturdiness of the lights and they stayed put during some really rough riding.
5. Vont Bike Headlight and Taillight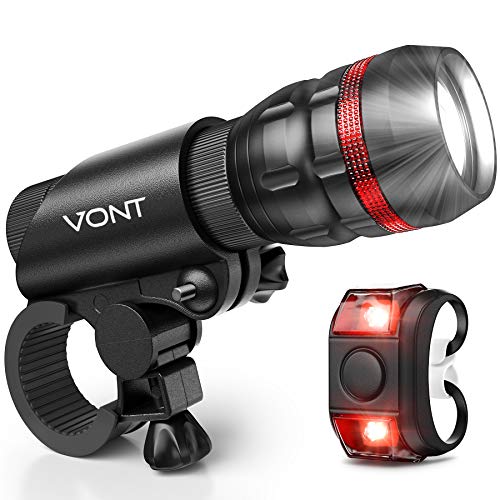 Vont began in 2014 with a group of friends who wanted to build a better, brighter bike light. They shared their creation with family and friends, who not only used the powerful light for biking, but as their go-to flashlight for everything. You spent a lot of money on your bike, shouldn't your accessories be up to the same standard? The Vont headlight and taillight are constructed with the Divine LED technology, making these bike lights durable, effective and reliable on and off road.
The Vont headlight's ultra-bright beam emits 120 lumens. One reviewer stated the illumination from this headlight was good enough for any vehicle to see them and was certainly bright enough to illuminate the surrounding terrain as well as the camping site when they were hiking the Appalachian Trail.
The Vont bike headlight runs on 3 AAA batteries, which are not included. If you prefer, you can buy rechargeable batteries for it, saving you time and money. The lifetime of light emittance is six hours on one charge with continuous use, and the package weighs only 2.27-ounces. The Vont rear light takes a CR2032 battery which is included.
This mountain bike headlight features a one-button control, strobe mode, adjustable focus and brightness. One woman was impressed that you can spread the light or use it as a spotlight as the lens is zoomable.
Vont has constructed all the parts of military-grade materials, and the mounting bracket makes it sturdy enough to hold the light to accompany you during rough rides. These mountain bike lights are weather-resistant, making them outdoor-proof to easily withstand the weather, including rain, snow or sweltering heat. Many customers stated the lights have a durable metal encasement that makes it look like it will last a long time.
The Vont headlight and taillight attaches to bikes and other cylindrical rods, like canes and strollers in seconds with zero tools required. A pleased owner believes these mountain bike lights are very easy to turn on while riding and difficult to accidentally turn off, and another agrees installation was a breeze since the flashlight is held in by a simple plastic sleeve with just a tightening screw.
Every Vont product undergoes strict quality checks to ensure your and the environment's safety. Every bike light comes with a rear light that you can also easily snap and go to make sure you are highly visible at every angle.
But Do I Really Need a Bike Light?
A significant amount of fatal cycling accidents occur at night due to lack of vision. Don't become another sad accident story on the nightly news. Cheap bike lights are not worth the hassle that poor quality and inadequate light poses. A quality light is essential for every bike owner.
Many bike lights today offer a wide range of luminary power and other features, such as different lighting modes and easy on-and-off mounting capability. And almost every light can not only be used on your bike but also as a flashlight in various other scenarios, including walking, running, or for emergency situations like power outages due to their portability and easy recharging.
No matter how confident you are in your night vision or the alertness of fellow road users, you need a dedicated set of headlights and taillights when you commute by bike or take a ride on the trail in lowlight conditions or little to no daylight. A well-lit bike is equipped with front, side and rear lighting to ensure your visibility to motorists and pedestrians. With these lights, it's easy to make sure you're always illuminated, and they'll make you stand out when you really need to.
How To Choose MTB Lights
There are hundreds of different mountain bike lights, so it is important to know what to look for in one. This YouTube video does a great job of explaining the different features of MTB lights:
Related Articles