Top Mountain Bikes Under $1000 Reviewed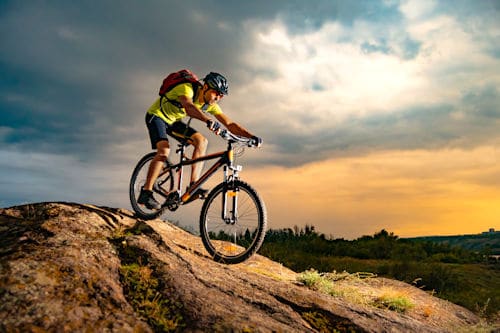 New and returning riders don't need "beginner" mountain bikes that they will just outgrow in a year's time or so.
There are some really great options on the market today for entry and mid-level mountain bicyclists who want mountain bikes with affordable performance.
So, if you are just getting into mountain biking or returning after a long hiatus, we have some great choices for you.
If you could only have one bike – just one – these would be the perfect choice.
For starters, they are capable of just about anything you have the nerve for. This includes quick rips on the local trails, all-day suffer fests that have you pedaling away into terra incognita, and everything else in between without melting down your bank account.
Best Mountain Bikes Under $1000
Here are our top five recommendations for the best mountain bikes that cost under $1000:
1. BEIOU BO-CB004 26 Hardtail Mountain Bike, 3K Glossy Red finish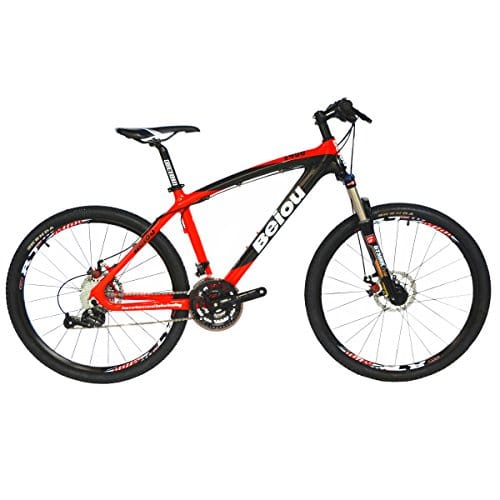 The BEIOU BO-CB004 is a complete hardtail mountain bike with 27 speeds, 26-inch wheels, and a 15-inch/17-inch frame size. This mountain bike features Shimano materials and is made of sturdy and ultra-lightweight Toray T700 carbon fiber material. The lightweight frame and 26-inch wheels make it easy to get this mountain bike up to speed in no time, and the 3K glossy red finish is superbly sharp-looking.
The specs for this mountain bike are impressive: Shimano Acera M3000 (9S) speed control system, UDING D1 26 hydraulic suspension fork, mechanical wire disc brake ED black color with G3 disc braking system, external cable routing, Prowheel integrated crank set, SUNRACE free wheel / 11-32T9S, and YBN S9 cycle chain measuring ½-inch x 11/128-inches. All of these features comprise a mountain bike more than capable of tearing up the trails on a day of fun.
BEIOU has included so many additional features into this mountain bike it borderlines on the obscene, including an aluminum 350mm/31.6mm seat post, BEIOU aluminum 600mm/31.8mm flat handlebar, Novatec MTB front hub D041DSE/D142DSE, Roton X5 aluminum rims, WELLGO M248 pedals, and Kenda 26 x 1.95 60TPI tires. These high-quality characteristics make maneuvering over any terrain in your environment simple and flawless for any level of mountain biker.
For the part of the bottom bracket, BEIOU overlaps T700 and T1000 carbon fiber to increase the strength and rigidity, making the mountain bike work safely and have great speed. The rear triangle part of the BEIOU BO-CB004 is made with Mitsubishi high carbon fiber, which has a tensile strength of 450kgf/mm2, 4410MPa, a tensile modulus of 40ton/mm2, 395GPa, the elongation is 1.1 and the density is 1.82g/cm3. So, the BEIOU BO-CB004 is not only ultra-lightweight but also strong enough to withstand those unfortunate events where wiping out may occur. Hey, we've all been there, and this bike is ready for anything you can throw at it. You might get banged up, but this bike will continue to ride and operate smoothly and efficiently.
Customers raved about how simple this mountain bike is to put together. Easy assembly instructions tell that all you have to do is attach the seat post (no tools necessary), attach the handlebars with included Allen wrenches, and attach the wheels. Small tools and pedals are even included in the box.
2. Diamondback Bicycles Hook 27.5 Hardtail Mountain Bike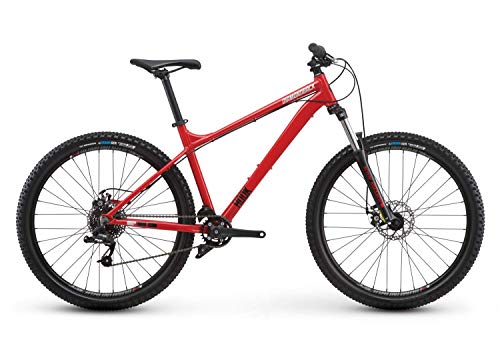 The Diamondback Bicycles Hook 27.5 Hardtail Mountain Bike is a thoroughly modern, ridiculously fun, and yes, affordable rig. Diamondback has equipped the Hook with the same low-slung, modern frame as its predecessors, being long in the front, short in the back, low, and maneuverable, making this mountain bike light and precise on tight trails yet rock steady.
This mountain bike comes equipped with high-quality yet affordable components, including a plush 120mm fork, simple and effective single-ring drivetrain for smooth shifting, powerful disc brakes, and quick-rolling 27.5-inch wheels to tackle any obstacles you encounter on the trail.
This model is available in various frame sizes to accommodate any rider: 16-inch small, 18-inch medium, 20-inch large, and is also available in an extra-large size. This mountain bike is made of a reliable hand-built 6061-T6 butted alloy aluminum hardtail frame with a progressive and aggressive low-slung geometry for perfect trail riding performance and stability.
The fork included on this mountain bike is an SR Suntour XCM with 120mm travel, and the bike features 30mm stanchions, coil spring with preloaded adjustment, alloy arm with 30T steel narrow wide single ring cranks, full ISCG-05 chain guide with roller front derailleur, SRAM X3 8 speed rear derailleur and SRAM X4 8 speed shifter. Jointly, all of these elements ensure gear changes are easy and flawless to accommodate an array of trail conditions.
The brakes are Tektro Aries mechanical disc with 160mm rotors accompanied by Tektro 2 finger alloy linear brake levers with reach adjustments. The rims are 32h Diamondback DP25 double-wall outfitted with Vee Rubber Crown Jem 27.5-inch by 2.3-inch tires, making this a great beginners trail bike that is built with quality components. The knobby 27.5-inch tires really grip to any surface and the brakes produce instant stopping power.
As with similar bikes, the setup of the Diamondback Bicycles Hook 27.5 Hardtail Mountain Bike is simple and easy. In just a few steps you'll be ready to strap it to your SUV bike rack, and then head out riding in no time. The Diamondback website and YouTube channel are great assets for assembly and maintenance helps. One customer states that the modular frame and components makes setup, upgrades and maintenance a breeze, and also compliments that the 1x drivetrain is very simple.
A buyer stated his only complaint with this mountain bike is that it doesn't come with a tapered headtube, making it near impossible to get an upgrade of decent forks without a headset adapter. So, keep this in mind if you're looking to make upgrades to any component of this mountain bike after purchasing. Another decries that one of the arms on the derailleur cage is plastic, which makes the derailleur move around quite a bit if you're riding aggressively or sending it off of jumps.
3. Raleigh Bicycles Tokul 2 Hardtail Mountain Bike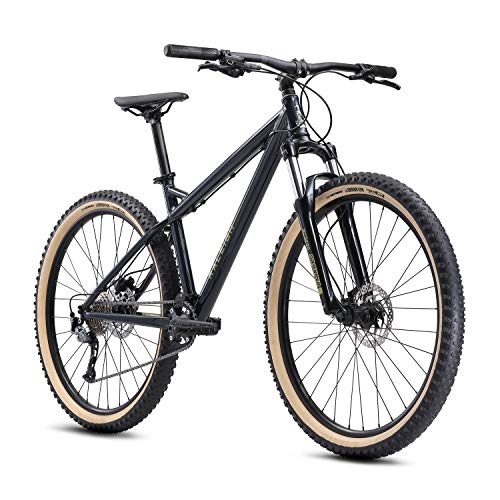 The Raleigh Bicycles Tokul 2 Hardtail Mountain Bike means mountain biking, pure and simple. This mountain bike is available in three frame sizes: small, medium, and large and two colors: dark gray or red to accommodate every size and preference. The Tokul 2 features an aluminum frame that is lightweight and durable and Shimano MT200 hydraulic disc brakes help to make this mountain bike stop on a dime.
The Raleigh Tokul 2 loves to play on rooty, rocky trails and take you through lines you never thought possible. With a slightly relaxed geometry, the Tokul 2 offers a forgiving ride that helps you build MTB skills and progress to more difficult trails over time.
Made of a light, strong, butted 6061 aluminum frame with all the cables routed cleanly externally for a safe and efficient ride. This mountain bike also includes Shimano M4000 Altus Shadow shifters, Shimano Alivio Shadow derailleur, Suntour's top-of-the-line XCR 32 coil fork with 100mm travel and 15mm thru-axel increasing stability and creating a very responsive and snappy ride.
The Tokul 2 is equipped with alloy U28 27.5-inch Weinmann rims, Vee Rubber Crown Gem 27.5-inch by 2.25-inch tires, a Raleigh branded 740mm wide handlebar, stem, and seat post. These features provide plenty of grip to any surface and easy maneuverability.
A buyer states the 1×9 set-up here is super easy to use, modern, and works fantastic. So, if you're looking for the efficiency and low maintenance of a hardtail bike without rear suspension, you'll find a good balance of stability and quick handling with the Tokul 2.
Altogether, the Raleigh Tokul 2 Hardtail Mountain Bike is an all-around good entry-level hardtail mountain bike. One customer who states they ride very often would have preferred the bike to have a tapered steerer, since the frame has a straight steerer tube, making it much harder to upgrade the fork if you want to.
Numerous satisfied customers gave the Raleigh Bicycles Tokul 2 Hardtail Mountain Bike high marks for its easy assembly and were very happy to discover that the tools required for assembly were included in the box. Pedals are included as well, and Raleigh bicycles offers a limited lifetime warranty on the frame for as long as the original retail purchaser owns the bicycle.
4. Tommaso Gran Sasso 29er Hardtail Mountain Bike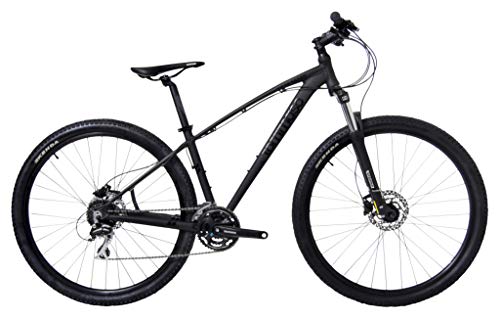 The Tommaso Gran Sasso 29er Hardtail Mountain Bike is available in matte black with gloss black accents, and comes in multiple sizes: small, medium, large, and extra-large based on the height of the rider. Full Shimano gears and group sets offer the best integration and performance in the industry and features a lightweight aluminum frame with a reliable fork. Tommaso gives you value and lifetime frame warranty, and the Shimano parts are covered by Shimano's two-year warranty.
Rugged 29er wheels and grippy tires will propel you over rocks, roots, and anything else in your path. Having the clearance of a 29er wheel makes climbing easier and more effective. A reviewer says that the larger tires really do make this bike ride over rocks an, dips and bumps with ease.
This mountain bike features ultra-powerful Shimano M315 hydraulic disc brakes for precision breaking in all terrain and weather conditions you may encounter. The brakes on the Tommaso Gran Sasso 29er Hardtail Mountain Bike provide double the stopping power of mechanical disc brakes for your safest ride ever.
The Gran Sasso is equipped with the powerful gearing of a 24-speed full Shimano drivetrain that was just built to climb. It is also outfitted with a premium Suntour SF15-XCM fork suspension with 100mm of travel for comfort and stability. This fork easily pushes through rough terrain for a comfortable and adaptable ride every time.
The stocked 680mm handlebar improves cornering and control, putting you in an optimized position to have your most powerful and regulated ride ever. Plus, the frame comes predrilled for all varieties of accessories, such as racks and fenders.
The Gran Sasso offers stress-free set-up. All you have to do is install the front wheel, handlebars, pedals, seat tube and seat. Some customers agreed that assembly was easy and were very satisfied that the bike came tuned and adjusted well right out of the box. Furthermore, the mountain bike also comes with touch up paint to repair any scratches.
5. Diamondback Bicycles Overdrive 29 Hardtail Mountain Bike, Black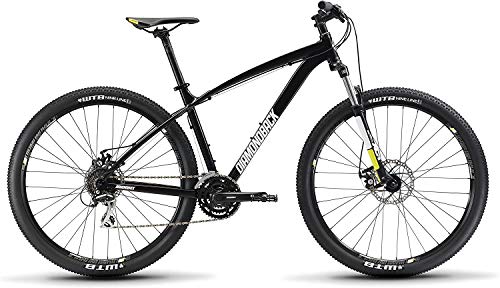 Whether you're a seasoned mountain biker or a novice, the Diamondback Overdrive 29er mountain bike will get you out having fun. It is available in a few different sizes: small or 16-inch, medium or 18-inch, large or 20-inch, and extra-large or 22-inch, which are all based on the height of the rider.
This classic hardtail prefers swoopy single-track and cruising to the top of the climb. It's built on the same strong, lightweight aluminum frame as Diamondback's higher-end aluminum 29er trail bikes. With a solid component package that's built to last, the Overdrive will have you mastering new trails and coming back for more.
SR Suntour XCT cranks are paired with a Shimano TX50 front derailleur to provide smooth, reliable shifting. The 80mm travel fork works well with the 29-inch wheels to keep you rolling confidently over obstacles. The Shimano Acera 8-speed rear derailleur offers a wide gear range to get you up and down hills. One gentleman exclaims that this mountain bike rolls fast, and the brakes and gear shifters were all perfectly adjusted right from the factory.
This bike is shipped 95% assembled, and the manufacturer states that you should expect bike assembly to take approximately 30 to 60 minutes, depending on your skill level. You just have to install the pedals, seat and front wheel. It's that simple! Stickers on the cranks tell you how to install the pedals, and one reviewer highly recommends paying close attention to the positioning of the pedals during assembly.
A woman who purchased this mountain bike as a gift for her son shared that after months of riding, everything has held up excellent for the wet, muddy trail riding climate of the Pacific Northwest. So, you can rest assured this mountain bike can handle whatever beating you give it no matter where you ride it, even in the harshest of conditions.
Top 3 Concerns When Buying a Quality Mountain Bike
There are three main factors one must consider before purchasing any mountain bike. The first is which type of braking system you would prefer and meets your stopping and budget needs. The second issue is replacing the seat, and the third is assembly.
Hydraulic vs. Mechanical Brakes
Hydraulic brakes are higher-end and they tend to perform better than either rim brakes or mechanical disc brakes in just about every aspect, but they can be more expensive than their counterparts. Hydraulic braking systems are more efficient than mechanical disc brakes, so you need to apply less pressure or force onto the lever for an equal level of braking power.
Mechanical brakes utilize a cable pull system similar to rim brakes, just arranged in a different way. Whereas, hydraulic braking systems use fluid to transfer the force from lever to caliper and the whole system is sealed. You get better modulation of the pad against the rotor since the fluid is not compressible like cable wire. Really, the main difference between the two is efficiency and cost.
Seat Replacement
The number one complaint of every single mountain bike owner and rider is that the seat included on the stock mountain bike is brutal on the buns. Almost 100% of reviewers replace the seat immediately upon purchasing, many ordering a replacement seat simultaneously while purchasing the mountain bike. So, this is an issue that can easily be remedied.
Universal bike seats are convenient, allowing them to be used with a variety of bikes. A good universal bike seat is more comfortable; hence you are able to enjoy mountain biking for longer periods of time. Poor fit will make your ride absolutely unbearable, so make sure the bike seat or saddle you choose will support active motion rather than rest, but also have the appropriate amount of cushion and strength for the primary use of the mountain bike.
If you've never replaced a MTB seat before, here is a good YouTube video demonstrating the process:

Assembly and Fine-tuning
All mountain bikes come pretty much ready to set-up right out of the box. Oftentimes, all you have to do is attach the pedals, handlebars, front tire, and maybe one or two more steps using included tools or tools you have around the house until – voila – your new mountain bike is ready to rock those trails! How long this will take you really depends on your mechanical ability. If you are a beginner mountain bike enthusiast and maybe not very handy, you should see a professional or certified bike mechanic for help assembling the mountain bike.
Just about every mountain bike manufacturer suggests immediately taking your newly purchased mountain bike to a professional to tune the bike to your riding style and comfort level and performing a quick tune-up to ensure the brakes and gears are properly configured before you get out there and ride. Upgrades can be made to every bike within any budget, so if something you notice about the bike isn't working for you, speak to your bike mechanic for suggestions of how to fix this within your budgetary needs.
Related Articles