The 5 Best Recumbent Road Bikes for Seniors Reviewed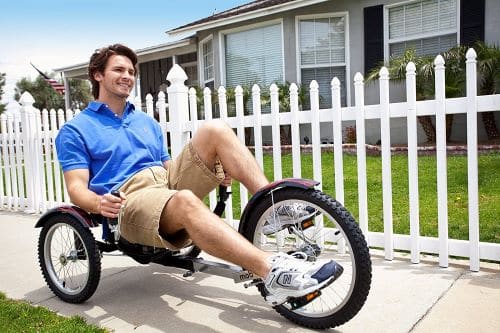 As you get older, it becomes more and more important to stay mobile, not only for your joint health but for your overall wellbeing, both mental and physical. However, for many seniors, the idea of biking with a traditional bike is daunting, and for good reason. The way traditional bike seats are engineered is just not made for senior comfort, and for those with back pain, sitting upright on a bike can lead to a world of hurt. Not only that, but the traditional setup of the pedals can lead to aggravated knee pain, as well as overall aches and pains due to strain on the whole body. This is where recumbent road bikes come into play.
You may be familiar with the concept of a recumbent bike, they are found most often as exercise machines for the home and gym. These bikes get their name from their seating arrangements, which allow you to lean back while peddling. Many recumbent bikes are made to pedal with your hands, making them ideal for those who find using their legs difficult due to arthritis, pain, or other reasons. Other recumbent bikes feature pedals that are further away from the body, helping keep knee strain to a minimum while still allowing you to enjoy your daily bike ride.
When shopping for a recumbent road bike, there are a few key factors to keep in mind. First, you want to ensure the seating options for your bike of choice will be comfortable. While you may think that a solid seat seems comfortable enough, after a half-hour on the road you may be changing your tune. Thankfully, many recumbent bike seats are made with comfort and support in mind, and can easily handle a little extra padding should that be necessary.
Another thing to keep in mind is the overall mobility of the person who will be using the bike. If you find yourself struggling with knee pain, you may want to look into a handcycle to help take the strain off of your body. If you struggle more with grip strength or upper arm strength, you may be better served with a traditional recumbent bike.
When it comes to choosing the right recumbent road bike, thankfully most bikes are designed to work well on paved surfaces. In the case that you find yourself on a dirt road, you may want to invest in a bike that can take on the wear-and-tear of off-roading. Investing in a bike that has larger tires can make a real difference in keeping you stable on less than ideal roads.
Thankfully, finding the right recumbent road bike doesn't have to be a hassle. We've gone the distance and compiled the best recumbent Rd bikes for seniors available on the market today. Our reviews take into consideration the overall specs of each bike, pricing, availability, and of course, user reviews. You can rest easy knowing that each product is backed up by hundreds of satisfied customers just like you. Without further ado, here are the top recumbent bikes for seniors.
Best Recumbent Road Bikes for Seniors
1. Top End Force-3 Stock Handcycle 60121611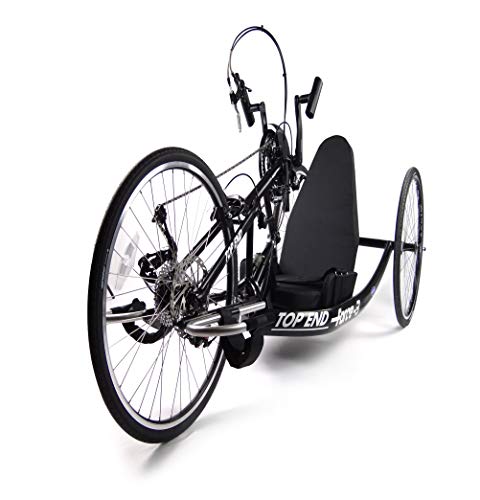 This bike is easily one of the highest quality handcycles available on the market today. With a whopping 30 speeds to choose from, a comfortable upright seat, and easy-to-use handcycle controls, this is an incredible cycle to invest in. This bike is ideal for anyone with knee problems or who finds themselves tiring easily when using their legs, as not only does it promote arm strength, but it also allows you to propel yourself without traditional pedals. The 26-inch performance wheels are ideal for use on pavement, and this bike comes equipped with safety straps, an adjustable seat, and safety flags to help keep you safer on the road. As a bonus, the 26-inch wheel size allows you to easily swap out your wheels for cruiser wheels, mountain biking wheels, or anything else you need to take to the road. If you're looking for a high-quality recumbent bike that's made for people of all ability levels, this is an incredible option for you.
If you're looking for a handcycle that will help promote mobility while still offering comfort on the road, the Top End Force-3 Stock Handcycle is an incredible investment that is sure to bring you joy for years to come.
2. Top End Force-3 Stock Handcycle 60121610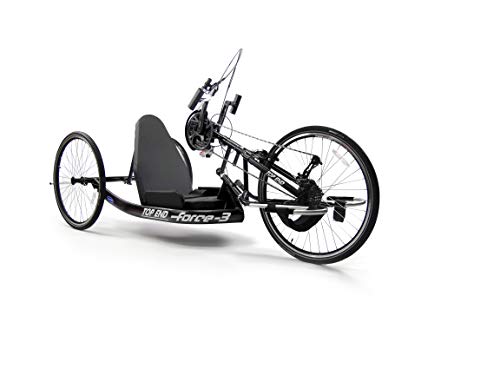 Similarly, to the other Top End Force-3 handcycle on our list, this is an incredible recumbent bike option for seniors, or anyone looking to take to the road without the strain of a traditional bike. This bike is made to support up to 250 pounds and comes with adjustable seat and height settings to help you customize this recumbent handcycle to your own unique mobility needs. The lightweight aluminum frame makes this cycle sturdy and reliable, while also being lightweight and easy to transport. By creating a durable frame that won't weigh you down while you're cycling around town, this handcycle allows you to take control of your own mobility and stay active, without worrying about pushing yourself too hard or causing yourself injury. Much like the other handcycle on our list, this bike offers 30 speeds, easy-to-access brakes on the handles, and of course, a parking brake to help keep your bike locked in place while not in use.
If you're looking for a comfortable, adjustable handcycle made to take the strain off your lower body while still allowing you full mobility, the Top End Force-3 Stock Handcycle is a fantastic option for you that is sure to quickly become one of your favorite forms of exercise.
3. Mobo Triton Pro Adult Tricycle for Men & Women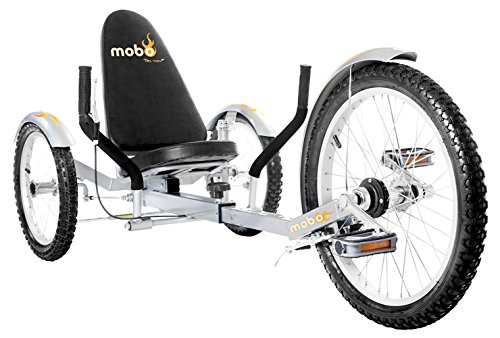 This is where we get into a more traditional recumbent bike. With an angled seat, hand steering controls, and extended pedals to help take some of the strain off of your knees, this is easily one of the top recumbent bikes available on the market. Unlike some other recumbent bikes available to you, this bike features all-terrain tires, allowing you to travel from pavement to dirt roads without a hitch. The only reason this bike isn't as high up on our list of recumbent bikes is that it is a single-speed bike, meaning it may not be ideal for biking up hills. However, if you're looking for a reliable, sturdy recumbent bike that will help prevent back and knee strain while still allowing you to keep mobile, this is an incredible option for you.
But don't just take our word for it. One reviewer noted "I took the trike out to my driveway for its maiden voyage. OH MY GOODNESS, I'm so excited and happy! It rides smoothly, the seat is comfortable, I can pedal just fine, and the trike manages the slight slope of my driveway very well. Steering became intuitive quickly (I'm a klutz) and the brakes work great." If you're looking for a great recumbent bike that is made to help you exercise without strain, the Mobo Triton Pro Adult Tricycle is perfect for you.
4. Mobo Shift 3-Wheel Recumbent Bicycle Trike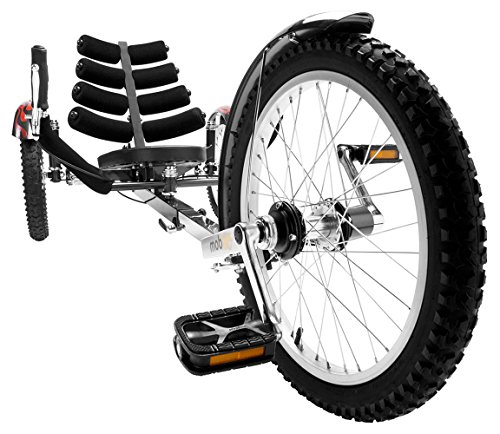 This recumbent bike features an interesting seat design that is made to take the stress off of your back, while still offering comfort. The hand-caliper brake system allows you full control without forcing you to rely on foot pressure, allowing you to avoid knee pain in the long run. This bike is a single-speed bike, making it a little less versatile than the handcycles on our list, however the emergency reverse function allows you to easily take control of your bike, so you can get out of a sticky situation without having to resort to lifting your bike, which can cause additional strain. On top of the intuitive design of this recumbent bike, the adjustable seat design allows you to tailor this bike to your own comfort level, making this an incredible investment for anyone looking to increase their own mobility and activity level, while still maintaining their overall comfort.
As one reviewer noted, "3 artificial hips, 4 hip surgeries, I honestly never thought I'd ride a bike again. I was wrong! However, because of my limitations I didn't want to spend $1000 and be wrong so I got to test it out, and its GREAT!" If you're looking for a recumbent cycle made for both comfort and mobility, the Mobo Shift 3-Wheel Recumbent Bicycle Trike is the ideal choice for you.
5. Prime Karts 3-Wheel Turbo Pedal Kart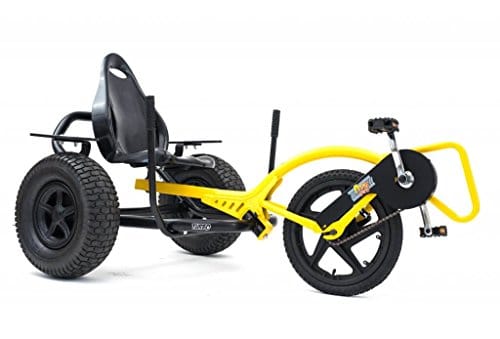 Compared to the other bikes on the list, this one does have the sturdiest frame, weighing in at a total of 90 pounds. While this may not be ideal for transporting this cycle, it does allow you to feel more secure while biking around. With an adjustable seat, sturdy wheels, and a brightly-colored design, this recumbent bike helps you feel comfortable while also increasing visibility and of course, prioritizing mobility. Overall, this bike is slightly less customizable than some of the others on this list, as it does not have as many height settings as some other recumbent bikes on the market. It is also worth noting that the solid-backed seat may not be as comfortable as some other options, so be aware you may need to invest in some additional back padding. It is worth noting that some customers found the additional weight of the bike a detrimental factor when going up hills, but felt the added sturdiness of the bike added to a sense of security overall. In general, the Prime Karts 3-Wheel Turbo Pedal Kart is a great investment for anyone looking to increase their mobility and take their bike on the road.
How to ride a recumbent bike
Riding a recumbent bike is not as difficult as it looks. While some models may ride differently, this video demonstrates how to ride a recumbent bike properly:
Conclusion
A recumbent bike can be a wonderful investment for any senior, as it can not only increase overall mobility, but also allow you to increase your daily activity and maintain your health. If you're looking for a great way to update your mobility while still maintaining your comfort, a recumbent road bike is an incredible option for you.