The 5 Best Road Bikes For Commuting Reviewed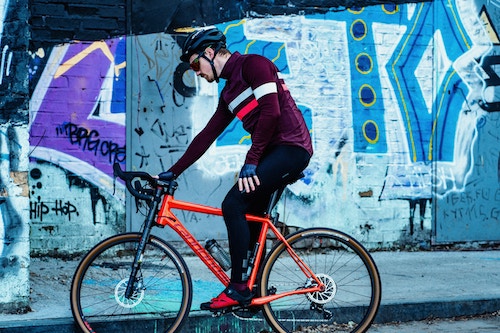 Buying a new road bike for commuting seems like an easy decision to make, but there are a lot of factors you need to consider before you purchase a bicycle to use on the road. Like any other vehicle, it is important that you do some research on your bike before purchasing to find on that suits your size, your lifestyle, and the kind of terrain you will be riding on.
One of the things you should consider when researching a bike is the material of the frame. Aluminium is the most popular in cheaper road bikes as it is an affordable material to use, and it builds an incredibly stiff and light frame that will provide a sturdy vehicle for you on the road. Carbon fibre is also an increasingly popular material to use for your bike, and this will provide the added bonus of a sleek colour which will look sporty and elegant.
Choosing the right bike for you is an important thing to do and once you have done your research you'll be provided with a road bike that is safe, one that fits, and one that suits your style.
Today we are going to take a look at 5 different commuter road bikes that you can find on Amazon, and a rundown of their merits. So, if you are still unsure about the road bike you want to buy this year, these choices will give you an affordable option.
Best Road Bikes For Commuting
1. Schwinn Phocus 1600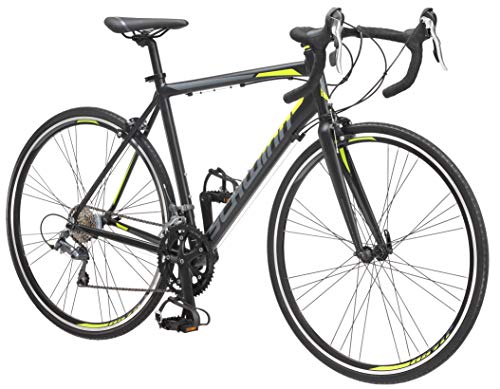 Schwinn Focus 1600 is a women's road bike that offers an affordable option for commuters as well as those who want to use a bike to stay fit. The great thing about this bike is the fact that it is lightweight, making it an ideal choice for everyday use. The frame of this bike is aluminum with some carbon fiber elements that mixes reliability flawlessly with style. The build of this bike is both lightweight and rigid so it will provide a vehicle that is able to withstand a lot of different conditions without breakage.
If you are looking for a bike to utilize in your workouts, this is a great option for you as it provides toe straps and clips to ensure your feet stay on the pedal at high speed. There are 10-19 speeds to choose on this bike and it will allow you to adjust the bike to your own style of riding and allow it to fit your lifestyle.
This bike can endure long distances without flats, and if you choose to get this bike tuned by the pros you will also gain a seamless change between gears that will really put a pep in your step. It is a good option for someone who is looking to get into cycling and wants a great vehicle.
2. Eurobike Road Bike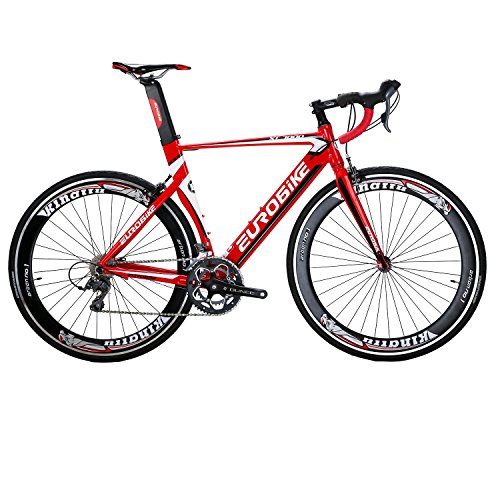 The second bike we are going to take a look at is the Eurobike Road Bike, and this is a great option for any cyclist on the road. The bike stands at a height of 54cm making it a good size for most people. The frame of this bike is made from aluminum providing a sleek, simple, and sturdy frame for the rider, and the bike is also fitted with aluminum brakes that give the rider full control and very responsive stopping power.
One of the best features of this bike is the many gear system it has. There are 16 gears for this road bike and it means that the rider can switch between many different speeds when they need to while out on the road. The seamless nature of these gear changes provides a smooth ride for the cyclist and gives a comfortable experience.
As well as all of the features above, perhaps the best part about this bike compared to the others we have on the list is that it comes pre-assembled. All you will need to do when the bike arrives is finish off installing some of the parts and it means that you won't have to stress out over confusing instructions or go to the bike shop to get a professional to help you.
3. Schwinn Volare 1400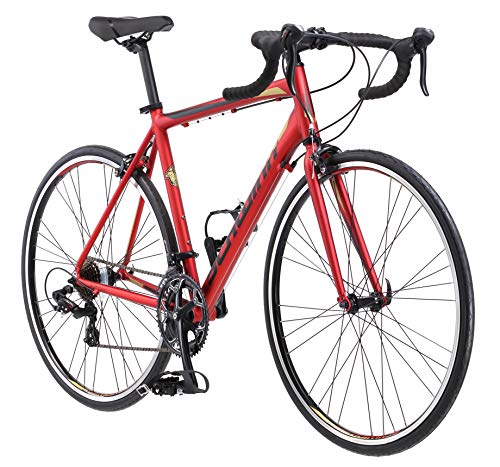 For the men, the Schwinn Volare 1400 is a wonderful road bike. This bike is centered around fitness on the roads and it is ideal for any man who is looking to change up their workout routine and be more in touch with the outdoors.
This 700c bike is a lightweight road bike that offers an incredibly responsive and agile ride that's perfect for high performance riding through the roads and winding paths. As well as a standard aluminum frame, this bike has a steel road fork that gives the rider an agile and nimble experience as they ride this vehicle.
Due to the high-powered users of this bike, the brake system is incredibly important and this bike features a Shimano 14-speed integrated shifter/brake lever combo and Derailleurs. These features ensure that the user is able to enjoy fast speeds and a smooth ride, but will also be able to enjoy incredibly responsive brakes when needed.
This bike is one that is made to last and offers a wonderful rigidity and durability on the road. As such, if you purchase this bike you will also gain a limited lifetime warranty to protect you if the bike does break.
If the assembly of a new bike is always something you worry about, you'll be glad to know that the assembly of this bike is simple and well instructed. When the bike arrives it will already have the crank, chain and brakes on it so all you will need to do is connect some final pieces and you will be one the road in no time. The bike also has quick release tyres which can be essential when you need a change.
4. Eurobike EURXC550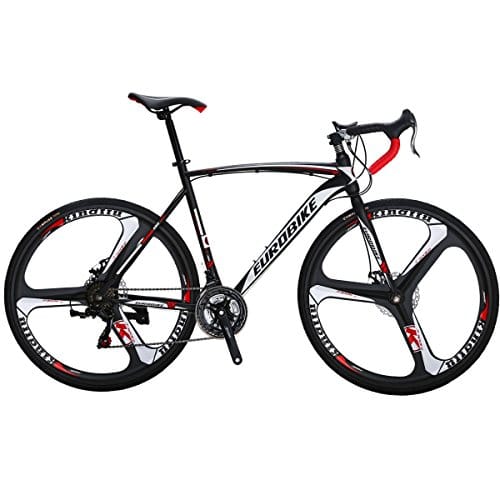 Another entry on this list for Eurobike, and this bike definitely doesn't disappoint on quality. This bike comes with a sturdy and reliable frame along with Dual Disc brake to ensure a responsive braking time for cyclists. This bike also comes with an impressive 21 speed system allowing you to easily adjust the bike to your speed and style of riding as you go.
A great aspect of this bike is the fact that when it arrives it will already be mostly assembled and ready to go. When you bring the bike into your home all you will need to install is the handlebars, seat, pedals, and front wheel. Be aware that when the bike has been stored for a while and transported it might take a bit of inflating to get the wheel back into top shape.
This bike offers a smooth ride for all and when adjusting the bike for speed as well as braking, this bike is very responsive and very safe. An added bonus of this bike is that if you don't like the stickers on the wheels you can take them off!
5. Vilano 2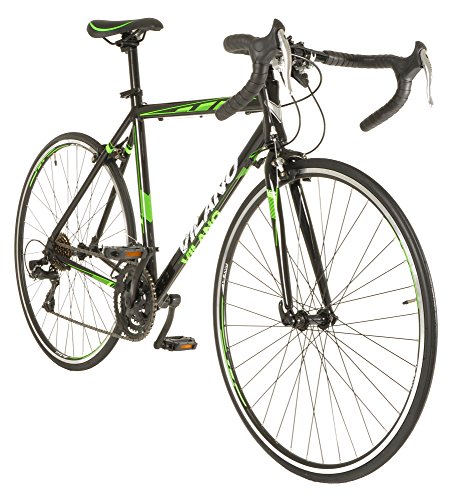 If you are someone who is looking to reduce your carbon footprint and commute to work by bike every day, the Vilano 2 could be the ideal choice for you. This bike is made to last and made to be responsive when in stop-start traffic, so will be a perfect option for busy mornings in rush hour traffic. It is fitted with a 6061 Double Butted Aluminum Frame that offers a lightweight vehicle and easy handling and has quick-release wheels for when you have an issue on the road. – Lightweight
This bike offers a seamless ride and is nimble in its steering so it will be the ideal choice for you when you are looking to weave in and out of traffic or simply use it for your everyday life. This bike is stylish and sleek so it will offer you a ride that you will be proud to own, and the bike comes pretty much completely assembled which makes your job easier once it arrives.
All of these bikes have their merits and all of them offer different features that will suit different types of rider. When choosing a road bike the main thing to think about is why you need the bike and what you will use it for. So if you are looking for a bike that is reliable and responsive for your commute, this will be a different bike than if you are looking for a bike with high performance for fitness purposes.
Always take your time to choose a bike wisely and consider multiple factors that could impact your choices. Ensure that there are enough speed settings to offer a seamless ride, that it is responsive brakes that will give you good stopping power with low distance. Think about how much you will use your bike and consider the frame material as well as its staying power for years to come. Once you do choose the right bike for you, you will be able to enjoy a wonderful ride every day and it will have a positive impact on your life.
Commuter Road Bike Buyer's Guide
There are many things to consider when purchasing a road bike. This video does a great job of covering what you need to know when buying one:
Related Articles