The 5 Best Shoes for Bike Commuting Reviewed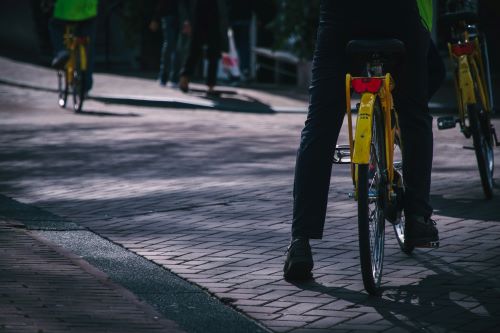 At best, cycling shoes are what they are; sporty and comfortable enough for riders, but not known for being the most stylish. However, as biking is becoming more of an everyday activity and many people are opting to use bicycles as their main mode of transportation, shoe designers and manufacturers have responded by designing shoes that are not only technical but more stylish. Now, you can pair your cycling shoes with your everyday wear without it looking out of place.
When deciding what cycling shoes to purchase, there are a few things to keep in mind.
First of all, avoid purchasing open-toed styles. Your exposed feet would be vulnerable to more scrapes or even worse injuries. Also, choose flat shoes. They remain the best option, especially because heels might reduce your pedal contact or even get hooked in your pedal.
Get adjustable shoes as they offer more security and comfort while riding. However, avoid getting those with extraordinarily long shoelaces as they might get trapped in your bike chains or gears. Select styles that have traction as they are the better option. Smooth soles can easily slip off your pedals. Ensure that your shoes are lightweight and do not weigh your feet down. Even in much colder months, it is still advisable to wear lightweight shoes.
Reasons Why You Need Cycling Shoes
Cycling shoes with stiff soles protect your feet. These soles allow you to apply more force when pedaling, which is great because you will burn more calories! Additionally, it may also prevent you from sustaining injuries and tendon issues, as well as arch pain. What is more, they come with reflective parts that make you visible to other cyclists and cars on the road.
Secondly, cycling shoes are designed to clip to pedals, making your bicycle ride more comfortable. Plus, it will give you twice more energy than when you use regular shoes. It also means that you can easily pull your pedals to a stop.
Cycling shoes are made out of breathable materials that allow for maximum and efficient air circulation. Therefore, you can wear these shoes in extreme weather conditions such as heat and cold.
With that being said, here are some of the best, fashionable cycling shoes to consider before making a purchase:
Best Shoes for Bike Commuting
1. Five Ten Men's Freerider Pro
The Five Ten Freerider Pro is a very versatile shoe, jam-packed with all the qualities that the manufacturer is best known for. It is high-quality, durable, and has unique features such as rubber soles and fast-drying uppers made out of synthetic material. The Freerider Pro is an excellent choice for many riders looking for an all-around shoe that can handle just about anything.
The Freerider has a solid grip thanks to its Dotty S1 rubber sole. It is also extremely comfortable, like many other cycling shoes manufactured by Five Ten. It has a medium fit and a generous toe box. Another feature to notice is its padding that protects your feet from any damaging impact. The foam in the footwear is the same as those found in other protective gear like knee pads.
This shoe is stiff, and that is a great feature because it allows you to pedal with more force and is excellent for longer rides. Despite its stiffness, this shoe is not heavy. While breathability is not its main strength, it still gets the job done. The Freerider has a generous amount of small-sized perforations to improve ventilation; it is perfect for cooler or slightly warmer days, but on extremely hot days, you would feel your feet heating up.
Finally, the Freerider reserves the bragging rights for being a durable shoe. You can use it in different seasons with little to no wear on your shoes. The Freerider Pro retails between $85 to $150. It certainly provides you with value for your money.
2. Tommaso Venezia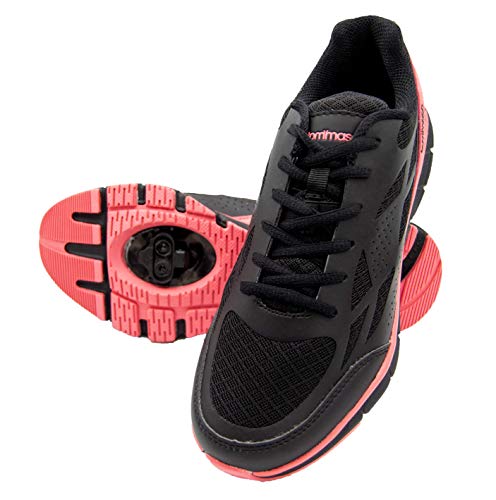 The Tommaso Venezia is an excellent women's shoe used primarily for stationary cycling. It is a well-designed shoe with a synthetic leather upper and standard lacing that allows you to adjust the fit for your comfort. It also has well-ventilated meshes designed to cool your feet on warmer days. While these shoes are popularly worn for spin classes, you can easily use it for commuting, as well as fitness.
These shoes provide the ultimate comfort thanks to its padding at the tongue and heel areas to help you with your up and downstrokes. Its padded rubber soles and inner shank can provide you with enough power ride. Even better, it can help you work on your calf muscles, thereby keeping you strong and fit.
Venezia shoes are known to be stiff and durable. Its manufacturers boast of using top-quality materials and provide wearers with a two-year warranty. This shoe typically retails between $75 to $95.
3. Giro Rumble VR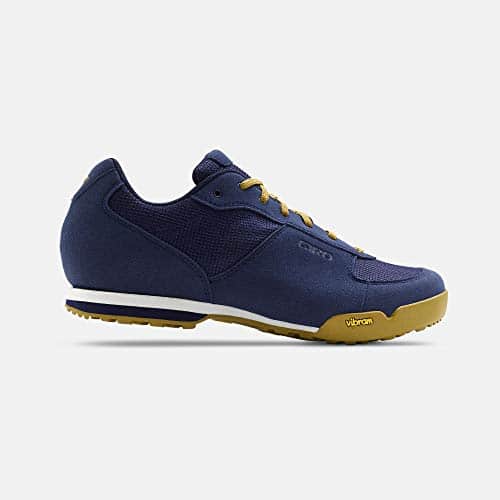 The Giro Rumble VR shoes are a great option for people looking for casual shoes that you can also use for cycling.
They might feel a bit tight when you initially wear them, but, with time, they expand to accommodate your feet and give you the best comfort. It just needs some time to completely break-in. Nonetheless, the Rumble VR can be worn for as long as 10 hours a day. They are also well-ventilated and will cool your feet on warmer days. Although they are not designed as walking shoes, they are comfortable enough to walk in for a few hours.
The Giro Rumble VR is also durable in two main areas: its sole, as well as the elastic lash that keeps the shoelaces in place. Users have reported identifying no wears, tears, or breaks despite using these shoes over an extended period. Therefore, it is a reliable and robust shoe for riding and occasionally walking.
This shoe is a great choice but is better suited for people who do not cycle often. It does not fare well in rainy or muddy situations, so you would need to buy a protective covering to care for that. Otherwise, they are still pretty good cycling shoes. The Giro Rumble VR usually retails between $80 to $100.
4. Tommaso Milano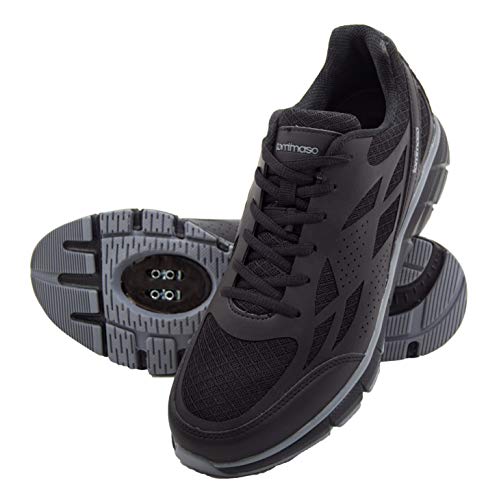 The Tommaso Milano is one of the most highly rated men's shoes available on the market if you are looking for a clip shoe. While many cycling pros prefer to wear this shoe, it is still an excellent choice if you are not a frequent cyclist because of its simplistic and unassuming style. So, even if you are new to cycling, these shoes will be a perfect fit for you.
It has a traditional lacing system, which can make it feel like a tennis shoe. It is a great feature as it makes it easier for you to adjust the footwear to fit you correctly.
These shoes are also extremely comfortable and allow you to transition from riding to walking easily. It has a well-cushioned sole as well, and its comfort does not compromise its versatility. Because of its inner shank plate, cyclists are afforded more pedalling power. Its comfort also ensures that you can walk around in them effortlessly. It is also compatible with indoor cycling.
One of the best things about Tommaso Milano is that these shoes are factory direct, meaning they are manufactured with the best qualities and materials at a relatively cheaper cost. The manufacturers also provide customers with a two-year warranty with a 100% fit guarantee and 100% fit returns. Ensure that you order a size larger as many users have reported that sizes run smaller and are quite narrow.
The Tomasso Milano is a very affordable shoe and typically retails for about $70 online.
5. Shimano Men's CT500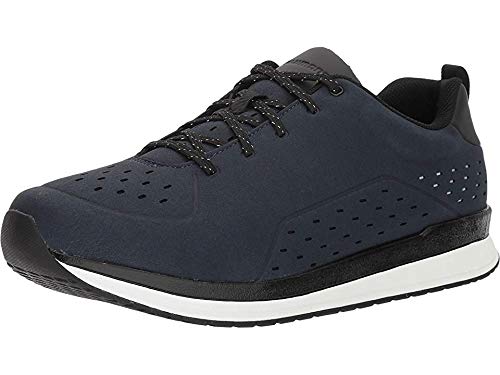 The Shimano Men's CT500 looks and feels like an everyday sneaker, but, of course, it is more functional than the average one. However, they are still perfect for regular road commuters.
It is made out of top-quality materials. Its uppers are made out of leather and are known to be reliable and durable during extreme conditions. The shoes also come with perforated toe boxes at the top and sides, allowing your feet to breathe and be well-ventilated whenever you wear them.
The CT500 has lace-up features, so users find it easy to adjust its fit to their desired comfort to give them a classic look. While it is not designed for walking (the cleats do not touch the ground), you can use it to walk short distances while feeling comfortable thanks to its shock-absorbing midsole. Its inner shank also allows you to pedal your bicycles powerfully. They are also excellent choices for indoor cycling.
Like some of the other cycling shoes, the Shimano CT500 does not have a wide design range. It comes in standard navy color and retails for $85 online.
Conclusion
If you are looking for the best cycling shoe, ensure that you choose the most comfortable and the one that meets your criteria. Use this guide to help you make your decision. The perfect shoes will not only protect you from injuries but will also make your riding experience more enjoyable, safe, and comfortable.
For more information on cycling shoes, watch this video:
Related Articles