The 5 Best Single Speed Bikes for Commuting Reviewed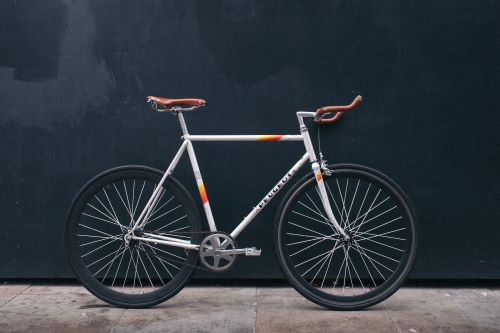 For many people, the idea of a great commuting bike springs to mind images of road bikes complete with dozens of speeds and gears. However, sometimes the best commuting bikes are single-speed bikes, as these are made for overall comfort and ease of use. Cruisers, one of the most popular single-speed bike designs available on the market today, are known for their easy-to-ride design, as well as incredible comfortable seats and relaxed handlebars, allowing you to avoid the potential back pain that comes from a traditional bike. Single-speed bikes are also usually made with larger tires for added balance, as well as to help you take on several types of terrain without concern. They also can come with additional storage space on the back of the bike to allow you to easily transport a change of clothes or your work gear to and from the office, without having to worry about straining your back along the way. However, with so many wonderful single-speed bikes to choose from, how can you be sure you're choosing the right one for your commuting needs?
The first thing to consider when looking for a single-speed commuting bike is the overall comfort of the bike itself. No matter if your commute is a half-hour of peddling or several miles, you want to make sure you won't arrive at work with a sore everything. While single-speed bikes may not be ideal for commutes with several hills in between you and your office, they can take on the average city street or back road with little resistance, while still allowing you to take in the scenery and enjoy your morning bike ride.
The next thing to consider is the overall storage space on your bike of choice. If you find that you can fit everything you need in a small backpack, you may not need to invest in a cruiser or single-speed bike with a nice storage platform on the back. However, if you have to bring several projects, a laptop, a change of clothes, and your lunch with you each morning, you may want to invest in a bike that can sport a set of saddlebags or a storage platform with ease. Thankfully, single-speed bikes are easier than ever to add your own storage platform to, as you don't have to worry about messing up the gear shifts when removing the tires—an easy way to mess up even the most carefully cared for bike.
Once you know your overall comfort level and storage capacity, you want to make sure you've chosen a bike that is easy to mount and dismount, and most cruisers have a step-through or step-over design that allows you to easily get on and off your bike, even if you find yourself biking in more restrictive clothes. This is ideal for those morning commutes when you don't have time to change into your office clothes when you arrive at the office, allowing you to bike with confidence without worrying about tearing a pair of slacks.
Now that you know what to be on the lookout for, let's get to the best single-speed bikes for commuting of 2020. We've gone ahead and done the leg work so you don't have to, taking into consideration things like overall quality and comfort, pricing, durability, storage space, and of course, overall customer satisfaction, to bring you a list of the best single-speed bikes available on the market today. That way you can spend less time sifting through hundreds of different bikes and more time rocking your morning commute. Without further ado, here are our top single-speed bikes for commuting.
Best Single Speed Bikes for Commuting
1. sixthreezero Around The Block Men's Single-Speed Cruiser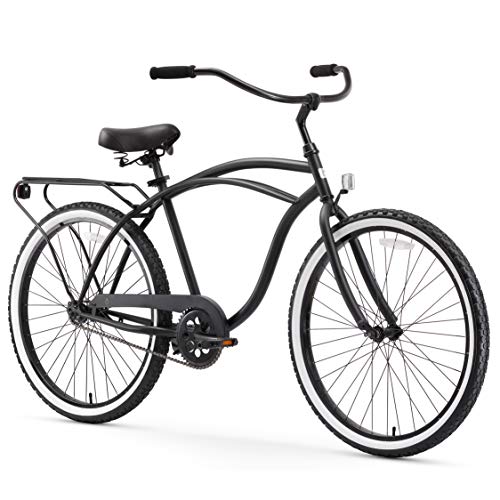 The sixthreezero is an incredible cruiser that hits all our must-haves for a single-speed commuter bike. The seat is incredibly comfortable with built-in shock absorption, allowing you to ride in style. The included storage space on the back of the bike is made to carry anything and everything you need to bring to work with you, without weighing you down or causing you back pain. The handlebars are made to be ergonomic, so you can cause yourself less strain overall, and the sleek, black design looks straight out of a magazine, so you can enjoy the comfort of a single-speed bike without feeling like you belong on the boardwalk. The frame is made out of solid steel for a design that's made to last, no matter how many trips to the office your boss wants you to make this week. Of course, we can't rave enough about the absolutely gorgeous white-wall tires and the overall class of this bike.
The 26-inch tall, 2.125-inch wide aluminum tires offer superior waffle grip to help you take on almost any kind of terrain, from loose dirt to good ol' pavement. This bike is made to work for riders of almost any height, with styles ranging from the average 26" height for those up to over 6½ feet tall, to a 24" version for heights closer to 4 feet tall. If you're looking for a high-quality single-speed bike to maximize your morning commute, the sixthreezero is our top choice hands-down.
2. Cruiser Lux 3i Step-Over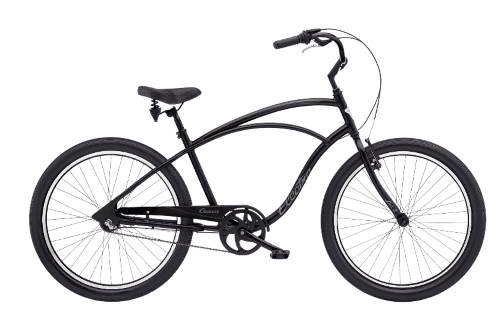 This single-speed cruiser comes straight from Trek, an innovative biking company that makes top-of-the-line bikes that are sure to wow. The Lux 3i has all of the style of the previous bike on our list, but with a focus on a more compact, lightweight frame. The aluminum construction means you spend less energy trying to get this bike up and down hills, and also allows you to easily transport your bike from one location to another without risking back pain. While this bike does not have the built-in storage rack that the previous entry has, it does feature the shock-absorber seat to help you have the most comfortable ride available, and the single-speed design means adding your own storage rack is easier than ever. The patented flat-foot technology allows you to pedal comfortably without straining your feet or ankles, and the comfortable traditional handle design gives you that familiarity you crave with a great bike.
This bike features comfortable, cushioning balloon tires for that classic feel, while still promoting one of the smoothest rides available on the market today. If you're looking for a cruiser to help you take your morning commute by storm, the Lux 3i is a fantastic choice.
3. 6KU Aluminum Fixed Gear Single-Speed Fixie Urban Track Bike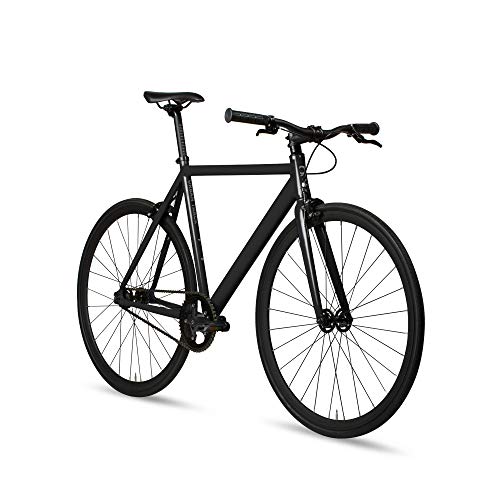 This bike is specifically made for the urban environment, and its design reflects this. The smaller seat may lack in cushioning, but it is ideal for use with padded bike seats, making this a single-speed bike for the biking enthusiast. The lightweight, streamlined frame helps you get the most out of any bike ride, while allowing you to take your bike up and down stairs or onto alternate forms of transport easily, without worrying about back strain. This bike is unique compared to some of the others on our list, as it comes in three distinct sizes to better fit a wider range of bikers. The small, medium, and large sizes are tailor-made to provide comfort to riders of almost any height, allowing you to avoid leg or back strain during your morning commute.
It is worth noting that one of the reasons this bike is in the middle of our list is that you need to assemble it yourself, although this is much easier to do than with a mountain bike as this bike has only one speed. However, this doesn't seem to take away from the overall durability and comfort of this bike, as one reviewer noted, "I ride this bike every day as my primary mode of transit, probably around 50 miles every week." With that in mind, the 6KU is an incredible investment for anyone looking for an urban-focused bike.
4. Zelda 3i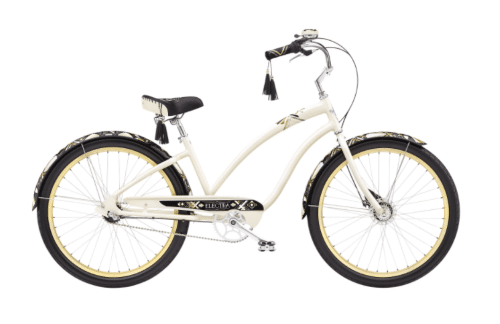 If you're looking to put the fun in your morning commute, Zelda 3i is the bike for you. This stylishly designed bike is made with comfort in mind, and rocks a gorgeous pearl coloration that's sure to turn heads. The comfortable bike seat is made to withstand bumpier trips, and the ergonomic handlebars are made to help ensure comfort over longer rides. This bike takes the concept of the "roaring '20s" and turns it into a cruiser that's sure to stun, with Art Deco detailing and believe it or not, seat fringes. Granted, this bike may not be ideal for anyone who feels like they need to maintain a traditionally professional appearance while riding to work, but for anyone with a creative side this bike is sure to enhance your daily commute.
The aluminum boomerang frame is lightweight and features a step-through design making it easier than ever to mount and dismount. It also provides a level of safety, as anyone who has ridden a bike for any length of time has experienced the unfortunate discomfort that comes when you bash into a center bar when trying to mount. This bike is a fantastic option for anyone looking for that extra stylistic flair, and what it lacks in storage space it makes up for in overall aesthetic appeal, as well as lightweight design and comfortable seating.
5. Kulana Lakona Youth/Adult Beach Cruiser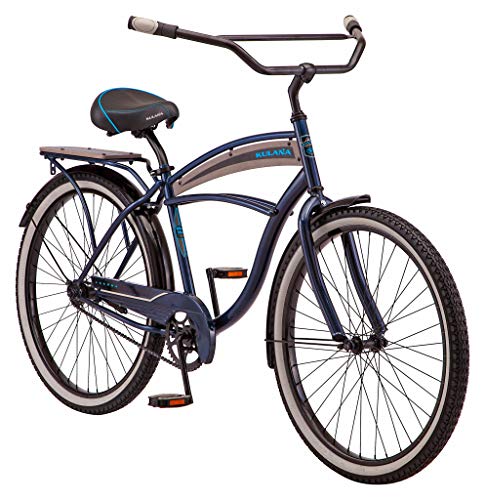 Before you get concerned about this bike being marked toward younger kids, it comes in a variety of sizes to fit everyone from 4 feet tall to over 6 feet tall comfortably. The Kulana Lakona beach cruiser is an incredible bike that's sure to become the best part of your morning commute. Worried about storage space? This single-speed bike features a back rack for you to easily secure your briefcase or backpack while on the road, helping you cut down on potential back pain. Have a bumpy road ahead of you? The comfortable seat has included springs to help absorb any bumps your commute throws your way. On top of the physical features of this bike, the overall aesthetic is breathtaking, as the accent colors really draw attention to the finer details of this bike, without becoming overbearing.
The only real downside to this bike is that you have to put it together yourself, which one user did note took about "15 to 20 minutes" to complete. However, they mentioned that it was fairly easy to construct so long as you were even slightly handy, making this bike ideal for anyone looking for their next single-speed commuting option.
Single Speed vs. Fixed Gear
While they may seem similar, single speed and fixed gear bikes are actually very different. For more information about these two types of bikes, watch this video:
Conclusion
No matter your commuting needs, choosing the right single-speed bike can help make your morning commute a ride in the park. Single-speed bikes are an incredible investment for anyone looking to improve their morning commute and cut down on their overall carbon footprint. With comfortable seats, plenty of storage options, and a lightweight design, single-speed bikes help take the hassle out of traveling to and from work, allowing you to focus more on enjoying the ride.