(Last Updated On: September 7, 2022)
Hey there Bike Commuters!  It's me, Mir.I.Am, and I'll be the host for our show BIKE – YOUR – DRIVE!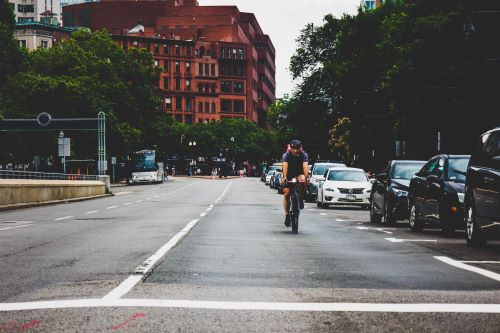 Tonight's guests include the Bike Commuters staff writers: Matt, Ghost Rider, RL, and Elizabeth.  Since we wanted to ride the high of May 2012's Bike to Work Month (hehe, get it? ride the high, like ride a bike) we thought we'd put together a list of our Top Commuter Basics tips for all you who are biking your drive for the month of May… AND BEYOND.    Make sure to get clicky on the links for more bike commuter basic resources – get ready to bone up on your bike commuting skills, contestants!
"I'll take Bike Commuting 101, for $500, Trebek!"  Take it away, Sean Connery…
1.     Get a Bike – If you find yourself asking "which is the best commuter bike under $300?", the answer is: Any bike will do!  A hand-me-down, garage revival, or a loaner from a friend.  You don't need carbon fiber or colorful fixies to get from your house to your work.  Okay, minimum stipulations should include: sufficient air in the tires, brakes that work, and a chain.  Head to your local bike shop to tune-up the rusting garage monster if needed – often times whatever we already have is good enough!  New bike commuters can always graduate to a new bike after they've gotten the hang of it.  Try before you buy.
Got questions about what bike to buy? Here's a handy article that will get you started…sort of a simple "shopping guide" to arm you for your encounters at the local bike shop.
2.     Map it Out – Knowing your route will put your mind at ease like Ritalin on the first day of school.  Check out Google Maps Bike feature for recommended routes in your area, ask an experienced bike commuter to help you pick the most pleasant routes, or contact your local bike organization for comprehensive maps.  You can even take a test ride and bike through your route on a weekend, where you can relax and take as long as you want to figure out the best way for Monday.  We wrote an article a couple years ago about other route mapping Web utilities that may be useful for planning your excursion. For those of you in our audience today with smart phones, click on this link to check out some awesome bikey apps with maps that may also be of interest.
3.     Clothing Choice – There are two schools of thought on clothing: those who change at work and those who don't!  You may consider changing clothes at work if a) you are a "sweater" – any kind of physical activity can make you glisten b) weather is either rainy/snowy or extra hot -OR- c) you just don't want to wear your work clothes on your bike.  Wear something that won't rub in the crotch, flap around and snag in your gears or chain, or cuffed shorts/skirt that can get tangled up in your saddle.  If you are biking to work in your work clothes, take it slow and enjoy the scenery!  Liquid soap for a pirate shower in the restroom is easier to carry than a bar, and a small towel to dry off with call be helpful to freshen up.  Cycle Ladies, check out this link for looking fresh after exerting all that energy pedaling to work!  If you are bringing a change of clothes to work, carrying a lunch, or a small dog, jump to item #4!
4.     Carrying Cargo – Whether it's a rack and panniers, messenger bag, a backpack, or cleverly-rigged purse with small dog, bike commuters need to bring things along the way!  We echo the sentiments of item #1, in that "whatever you already have will probably work just fine."  Whatever your choice for carrying your clothes, laptop, lunch, or pretty much anything barring children, any backpack lying around the house should do the trick.  The backpack is a great go-to for a no hassle bike commuter cargo containment because a) everybody already has one b) two straps are better than one since they don't swing around to the front of your body while pedaling -AND- c) you can pretend you are the Rocketeer on your way to work.
5.     Lights – front n' back. Everyone at Bike Commuters has a passion for blinky lights, make sure you can at least be seen with one white and one red light.  We've got so many bike light reviews in our archive that it's best to just give you the direct link to them all. Here you go…lights for the front, back, sides and everywhere in between!
6.     Invest in a good lock – and learn how to use it effectively. Our article on locking strategy will help you ensure your bike is still there after work. Don't forget to secure your wheels…we've also got a handy article that addresses the various wheel-retention methods.  The best method for avoiding thieves (if your work is okay with it) is to bring your bike inside – unless you work with shady individuals of dodgy moral character.  Scope out the bike parking situation at work, covered bike parking would be best.  Co-workers that are bike commuters may have good tips on the best place to secure your steed.
7.     Check the Weather – before you head out, and be prepared for rain or heat or bitter cold. We discuss raingear, layering for winter weather (not such a big concern now, of course…but file it away for the cooler months), more winter wardrobe tips, and more crucial to the coming months — beating the heat.  Speaking of beating the heat, on a related note, you may want to check out item #8:
8.     Beverages – Depending on how long you will be commuting by bike, a beverage may be necessary! If your commute is longer than a few miles, bring a water bottle.  A  cage mounted squeezy water bottle like this one would be perfect.  If you haven't yet mastered riding with one hand and drinking with the other, you can always grab a swig of water at a stop light or in a greeny pasture.  Another option for carrying a water bottle is to stash them in side pockets on your backpack for easy access (unzipping your bag to search for water at a light could result in fumbling and angry drivers when the light turns green).
9.      Repair Kit – any bike commuter should be prepared to tackle basic repair and maintenance issues out on the road, especially tasks like changing a flat. You don't want to be late to work, do you? Here's an article that shows a basic toolkit… easy to carry and damn handy when you need it.  There are some great comments in that article, too: simple additions to the toolkit like gloves, a few dollars and – of course – a working cellphone to help bail you out if a breakdown has you stranded.  Remember, it's quicker to replace the inner tube rather than trying to patch it on the road. You can patch the tube later at home.   If you're not into toting around 2 tubes, a pump and tire levers, hate getting your hands dirty with repairs, or would just rather opt out for the day in the event of a flat, just bring bus or metro fare and bike in parallel with your public transit system!
10.     Rules of the Road – So now that you're ready to hit the road in style on two wheels, let's keep you safe on the road.  Check out our Commuter Tools Page for state-by-state bicycle laws.  The League of American Bicyclists has a simple 6-point Rules of the Road list to help keep the ride safe and fun:
1. Follow the law.
2. Be predictable.
3. Be conspicuous.
4. Think ahead.
5. Ride Ready.
6. Keep your cool.
Plus more Ride Better Tips page offers specifics on riding to the right, signaling, traffic and much more!  Be aware while riding, always be scanning the road for debris, obstacles or jerks.
11.     Get a Bike Buddy – If you don't feel safe getting out on your bike alone, consider a bike buddy! Chicago has a new program called "Chicago Bike Buddies". In addition to helping you plan your route and help you gear up for your commute, a buddy also offers support and helps keep you safe out there. There is safety in numbers! Seek out or start a similar program in your neighborhood, or just reach out to anyone else you know who bikes to help get you started. Most of us cyclists love helping fellow cyclists…
Well contestants and viewers at home, thanks for tuning in on this week's episode of BIKE – YOUR – DRIVE   We hope you enjoyed our show and learned some snazzy Top Commuter Basics Tips – this show is made possible by viewers like you!  For more information on how you can become a Bike Commuter, check out our final link from the League of American Bicyclists.  Make sure to bike your drive next week: same bike time, same bike channel.