(Last Updated On: September 7, 2022)
There are a large number of books targeting new commuters…some good, some bad. A few months ago, the publishers of The Urban Cyclist's Survival Guide (Chicago: Triumph Books, 2011) offered to send us a review copy. Authored by James Rubin, an L.A. based journalist, and Scott Rowan, a Chicago-area commuter and writer, the book intends to be a primer on the ins and outs of bicycle commuting…hoping to attract new riders to try this two-wheeled transportation thing.
It's not a rosy picture, however. Start with the cover: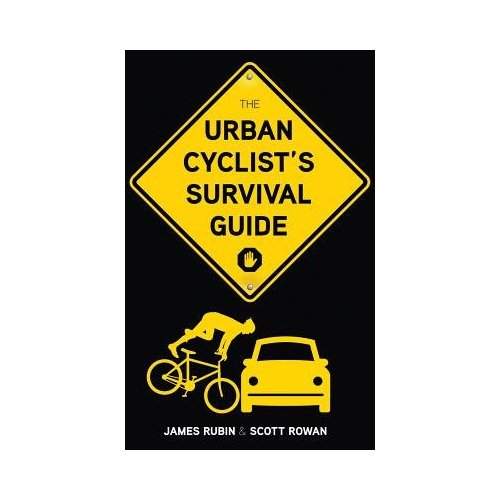 If a book wants to attract people on the fence or new to the bicycle commuting world, why on EARTH would the authors/publishers choose such a disturbing image for the cover? My hackles were already up, and I'd barely cracked the spine of this book.
The book is divided into the chapters one might expect from such a guide: bike commuter clothing, choosing a bike, safety issues, accessories, repairs and more. Nothing new here, but there is a good overview of the main issues and logistics in starting to commute by bike. Where this book really falls off the tracks is the authors' insistence on circling back to the many possible negatives — theft, angry/dangerous motorists, breakdowns on the road, more angry/dangerous motorists, common collision scenarios and the like. I tried to read the book as if I was brand-new to the idea of riding a bike for transportation (a difficult mindset to put myself in, I know), and I was left with a feeling of dread: "man, this bike commuting thing sounds like a genuinely dangerous pain in the ass!" To be fair, many of the concerns and issues raised in the book are important for new (and seasoned) commuters to understand, if nothing more than to avoid such scenarios. But, the tone of the book is very off-putting. Yes, it can be hectic out there on the streets of the U.S. Yes, motorists and cyclists historically have had some issues getting along together. Yes, collisions can happen despite caution and preparation. Repeatedly harping on and on about it, though, drives away those people who might have considered bikes but are still making up their minds. As such, this book is a failure when it comes to providing that last bit of encouragement to a new commuter.
And that's a shame, really, because the book DOES have a lot of good information, tips and resources contained within it.
One personal pet peeve is the authors' use of the plural "we" and "our" to describe the events of a single person. During the authors' visits to several L.A.-based bike shops, they were trying to determine how shops went about getting a rider on an appropriate bike. In one, a FitKit was used:
"For the FitKit, we stood on a nice piece of polished wood that looked like a shoe measure. The board had two holes at one end, and Carretero inserted a roughly 18″ aluminum tube that connected vertically to another piece of wood. The device resembled a surgical cane. Carretero unfastened a lock, and the wooden top rose steadily until it pressing firmly but not painfully into the bottom part of our crotch. We were 55 1/2 centimeters, which he dutifully wrote on a piece of paper."
See what they're doing there? I have no idea if this is grammatically correct (somehow I strongly doubt it), but it's annoying as hell.
In all, the book fails on a few levels for me. As I mentioned earlier, there is a host of useful information in The Urban Cyclist's Survival Guide, but too much time and effort is spent on the perils and fears that the "good message" comes through dimly. As it stands, I have a very difficult time recommending this book to anyone. There are a number of similar books on the market that are better suited to giving new commuters the tools they need to hit the streets. In fact, it's ironic in that in this book's resource guide, the authors call out MY personal favorite for a similar guide — The Practical Cyclist — by my friend Chip Haynes.
The Urban Cyclist's Survival Guide retails for $14.95, but it is available on a certain online bookseller for as low as $10.00. If you're trying to bulk up your cycling library, by all means, snap up a cheap copy. Otherwise, hang onto your money and spend it wisely elsewhere.