(Last Updated On: September 2, 2022)
Next up in our periodic commuter profiles is none other than Gene Butcher, author of the excellent "100 Pounds Ago" blog. I've been a reader of his for over a year, and he's got good things to say there AND here. Welcome to Internet stardom, Gene — you deserve it!
Name: Gene Butcher (recovering fat ass)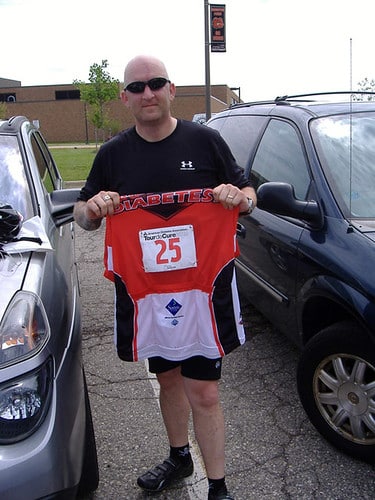 How long have you been a bike commuter?
I have been commuting on and off since March of 2009 but in the last 6 weeks I have converted to commuting and errand running 100% by bike where as before I was probably riding 60% of the time.
Why did you start riding your bike to work and how long is your commute?
In reality I started riding my bike as a way to get into shape and lose a lot of weight. In the last year I have lost over 100 pounds by changing my diet and cycling. It was really by accident that I started riding to work and around town. For a lot of years I just sat around the house and was content being fat and unhealthy. A doctor cursed me out for the shape I was in so I started riding. I had no idea that people actually commuted by bike on purpose; I thought that was something people had to do when they didn't have a car. It was well after I stated riding that I found out through a host of websites that's it's a legit practice and you do it by choice. I looked at my situation and it just made sense. I only live about 6 miles away from work and I have the best commuter setup known to man. I work for a fire department and I have access every day to clean showers, my own locker, washers and dryers, secure bike parking, and even a dedicated space inside that I can work on my bikes if I need to. I commute in, shower up, throw my riding clothes into the washer and the next morning I have clean clothes for the ride home. You should understand though that even though I live close to where I work my morning commute is anywhere from 25 to 40 miles. Very rarely do I ever just ride the 6 miles in and park the bike. I have my own private cache of tools and equipment in my locker for working on my bikes when I have to. I am able to wash all of my work uniforms at work so that severely cuts down on stuff I have to commute in with.
How does Bike Commuting help you with your lifestyle (economics, health, relationships)?
I could go on for days about how cycling has helped me health wise; essentially cycling has saved my life or at least aided me in saving my own life. I have resigned myself to the fact that if I want to stay in the shape I am in and not revert to the old couch potato-chain smoking-fast food devouring-slovenly-morbidly obese-drunk version of me I HAVE to exercise every day and not just for 20 minutes. A very good way to exercise daily is ride my bike. I can kill two birds with one stone, I save money by not buying gas and I exercise! Economically it makes perfect sense, I have a car and I have no use for it which equals not fueling it which in turn means more money in my pocket to spend on lavish expenditures like cycling shorts, new wheels, snappy jerseys, and chamois balm. Seriously though, I am really militant on where I spend my money, if it's made in the USA I am all about it, more so if it's union made and if it's Michigan made I am hooked all day long. Another aspect to my stance on spending is I like to spend my money in my city. I think it's a responsibility to support the community and those who live and work in the city which I reside. I am anti "big-box� stores and chains. Commuting and errand running on a bike keeps you a little closer to home I think. Relationship wise I have met some really cool people who also commute and 2 guys I work with have started commuting as well which is just plain rad. Cycling in general has opened many doors for some really good friendships that I would not have had the opportunity to have if it were not for my bike.
What do you do for a living and in what city do you bike commute?
I am a Professional Firefighter and my commute takes me to all of the deep seedy nooks and crannies of Waterford, Michigan. My typical morning ride/commute takes me through Auburn Hills and Pontiac, Michigan though.
What kind(s) of bike do you have?
I have a Specialized Tri-Cross, a KHS Solo-One single speed and an ancient Specialized Rockhopper (which is a great bike for heavy riders). I am currently using the Specialized Tri-Cross as my commuter bike but I am working on restoring the Rockhopper to use as my commuter bike. I would like to change out all of the components and add racks and panniers. I have my work cut out for me because my plan is to do a complete re-build. It's kind of hard to shove my groceries into a North Face Backpack and ride home….hard but not impossible. Several times a week I jump on the KHS and commute places but it's not with any regularity.
Any funny or interesting commuting story that you may want to share?
Outside of the nearly daily wild animal attack…no….I have a pretty boring ride. Just about everything that can happen to you on a bike has happened to me in the past year. I have been hit by a car, crashed on some ice and knocked myself unconscious, crashed after hitting a possum in the dark, been bitten by geese (on numerous occasions) and my standard weekly flat tire. I think there is a pro team out there somewhere that could benefit from my mad tube changing skills, I have it down to a science now.
What do people (coworkers, friends) say when you tell them that you are a bike commuter?
Perhaps I am different since I started riding disgusting amounts daily when I was trying to get into shape. People would see me on the roads all over the place all the time riding. It became very "Forest Gump� like seeing me out on the road somewhere at all hours of the day and night. It does not really surprise anyone when I tell them I have gone weeks without starting up my car. They mostly give me that look that says "You really are a nut-job aren't you?� When you have been getting that "you're crazy� look your entire life though it's really nothing out of the ordinary, you really get used to it. I do get a lot of questions from people that are interested in starting to commute by bike though which is a good thing. They see what kind of results I got from cycling and commuting and it adds validity to my claims that cycling is really good for you. Like I said two guys I work with commute a lot right now and love it.
How about bicycling advocacy? Are you active in any local or regional advocacy groups?
I am as a matter of fact and recommend all cyclists get active in one. I am a member of the League of Michigan Bicyclists, Rails-to-Trails Conservancy and recently I have discovered the Michigan Safe Routes to School Program. Those are the groups that I let speak for me on occasion however I generally make a nuisance of myself to the local elected officials I firmly believe that you have the best opportunity to change the world by starting in your own town. Lately I have been on a letter writing campaign inquiring why the money budgeted for a trail network in my city was never used for a trail network. … and just what in the world happened to that money? I find the conditions of the roads and paths in South-East Michigan completely appalling. I sit and laugh at the struggles that the riders have on the Paris-Roubaix Race….you think cobbles are bad? Try riding 40 miles on Michigan roads homeboy! We have such a huge car culture in Michigan that it is going to take serious hard work to get anywhere with cycling. We do not have bike lanes, our paths and sidewalks blow, and it's a dangerous proposition to attempt to ride on the road. When I buy tubes I usually buy them by the dozen because of all of the flats I get. Things need to change and they needed to change decades ago. There is such an overwhelming attitude here of "We build the cars and we are going to drive the cars!â€? We are slowly getting there with the rails to trails program but we are very behind.
Anything else that you want to share with us?
Yes, two things, in my line of work I have had the misfortune of witnessing the effects of some really serious car-vs-bicycle accidents. Please wear your helmets and make yourself as visible as possible even in broad daylight. Secondly, if I (the former 300 pound chain smoker) can commute by bike wherever I go so can you; get out there and do it, it will make you feel really good. Thanks for listening to my ranting!
Thanks for submitting your profile, Gene! Check out Gene's blog at: http://100poundsago.wordpress.com/, and stay tuned for our next profile in a few days…we've got a lot in the hopper.