(Last Updated On: September 6, 2022)
Meet Abhishek "Shek" Mukherjee, a faithful reader and commenter of Bikecommuters.com and soon-to-be owner of an Xtracycle (his birthday present to himself — Happy Birthday, Shek!):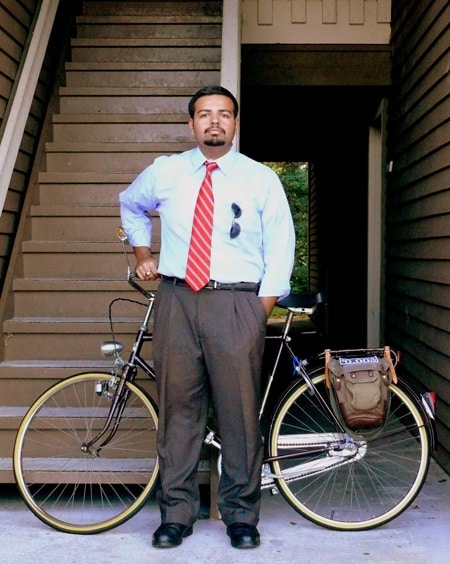 How long have you been a bike commuter?
Since 29 May 2008.
Why did you start riding your bike to work and how long is your commute?
I started riding my bike to work and to other errands for fitness, health and reducing my carbon footprint. After being car-lite for a few weeks, I found a new motivation in being independent from cars. That is what drives me most now. My work commute is 2 miles one way. I come home for lunch, so I get almost 10 miles a day. I commute around 260 miles a month on my bike (and 170 in the car).
How does Bike Commuting help you with your lifestyle (economics, health, relationships)?
Bike commuting saves me $150 a month in gas money alone. I have lost some weight. I feel energized and ready-to-go when I get to work. I feel very active now. Overall, my quality of life has definitely gone up.
What do you do for a living and in what city do you bike commute?
I am a Logistics Engineer and work for a contract logistics company (3rd Party Logistics). I am not in IT.
I work and live in Jacksonville FL's Edge City. It is the part of Jacksonville south of the river built around the JT Butler Blvd. primarily for office complexes. The commute to work is lined by manicured lawns and trees but no bike lanes. Housing in this area is in the form of large sub-divisions with winding roads. This whole part of town is very car-dependent (Walkscore gives it a whopping 28 out of 100). Oh, the joys of having suburbia within city limits!
What kind(s) of bike do you have?
I have a 12+ year old Specialized Rockhopper Comp that I bought from my friend. He bought it when he was a teenager and it has been sitting in his garage since then. The bike was well kept, has no rust and is sturdy as a rock. I have replaced the knobby tires with slick road tires. This bike is the work mule. It has plenty of low gearing to haul groceries in a difficult head wind. Once I sell my car, I may convert this to an Xtracycle or buy a complete long tail. Right now, my Banjo Brothers waterproof panniers do the job. A crate of 12 cans of dog food or a 12 pack of Heineken fits nicely on the bike's rack. A bag of dry dog food is what I cannot carry yet. I am sure the Xtracycle will solve that. I also use this for my 5+ mile rides.
My other bike is an Amsterdam. It is an old budget commuter bike, probably from the 1960's and 1970's. It has a French flag on it but I dont know if it is French or Danish. It is an old-school single speed bike with a coaster brake. It is also my primary mode of commute to work. I wear business casuals on Mondays and Fridays and business formals (dress clothes and a tie, no jacket) on the other three days. This one lets me hop on the bike and go. I don't have to be hunched over the handlebars and fold up my dress pants. I get a lot more respect on the road with this one than on the Specialized. I rarely get honked at. This bike has a generator on the front wheel and it powers the headlight and taillight. It is almost perfect for a short leisurely ride if you are not trying to break the sound barrier.
The 5 way OYB bag switches bikes depending on which one I ride. It holds my extra tubes (2 sizes, one for each bike), an adjustable wrench and a cloth napkin to wipe off sweat. I carry the wrench to fix a flat on the Amsterdam bike though I hope the rear tire does not get a flat. It is a big pain to remove. The panniers are exclusively for the Specialized. They come on only when I have to buy groceries or pick up clothes at the dry cleaners.
I recently bought a Solvit Trackr large dog trailer for my 60 Lb greyhound. Laya has begun to grow fond of it and it will be mostly used for trips to the vet or the dog park. It is a tight fit if she stands and she has not started to lay down in it yet. I recommend it for your pets.
Any funny or interesting commuting story that you may want to share?
The people at the local Panera Bread were very amused to see my "Drink Beer Not Gas" T shirt (designed by my co-worker Matt Martin). Maybe the next time I will get a free souffle!
What do people (coworkers, friends) say when you tell them that you are a bike commuter?
They thought I was crazy when I started riding to work. Most didn't think I would last over a week. They gave me stories about bicycle crashes, motorist negligence and failed bicycle commuting attempts of other people, pretty much every play in the book to dissuade me. I even got a lot of resistance towards riding on the roads as opposed to sidewalks. Some still think that I impede traffic. They got a lot more supportive after the first two weeks of riding. I keep getting offered rides. Even the VP of my department has commended me for it. Motivated by my gas savings, a good friend and coworker got himself a bike and started commuting 3.5 miles on way. He has stopped for a while due to the uncertain rains and storms as he carries a laptop.
Now that I am getting close to going car-free, I get a lot of criticism. Friends and coworkers do not think that is possible. They ask me if I am going to start hunting for my own food too! I have a log of all the times I drove my car since going car-lite and I can do all of those by car-pooling, xtra-cycling and hiring a taxi.
How about bicycling advocacy? Are you active in any local or regional advocacy groups?
I participate in Bikejax. It is a blog hosted by Matt Uhrig in promoting bicycle commuting. There aren't really any bicycle commuting advocacy groups in Jacksonville FL and I am not into racing and mountain biking.
Anything else that you want to share with us?
In my journey to commuting by bicycle, I am surprised to how dependent we have become towards the car. It is a very good convineance but we have made it a necessity. There lies my fundamental problem with cars that they are an expensive depreciating necessity. I hate to lift cars up in the ranks with shelter and electricity.
I recommend everyone to read the book "Divorce your Car" by Katie Alvord (editor's note: I will be reviewing this book in the coming weeks). It is a fantastic history lesson explaining America's dependency on oil and cars and suggests a lot of methods for living car-free or car-lite.
I also see a shortage of understanding with the general public that a bicycle can be used for commuting. Most are of the opinion that bicycles are for racing, mountain biking or just plain riding. The majority of people here in Jack-sprawl-ville do not understand that concept of riding your bike for something more meaningful like going to work and groceries and visiting friends! That is a big change in mindset and culture that I hope happens if we are to be truly independent.
We'd like to thank Shek for contributing his profile and his photographs. To get even MORE Shek, spin on over to Shek's Crib…his own blog, links to his photos and a whole lot more.