(Last Updated On: September 2, 2022)
As promised, here is part two of our two-part commuter profiles of the lovely and talented ladies of Bike Skirt. Today I present Elisa Munoz, the other stylish mastermind behind Bike Skirt (in partnership with Anna Carrigan):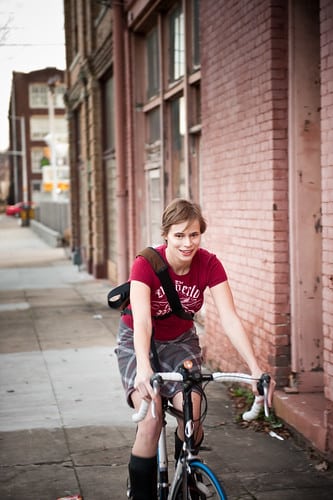 (photo courtesy of T. Scott Carlisle)
How long have you been a bike commuter?
4 months, give or take.
Why did you start riding your bike to work and how long is your commute?
I was part of an online contest with friends, Triathablog.com, where each had a sport (running, swimming, cycling) and I decided the best way to get rides in was to combine my commute and my rides. So, I became a bike commuter! It was something I had wanted to do; Triathablog just gave me the boost (and the healthy competition) I needed. My commute is 6 miles each way.
How does Bike Commuting help you with your lifestyle (economics, health, relationships)?
It keeps me in shape for sure. Bike Commuting saves me on gas money and a gym membership. It has also introduced me to a small group of urban riders in Birmingham that I am so thankful for. Plus, I get to meet hot guys on bikes!
What do you do for a living and in what city do you bike commute?
I am a Book Buyer for a large book chain that is based out of Birmingham, AL. I commute from the city to the suburbs. Birmingham is 87/100 of the Unhealthiest Cities for Women, with the lowest % of women riders. Anna (the other half of BikeSkirt) and I are trying to change that, one ride at a time.
What kind(s) of bike do you have?
I have one bike, Mick Jagger. He is a Lemond eTape. I bought this commuter bike for less than $300.

(photo courtesy of T. Scott Carlisle)
Any funny or interesting commuting story that you may want to share?
I was recently profiled for both the newspaper and the local CBS station for being a bike commuter. It makes me laugh that the fact that I do what people all over the world do daily is so foreign in Birmingham that it is 'news'. That says a lot about the bike culture here.
What do people (coworkers, friends) say when you tell them that you are a bike commuter?
"Are you CRAZY?" and "Watch out for cars". It makes me laugh when non-bikers try to give me cycling advice. I want to say "You know that I ride every day don't you?" Instead I smile and thank them. I also get looks and questions when people find out that I ride most of the time in a skirt. They are so much more comfortable than pants to me, and much more awesome!! And when your legs start to look like you ride everyday, you want to show them off…

(photo courtesy of T. Scott Carlisle)
How about bicycling advocacy? Are you active in any local or regional advocacy groups?
We don't have many advocacy groups in Birmingham, but we are trying to change that. I am in the process of starting a Bike Co-op with friends, Bici Coop and we are hoping to have a large advocacy presence.
Anything else that you want to share with us?
I can't imagine anything more fun than riding my bike. Occasionally, I want nothing more than to throw Mick Jagger off of the mountain, but most of the time I arrive at work smiling and thinking that I just had the most fun getting to work. I feel sorry for the folks who will never know that feeling.

(photo courtesy of T. Scott Carlisle)
We'd like to thank Elisa for taking the time to submit her profile and photographs…do yourself a favor and check out Bike Skirt — these ladies really know how to roll in style!
We've got a few more profiles of stylish commuters in the works…and, as always, if you want to be profiled on Bikecommuters.com, just send us an email.