(Last Updated On: August 29, 2022)
Lookout, cycle gators: it's commuter profile season again! This bike commuter is one of my original bike heroes, and good, good friend, CPK. Not California Pizza Kitchen, I'm talkin' Christian P. Kittelson, yo. Hailing from Seattle, where riding a bike to work is what all the cool kids do… Kittels makes pale look good!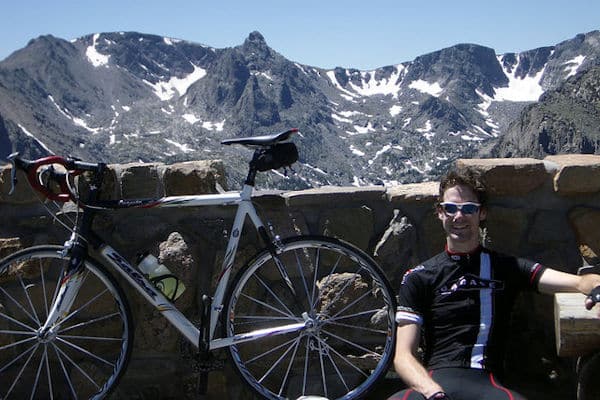 Name:
Christian Kittelson
How long have you been a bike commuter?
13 years
Why did you start riding your bike to work and how long is your commute?
I started commuting when I was in college in San Luis Obispo, California. I continued when I moved to Seattle because I was tired of being dry and warm. I quickly learned the importance of fenders with mud-flaps. My commute is 4 miles each way, and I ride year round in all weather.
How does Bike Commuting help you with your lifestyle (economics, health, relationships)?
Biking helps me afford good beer so I don't have to drink cheap, crappy, PBR.
What do you do for a living and in what city do you bike commute?
I am architect in the Emerald City, Seattle.
What kind(s) of bike do you have?
I have 6 bikes:
Red Bike – built for commuting

Blue Bike – built for looks

Black Bike – built for distance

White Bike – built for speed

Chrome Bike – built for hipness

Mini Bike – built for travel
Any funny or interesting commuting story that you may want to share?
My commute home is a major bike path that goes along the rail-yards. In the winter when its dark, there tends to be a few rats that hang out on or along the path in the bushes. Its not uncommon to see one from time to time, but a lot of times I don't see the glow of their eye until it is under my wheel. I have started to add a tick mark to the chainstay of my bike for each rat I hit, and have subsequently coined it "the exterminator".
What do people (coworkers, friends) say when you tell them that you are a bike commuter?
I usually don't bring it up, but most people can usually tell because I am always wearing Velcro shoes with my jeans (which make great bike commuting pants) rolled up to the knee. Sometimes I will walk around the office all day like this not realizing it until someone laughs at me and asks me where I am going.
How about bicycling advocacy? Are you active in any local or regional advocacy groups?
As part of bike to work month each May I organize teams for my office for the Cascade Bike Club Commute Challenge here in Seattle. We track miles to encourage people to ride more. It's been so popular I have started organizing the "Pineapple Challenge" in November. Similar to the commute challenge, we have teams that log mileage, but November is the rainiest month in Seattle so its intended to reward pain and suffering my multiplying the total mileage times a 'misery factor' for the day. The misery factor is based on daily rainfall amounts. It's epic.
Editor's note: Here's a plug for Christian's fledgling bike blog: BikeCascadia.Blogspot

Anything else that you want to share with us?
Rock Flannel: Not only is it comfortable and fashion forward, it also makes the best bike wear for the Northwest.
I luff it. (P.S. – did you see the Mir.I.Am making a cameo face in that commute?) Arigato for sharing your bike love with the world of Bike Commuters, CPK – I'm gonna check that red bike next time for the latest "Exterminator" stats. So kiddies, if any of you cycle ladies and gents want to show your ride to the world, hook it up with an email to Mir and we'll plaster your bike goodies all over the webby-web!