(Last Updated On: September 2, 2022)
Editorial: David Sanderson is not only a bike commuter, but he's also a sponsored racer for the MtnBikeRiders.com racing team.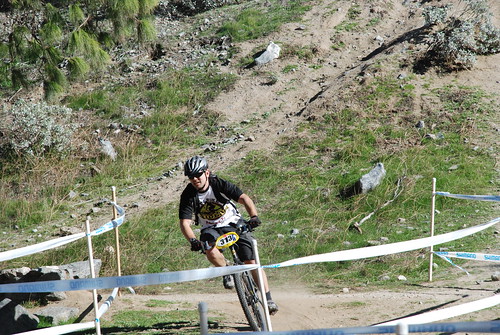 How long have you been a bike commuter?
LOL, since this morning at six thirty. Seriously though, I've made the ride to work a few times in 2006 when I lived in La Mirada (16 miles one-way). I did that ride for fun though at the time and it was so convenient as I lived near a bike path that followed Los Coyotes Creek, thus most of the ride was on a bike path away from traffic. Near the end of 2006 I moved to Fullerton and kind of gave up road biking. I even sold my bike in 2008, I regret that big time now.

What do you do and what cities do you bike commute?
I'm a design engineer in Long Beach, CA. My commute borders a lot of cities, so this is going to be a long list! Depending on the path I take, I'll ride through parts of Fullerton, La Mirada, Buena Park, Cerritos, Lakewood and Long Beach!

Why did you start riding your bike to work and how long is your commute?

I ride primarily as a hobby. I'm an avid mountain biker and keep myself in decent shape. Over the past few months I had been toying with the thought of returning to road riding, and then it happened! I ran into an old friend I hadn't seen in years at a wedding, and he mentioned that he was going to do the Cool Breeze century ride in Santa Barbara this year. With that I was sold and determined to get back on the road! My commute is now part of my 'training' for the upcoming century. The commute varies from 15 to 17 miles (one-way) depending on the route I choose.

What kind of bikes do you have?
Hmm, this question has exposed that I just might have an addiction! I have a 2008 Specialized Stumpjumper Elite, a 2008 Redline Monocog (I bought this mountain bike for less than $500), a 2004 Cannondale Road Warrior 600 (purchased used in 2009) and my 'fast' bike, a 2009 Bianchi Vigorelli.


Any experience that you can share with us about 'learning the hard way'?
Well, I've not done this much so hopefully I'll learn the easy way! Umm, some tips I have used and plan to use include, driving to work once a week with a supply of clothes so I don't have to ride with them, leaving my heavy U-lock locked to the bike rack at work instead of bringing it home.
Oh, I learned the hard way that I much prefer Shimano SPD clipless pedals over the hardcore road versions! Since SPD cleats are recessed you can walk normally, and on a rubber sole, not a hard plastic cleat! I was sorting out the Bianchi riding around the neighborhood and constantly having to stop due to red lights and other traffic. Every time I was nervous that I would slip. Also many road pedals are single-sided; I haphazardly attempted to click in the wrong side and paid the price with a good wallop on the shin!
I plan to use a set of LOOK pedals I have for the century ride and some training rides, but for everyday commuting, I'm going with my SPDs!

Are there many bike commuters involved in the engineering sector; why do you think that is?
Unfortunately at my work, very few people commute by bike, but as the gas price fluctuates, so does the number of bicycles in the bike rack. In fact, when gas reached $4.00 a gallon, they had to install two more bike racks! People have a variety of different drives and a big one is their wallet! For the most part, the bike commuters at my work live nearby and hop on any bike that'll roll and come to work. There are quite a few enthusiasts though. People like me, who commute longer distances because they simply enjoy biking.
What do people say when you tell them that you are a bike commuter?
Hmm, well my girlfriend thinks I'm nuts because of the distance I'm riding, but she knows I love biking and understands. Some of my co-workers are very slightly impressed, but mostly indifferent to it.

Do you have an "advanced commuter tip�?
Always have deodorant at the office!

Anything else that you want to share with us?
I think we (as in people, myself included!) need to give everyone else a break; everyone is human and shares many of the same drives and emotions as everyone else. That alone should be enough for us to be courteous to each other and try to be a little more patient. That alone would eliminate a whole lot of problems in the world today.
We'd like to thank David Sanderson in providing us with his profile. One more tidbit about David: he's actually joined the staff of BikeCommuters.com and you'll start to see his articles and stuff on the site soon.