(Last Updated On: September 2, 2022)
Today we're proud to present Dottie White, one of the dynamic duo responsible for the excellent blog "Let's Go Ride a Bike". Dottie really knows how to blend style and function — and she and her blogging partner really make the rest of us look like bums!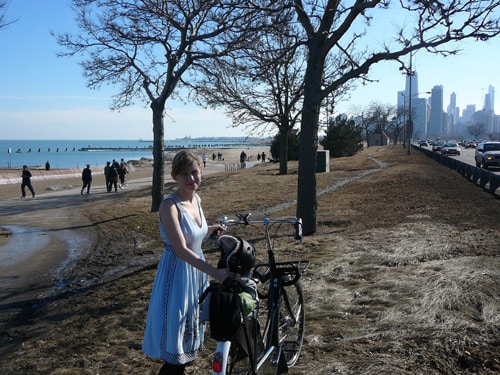 How long have you been a bike commuter?
A year this May. I've cycled nearly every day since I started.
Why did you start riding your bike to work and how long is your commute?
My commute is usually 14 miles roundtrip on the lakefront bike path, 11 miles if I take city streets the whole way. I started riding because it seemed like fun! I saw a lot of people riding in Chicago, plus Trisha (great friend and now co-blogger) had recently started commuting to work. At the same time, the el train stations were under a lot of construction, making my commute twice as long. And the weather was perfect! There's no way I would have known where to start during Chicago's arctic winter.
How does Bike Commuting help you with your lifestyle (economics, health, relationships)?
Freedom -The bike does wonders for a woman's freedom and safety in the city. Freedom from waiting around for or packing into crowded trains and buses. I have been groped while waiting at a bus stop and I was not happy. Freedom to venture out alone at night without being so vulnerable. I used to drive my car to my night yoga classes even though the studio's only a mile away because I did not feel safe walking by myself. Now I feel perfectly safe being in the street (away from people, bushes, alleys, etc.) and going fast.
Economics – My husband and I recently sold our only car, a Prius (he's also a bike commuter). We're now saving money that would otherwise have gone toward monthly payments, insurance, and taxes, plus we can make a small profit renting out our garage. I also save $80 a month not buying a transit pass. Most of my colleagues pay nearly $300 a month to park their cars in our office building downtown!
Health – I feel much healthier and happier now that I ride everyday. A guaranteed 1.5 – 2 hours of exercise daily is a big deal. I also do yoga, but mostly gave up running and pilates when I started biking and I'm in even better shape now. I have a huge sweet tooth (and deep dish pizza tooth, and red wine tooth, and Thai tooth, and Guinness tooth…) so it's great that I can partake in these pleasures early and often while staying healthy.
Relationships – Half the fun of going on dates to the theatre or dinner with my husband is getting there and back on our bikes. I only wish we had more time to ride together.
What do you do for a living and in what city do you bike commute?
I'm an attorney working at a law firm in downtown Chicago. I commute from the north side, near Wrigley Field. Chicago is a great city to cycle in (comparatively) and I make use of the lakefront bike trail and the many bike lanes all around town. While at work I park my bike in the city's secure bike garage (complete with showers and lockers, though I don't use them) across from my building. Being a lawyer means wearing a suit every day. I could wear suits on my bike but they're not very comfortable and dry cleaning is expensive, so I took over an empty office across from the ladies' room and keep all my suits and shoes in there – a nice walk-in closet. As a junior associate, my work days are always 10-12 hours. Sometimes colleagues ask if I ever get too tired to deal with bike commuting. Yeah, I get tired – of sitting around all day! I'm never too tired to ride my bike.
What kind(s) of bike do you have?
Currently I have two bikes: a budget commuter purchased from Dutch Bike Chicago and a vintage 1970's Bridgestone Kabuki that someone threw out as trash. I had a Jamis Commuter, tragically stolen. I'm on the hunt for a third bike to use when I want to go faster or take really long rides.
Any funny or interesting commuting story that you may want to share?
The best is the day I rode into a Johnny Depp movie set for Public Enemies on my way home! I was about one mile from my condo, on my street, when I came upon a road closure. The police officer looked at me and said, "Oh you'll be fine, go on through.� I thought maybe there had been a car collision. As I cycled on I saw a bunch of old-timey cars and then I saw Johnny Depp about ten yards away. He looked right at me, probably because I had on a neon pink shirt and a bunch of blinky lights. I stood there for a minute with a few other onlookers, and then took a detour through an alley to get home. Those are the days I wish I always had my camera!
Another noteworthy commute, which is funny in hindsight, is the morning I fell on ice. Before I purchased studded tires (and the reason I purchased studded tires!) I was riding on the lakefront trail and hit black ice. My bike completely slipped out from under me with no warning, going sideways to the left. With my seat suddenly gone, I imagine I hung in mid-air for a millisecond before hitting the ground on my butt. I was not injured and my first instinct was to look around and see if anyone had witnessed my embarrassing moment (no one had). I'm grateful that my bike did not slide right into Lake Michigan.
What do people (coworkers, friends) say when you tell them that you are a bike commuter?
In the spring and summer people are surprised and somewhat impressed, commenting either on the health benefits or on staying safe. In the winter people act like I'm crazy. They simply cannot grasp why I would – or how I could – ride in the freezing cold, snow, and darkness. I'm a pretty mild-mannered and quiet person, so I think it confuses people and they're not sure what to make of me.
My favorite reaction: After having dinner with a group of former classmates from law school recently, we were all standing by the door putting on our coats, gloves, hats and scarves. One saw me take my helmet out of my bag and she exclaimed loudly (in a swanky restaurant): "DOROTHY, YOU ARE AN ANIMAL! I can't believe you rode your BIKE today! You are a BEAST!" Funny how she said it, in a shocked but positive way.
How about bicycling advocacy? Are you active in any local or regional advocacy groups?
I am a member of the Active Transportation Alliance (formerly the Chicagoland Bicycle Federation) and participate in their big events like Winter Bike to Work Day and the upcoming Bike the Drive. When I have the time and inclination, I participate in Chicago's Critical Mass rides, which are great fun and raise awareness. I subscribe to
Momentum Magazine even though I could pick it up for free at the bike garage – that must count for something. And then there's the blog Trisha and I write, hopefully being a positive voice for women commuting. The best advocacy any cyclist does, though, is simply getting out there and riding responsibly.
Anything else that you want to share with us?
Ride safe and have fun! And, if you're feeling good, wear cute shoes while doing it.
We'd really like to thank Dottie for sharing her experiences with us…check out "Let's Go Ride a Bike" for great articles and photos and exciting urban commuting tales. Also, please stay tuned when we present part two of our "Let's Go Ride a Bike" profile…Dottie's blogging partner and friend Trisha Ping (later this week).