(Last Updated On: September 7, 2022)
Meet Elizabeth Adamczyk — Elizabeth is a circulation supervisor for Northwestern University Library's Chicago campus branch and is also a dedicated bike commuter. Here is her profile: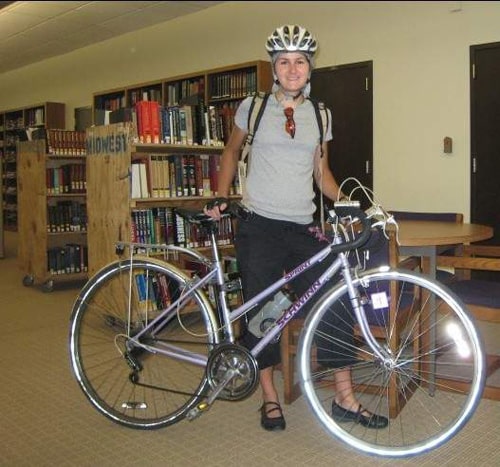 Why do you bike commute?
Living in Chicago, it's just so much easier to hop on my bike in the morning and go. I never looked forward to the crowded bus or EL ride (or the long wait for public transit). Riding my bike is my favorite part of the day, plus it has cut my commute time almost in half.
How long have you been bike commuting?
My commute started as something of convenience on "nice" days a few years ago. I was a fair-weather cyclist for a while. But once I got the right gear and fenders, I now opt to commute year round. (Last year was my first Bike Winter.)
What kind of bikes do you have?
I have a Jamis Nova cyclocross that I now primarily ride on weekends. My budget commuter bike is my old Schwinn Sprint from the early 90s. It's "the tank" or "the purple demon�.
How long is your commute?
My commute usually takes me close to 5 miles each way, around 25 minutes.
Any funny or interesting story that you may want to share.
First off, in the winter I wear a screaming yellow color jacket. The guy
driving the garbage truck in my alley waved and smiled at me as I trudged my bike past him and his truck through the unplowed alley to the street. He thought I was nuts for riding in such weather. Then he told me he wished more bikers stood out as much as I do with my lights and bright clothing. He also told me to be safe out there. I asked him to watch out for me and fellow bikers on the road. From that day on, he has always nodded at me when we pass each other. What a great way to start that day.
Last winter I struggled with keeping my fingers and toes warm. I remember being almost to work one morning and my fingers were SOOO cold that I could barely use them to apply my brakes. When I finally got indoors, my only thoughts were not that 'it's too cold to ride' but rather 'what more can I do to keep my fingers warm? I don't want to stop riding because of my cold fingers!!!' I was feeling desperate for a solution. Somehow I made it through — mittens and hand warmers (on the coldest of days) helped. Thank goodness… and I'm still riding.
What do people say when you tell them that you are a bike commuter?
Most people first ask me where I live that I commute by bike. Usually they're more surprised when they find out I ride year-round and don't plan to garage my bike for the winter.
Do you have an 'advanced commuter tip'?
Stay alert. It's not really an advanced tip, but it's one that even I need
to remember. All it takes is a moment of daydreaming to get into a really bad situation — like running into a pothole or getting doored or carelessly crossing an intersection.
Anything that you may want to add?
Bicycling has completely changed my life — for the better. I truly believe that the world just looks better from the saddle. To quote the Chicagoland Bicycle Federation, "The more you bike, the better your world."
Also, I advocate sharing the road. The Ride of Silence is a worldwide event that takes place in May to recognize fallen cyclists and the legal sharing of the road. Look for your local Ride of Silence or organize one in your community. Let the silence roar(http://www.rideofsilence.org).
——————————————————————
Thanks, Elizabeth, for sharing your profile and insights and your excellent pictures of Chicago!
If you want to be profiled on Bikecommuters.com, just send us an email!