(Last Updated On: September 2, 2022)
Well, our call for commuter profiles was well-received; we got responses from over two dozen commuters who want their turn in the limelight! First up is Evan Baird, who was so eager he got his questionnaire and photos over to me the next day. Check out what Evan has to say: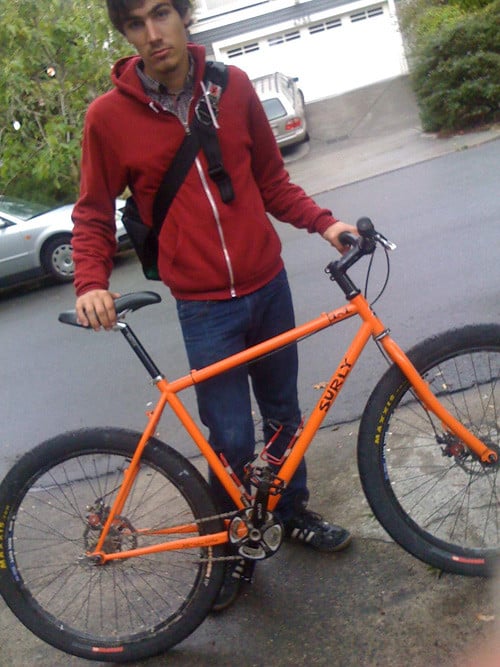 Name:
Evan Baird
How long have you been a bike commuter?
I started riding my bike to and from school when I was going to high school in Reno. So that's going on 6 years now.

Why did you start riding your bike to work and how long is your commute?
I grew up in Gainesville Florida (Go Gators!) so I've been getting around on a bike since I took off the training wheels. It makes sense when you live in a university neighborhood because every time there is a sporting event the streets are a mess so you can't find parking. Plus as a kid I just wanted to go to the playground down the street most of the time. Growing up I moved around a lot, so it was always a good way of exploring new places and getting a feel for the neighborhood. When I was around ten I got a Mongoose BMX bike and I thought I was going to be a flatland master. As I got older my parents got me a Schwinn hard-tail and I would take it to the local BMX jumps and try to get big air. When I realized I was a big wimp I got more into the mechanical side of things and got an internship at a local bike shop in the small California gold-rush town I lived in. When I got out of high school I worked at a bike shop in Lake Tahoe over the summer and I rode my bike along the bike trail every day to and from work. When I came back home to Reno in the fall I got a job at another bike shop and just never stopped riding. At a dead sprint I can make it from my house to the shop in about 10 minutes. It is mostly downhill with a small climb in between and a long downhill to the other side of campus. But I prefer a route that is a little calmer and lets me ride through Ravenna park. It's a dirt trail that goes through a little gorge between a whole bunch of houses and it has been pretty nicely restored with a lot of native foliage. It can be kind of nasty in the rain, but with full coverage fenders it's still doable. It's gravel so it's somewhat level and it's honestly not too rough with a 32c tire or a little larger.
How does bike commuting help you with your lifestyle (economics, health, relationships)?
God, I can't imagine not riding my bike. As an Americorps volunteer I received a monthly bus pass, but let me tell you, riding the Metro all winter, especially the number 7 will make you go a little bats***. Now that I'm making a little more money I have more to spend on bikes. You can't do Americorps and have a high maintenance personality. You'll never make it. I can live on next to nothing, and be really happy. Having a little extra just means I get new handlebar tape and an new wool jersey to ride in. I have never gone to a gym so riding is my main form of exercise. More than that though, it's the best mental healthcare money can buy. Like a lot of people who moved here from someplace sunnier I started to go a little crazy over the winter and cycling daily really helped me find more balance in my life. In all honesty if I didn't ride my bike every day I think I would have a hard time even getting out of bed. Live to ride and ride to live.
What do you do for a living and in what city do you bike commute?
Like I said, I work for a bike shop these days. It's a pretty small shop right off the Burke Gilman Trail in the North End of Seattle, so there is a ton of commuter traffic. We sell mainly steel bikes which is fine by me. I've broken every aluminum bike I've ever owned. But It's definitely a shop I feel good about working at. We do a lot of Surly, Salsa, Civia, Breezer, Soma and Jamis, which are all solid brands in my opinion, but there is definitely a high end market for custom stuff from Indy Fab, CoMotion, Desalvo, Moots, Ti Cycles and that kind of thing. Seattle and Portland represent a microcosm within the cycling industry, as far as the necessity of running fenders at least 6 months out of the year. I would like to someday take a frame-building class at UBI and get an apprenticeship with an established builder. I love bicycle design and the detail and workmanship that goes into building custom bikes. I also enjoy writing about bikes and I've been working on a series of interviews with local builders for my blog. It's really interesting to hear different perspectives about the philosophy of bicycle design. I think it's an exciting time to be involved in the bike industry, especially in this region which is attracting so much new talent and passion. I feel like the age of the utility bicycle is finally upon us at least here in the Northwest.

What kind(s) of bike do you have?
I currently own a green Soma ES (although I wish I had an electric commuter bike). That is my main commuter bike since it wears fenders year round now. I also have a Surly Steamroller, currently in Scorcher mode with some 38c tires and a pair of old Weinmann center pull brakes I found at a local shop and Soma Noah's Arc Bars. My mountain bike is a Surly 1X1 that I built up with spare parts I had from a few mountain bikes I sold off to finance my move from Reno. I got a sweet deal on the frameset from a new shop that opened up while I was living in Tacoma. My old commuter used to be a Surly Cross Check that I set up with Nitto Albatross bars and barcon shifters. I sold that when I realized that it was overlapping too much with the Soma and I've seen it around, so I know it has a good home. Before that I had a Specialized Langster which met a tragic end in an incident with a Chevy Suburban.
Any funny or interesting commuting story that you may want to share?
I was looking at the "learning the hard way" question from the previous posts when I wrote this response, but I think it still qualifies as an interesting story. My old Specialized met its untimely demise via the back door of an SUV. It was my fault, and I learned a good lesson. If you have to carry awkward things, invest in a bike that can carry it. I was riding from the shop I worked at heading towards downtown Reno and carrying a large easel in a bag over my shoulder. If you've never been to Reno, you might not know how windy it gets. Essentially what happened was the bag I was carrying acted like a sail and blew me off track right into the back of a parked car. 50 stitches in my face and 700 dollars to replace the dude's window and I was home free, but I can't imagine what would have happened if I had been going much faster. I was only riding about 10 miles an hour and I busted though the back window with my face. All I can say is thank god for tempered glass. On a more serious note though, I think the cycling community needs to work towards getting on street parking banned along bike routes. The danger of getting doored or pushed off the road by oncoming traffic is a daily hazard in Seattle. We have pretty good infrastructure compared to a lot of places, but we still have many bike lanes of death with parking along the sidewalk. Seriously? Come on SDOT! Sharrows are a much better solution.
What do people (coworkers, friends) say when you tell them that you are a bike commuter?
Well, at the bike shop it's pretty much the norm. Everybody rides to work at least a couple times a week. So in that respect it's super supportive. Plus most of our customers are commuters as well as recreational and competitive riders. Working for Americorps was a different thing. I wont name names, but the program I was involved with for two years is borderline anti bicycle. They had many policies that essentially prohibited employees from cycling to work. It was incredibly frustrating. During the time I was there I tried to work with the management to improve the situation and we had some success, but the level of push back I got was very disheartening. I even contacted the Cascade Bicycle Club to try to organize a safe cycling seminar for the corps members who wanted to ride to work, but in the end they said it was an issue of liability and that cycling would not be covered by their insurance. When the Seattle Metro changed their policy on bringing bikes on buses in downtown it made it much easier to just hop on a bus and bring the bike along during the day, and the new light-rail is by far the most bike friendly mode of transit in Seattle. On that note I would really like to thank the CBC for all the great work they do getting bikes recognized in the decision making process and especially John Mauro the Commute Director for all the help he gave me in trying to navigate the policy nightmare. I think that things are getting better and I hope that young folks who are starting their service years will have a more positive experience in the future.
How about bicycling advocacy? Are you active in any local or regional advocacy groups?
LIke I said, Cascade Bicycle Club is the best. I haven't been involved in any advocacy activities as much as I would like outside of the work I was doing at my old job, but I would like to get more involved now that I have more time. I have also volunteered with Bikeworks in Columbia City a couple of times, and I think what they have going on is one of the most important cycling programs in the city. I really believe that if we work to build a strong cycling culture with the youth, especially in underserved neighborhoods it will not only make our community stronger but it will be a win for the future of democracy for everyone. I know people that know me are sick of hearing it, but i believe that the single most effective way of promoting equality and denouncing the exploitation and racism that is still so prevalent even in supposedly progressive liberal cities like Seattle is to get on your bike and ride. Not just in the nice polished neighborhoods like Queen Anne and Laurelhurst and Admiral, but in Beacon Hill and Rainier Beach and Delridge. Those neighborhoods are just as beautiful and the people are just as nice and friendly provided you come there with a heart full of grace and a soul generated by love. Democracy starts with a smile. And maybe a bike bell.
Anything else that you want to share with us?
I just want to give a quick shout out to all the crazy bike shop guys who've given me a chance over the years. Bob Molinari, Peter Underwood, Bill Cushway, Dan Brown, Thanks Guys! You Rock!
Thanks, Evan, for sharing your words and photos with us…and for the rest of you: stay tuned, because there are a few more commuter profiles coming your way! It's not too late to submit your information, too…