(Last Updated On: September 6, 2022)
Coming to us all the way from the port city of Antwerp, Belgium…meet Frederick Lippens: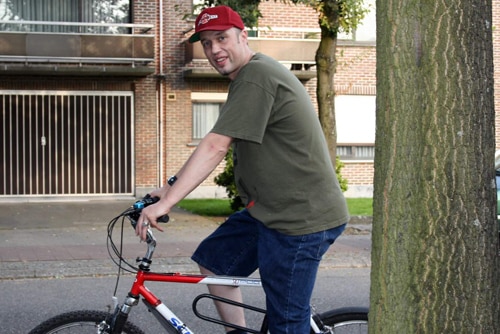 How long have you been a bike commuter?
I have been commuting on and off for most of my life (it all started when I was 5 and I got a Raleigh Chopper), but consider it to be more important now than ever.
Why did you start riding your bike to work and how long is your commute?
Bicycle commuting has become my new 'faith' and I try to reduce my energy consumption in every way I can (it's quite radical because I have been a convinced gearhead for years!).
My ride to work is just 10 kilometers (6.2 miles) so most of the time it's an easy ride. The climate here is comparable to Britain (so it gets windy and wet), but you learn to live with it.
I ride my bike to work every day of the week except on Fridays when I have to pick up my kids from boarding school (can't put three kids on my bike and the distance is too big).
What do you do for a living and in what city do you bike commute?
I am 40 years old and just like a lot of people that visit the site I work in (surprise!) IT — I work for a Belgian hardware distributor and handle all of their communication (mailing, website, print, etc.). I commute in and around Antwerp, Belgium.
How does Bike Commuting help you with your lifestyle (economics, health, relationships)?
Every week on my bike is 50 Euro (about $47.00) in my pocket, which is already a big incentive but I also want to make the effort to reduce my carbon footprint. Another advantage is the fact that my wife and kids really appreciate a healthy dad.
It's also a great way to relax, to get rid of the daily stress, despite the adrenaline rushes caused by near-accidents with cagers (speed limits for cars are higher here).
I often get home from work with quite a few miles more than the actual commute, just checking out the region. My itineraries can vary a lot because our roads were not planned in a grid but have evolved naturally for centuries, so you get these meandering (often illogical) roads.
What kind(s) of bike do you have?
Well at the moment I have two bikes; one is an archetypal Dutch men's bike (black), which is very dependable but quite heavy.
The other (which I use most) is an old workhorse, a Schwinn Series 90 PDG MOS (beginner mountain bike).
These are the specs:
– chromoly frame – Michelin 26″ knobby tires – 21-Speed Suntour XC Pro – Dia Compe 986 pad brakes fore and aft – front suspension fork (RST Capa TL)
– Safety: rechargeable Cateye light front & Leader Red Alert magnetic back light (flashes every time a magnet attached to one of the spokes passes)
– Comfort: Brooks Champion Narrow B17 saddle & adjustable Satori EZ handlebar
– Security: Kryptonite U-Bar lock
What do people (coworkers, friends) say when you tell them that you are a bike commuter?
My co-workers find it quite weird, but a few of them are considering to do the same (in summer).
How about bicycling advocacy? Are you active in any local or regional advocacy groups?
It is organised nationwide (Fietsersbond), with local and regional chapters. You pay a yearly fee and with your membership you receive legal insurance, discounts in bicycle shops and and the monthy newsletter.
These are a few of their achievements:
– 2004: made special mirrors on trucks obligatory to prevent 'dead angle' accidents – 30 km per hour speed limit in school areas to protect young commuters.
– 2006: regulation of the safety of bicycle products – etc.
I personally don't have much to say in these matters, but I do realize the more members they have, the more pressure they can exercise on politicians.
Anything else that you want to share with us?
Some local facts:
– the weather changes sometimes so rapidly you are wet to the bone before you can brake, open your backpack and get your raincoat on.
– bicycle theft is a huge problem, but every municipality in Belgium has a service where you can get your bike registered and engraved for a small fee and often for free.
-Thieves are interested in complete bikes, seldom parts (eg. in NYC you also have to lock your front wheel and saddle)
– until about thirty years ago every bike on Belgian roads had to have a license plate attached to its fork, not for identification purpose but jus to make sure you paid your road tax
– three languages are spoken in Belgium: French, Dutch (Flemish) and German

(a true multi-modal transportation sign…this reads "Warning: Altered Traffic Situation")
We'd like to thank Frederick for sharing his experiences with us and for giving us a glimpse into cycling life in Belgium. Frederick has volunteered to write a couple of guest articles as well — and that is a welcome asset; it will be very interesting to compare European and American bike commuting styles and concerns! Stay tuned for those.