(Last Updated On: August 30, 2022)
How long have you been a bike commuter?
A year or so. I think I started last June.

Why did you start riding your bike to work and how long is your commute?
It was a total fluke. My brother in law was commuting at the time and recommended it but I wanted to take the bus. I did have a bike so I thought about riding it on days that I missed the bus. I had an old Huffy cruiser that my friend gave me so I used it and found that I liked riding a bike better than taking the bus.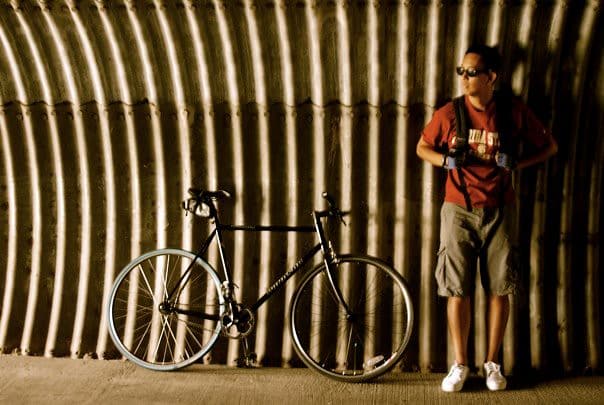 How does Bike Commuting help you with your lifestyle (economics, health, relationships)?
Health wise, I've lost weight. I'm pretty skinny so I think it was just fat that I lost. I used to be 170-175 and now I'm 160-165. A total of ten pounds! I'm kind of embarrassed to say that, haha. As far as economics, it was probably cheaper to take the bus at 45 dollars a month for a pass since I went through 12 bikes in a year. As a result of having to go through so many bikes, and learning so much from fixing them, I've become the bike guy to all of my friends and pretty much anyone who wants info on bikes since my friends tell their friends to ask me. And anyone who's close in my circle has either bought a bike or they started riding their old bike. Even my brother started bike commuting at one point but his boss did not like it, sad face.

What do you do for a living and in what city do you bike commute?
I am a mentor/part time IT guy and most of my work is in Irvine, Ca.

What kind(s) of bike do you have?
I currently have a Windsor Hour Fixie that's mostly stock but with Nitto cross bars, Bontrager mtb saddle, a 23mm tire on the back and a 28 on the front. Before that, in the past year, I kid you not, I had in order:
4 Walmart bikes that I kept on returning because something was wrong with them (I know, I know). I was a newbie…
A Raleigh Grand Prix
Diamondback Interval TG
Diamondback Transporter
Diamondback Maravista (Yes I went to a comfort bike…I wanted to be comfortable shut up.)
A Schwinn Circuit with shocks on the front.

Any funny or interesting commuting story that you may want to share?
At the start of a massive hill that I never rode on before, my tire's treads give out and the tube goes through. I obviously had to slow down which I think saved my life since I didn't know that cars mashed down the multi-lane hill and the bike lane got considerably very small to where I think I would have had a pretty bad wipe out going 30. But instead, I walked for half an hour down the hill.

What do people (coworkers, friends) say when you tell them that you are a bike commuter?
I either get, "Oh, cool. That's pretty healthy of you!" or "Do you have a car?".

How about bicycling advocacy? Are you active in any local or regional advocacy groups?
Active? Probably not. I mean I'm a part of some group that I signed up for at the local Performance store. That's probably the extent of my advocacy.

Anything else that you want to share with us?
I hated fixies before as they reminded me of death, politics and the Celtics but I ride one now! I probably will for the rest of my life unless I move to a hilly area that requires gears. I'm also going to build my first bike–a performance hybrid for less than $500–in the next few weeks. I need a bike with gears. I want it to have an aluminum frame, 2200 group set, a mountain bike saddle, decent wheels but I won't spend more than a hundred and probably Cannondale brakes. Wheels and Sprocket sells a pair for 24 dollars including shipping. What else…I like Democrats more than Republicans. I love sushi, the Florida State Seminoles football team and the Miami Dolphins. I also stalk RL Policar occasionally.