(Last Updated On: September 2, 2022)
Next up in our occasional series of commuter profiles, meet Hilary Archbold. She's got some good things to say and has a great sense of humor — bicycle commuting brings out the best in people!
Name: Hilary Archbold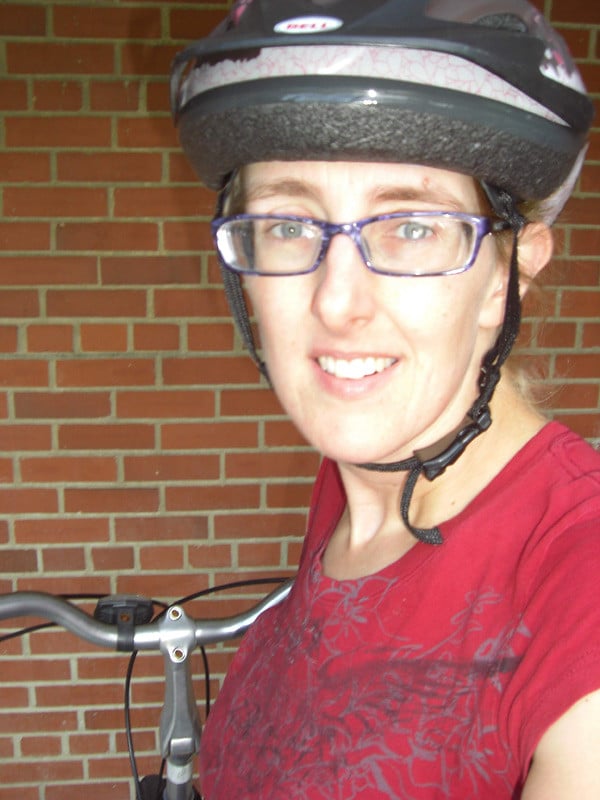 How long have you been a bike commuter?
On and off for about 14 years. I've been pretty steady for the last two years since going back to grad school. I took a break this January and February while trying to pass my prelims (so I'd have more time to read scientific journals on the bus) but I was going nuts by March 1st, so next year I'm going to try to go all winter. If anyone has a fool proof method to keep glasses unfogged (I am very, very nearsighted, so just taking them off is so not an option) and tear ducts unfrozen, I'd love to hear them. The most promising idea I've heard so far involves those half masks with the filter cartridges on each side that painters and insulator sprayers wear, but I haven't tested it out yet.
Why did you start riding your bike to work and how long is your commute?
My commute is about 3.5 miles each way. I absolutely love to eat, hate buying new bike pants, and have no time to go to the gym, so voila! commuting gives me an excuse for my ravenous appetite in about the same amount of time it takes to ride the bus to work (also, as a lowly grad student, the park and ride parking I'm allowed is actually further from school than my house). The shortest route is down on of the main roads into town, but I often detour through the neighborhoods that flank it, which makes a nifty tour through some pretty gorgeous (and uber high rent) historic neighborhoods. I started logging my miles on bikejournal.com earlier this year and recently I've begun taking detours just so I can log more miles. I also get to ride through the edge of one of the county parks that has a multi-use trail, and it is definitely one of the nicest smelling sections of my route. Even on nasty days, I'm always glad I'm on my bike instead of the bus when I hit that part of the ride. Those "Damn, it's good to be alive moments� just seem to hit me way more often on bike than when I'm in a car. The funny thing is that I think bike commuting has really expanded my definition of a good weather day. I really love riding in the rain, so pretty much any weather that doesn't freeze my eyeballs right out of the sockets is a good day to ride.
How does Bike Commuting help you with your lifestyle (economics, health, relationships)?
I'm trying really hard to convert my daughter and my partner into bicyclists; I would so much rather ride my bike somewhere than take the car. We just got back from vacation on Mackinac Island, which banned cars in 1898 (I think) because the blasted contraptions frightened the horses. So the island is entirely devoted to pedestrian, equine, and bicycle transportation (except for the ambulance and the fire truck). My daughter was a very shaky beginning bicyclist when we got to the island, and by the end of the week made the eight mile trip around the rim of the island with aplomb. She had such a sense of accomplishment; it was great to see. The interesting thing about the island is that there is a very laid back feel as everyone pedals around, but it's so laid back, in fact, that there is a rather large class of pedestrians who forget to look both ways before crossing the street. ("there are no cars, it must be safe to act like an idiot�) We got very good at avoiding the "picture takers�, those pedestrians who would stand in the middle of the road with their backs to the flow of oncoming bicycle traffic, and would then suddenly sidle two feet sideways to get a different angle of the fort (or whatever) right in front of you.
As for the health and economic part, I don't spend as much on gas, but I do pay a fee each semester to keep a locker at the university rec building. It's a couple blocks from my lab, so I use the showers there. If I get in early enough, I use the pool, too, so it keeps me pretty active and I don't have an excuse to skip the ride on really nasty days. I've heard that most people gain about ten pounds their first year of grad school, but I lost about 15, so I guess I'm keeping pretty healthy. I think biking helps keep my depression and ADD at bay, too. I've never actually gotten around to taking anti-depressants, so I'm not sure what that would set me back, but I'm probably saving a bundle there.
What do you do for a living and in what city do you bike commute?
I am a grad student in Cellular and Molecular Biology at University of Michigan which is in Ann Arbor. I study the regulation of gene transcription in fruit flies. I heard we were ranked number 14 for friendliest cities for biking, but I'm not sure by who. I think our mayor is a bike commuter, too. My daughter and a friend once accidentally knocked his bike over, but he was very nice about it. They have just recently striped a whole series of new bike lanes and added sharrows where bike lanes are unfeasible.
What kind(s) of bike do you have?
I just bought a Raleigh Alysa FT-1. I went to the bike shop intending to special order a Specialized Vita, but then fell in love with the Alysa, which was last years model, and on sale, so I left my old bike there temporarily and rode it home. Hills have never been so much fun. For the last eight years, I have ridden a Trek Navigator 300 comfort bike. I had the handlebars set higher than anyone else's I've ever seen, so its name got changed from Bertha to Almira Gulch. The Gulch was super comfortable on flat routes, but is a bit of a monster to get up and down the hills that are conveniently located all along every possible route to work. The other salient feature of the Gulch was that it is virtually indestructible, and despite being the 14th friendliest bike city, the right half of the streets I ride all have a suspiciously high number of potholes and other surprise lovelies, but I still have never even gotten a flat. When I bought the Raleigh, the bike shop guy weighed it and a Sirrus for me, and then weighed The Gulch, and I've gone from hauling 40.7 pounds of bike up those hills to a measly 25.6 pounds, so I'm willing to give up a little indestructibility, but hopefully won't have to. At the risk of kick starting a case of bike acquisition syndrome, I am going to keep The Gulch at least through the winter for snow days.
Any funny or interesting commuting story that you may want to share?
I have neighbors that I used to see on the bus all the time and never talk to, but now when I see them commuting by bike in the summer we all say hi. People on bikes are just nicer, or maybe it's just that on a bike you don't have to worry about being trapped listening to a really boring story for an indefinite number of stops like you might on the bus (or does that mean that people on bikes are less nice? Hmmm, I'll have to think about that one).
What do people (coworkers, friends) say when you tell them that you are a bike commuter?
It doesn't raise too many eyebrows in this town. While it's not exactly de rigueur, as a college town, there are bike racks everywhere, and they are usually moderately full. It was an entirely different story when I used to live in Detroit, which is in some ways a very good city to bike in, and in others, quite horrible. Theft was always a huge problem, and there were never any bike racks anywhere you might need to go, but the population shrinkage meant that you often had huge boulevards entirely to yourself, and very little attitude from cars, when and if you saw them. One year, I was commuting on and off to a job that was a scant six blocks away from my house (I know, I shudder to think how lazy I was back then, 6 blocks and only on and off?) So every time I started riding again, one of my coworkers would make a big song and dance about how she could never ride her bike to work, Detroit was far too scary, how she couldn't believe I was doing it, yada, yadda, yadda. Mind you, she lived four blocks closer to work than I did, and drove. It was a bit silly, really. I lived in Detroit until my daughter was four, and every time I rode to Eastern market with her in the burly trailer people acted like I was piloting a UFO with blinky lights. Kids would run down the block after us yelling, "What is that thing? What you got in there? Oooooh, I think it's a baby. Can I get a ride?�
How about bicycling advocacy? Are you active in any local or regional advocacy groups?
Ann Arbor has quite a few groups, but I'm not actively involved in any of them. I am on the mailing list for the Safe Routes to School group in our county, and would like to get more involved there in order to get our local elementary school registered, but haven't yet.
Anything else that you want to share with us?
I have the smallest head in the universe. I wear a helmet designed for a second grade girl. Turns out helmets are actually quite comfortable and not annoying at all when you are wearing the correct size. Who knew?
We'd really like to thank Hilary for taking the time to submit her words and photos…and if anyone else wants to spend a little time in the bright lights of minor Internet stardom, we'd love to have YOU submit a profile. Just drop us a line at info@bikecommuters.com or ghostrider@bikecommuters.com.