(Last Updated On: August 29, 2022)
Here's our latest profile, coming to you from the mean streets of Los Angeles, California. As always, if you'd like to be profiled on our site, please drop us a line at ghostrider[at]bikecommuters[dot]com or info[at]bikecommuters[dot]com.
Name: Holland MacFallister
How long have you been a bike commuter?
Well, I guess in my case that would be a scooter commuter. I got my first footbike about 4 ½ years ago and I've been rolling ever since.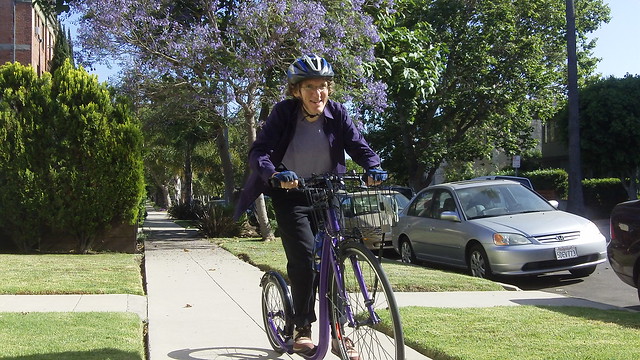 What do you do for a living and in what city do you bike commute?
Up until recent budget cuts, I taught an adult ed evening class for our public school system here in Los Angeles and was a part time actor. Since the cuts, it's acting all the way.

Why did you start riding your bike to work and how long is your commute?
My scooter is my exercise, my entertainment, and my car. It's the only source of transportation I own and is almost always some part of my trip either alone or in consort with bus or subway – yes, L.A. does have a little subway system!


The last school I was teaching at was a hilly 3.5 miles away. I always rode to school, but if I was tired after a night of teaching, I would take it on the subway which left me with a relaxing downhill mile ride home from my subway stop.
My auditions are mostly in Hollywood, Santa Monica, or the San Fernando Valley. In Hollywood, footbike only; to Santa Monica, bus followed by footbike; to the Valley, scoot to the subway/ride the subway/scoot to final destination.

The last project I appeared in shot at three different locations in nearby Pasadena. The first day a friend drove me there in the morning, but it was a pain in the neck getting home. The next two days I took back my independence and did the scooter/train combo.

How does Bike Commuting help you with your lifestyle (economics, health,relationships)?
It's been great for my health – the first time in my life I've found an exercise I don't even think of as exercise and that has agreed with my body over a long period of time.
In terms of lifestyle, riding a scooter has given me freedom. I quit driving in '92 and I'm fond of saying the world is now a safer place for everyone. I spent most of the 90s in New York where driving is neither expected nor required, but when I returned to Los Angeles in 2001 I found myself at the mercy of public transportation. Long waits. Unreliable schedules. Lack of service at night. Sardine packed buses on Sundays. I enjoyed riding a bike for a while, but wasn't confident on the streets, felt a little out of place on the sidewalks (although it is legal in most of Los Angeles city), and had recurring knee pain. When I read about scooters online, I was intrigued and decided to try one out for some short routes I traveled regularly. Before I knew it, it became my main source of transportation and the distances I was comfortable going continued to increase (and still does).


What kind(s) of bike do you have?
I have three scooters. My current ride is a beautiful purple Footbike Track (front tire 700C/rear tire 18″). My previous scooter was a Kickbike Freeride (20″ front/12.5″ rear) and my first scooter was a Mibo folder (12.5″/12.5″). I've loved them all but seem to be a serial monogamist when it comes to scooters and these days am exclusively on The Purple Beast.



Any funny or interesting commuting story that you may want to share?
Riding a scooter is like pushing a baby stroller or having a dog – strangers talk to you. Examples: "I love your…your…your…thing! I don't know what to call it!" "Look, Mommy! A scooterbike!" "Do you change legs?" "Where did you get it?" "How much do they cost?" "Where's the motor?" I AM the motor!
Spending so much time out and about not in a car really strengthens my connection to my community. I recently had a night that pretty much sums up all that I love about scooting around town. I rode a few miles to have dinner with a couple of friends. On my way home, a movie is getting out, so I'm walking the bike and a guy coming out of the theatre says, "That's a new scooter, isn't it? That's not the one you were riding before." He stops to admire the scooter, figuring out how he'd add a suspension fork to make it more like his mountain bike (it could be done), lifts it, and expresses surprise at how light it is (it's aluminum). About a mile later I'm waiting at a light and a bicyclist comes up behind me and says, "You're serious about that thing, aren't you?" I have no idea what he's talking about. He says he saw me ahead of him and thought, "Well, I'm going to pass this guy in a moment," but he was behind me for a couple of blocks and didn't catch up till the light. Maybe I'm faster than I think! We chat for a bit and continue up the block together and pass another guy on a bike who calls for me to stop. It turns out we were in the same episode of a show and he recognized me even though we didn't have any scenes together and had never met. Now if we had both been in cars instead of on a bike and a scooter, we would never have made the connection.
My footbike has given me a chance to interact with so many great people. I get approached while riding, while waiting at stop lights, and even in grocery stores by folks who saw me on their way in. And, this is a first, tomorrow I'm going for a ride at the beach with out-of-towners I met – thanks to the Purple Beast – in the parking lot at Trader Joe's! I don't want to make it sound like something happens every time I leave the house. Most of the time, I just go to an audition or pick up some kale and a can of beans and come home and that's that.
What do people (coworkers, friends) say when you tell them that you are a bike commuter?
Well in Los Angeles people are just amazed that anyone gets around without a car period. People are particularly impressed when you ride when the temperature is above or below 72 degrees. I had a dentist appointment on a particularly hot day and he asked what I did about getting around in this brutal weather. I replied, "I get hot."
Some are curious how I manage my grocery shopping. Well, I go to the store more frequently, I have a basket, and I bow before the man or woman who invented the bungee cord. With my basket piled high, I sometimes think I must look like a character straight out of Dr. Seuss!

How about bicycling advocacy? Are you active in any local or regional advocacy groups?
Not currently, but hope to get back to it. I was a member of the Los Angeles Bicycle Coalition for a while and have ridden twice on their annual River Ride fund raiser – once on a bike and another year a shorter route on a scooter.
Anything else that you want to share with us?
People often ask why a scooter instead of a bike. First, let me state I love bicycles. I think they're sleek, elegant, and extremely efficient and for going longer distances on human power, they can't be beat. Actually, my enthusiasm for the footbike has fostered a deeper appreciation of all human powered modalities from bicycles to skateboards to rollerblades.
The appeal of a scooter for me is multi-faceted. It's easier on my knees (when I have pain, recovery is pretty quick). As a full-body exercise, it's helped my back a lot – every
time you kick, your body pushes forward and gives your lower back a nice little stretch. It's the right speed for me. Slower than a bicycle, faster than walking. (I should mention there are competitive enthusiasts who kick these things at speeds for which I'd need bionic implants to achieve.) While more and more I ride on side streets and our increasing network of bike lines, I still do the majority of my riding on sidewalks and a scooter blends beautifully there. I can step on and off seamlessly to accommodate pedestrian traffic or just out of courtesy when I think I might make a frailer person uncomfortable. Alright, I have inadvertently surprised a few people on the sidewalk when I neglected to ring my bell or they didn't hear it and I have had a couple of people who thought I didn't belong there (I'm legal and by definition am considered "pedestrian"), but I do do my best to "share the walk."


I guess the bottom line for me with the footbike is the fun factor. It not only gets me where I need to go, it makes me happy. There's something primitive and gleeful about lifting your leg high in the air and striking it down on the pavement. And gliding through space in an upright position is a bit heavenly – kind of like an angel in a low budget cartoon. Ultimately I think some people were born to pedal and some were born to kick and here's to all of us!

Thanks, Holland, for sharing your story with us…inspiring words about building community, one scooter kick at a time!