(Last Updated On: August 30, 2022)
Meet Karen Voyer-Caravona, a longtime reader and friend of the crew here at Bikecommuters.com. Karen writes a wonderful and chic blog called She Rides a Bike, and it is packed with style, adventure, excellent bike product reviews and fun to spare. Read on and see what she's got to say, and then swing on over to her site to enjoy her great pictures and stories.
Name: Karen Voyer-Caravona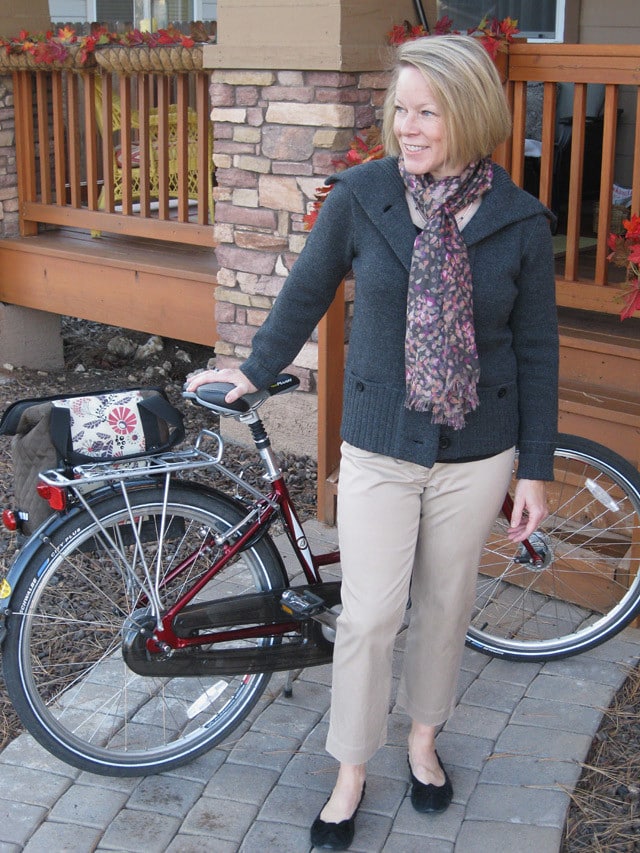 How long have you been a bike commuter?
I've been bike commuting since April 2008.
Why did you start riding your bike to work and how long is your commute?
My husband and I began biking to work primarily to economize as a result of moving to an expensive mountain town in the Southwest. We were further motivated by a spike in gas prices and decided we'd like to be a one-car family. When I first began bike commuting my ride was about 9 miles round trip, however I have since transferred to a site that round trip is less than 1.5 miles so biking to work makes even more sense.
How does Bike Commuting help you with your lifestyle (economics, health, relationships)?
Bike commuting helped us face the uncertainty of the economic downturn. Selling one car provided us with immediate financial relief because our auto insurance and maintenance costs were reduced. While we couldn't do much about the outrageous cost of housing in Flagstaff, transportation expenses were well within our control. I'm frankly a bit surprised more people don't at least try it as an option for reducing expenses but I think the average person is so engrained in the auto dependent culture that when the utility cycling many people view it as almost an absurd idea. That said, I'll be the first to admit that bike commuting didn't seem an obvious choice for me because I worried that I would not look presentable for work after a bike commute. However, with the help of Bike Commuters and a little inspiration from the bike and style blog Copenhagen Cycle Chic, those issues proved manageable and fun.
Bike commuting is often one of the best parts of our day, benefitting both our relationship and our health. Pedaling to work as opposed to being strapped in a car allowed us to arrive at work mentally fresh and charged to meet the challenges of the day. The after-work home after work gave us each a terrific, and often much needed, stress outlet. We usually arrive home in a better mood and better able to engage with one another. The experience of life on a bike instead of being enclosed in a car has encouraged both of us to re-examine the pace of our lives and our priorities.
What do you do for a living and in what city do you bike commute?
I am currently the Assistant to the Airport Director at Flagstaff Pulliam Airport in Flagstaff, Arizona. Flagstaff has many bike lanes and a great multiuse urban trail system that we take advantage of for our trips to work as well as most places we go within the city. The City faces the same budget issues that other cities around the country face but the urban trail system seems to remain a priority for the community.
What kind(s) of bike do you have?
I ride a 2009 Breezer Uptown 8, a 2008 Specialized Expedition, and a 2009 Dahon Eco 3. Going into the experiment in bike commuting I never imagined that I've had 3 bikes (my husband has 2 now) but can now honestly say I'm probably not done. I admit that I do have a problem.
Any funny or interesting commuting story that you may want to share?
My husband and I still struggle with the allure of materialism but now have more of a focus on experiences and appreciating moments in time, such as the early morning commute in to work when we came upon a great male elk emerging on to the sidewalk from the multi-use trail. A completely missed opportunity had we been in a car. I have to see a lot of wildlife sightings on my bikes – usually prairie dogs, which are both entertaining and cute. I've also stopped to observe herons, hawks, rabbits, coyotes and lizards. Skunk encounters are common in the early morning and at dusk but I've always seem them in time to take the necessary detour. Last fall, I was warned by a passing driver of a bear less than a quarter mile down the road but he had disappeared back into the woods by the time I got there. Darn!
What do people (coworkers, friends) say when you tell them that you are a bike commuter?
We have a number of friends who bike commute, not unusual for a mountain town. Most people are amused with my habit of arriving on a bike in a skirt and high heels. I simply laugh and tell them that biking in heels is much easier than walking in them. Recently, my cousin in Phoenix purchased an electric bike and is already sending me reports about biking to appointments and errands and seeking my advice on panniers and other accessories.

How about bicycling advocacy? Are you active in any local or regional advocacy groups?
Other than helping to organize a couple of Tweed Rides this past summer, I don't really view myself as much of an advocate. I'm a bit uncomfortable with the advocacy label because I don't want to appear to be lecturing or shaking my finger at people in cars (especially since I still drive from time to time). I write a bike lifestyle blog called She Rides a Bike, which is, aside from voting, about as close to advocacy as I can get. I just try to present bike commuting and utility cycling as a desirable choice rather than something foisted upon me by a sour economy. There is no better sales pitch that a photo of me and my husband, both dressed in our normal clothes, locking up our bikes in front of the wine bar or shots of interesting, attractive people packing up the panniers with cheese and produce from the farmers market. I definitely don't feel like bike commuting is a sacrifice or an inconvenience.

(Husband Bob has style aplenty, too!)
Anything else that you want to share with us?
My ultimate goal is to be completely car free because every car I've owned has been a money pit. Flagstaff is blessed with a lot of bike lanes and a really great urban trail system but we have a long way to go to compete with cities like Portland or Copenhagen. Flagstaff doesn't have the type of reliable bus service that I'm used to so when there is a lot of snow on the street and urban I'm happy to car pool to work with my husband – and pack my cross country skis and ski home after work through the Coconino National Forest.
Thanks, Karen, for sharing your words and photos with us. And, for the rest of you: if you want to be featured as a profiled commuter, simply drop us a line to info[at]bikecommuters[dot]com. We've got a few more in the hopper waiting to be published, so if you've submitted your profiles, stay tuned for your chance in the spotlight.