(Last Updated On: September 6, 2022)
From San Francisco, CA; meet Leaf Nunes, a software engineer who has to ride a train to cross a body of water. Here's Leaf's bike commuter profile: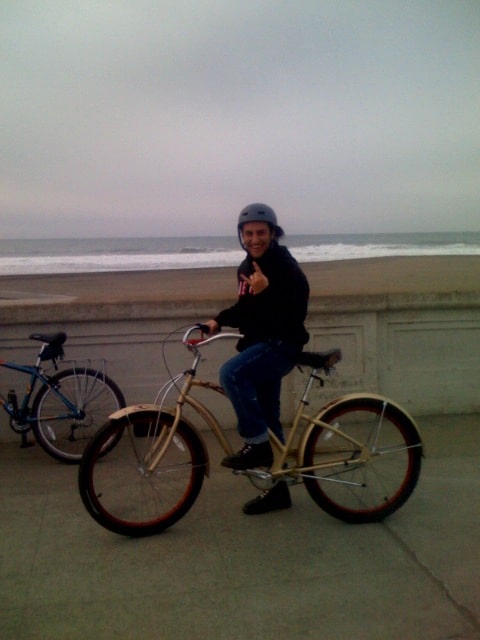 How long have you been a bike commuter?
A little over two years.
What do you do for a living and in what city do you bike commute?
I'm a software engineer by day (and sometimes night), and commute from the West end of San Francisco to Emeryville, on the other side of the bay.
Why did you start riding your bike to work and how long is your commute?
I started riding because my carpoolers suggested we all ride to work once or twice a week… I ended up loving it so much that I ride every day now on my own because my carpool mates moved away. The commute is about 15 miles of cycling round-trip, with a train segue to cross a body of water… I'd bike the whole way if only bikes were allowed on the bridges.
How does Bike Commuting help you with your lifestyle (economics, health, relationships)?
I certainly feel more energetic and even-keeled when I bike to work; I notice I can get crabby and lethargic if I go too many days without riding. I just recently had a generic panel of blood tests done, and my cholesterol has dropped significantly since the last test I had, from pre-cycling days. Some of my old clothes are a bit baggy now, but it's not anything the drawstrings and belts can't handle.
What kind(s) of bike do you have?
I usually ride a slightly modified 2007 Jamis Coda Sport with a commuter saddle to and from work, with at least one pannier to carry a change of clothes just in case the City of San Francisco has decided to water the pavement on my route that day, or in case it gets colder or hotter (it can be extremely cold on the west side of SF, and extremely hot in Emeryville).
I recently picked up a Surly Big Dummy (for camping, grocery shopping, and kid-shuttling), as well, which I haven't made time to photograph yet.
For fun, I'm hanging on to an Electra "The Betty" which my sister gave me as a gift for my birthday. It's a fun bike for short rides, but I'm really only keeping it because my spouse likes it.
Any funny or interesting commuting story that you may want to share?
I once got a line of kids waiting at a bus stop to do a wave as i rode past. Won't see people doing that from cars!
What do people (coworkers, friends) say when you tell them that you are a bike commuter?
I've gotten a lot of praise from people, and more than a little wonderment that it can be done. A few have expressed concern for my safety, but I certainly feel safer on a bicycle with the routes I choose than I did on a motorcycle on the freeway.
How about bicycling advocacy? Are you active in any local or regional advocacy groups?
I'm not particularly active in any group. I find Critical Mass irritating in that it seems to bring about more resentment from drivers and destructiveness from participants. It may have served a purpose at some point, but these days it divides people instead of uniting them.
I'm a reserved fan of the SF Bike Coalition (and might be a member, but I can't remember) for the advocacy they do, the bike lanes they secure, and the maps they put together.
Big thanks to Leaf for submitting the commuter profile. We also want to thank all of you that have submitted your profiles; if you didn't see yours, please email us at info@bikecommuters.com — we may need more information/pictures about you.