(Last Updated On: September 2, 2022)
Next up in our recurring commuter profiles category is Miriam Gee — funny, irreverent and very excited to be profiled here on Bikecommuters.com. Plus, the scenery of her commute absolutely trumps the competition…imagine riding your bike in a place where "the air is so dewy sweet you don't even have to lick the stamps!" Take a look for yourself, and read on:

Name:
Miriam Elizabeth Gee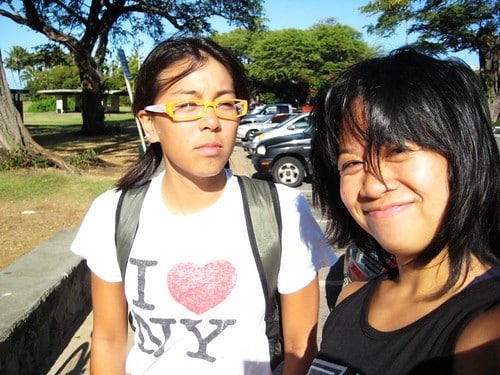 (Miriam in her "PRO-STYLE" orange sunglasses)
How long have you been a bike commuter?
More or less since 2005 – or since the birth of the overhauled, hand-me-down from my college roommate's sister, old Costco bike, known as "the purple GROUNDPOUNDER.â€?

Why did you start riding your bike to work and how long is your commute?
I started riding my bike to work in Seattle when I moved to Capitol Hill and worked just 2 miles away in downtown. After a few months of constant lurching, putrid smells, and unreliable scheduling, I broke up with my commuter nemesis, the King County "Metro� (fancy name for the bus) and chose bike therapy over nausea. Not to say that I don't love the shame train on extra rainy days or for the express routes, but the time it took to ride the bus, and the amount of Dramamine it took to ride it just wasn't worth it! Naturally, my Seattleite cycling friends convinced me to invest in shiny new Kona Dew, and I rolled my way down the hill faster than the Metro from that day on! I love my bike like some people love their Mom.
Now I live in Honolulu. My first commute was about 5 miles round trip. But, in the past year I've moved out to the 'burbs for cheaper rent, amazing views, and a longer, more scenic commute; I'm racking up close to 25 miles per day now. Eff you 24-hour fitness: hello Scott Speedster! Okay and sometimes, I do take TheBus (non-fancy name for the bus) when my legs are shot or if it's super voggy. But everyday I ride it's still faster than waiting for the bus! It took a few months, but now I'm able to bike to and from work 5 days a week – no sweat (figuratively speaking).
How does Bike Commuting help you with your lifestyle (economics, health, relationships)?
Bike Commuting has upped my social status fo sho: before I was just lame bus girl who always needed a ride to the north shore. Now I am badass bike girl who rides to Hawaii Kai every day – the envy or dismay of all of my co-workers, clients, friends, and family. More women than men in my office commute by bike and my boss brags about us "tough girlsâ€? whenever a client sees a sweaty face rolling into the office in the morning. I've also made some of my closest friends in Hawaii through cycling camaraderie. Bikes for Life! If it weren't for my bike sisters, none of us would have entered the Haleiwa Metric Century Ride.
As far as economy, nothing beats $ Free.99! My boyfriend and I have been car-free and bus pass-free for about two years now, which leaves money for a 401K, sweatpants with words on the butt, a gold jet ski for my grandma, and feta cheese.
And as for health, it must be doing something right. Even though I eat whatever I want whenever I want (this isn't a dieting blog, right?) I just flew home for a wedding where everyone referred to me as "the bridesmaid with the nice legs.� Thank you, Chinese genetics for my calves, but I guess the 2-hour daily commute workout must be helping too.
What do you do for a living and in what city do you bike commute?
I'm an architect, and I'm into the "S-Word�, or sustainability and green building. I'm fortunate to bike commute in Honolulu on the beautiful island of Oahu.
What kind(s) of bike do you have?
1. 2007 Kona Dew – on permanent loan to another friend who wanted to start commuting to work. The Kona Dew was my main commuter/hybrid and first real love, I ditched the yellow Planet Bike Fenders and the rack when we boxed and flew it to Hawaii.
2. 2009 Scott Speedster – my bumblebee colored entry-level road bike. My first roadie and attempt at clippie-shoes. A note to fellow Oahu cyclists: don't be fooled, I'm not that fast – it's the racy paint job, and I'm not that rich – I bought the bike buy-one-get-one free! After getting used to the numb-crotch feeling from the saddle and gearing down for stops on inclines, this Scott road bike is my newfound love. I love this bike like I love my step-Mom.

(Speedster on right)
Any funny or interesting commuting story that you may want to share?
I'm really bad at spitting while riding as it often ends up on my face. A funnier one though is the first time I was testing out my long commute route in Honolulu. I had borrowed a friend's junk-a-lunk MTB with shimano SPDs. I rode the busted thing about 15 miles in sandals equipped with only one water bottle, a huge backpack, and a trendy helmet without enough vents. At about 3pm, the Hawaiian Sun beat me down with heat exhaustion, and I ended up in a quivering pile on the side of the road by the beach. A Jehovah's witness in a painter's truck picked me up and drove me back home. I ended up instantly puking the vitamin water from my mouth and nose into a paint bucket all the way back. My boyfriend thought I was kidnapped by a crazy rapist, but instead the nice man sent me home with a jar of homemade lilikoi butter and a paper copy of The Watchtower. Awkward yet comical commute of the year.
What do people (coworkers, friends) say when you tell them that you are a bike commuter?
Coworkers often say, "You should get pegs so we can go pick up lunch� or "I think you need to take a shower?" I do take a pirate shower in the sink at work in the a.m.
Friends and family often say, "Biking to work is HOT, I want to buy a bike!� in my dreams. In reality, they say the typical, "Do you want to die!?� To which I reply, "It's actually tons of fun if you're careful, you should try it!� I think I'll make a commuting jersey that says: Yes, I am Crazy. No, I don't want to Die.
How about bicycling advocacy? Are you active in any local or regional advocacy groups?
I advocate by waving profusely and smiling at all cyclists, pedestrians, and car drivers at red lights. I participate in Hawaii Pedal Power's annual Bike to Work month events and practice individual bike commuting evangelism. This means I preach fun, fitness, and $ free.99 by fixing up bikes and doling them out to friends as much as possible!
Anything else that you want to share with us?
Swamp crotch is the worst. You cannot cure it with anything but a shower. Baby powder does not work, nor does fancy anti-bacterial underwear. As a cyclist in humid Hawaii weather, it's something to embrace. You are not alone, humid-weather riders.
We'd like to thank Miriam for sending in her profile, and ask the rest of you to do so if you're interested in sharing your experiences with others. Ride on!