(Last Updated On: September 6, 2022)
Next up in our commuter profiles is Rick Martin: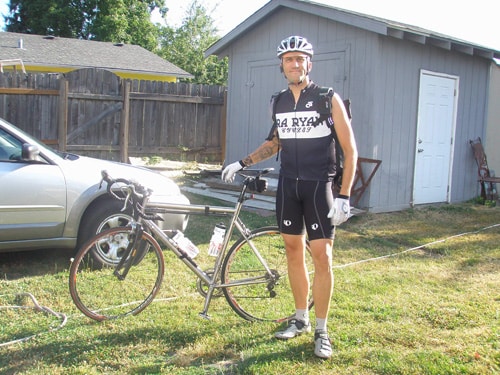 How long have you been a bike commuter?
Since 1987
Why did you start riding your bike to work and how long is your commute?
I got a DUI and I haven't driven since. My daily round trip commute is 70 miles to work. Takes about 2 hours. And hill, hills, hills!
How does Bike Commuting help you with your lifestyle (economics, health, relationships)?
I'm in the best shape ever, I save around $300 in gas alone and I just couldn't see it any other way.
What do you do for a living and in what city do you bike commute?
I'm a sous chef at a golf club and I commute in Portland, Oregon…until I leave the city limits!
What kind(s) of bike do you have?
I have a old Trek touring bike for around town, a $500 MTB and I commute with a titanium Airborne road bike, and now I'm riding a brand new IRA RYAN road bike! He was featured in Bicycling last month with other Portland frame builders!
Any funny or interesting commuting story that you may want to share?
I had a guy w/ three children chase me about 3 miles because he didn't believe I should have been on the road. He tried to door me, run me over, etc. while his kids kept telling their dad where I was hiding, plus the words he was saying to me and threatening to beat me! Crazy road rage for sure!
What do people (coworkers, friends) say when you tell them that you are a bike commuter?
Close friends think it's awesome, others………….uuhh……..are you insane? I get it all……
How about bicycling advocacy? Are you active in any local or regional advocacy groups!
The destination:

Anything else that you want to share with us?
The thing is…I'm training for the Race Across America and this commute keeps me in check! I'll be doing the race in 2009 and if anyone here wants to ride with me on my commute this is where I ride…….north Portland I take Interstate Rd. to the Sellwood bike path to River Rd. then to Oregon City to 213 to Molalla! Very hilly and relentless. I can always make it more if you want……..50 miles? 80? Keep the rubber side down!!
We'd like to thank Rick for sharing his photos and profile, and we wish him luck in next year's RAAM.