(Last Updated On: August 30, 2022)
Today's commuter profile comes from a fellow Chicagoan, whose bike – BlueX – I admired one day last fall. Skipton Skiba works at Trader Joe's and has shared with us his love of bikes and bike building.
Name:
Skipton Skiba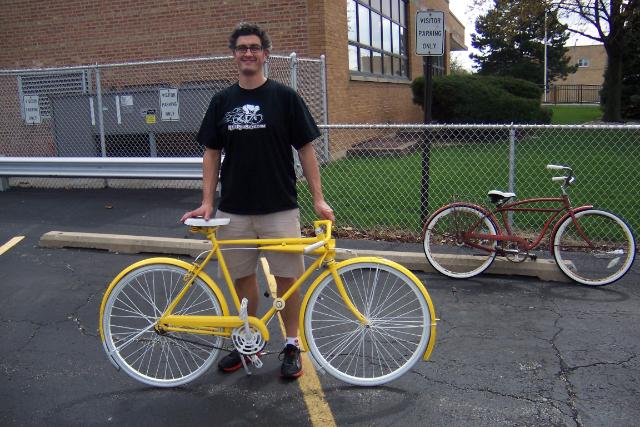 How long have you been a bike commuter?
I started commuting July of 2008.
I commute all year long.
Why did you start riding your bike to work and how long is your commute?
I have always been into bicycles and bicycling. One of my best memories when I was 10 years old and my Uncle helped me build a 5 speed racing bike out of parts that I got out of the neighbor's trash. In the mid 80's I was a big road bike guy. Greg Lemond and Bernard Hainault were my heroes. But once I got a car, I got fat and lazy and didn't do much biking for 15-20 years.
Then, in 2008, I was looking to do some stuff with bikes again. I had been an at-home dad for 7 years, and soon my youngest son would be in full-day kindergarten. I would have time to build some bikes. One night I stumbled on the web site RATRODBIKES.com and I saw the kind of bikes I had been dreaming about in my head.
Then in April 2008 my wife was laid off. So I needed to get a job.
I got a job at Trader Joe's in July of 2008. I decided to ride to work for my work-out using my homemade cruiser. I had done two triathlons and I was burned out on road bikes and trying to stay fit by going to the gym.
My ride is 5 to 8 miles one way depending on what route I take. I usually take the Lake Front Path which makes for a very pleasant 8 mile ride. Riding the lake path is a great way to go. No car traffic and nice scenery.
What do you do for a living and in what city do you bike commute?
I'm a crew member at Trader Joe's in Lincoln Park, Chicago.
How does Bike Commuting help you with your lifestyle (economics, health, relationships)?
Bike commuting helps me with my lifestyle in so many ways. I always look forward to my ride no matter what the weather. I feel great when I get to work. It helps me stay as healthy as possible. It gives me more patience. Also I feel that riding every day is good message for my kids who are nine and ten. I want them to see that you don't have to drive everywhere and they see their old man doing something healthy. Because I commute everyday I have a reason to work on and build bicycles that I enjoy. I'm not sure what I like the most, riding bikes or building them.
What kind(s) of bike do you have?
I ride bikes that I like to call Rat Rods.
These are bikes that I have built using an assortment of parts from all different kinds of bikes -some are old cruisers, some are just older "undesirable" types of bikes and I build what I want.
Building these kinds of bikes also satisfies my inner hot rodder. It is much cheaper and environmentally friendly to build a bunch of different Rat Rod bikes instead of spending lots of time and money on one tricked out car.
My main winter bike is a 1960 something Schwinn with a tank and 1950's fenders.
This bike is what I would call a classic example of a Rat Rod. It has vintage and modern parts mixed together. Most of the bike is vintage parts with a Nexus 4 speed rear hub and roller bearing brakes on both wheels.
The bike I probably put the most miles on is the one I call BlueX. BlueX started life out as an 80's Schwinn three-speed. Then my friend, Gary, helped me weld up the super laid back seat post.
I put two old tanks from girl's 1950 bicycles on it. I also added the 1930s tractor light and a giant speedometer from a 1940s pickup on it. The idea was for the bike to look like an old Boardtracker racing motorcycle. I really like how it turned out. I just love they way it looks and the reaction people have to it. I could ride all day long!
Build journal….. www.ratrodbikes.com/
Another bike I built that I love to ride is one my 9 year old son named
Bellowing Yellow!
I made this with a 1980s three-speed Sears bike a friend gave me for free. I made the 180 degree front fender just to see if it would work. And it does! The bright yellow really makes it pop!
Any funny or interesting commuting story that you may want to share?
I think the main thing I want to share is how much I enjoy commuting. Even a supposed "bad weather day" on the commute is a great ride.
One day on my way to work, riding down the lake front path, on Bluex, a guy on a high dollar road bike rode up next to me and said his girlfriend in California sent him photos of my bike. He said it wasn't ride able. Now he knows it is.
Also I just love it when someone ask where I got that bike or where they can get one and I tell them I built it.
What do people (coworkers, friends) say when you tell them that you are a bike commuter?
Lots of my coworkers are bike commuters also. They do get a kick out of the bikes I ride but wonder when I am going to turn my handlebars right side up.
Do you have an 'advanced commuter tip'?
Just get out and ride! You don't need lots of fancy equipment, even a department store bike. Or a garage sale bike is enough to get started. You don't need to be "Lance" to do this. But be safe – always wear a helmet. .
How about bicycling advocacy? Are you active in any local or regional advocacy groups?
Nothing really yet. I always try and be a courteous bicyclist, and follow the rules of the road.
Anything else that you want to share with us?
I do love to ride with my wife and kids, when the weather is nice we will ride to school, the beach, etc.


I also take the boys on the monthly TailDraggers Leisure Bike Club rides I have been organizing.
A bunch of people get together and we ride our bikes to a cool restaurant or coffee shop and talk about bikes-our next big build, swap commuter stories, things like that. It is a great way to spend a Sunday afternoon. I know my kids have a blast and it's fun to watch them ride around on the cool vintage cruisers.
Random pics of other bikes and my kids
If you ever see a bike like this "displayed" at the Trader Joe's (on Clybourn ) bike rack come in and say:

Thanks, Skip, for sharing your story and your bikes with us! If you're interested in being profiled, drop us a line at: info[at]bikecommuters[dot]com