(Last Updated On: September 6, 2022)
From the 'Best Cycling City in America', Tom Long is a multi-modal bike commuter, here's his bike commuter profile: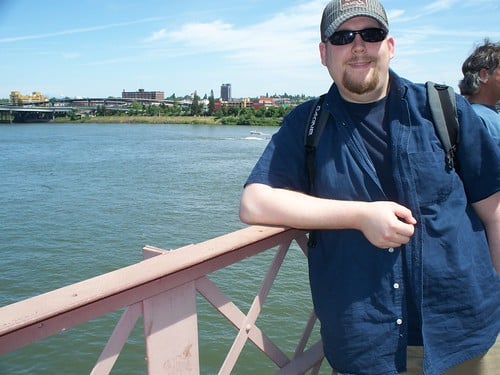 How long have you been a bike commuter?
A little over a year, say about 14 months. Through high school and college I did as well, then I got a car. I dabbled occasionally until last year, but now I do it full time.
Why did you start riding your bike to work and how long is your commute?
I stated riding to work because I was tired of driving and felt I was getting really stupid behind the wheel. Piloting a large metal and plastic encrusted object after completing a 12.5hour overnight shift was getting scary. Not that I was unsafe, but falling asleep behind the wheel was a big worry. By riding all I'm really going to take out is myself. I can also nap on the multi part of my multi-modal commute. I ride about 3 miles each way, split in half by a light-rail trip. I ride to one of the stations near my house, ride light-rail to the closet stop by my work and ride the rest of the way. The nice thing is that if I'm feeling up for longer rides after work I can get off before my normal stop and take an extended ride home.
How does Bike Commuting help you with your lifestyle (economics, health, relationships)?
It's a lot cheaper, especially considering my employer kicks in a substantial subsidy for my transit pass. My coworkers all complain about their gas bills, then look over at me and say, "We don't want to hear it!" My "gas" bill is about $40/month…much better than $200! As a heavier rider it's also helped me lose weight and bring down my blood pressure. Plus, even after a horrendous night at work, the ride helps me blow off steam and relax so I can go to bed when I get home.
What do you do for a living and in what city do you bike commute?
I'm a Registered Nurse working the night shift on a busy cardiac unit. There's moments of intense activity, followed by moments of not so intense activity. I wore a pedometer to work once and clocked 6 miles – that was on a slow night. I commute from Beaverton, OR, into Portland, OR, hence the multi-modal commute, the West Hills are hard to swallow after a night on the floor. But the roads to and from the light rail stations are nice and easy.
What kind(s) of bike do you have?
A late 90's Specialized Rock Hopper, kitted out with all the necessities of commuting: rack, fenders (this is Oregon folks!), lights, bungees and stickers. Since my back isn't in the best of shape I stuff everything into a Banjo Brothers Waterproof Pannier.
Any funny or interesting commuting story that you may want to share?
While not of any import, I find it interesting to see how the amount of people commuting by bike waxes and wanes with the weather around here. Then there are the few hard-core souls that do this year-round. Although the price of gas now seems to be pulling them out of the woodwork. There are always interesting stories when riding public transit, whether its the unlicensed pharmaceutical providers conducting business by phone, the drunk guy stumbling up the steps of the train or the invasion of the families into town for a Beavers game, it is anything but boring.
What do people (coworkers, friends) say when you tell them that you are a bike commuter?
At first my co-workers thought I was slightly crazy. And then the winter came, and they thought I was completely insane. Now there is a level of admiration for it: that I'm willing to trade an hour or so of extra sleep to do this. The best feeling ever was one night last winter when the wind was blowing and the rain coming down sideways and as I walked in, dripping in my rain gear, one said to me, "You rode in this? Wow, that's hardcore!" Made the damp not quite so bad. Now they take it for granted and ask why I'm not riding when I don't. Funny thing is, I haven't driven to work in well over a year and don't miss it. I may not ride every day, but darn close.
How about bicycling advocacy? Are you active in any local or regional advocacy groups?
Other than talking about it to anyone who will listen and slowly working on the wife to agree to start using a bike for local trips, no. Nothing organized, at least yet.
Anything else that you want to share with us?
Take the reports of civil strife in Portland with a grain of salt. It's still a great place to live, work and ride!
Thank you Tom for sharing your profile, I need your mailing address so I can send you the stickers. Please email it to cycle_moe@yahoo.com