(Last Updated On: September 5, 2022)
Oh, autumn… you tickle me orange, and yellow, and red, and green, too! Nothing beats a brisk bike commute through town on the newly assembled and sorely missed Cantaloupe with trees like these: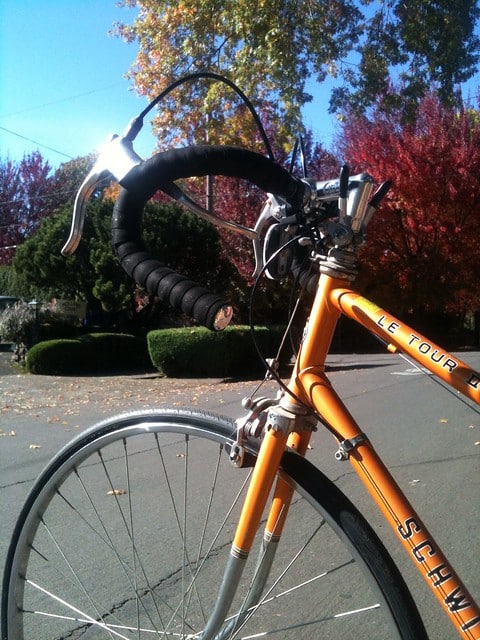 It may be that fenders are everyone's favorite commuter bike bling, or maybe just uber practical in any kind of rainy weather, but I think these fenders will be my new besties. After years of riding in warm weather in spandex, where road spray was NBD – (sidebar, okay, I admit that I have ridden in rain that resulted in road crud up in my crack) and now, I've finally joined the ranks! With a hybrid commuter bike that is heavy as eff and all kinds of transit options that are bike-friendly, the benefits of riding fender free (easier to quick release your wheels and pop your bike in a car trunk, or lightening up your ride for distance commutes) are no more. Time to get all dressed up for Fall, Cantaloupe!
I swung by my LBS and opted for the fullest fenders in town. To no one's surprise, the nice, bearded LBS employee (wearing a Carhartt beanie and a really small Alaska tee shirt) recommended the PB Cascadia Road full fenders in black. The Western Bikeworks super sale was on, and I snagged 'em for only 33 bones instead of shfifty-five.
BALLIN!
So, instead of letting Cantaloupe sleep over at the LBS with a buncha shop rats and paying 40 more bones to get said fenders installed, I strapped those suckers to my silly little commuter backpack and headed back to the house for some DIY fender installation time.
Only a week of procrastination later, plus several borrowed wrenches from my bike-loving neighbor in the apartment across the hall, and maybe some scavenging of lock nuts off of the junker that's slowly melting into a pile of scrap metal in the basement, we have LIFT OFF!
And by "lift off" I mean frakkin' full-on Fall Fenders, of course!
Whew, I hadn't installed fenders since 2007 people. Two-Thosaaan-n-SEVEN. It wasn't that bad, but took longer than those pro shop rats, for sure (1 hour, no shame). And the zip-tie action kind of looks like bug antennae so I think I will keep 'em long.
Hope that extra zip tie length doesn't slow me down whilst I be Cat-6'n all up ons Portland, yo. Or not. Remember me? Asian Bike Daria?
Anyway, join the fendered masses for fall, all you new bike commuters. It'll keep your feet and socks dry and the skunk stripe off your lovely fall coat (or if you ride all spandies and no undies, the road grit outta your crack)! Plus, I heard all the cool kids are doing it…