(Last Updated On: September 5, 2022)
Editor's note: the following piece was written by Jay Paul, founder of the cyclist-oriented insurance firm Balance for Cyclists. Balance for Cyclists is one of our advertising partners. Don't let that scare you off; there's a lot of good step-by-step instruction within in the event you or someone you know is involved in a bicycle crash.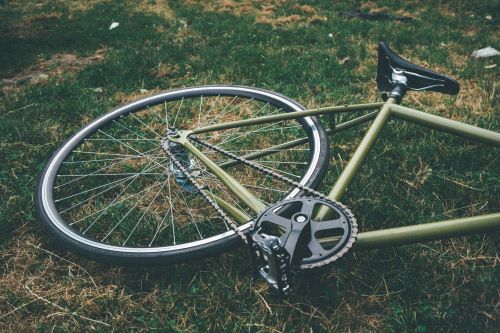 Bicycling is usually a very safe activity. However, as cyclists we are all keenly aware that an accident can happen at almost any time. Most cycling accidents result in injuries like road rash, a bloody chin or a minor laceration. The more serious accidents require immediate medical attention and perhaps a hospital stay.

So what is a cyclist to do if they are involved in an accident or with a fellow rider who happens to become a victim of inertia and gravity?

The internet is full of law firms soliciting advice on what to do if you are involved in a collision with a motor vehicle. Most end with a polite solicitation for the injured cyclist to call them for legal advice. Now I certainly don't fault a personal injury attorney for making a living and senior bike riders need to know their rights after a serious accident. However, it is estimated that less than 30% of serious cycling accidents involve a motor vehicle. The rest are either rider error, equipment failure or the result of some other road hazard.

Riders need to be aware of what to do regardless of the cause of the accident. Below are some thoughts.

1. Take all necessary steps to protect and stabilize the injured cyclist. Make certain that the injured person is not in additional harms' way. If the accident involves a head or neck injury do not move the rider but do place barriers up the road or trail that will slow traffic.
2. Call emergency personnel. Both the Police and EMT if necessary.
3. Even if the injury is minor, consider getting medical attention. All too often immediately after an accident the injured cyclist is in shock and not aware of the extent of their injuries. Too many injured riders just want to get back on their bike and start peddling as if nothing has happened.
4. Make certain that if police are involved that they take the statement not just from the motorist but from the cyclist as well.
5. If a vehicle is involved obtain driver information from the motorist. This includes: name, address & contact information of driver, make, model & serial number of car, determine the vehicle owner, insurance information of vehicle.
6. Regardless of whether a vehicle is involved get statements from any witnesses that happened to see the accident. (More on this later)
7. Get photographs of the accident scene and preserve evidence. Many if not most of us carry cell phones with cameras while riding. Get a lot of pictures from different angles. Take note of weather and road conditions.
8. If a vehicle is involved, never negotiate with the driver.
9. Certain accidents that don't involve a motor vehicle could still be compensable. Equipment failure, errant pedestrians or road hazards are such examples. Make certain if at all possible to get photographs of the site where the accident occurred and of the bike itself. (This is also where a witness statement could prove beneficial.)
10. Here is the plug for personal injury attorneys. Never attempt to negotiate with the 'at fault parties' insurance company. Get a good attorney to represent your interests. Most major cities have at least one attorney who has created a cyclist specialty practice. They are usually cyclists themselves. Many of these same firms have apps online that you can download to your phone that outline what to do in the event of an accident.

One last bit of advice. Consider getting First Aid certified and, if a mountain biker, consider getting certified in Wilderness First Aid. Having the confidence to make a quick decision immediately after an accident could save a friend's life. These classes can help give you that confidence.

Finally, follow the rules of the road and be aware of your surroundings. That means take out one of your earbuds!