(Last Updated On: September 5, 2022)
Editor's note: Here's the latest from Andrew "Doc" Li — you may remember him from his excellent DIY repair stand tutorial a couple weeks ago. Today, Andrew will give us some smart and practical advice on trek planning. Read on:

********************************************
'Success depends upon previous preparation, and without such preparation there is sure to be failure.' Confucius
'One important key to success is self-confidence. An important key to self-confidence is preparation.' Arthur Ashe
Being successful in whatever you do relies on a certain amount of thorough preparation and foresight. On the flip side is that we can always build on our mistakes and failures. And if Confucius and Ashe, among millions of others, arrived at the same belief, then certainly we can learn and apply this concept to many, if not, all aspects of our lives.
One such aspect is making a successful trip by bicycle between 2 points. Regardless of whether these two points span the distance between 2 continents or 2 city blocks, the right preparation is always needed. Never underestimate a journey, or reason that a shorter trip deserves less preparatory attention than a longer trip. I have been burned my fair share of times thinking this way.
I recall one particular autumn afternoon in Southern California when I decided to go for a ride purely for leisure. My plan was to bike 5 miles in one direction and back, in total a short 10 mile ride. It was a gorgeous day, so I went longer than planned and ended up exploring a park nearby. My 10 mile ride turned into 30 miles. When I decided to turn around, the sun was already setting and some ominous clouds had set in. Unfortunately, I did not confirm the sunset time that day nor verify the weather forecast.
So I set forth towards home (at that point about 14 miles away), and not more than 2 minutes into my ride large droplets of rain started pelting me. I pedaled harder, but eventually felt that I was going much slower. I looked down and as luck would have it I had acquired a flat tire. At that point, I was about 10 miles from home. It was now pouring and quite dark outside. I was wet, had no tire pump, repair kit, rain gear, or lights. I did not have a cell phone at that time either. Moreover, my bike route was not meant for pedestrians, and I did not bring any navigation to find an alternative route. The area was new to me, so I couldn't 'improvise' a new route. I ended up walking home, at night, with no lights, in the rain, constantly watching for fast traffic, while dragging my injured steed.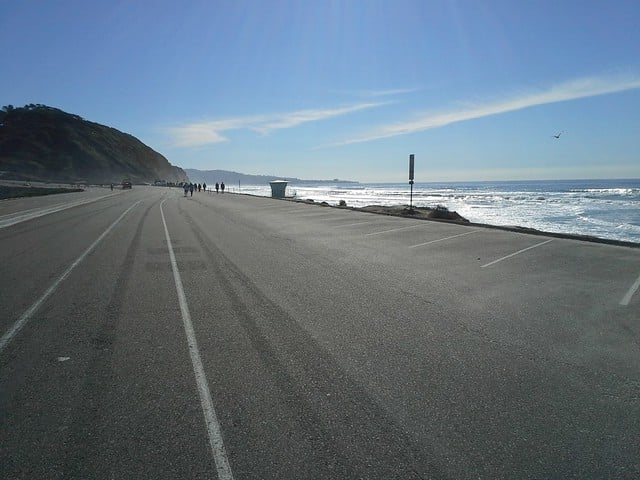 Over the years, I have learned my lessons, and I have developed a list of things that I feel are essential for a safe and successful journey. In order to remember this list, I have developed my ABCs of trek preparation. They go like this:
A: Alimentation: food, water etc.
B: Bearing: map, GPS, compass etc.
C: Climate: rain gear, fenders, sun glasses, extra layers etc.
D: Defense: Lock, lights
E: Emergency: phone, contacts who know where you are heading, basic repair gear.
Alimentation: I hydrate before the trip and bring 500cc to 1000cc of water, and for me this is enough for trips less than 20 miles. Also, I can often refill water at my destination (my work place). You may have to adjust this volume based on your own distances, climate, etc. If I do bring food, it is usually for breakfast after my morning commute. I eat plenty of carbs the night before and ride on an empty stomach in the AM (personal preference).
Bearing: Before my smart phone, I would carry a small map cutout encompassing an area with the radius of my commuting distance (e.g. a 10 mile commute from A to B would require a map of a 10 mile radius area with point B at the center). A compass has also been very handy for me.
Climate: I wear layers, and wicking fabrics are exceptionally useful in cold, hot, and rainy weather. Wear stuff that you can easily take off and put back on to achieve that happy medium between hot and cold. Temperature regulation is not just for comfort; it is vital for performance efficiency. Excessive sweating depletes the body of fluids and also contributes to excessive heat loss. For summers in Southern California and other areas with similar climate, if you plan on biking into the night, bring another layer; you will be surprised how chilly it can get with a 20+ mph wind whipping past your body on a cool evening.
Defense: Defend your bike against theft with a lock, and defend yourself against motorists, other cyclists, pedestrians, dooring by keeping VISIBLE with a set of bike lights. I ALWAYS keep bike lights with me in my pack (can be recharged with a USB port). Night time riding is a topic unto itself, and this will be addressed in a later article.
Emergency: Bring a form of mobile communication. If this is not possible, bring change for a payphone and let people know of your trip, where you are heading, and about what time you will be back. Bring basic repair gear (I take a patch kit, pump, and leatherman). For me, this gear is for 'damage control', that is, a temporizing measure that will allow you to get back home or to a destination that will have more resources for you or a mechanic to make a definitive repair.
This is by no means a definitive list, but one that has served me well over the years. As of late, I have developed a shorter, perhaps more basic list:
Lights, lock, liquids, lost, limp. Don't forget your lights, lock, liquids. Make sure you have a way to prevent getting lost. And if you end up limping (either yourself or your bike), have some strategy for a quick repair of the bike or getting yourself to the right care.
Take from it what you will, add to it, and improve it based on your own cycling habits. Peace out everyone. Do good and ride well.
**************************************
We're lucky to have Andrew writing periodic articles for us…and if you'd like to submit an article for possible publishing, drop us a line at info[at]bikecommuters[dot]com.