(Last Updated On: September 7, 2022)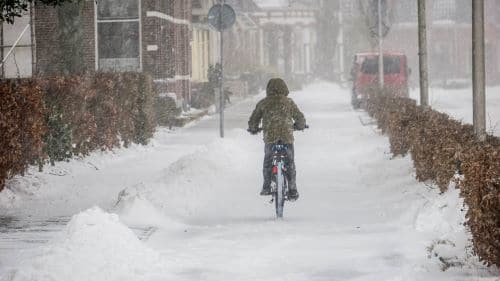 I tend to over-think things a lot! This quality of mine can be both good and bad. What I like about fall/winter riding is that dressing for it really is easy – you just need to know the purpose of each layer and best fabric for that task. Aside from those days when I start pondering other gear, layering is really quite easy – and leaves me feeling always prepared.
From fall through springtime in Chicago I either always carry with me in my commuting arsenal (water resistant pannier) OR am already wearing on my body (esp on the colder winter days) the following items: extra glove liners + extra gloves or mitts, wool knee warmers, a Warmfront, extra wool socks (in case one pair gets wet), rain or wind pants to block wind and keep the road spray off my clothes, silk or wool long underwear for top and bottom (I especially like SmartWool and L.L. Bean wool), beanie cap that covers my ears, Hedz headwear, and wool/fleece balaclava – topped off by my most visible layer…. a hi-vis wind- and waterproof jacket. I rarely have a need for any more than 3 layers worth of clothing – base, mid and outer suffice in any weather; so while our skin may consist of 7 layers, for me, the gear only needs to be 3 layers deep at most … most of the time. (If you live in a much warmer or colder climate, I realize your needs for layering may vary; please adjust your technique accordingly and share with us what works for you in the comments.)
When I first started to bike through the colder, yuckier weather months in Chicago, I did a lot of my own research for what to wear and soon learned about the fine art of layering. (My go-to resource at that time was a blog authored by a woman in Alaska living a bike adventure life and recording it in her blog – I think it was called Up In Alaska; she has since moved and renamed the blog to Jill Outside.) A few of her posts detailed her layering technique and gear. Another site that has also helped me over the years is the Icebike website, brimming with strategies and gear designed to keep you warm (without overheating) while out bike riding or enjoying other winter activities for long periods of time. Last, but not least in deserving credit, is Chicago's Bike Winter — a grass roots effort that has supplied me with how-to knowledge and an awesome DIY fleece balaclava designed to keep as many Chicago cyclists pedaling through the winter as possible.
If Jill could make it work for rides in Alaska and these Icebikers and fellow Bike Winter-ers could do it, I knew I could apply the layering strategy to my Chicago commutes; below I provide you with the layering technique that works for my urban bike commutes and the importance of each layer.
Chicago's recent bout with chilly, windy and damp fall days reminds me that I really do have all I need already in my wardrobe (even though I'm always thinking of the next best gear or tip most of my winter "gear" is not really cycling specific gear). Take a photo gallery tour of these layers I recently wore during a damp fall commute (temps in the high 40s/low 50-degrees):
Base layer: long sleeve microfiber shirt (easily substituted for wool or silk on chillier days). A good base layer will wick the sweat away from your skin so that you don't overheat OR get chilled from damp skin. Wool and silk are also naturally odor-resistant = bonus! I've learned to avoid cotton next to my skin at all costs, since it tends to keep the perspiration close to your skin.
Mid layer: vest (or wool or cashmere sweater in winter). A mid-layer helps insulate. This layer continues to challenge me during the fluctuating temperatures we get during the spring and fall, but in winter I usually turn to a cashmere or wool turtleneck sweater. During warmer months, I may forego this layer or opt for just a vest or stick to a cardigan sweater that can be zipped or unzipped as needed.
Bottom: REI cargo pants (with long underwear when the mercury dips below freezing). Depending on the level of chill in the air, I adjust my wardrobe – from jeans to lighter weight khakis to stretchier fitness style pants. As a female, I also have opted for wool tights and a skirt – and have found this combo to be just as warm as pants. I also keep a pair of wool knee warmers (or leg warmers in you prefer) around just in case I need a little more buffer.
Feet: midweight wicking socks (I live in wool hiking socks come winter), Vasque waterproof hiking shoes (and NEOS overshoes in the worst of it!). Just the other day I wore mid-calf Bogs boots with a neoprene liner. Once it's freezing and below, my feet prefer the thicker socks and waterproof shoe. For commuting I don't usually ride with clipless pedals, and in the chill I prefer the added warmth of regular hiking/winter boots – just make sure they allow your foot/ankle enough mobility for pedaling. You may even want to ride on wider BMX-style pedals to accommodate the clunkier footwear.
Hands: Gore bike gloves (new this year!); Headsweats lobster shell gloves (mittens and hand warmers on standby for temps below freezing). Up til this year I used a pair of wool gloves I acquired at the Army-Navy Surplus store and paired those with the shell gloves or with a pair of REI mittens. Mittens keep my hands warmest on the sub-freezing days. Hand warmers helps when it drops below zero.
Outer layer: Loeka (or other waterproof) commuter jacket with pit zips, Marmot rain pants. A jacket -even on the coldest of days – need not be thick and heavy. The best outer layer provides maximum wind resistance so as not to allow the chill in and is also waterproof; a sports-oriented jacket will have pit zips to allow added ventilation and help prevent your body from overheating. Given the lack of daylight during winter, I stick with hi-vis and reflective jackets to keep me as visible as possible to fellow road users.
Head: HAD microfiber tube to cover my neck, REI Novara cap (new to my arsenal this year… and I wonder how I lived without it all these years!) to cover my head and ears, helmet. In winter my layer below the helmet is a wool/fleece balaclava; sometimes I use the microfiber tube like a neck gaiter beneath the balaclava and will pull it up over my nose so I'm not breathing in the bitter cold air. My mom always stressed keeping my head warm; to this day, I cannot argue with my mom's advice. For me, if my head and neck are warm, the rest of my body seems to naturally be warmer.
And last but not least Eyewear: Sunglasses with an amber tint in daylight AND clear or yellow tint glasses in darkness suffice for me most of the time (all my sunglasses have come from Solar Eyes (an online retailer)); in the winter I switch to ski goggles (rose tint works day and night even navigating the well-lit urban roads at night).
As I mentioned above, as a female I love having the option to wear wool tights and flashy rubber boots to spice up my winter cycling wardrobe, too, when I feel so inclined.

One final note: it's best to feel slightly chilled during the first few minutes on your bike. If you start out already warm, you could easily overheat. I find that less is more to avoid overheating. Folks at work think I must be so cold given my thin layers, but I assure them that by the time I reach the bus stop at the corner, I'm already warm from generating my own body heat; those folks waiting for the bus are the ones who look so cold just standing there. Rather than overdress, it's best to carry an extra layer, so you can always stop and put it on if you need it or if it turns chillier for the bike commute home later that day. My commute is about a half hour each way and in the stop-and-go traffic of the city, so I've adjusted my layering accordingly. Those of you with a shorter or much longer commute may have other tips and tricks to share. Noah shared a few of his tips last year, including starting a log of weather conditions and your clothing choices.
Since my gear – most of it not cycle specific – seems to be accounted for, it gives me time to ponder getting a $500 mountain bike with disc brakes this upcoming bad weather season…. to at least improve my stopping power in the dampness. Then again…. I could finally try adding a more full coverage helmet (like a Nutcase or Bern)… options….