(Last Updated On: September 5, 2022)
Tips for Cycling in Unpredictable Weather
Although summer is well on its way, which means sunny (and sweaty!) rides, there are many places where the hottest season can be unpredictable. England for example, is well known for its constant weather variability. The typical 'British Summer' is characterized by unexpected showers and bursts of hot sunshine where everyone cuts back on clothing all of a sudden. If you're one of the unfortunate ones, and this sounds like the summer time where you are, here are some important tips for cycling during an unpredictable season.
Have a Base Layer
You might associate layering with colder, winter weather but layers can also work wonders in warmer weather too. It's worth investing in a comfortable and high-quality base layer that is both breathable and insulating, as the cutting-edge material technology that is on the market nowadays can work with your body to naturally adapt to different weather conditions. With a base layer you can also add or remove other layers on top according to your comfort level and temperature.
Arm and Leg Warmers
In the summer months, you'll probably want to keep to cropped cycling pants or shorts and t-shirts or more sleeveless tops. These are great in hot weather but when it starts spitting or getting windy all of a sudden, you need to be able to adapt. Keep some leg and arm warmers to hand to stop off and slip on just in case it gets chilly or you need some extra coverage.
A Lightweight Mac
For any outdoor activity or exercise, it's imperative to have a lightweight, manageable and comfortable waterproof jacket that you love. Especially when riding to and from work, you need to keep protected just in case the clouds start rolling in. Look for the right material and be sure that is has tight, taped seams to stop water getting in. Mesh lining is an important feature as it allows sweat to escape but look out for too much mesh, as this can make the jacket bulky. One of the best features of waterproof cycling jackets is the dropped tail that covers your lower back and derriere from those dastardly mud splashes, so be sure to look out for that too!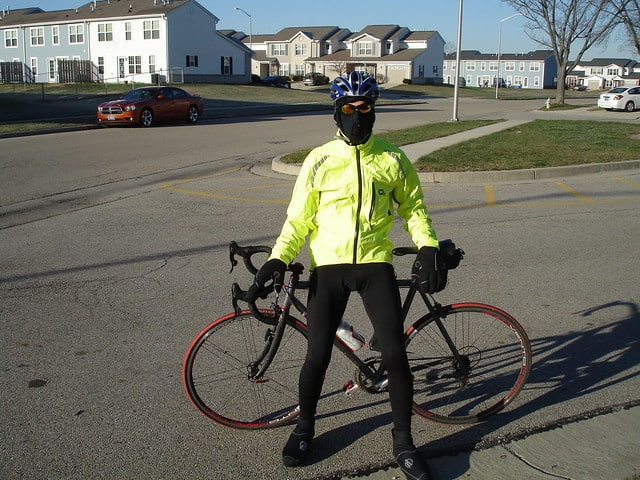 A Protective Bag
Don't let your important documents, clothes and snacks get soggy on the way to work! To protect you from the wind, mud and rain, be sure to grab yourself a good waterproof bag cover that fits securely over your rucksack. There are plenty of different covers on the market and you can even buy a separate waterproof bag for all of your belongings to save fiddling with the bag cover.
Preparation is key if you don't want to end up arriving at your destination looking like you've been dunked in the nearest pond. Make sure you have all the precautions in place and check-up on the weather conditions regularly for enjoyable cycling this summer.